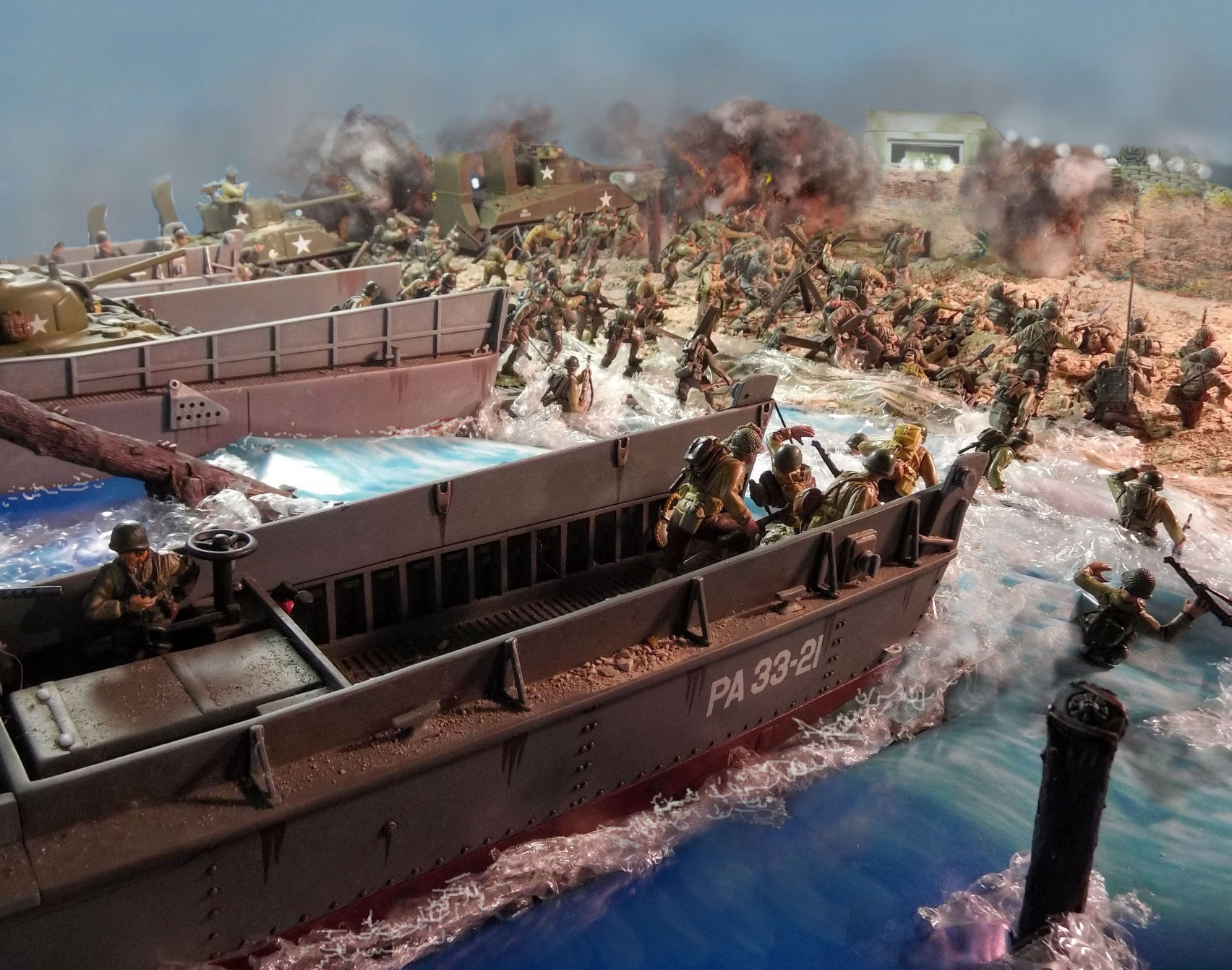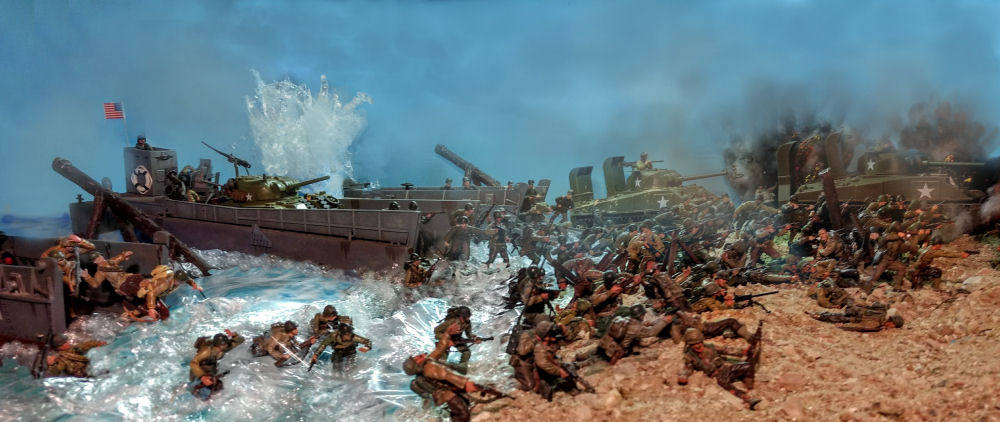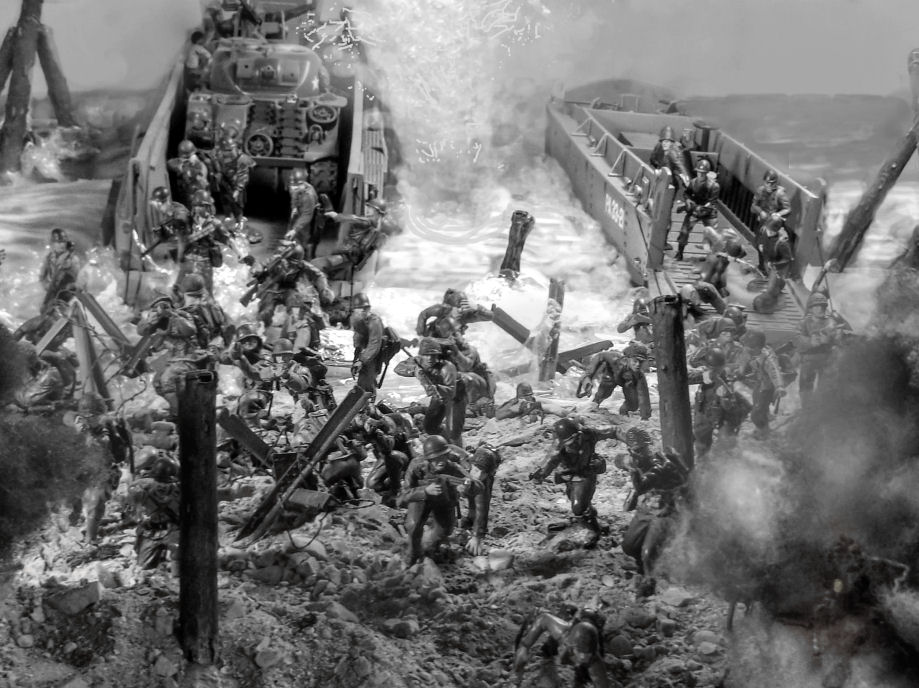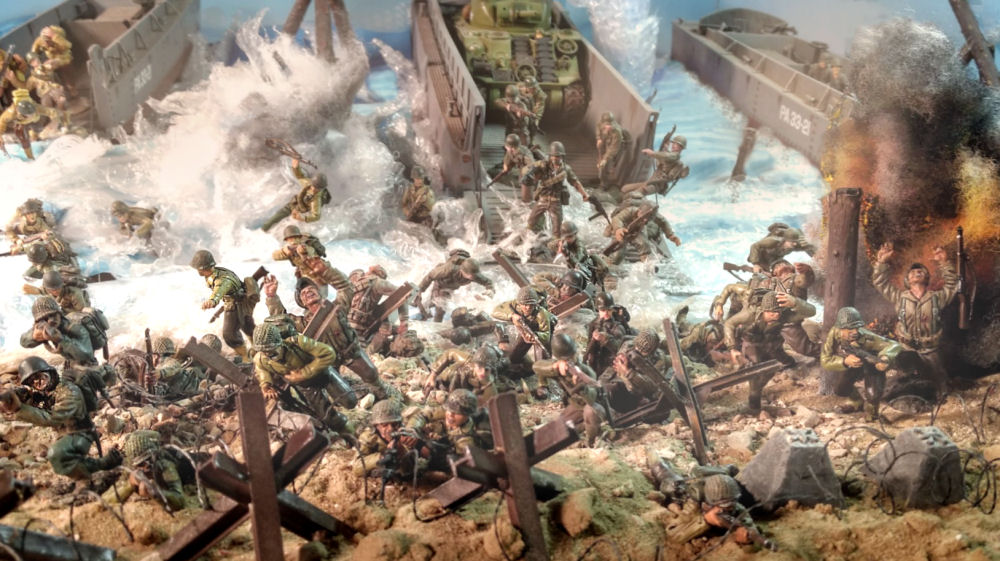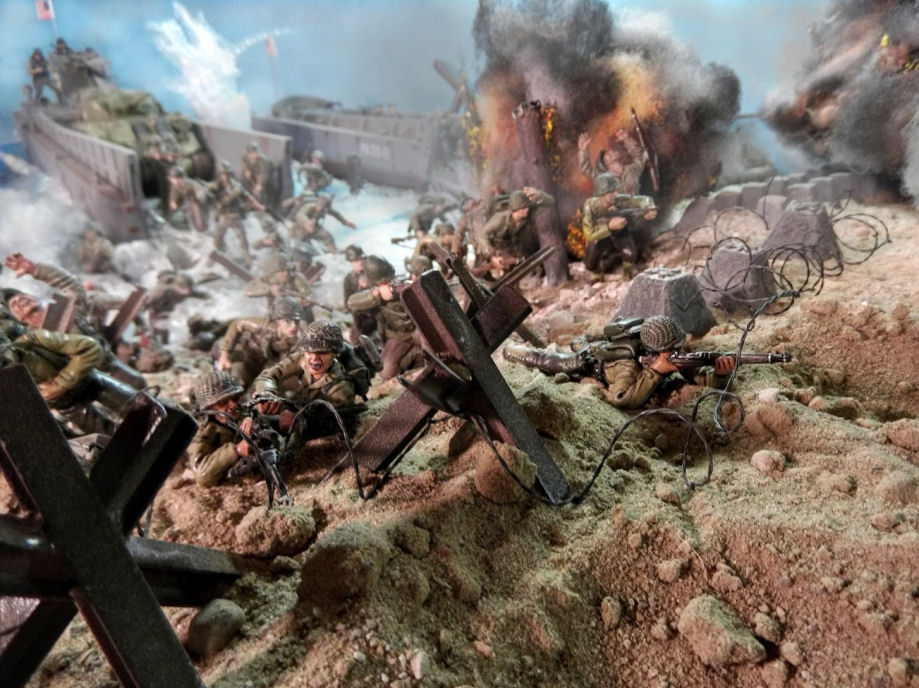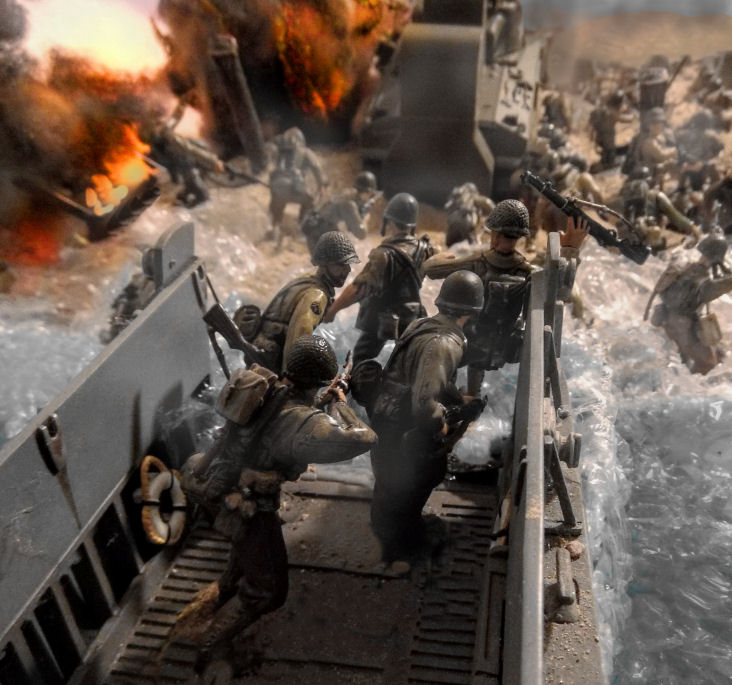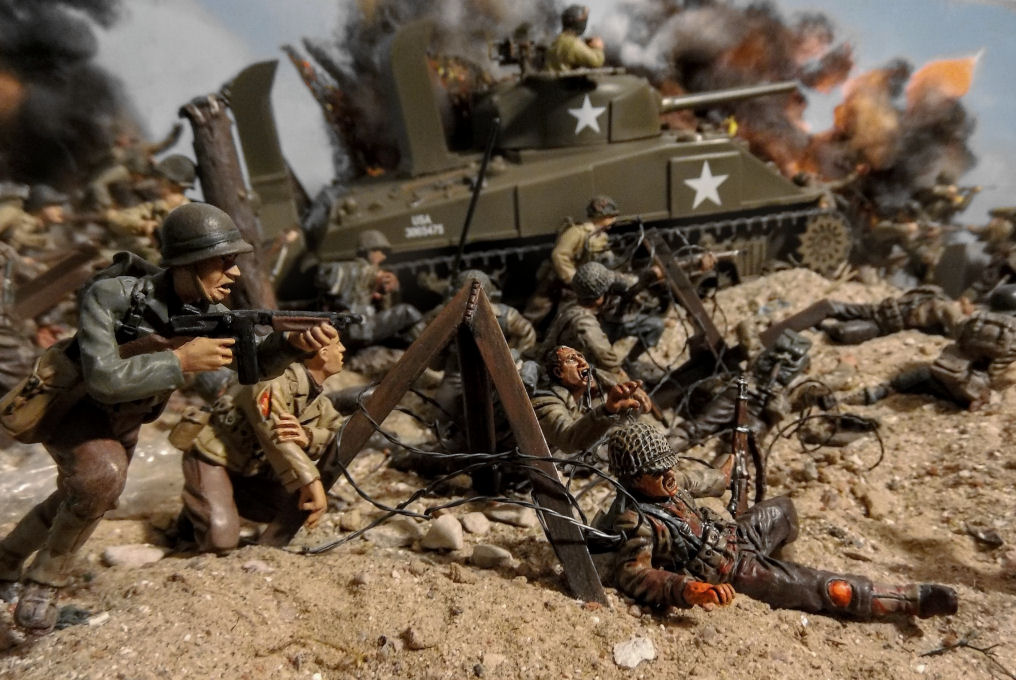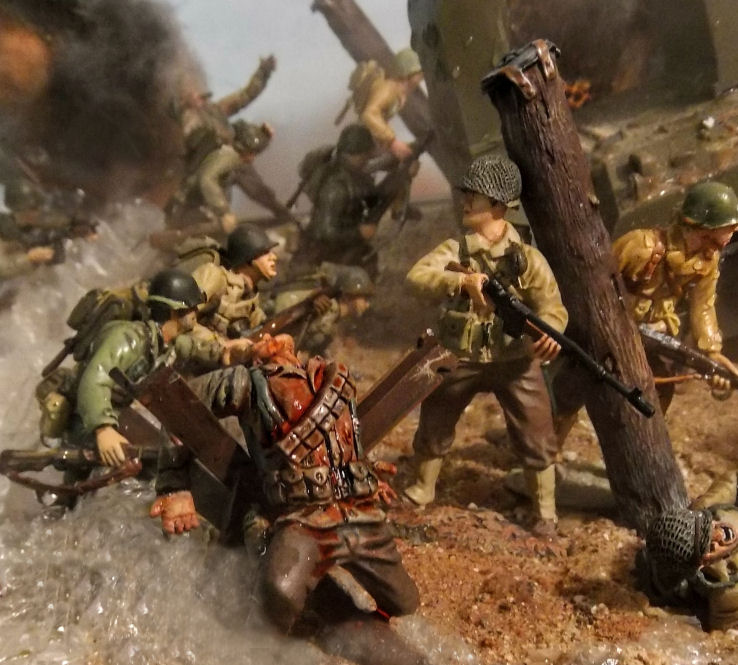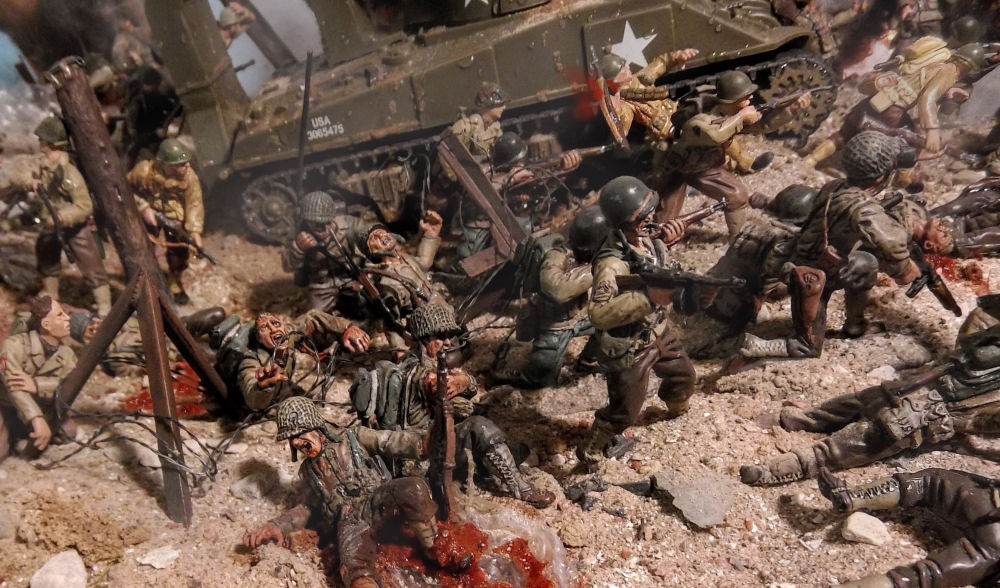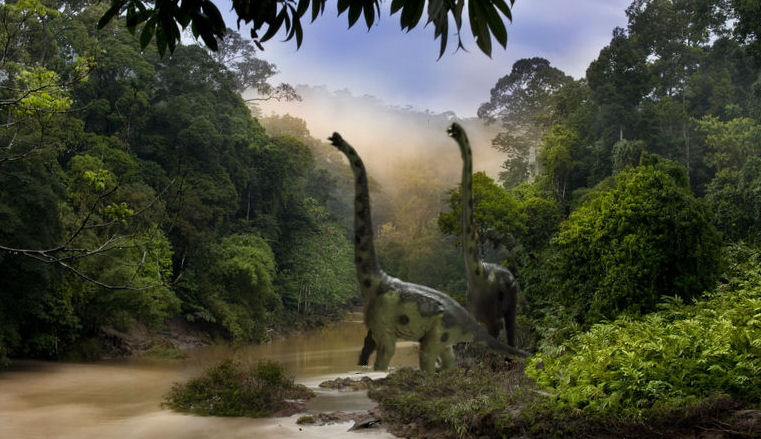 My grandson loves dinosaurs. Everytime he visits I buy another of the great painted plastic dinosaurs that are on the market now. I imagine this is the first of many pictures like this over the years to come.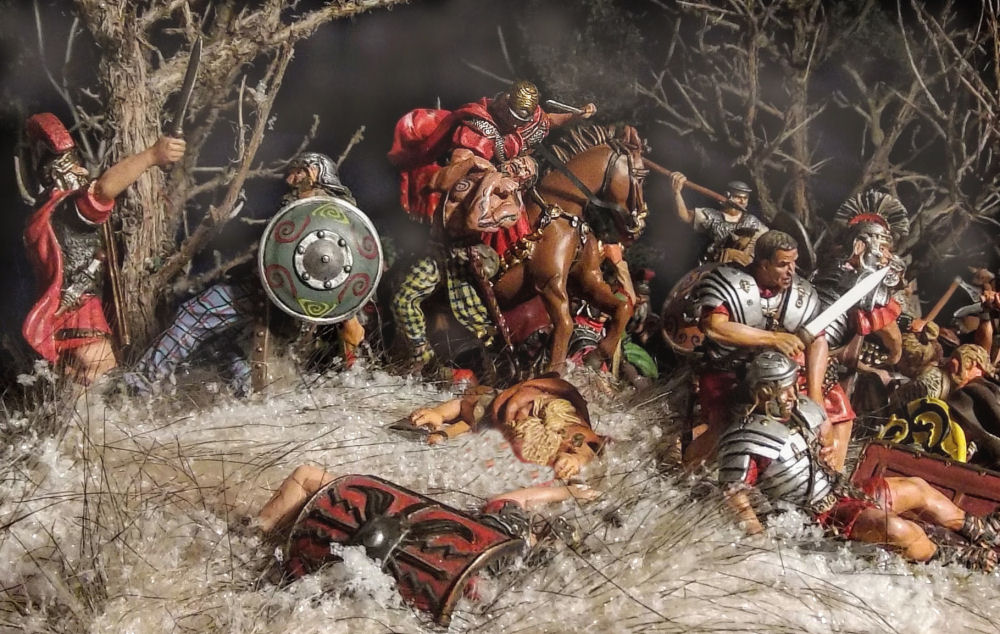 I picked up the mounted Roman grabbing the barbarian by The Collector's Showcase.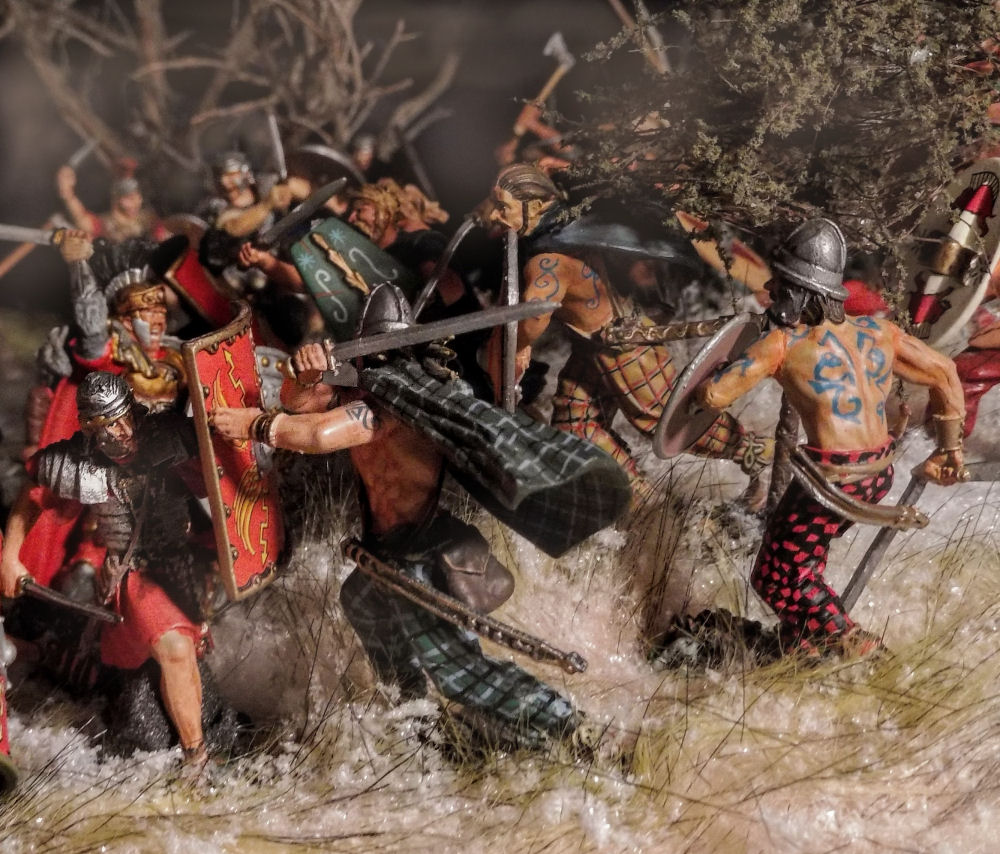 I also picked up this battling pair of figures.
6/02/17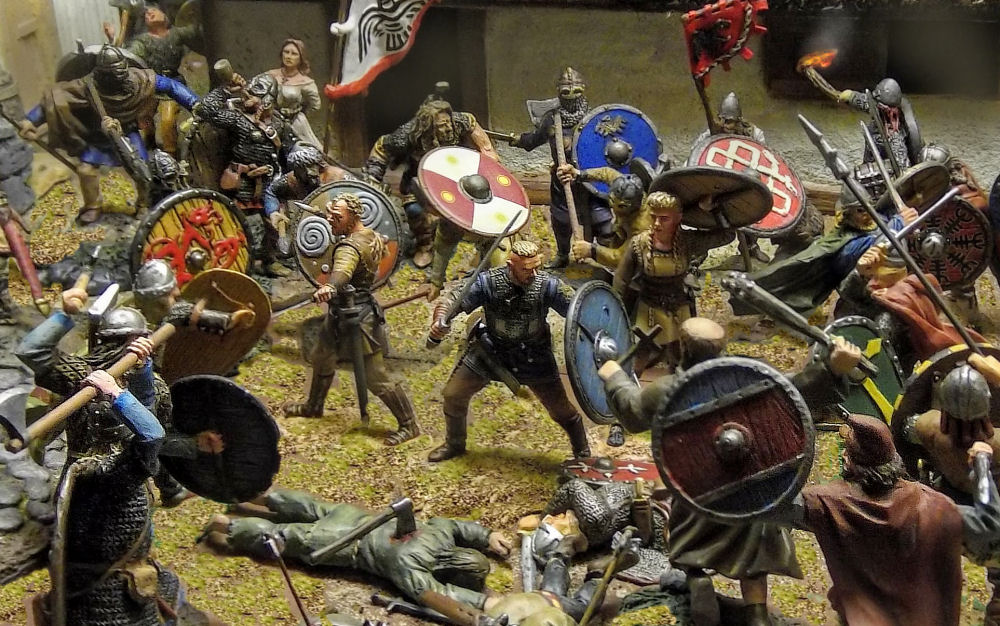 I just got back from the Texas Toy Soldier Show. Among my purchases were the three character figures from The vikings TV series put out by fFrst Legion. first Legion makes some amazing figures, but they are very expensive. These guys were worth the price.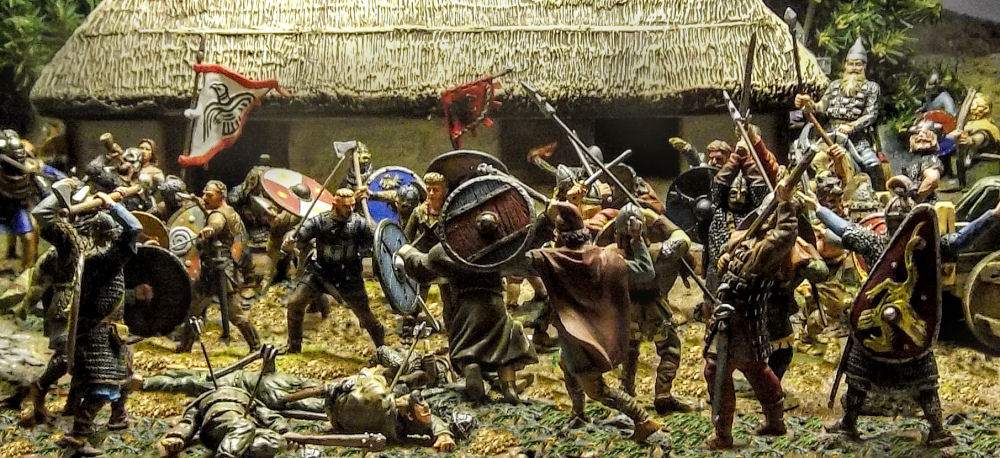 I had also recently painted some Russion plastic Saxon figures. They needed to get into some action.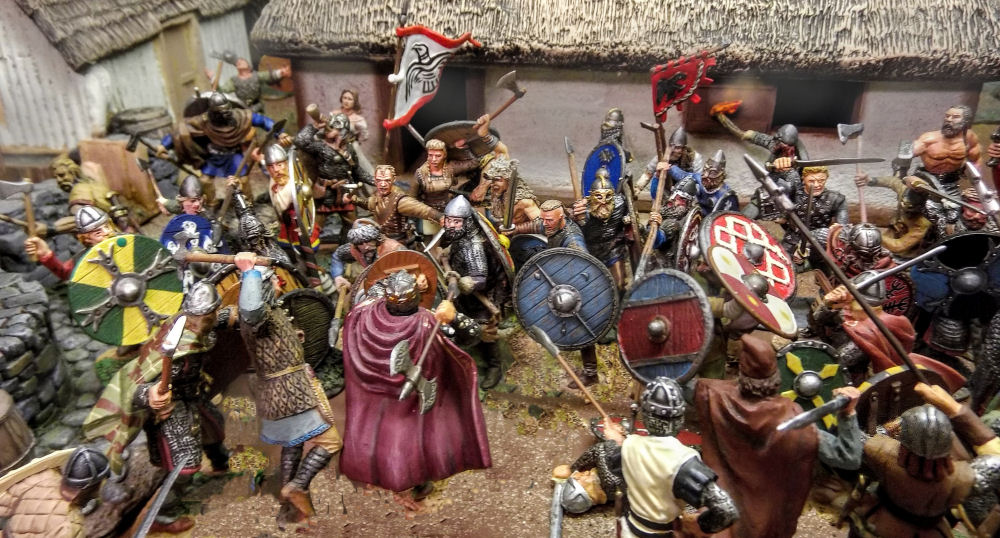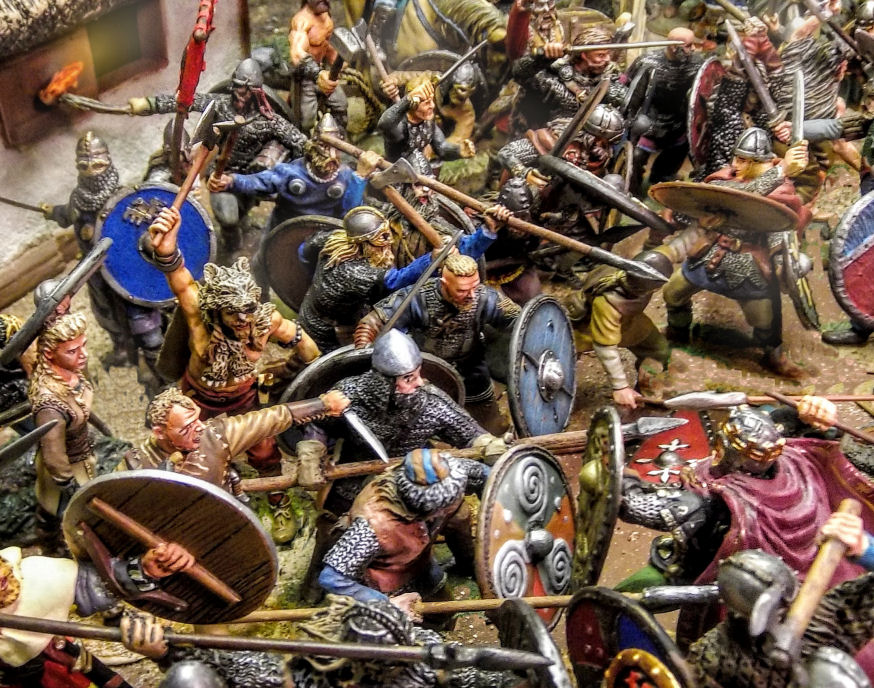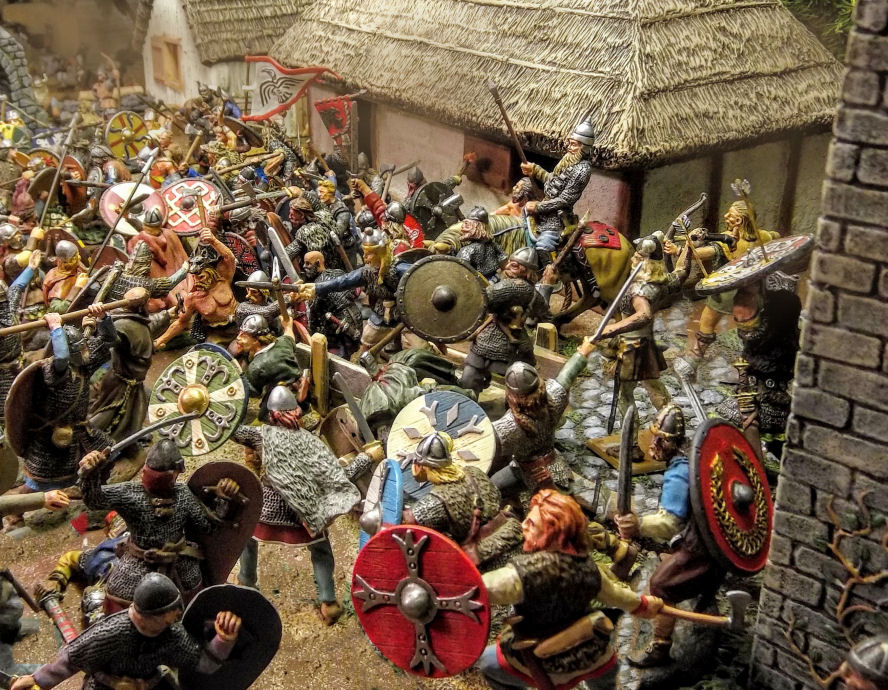 The Conte Vikings are amazing figures in their own right.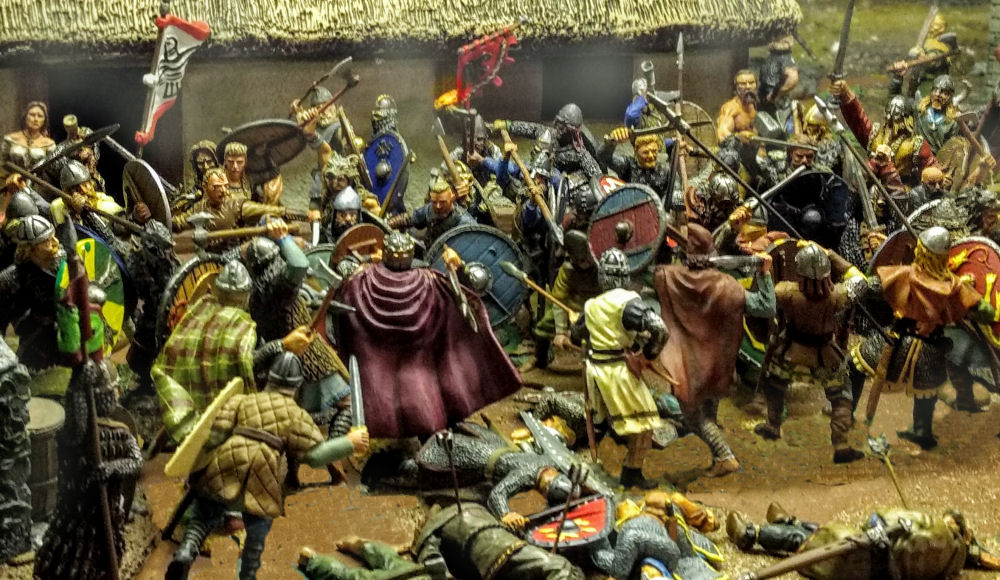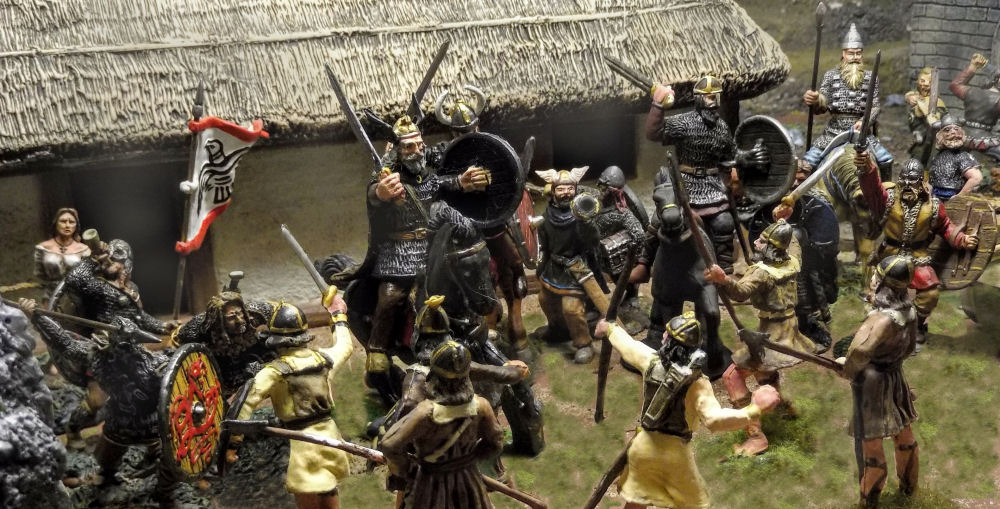 I also painted some Saxons by Cherilea. Big fellas. So I brought out my converted Superior Vikings and some of the larger Conte figures.
5/16/17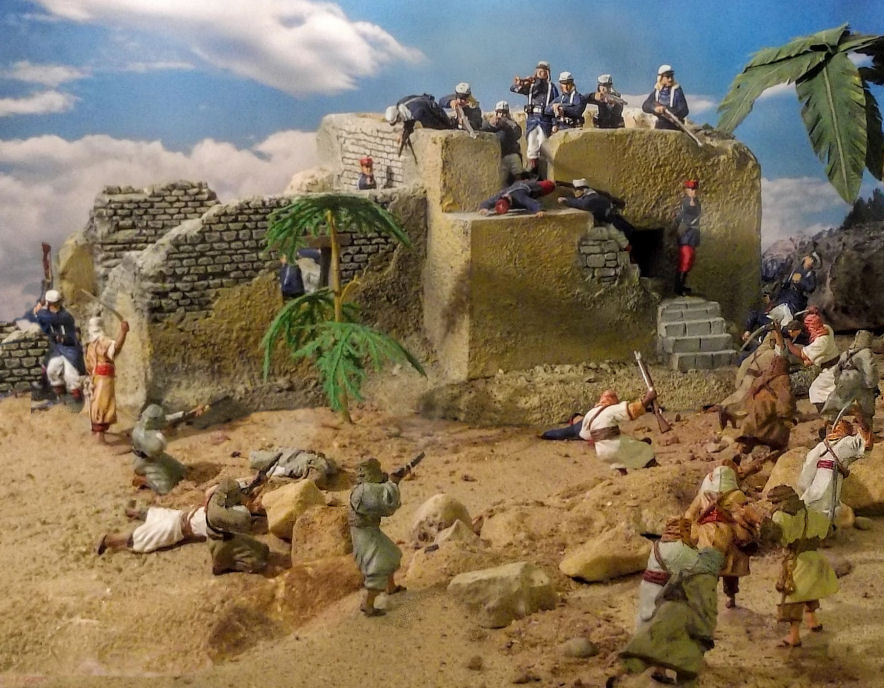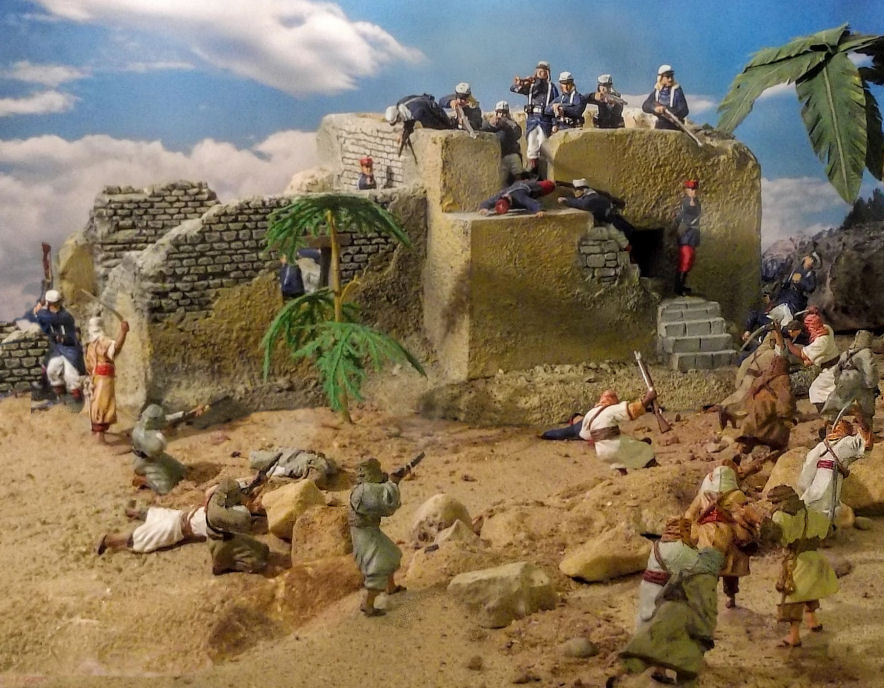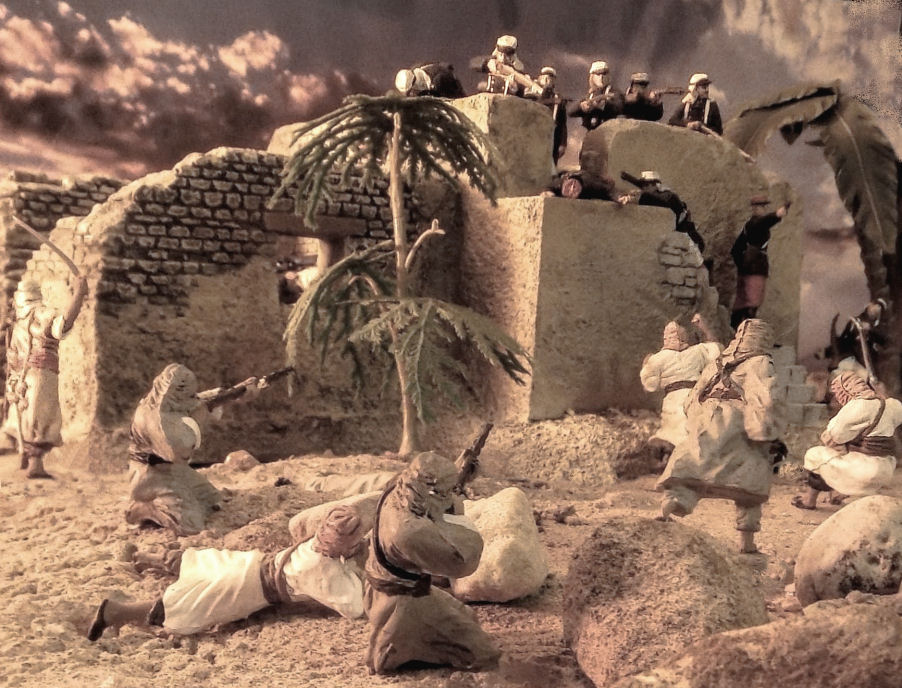 5/15/17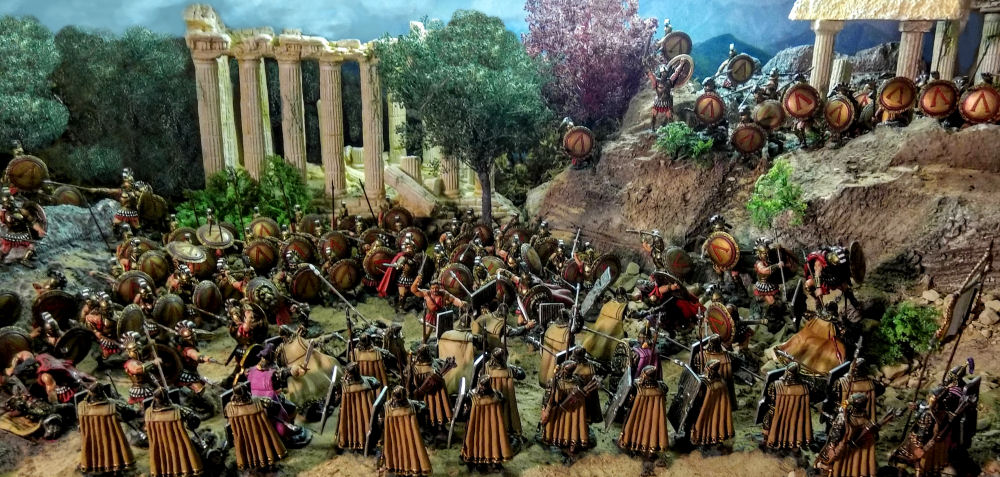 I've been making some more shelf displays in my basement. The Conte Spartans vs the Persian Immortals make a very nice display.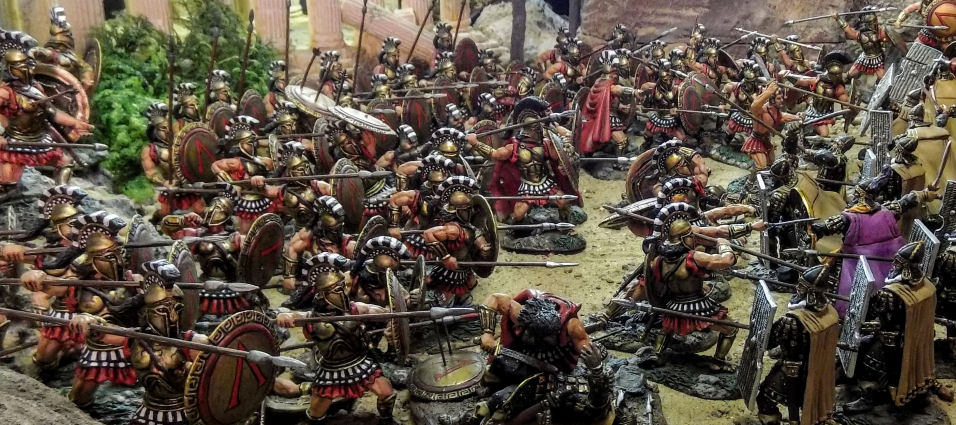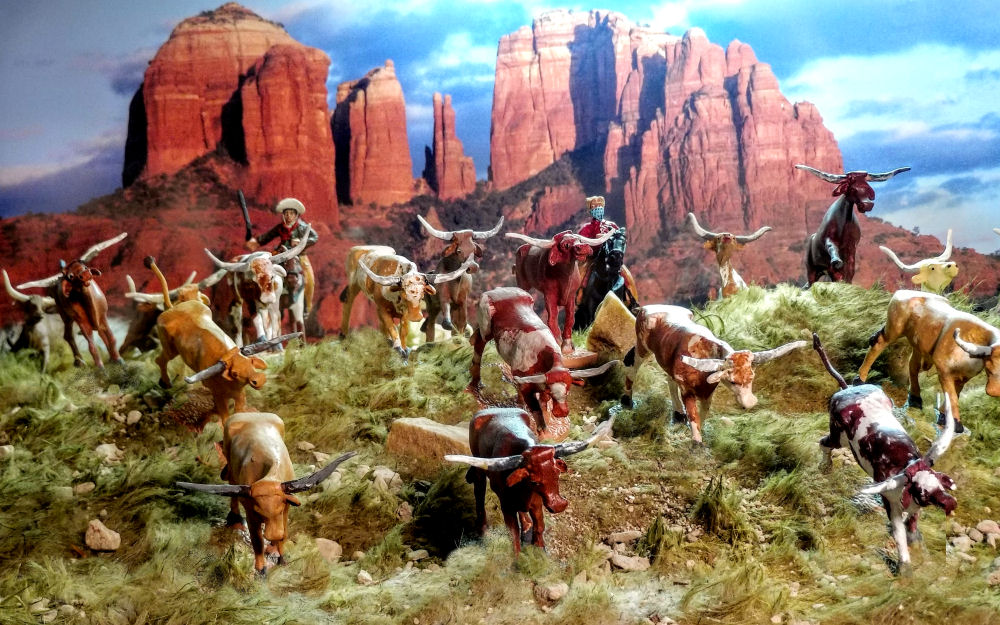 Steve Westen's Cattle Drive!


Conte's Rogers' Rangers and Woodland Indians...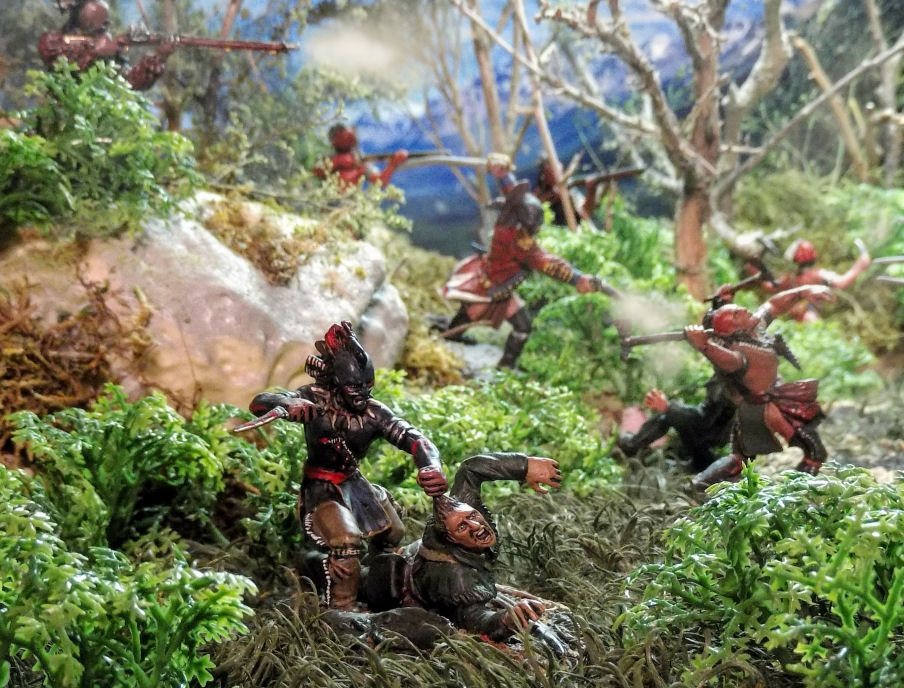 Conte US Paratroopers
5/12/17

I really like how the Expeditionary Force Zulus paint up.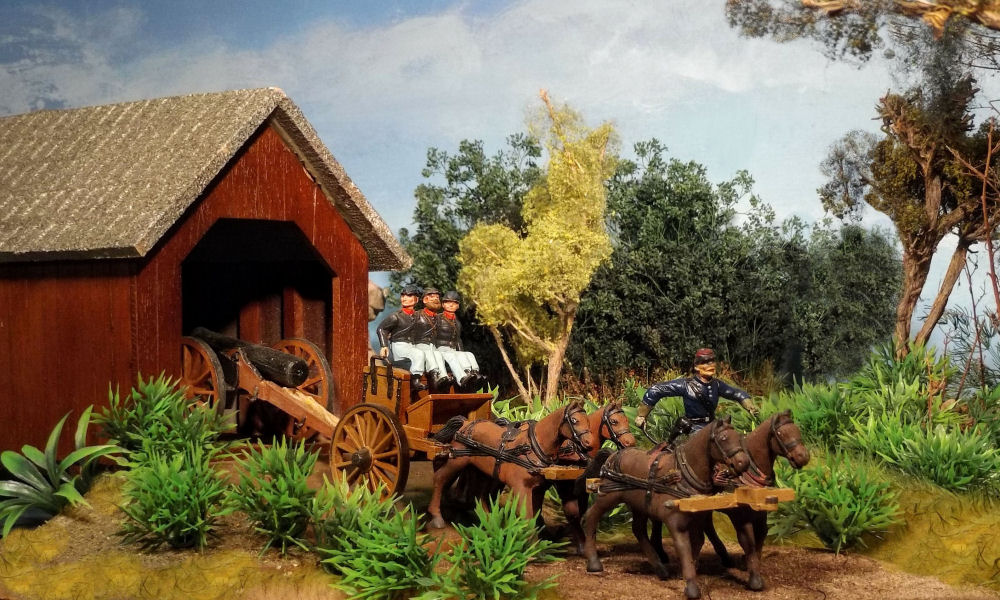 I'm getting ready to list the B and T Products Covered Bridge on eBay. I figured i ought to take a few photos first.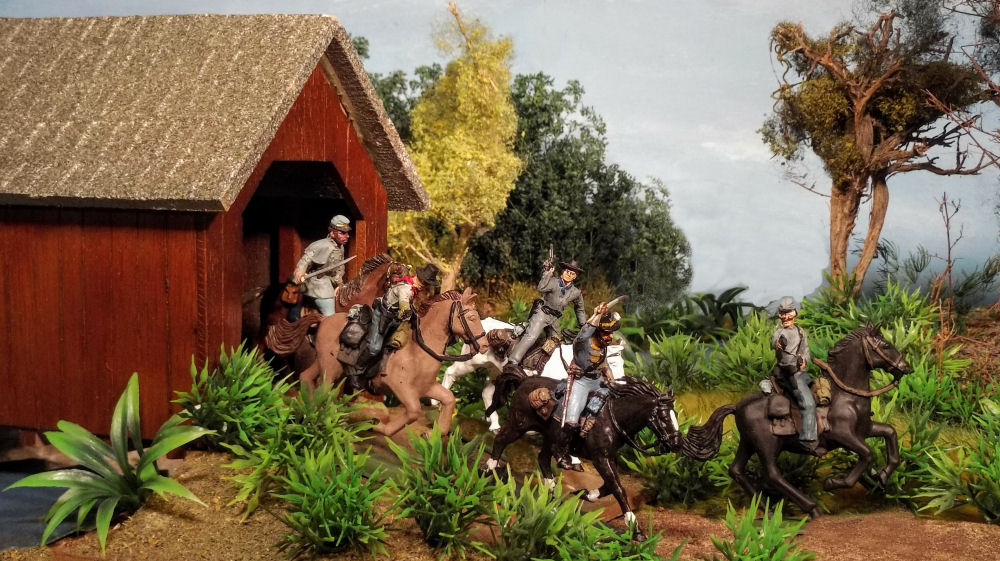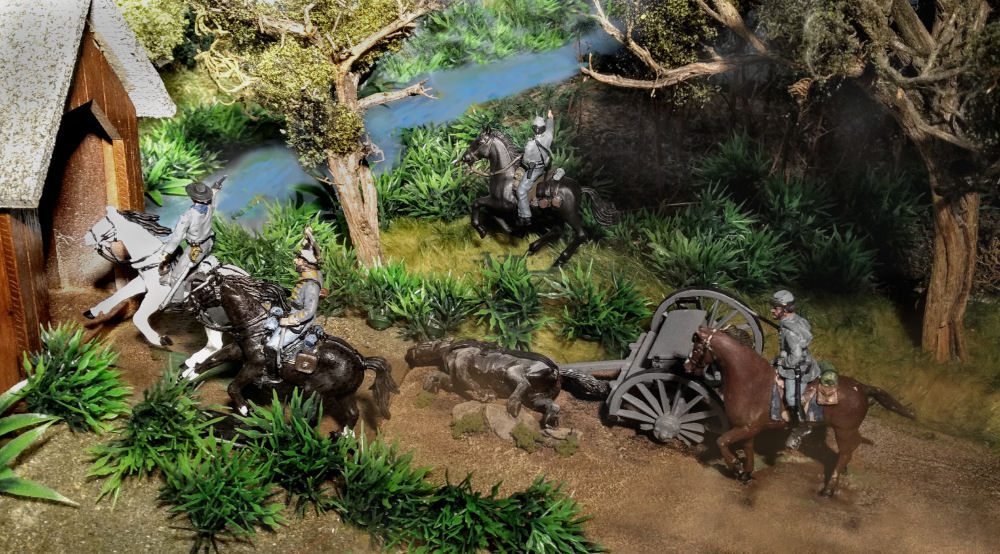 4/15/17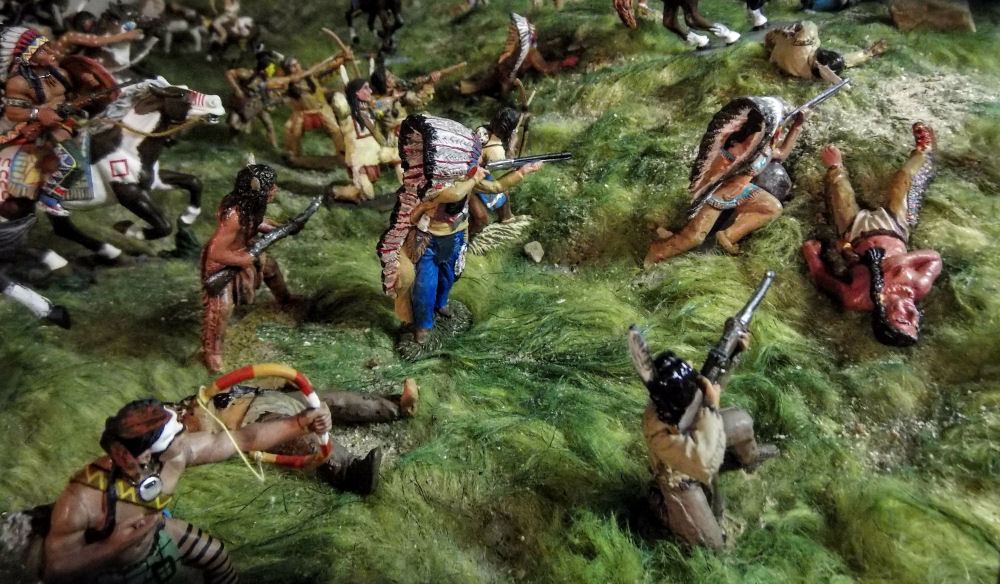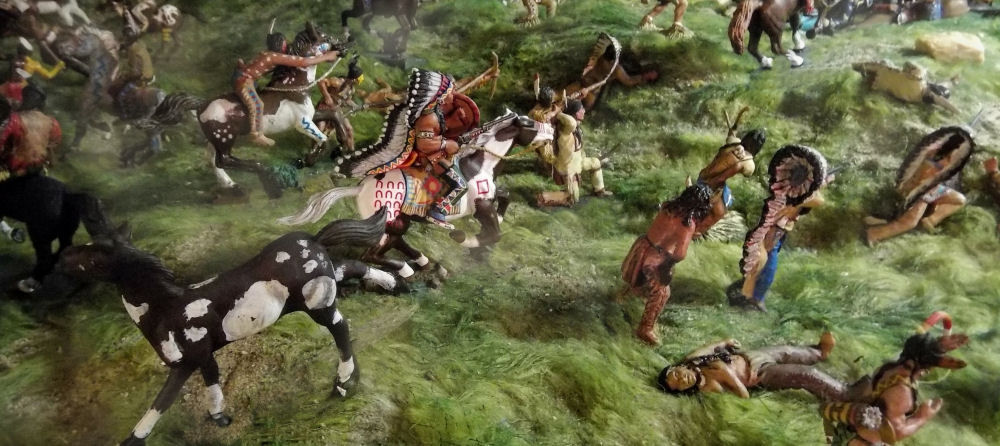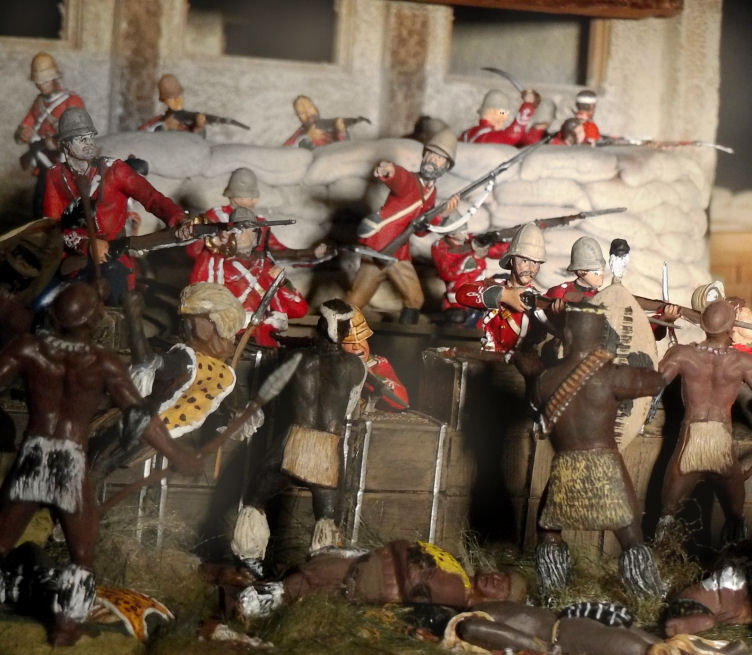 3/22/17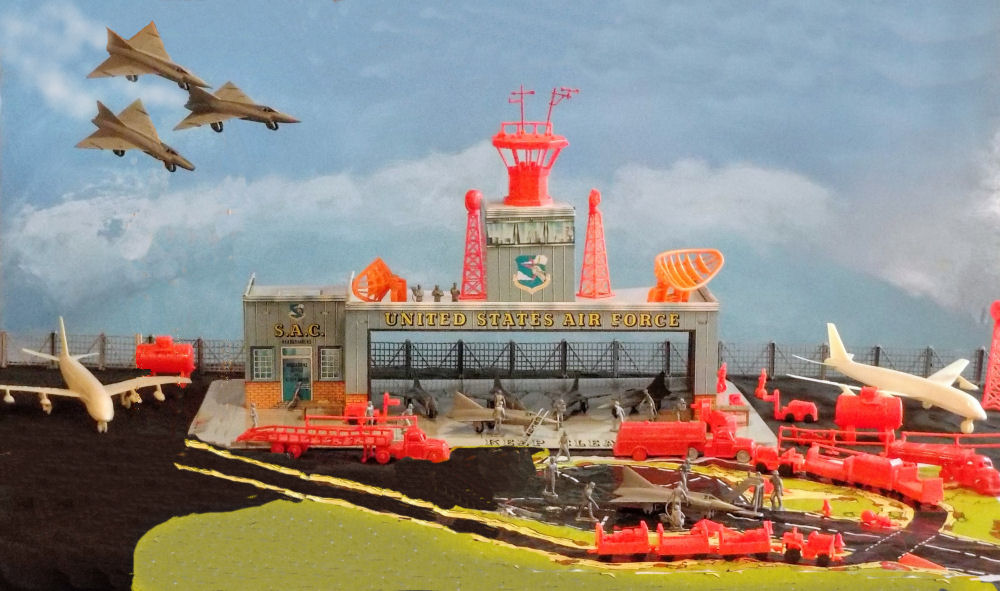 Marx Strategic Air Command Playset,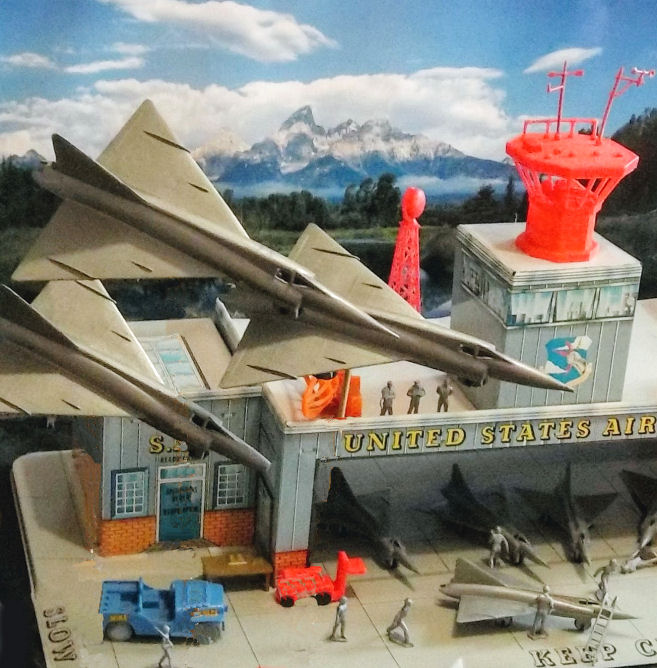 2/20/17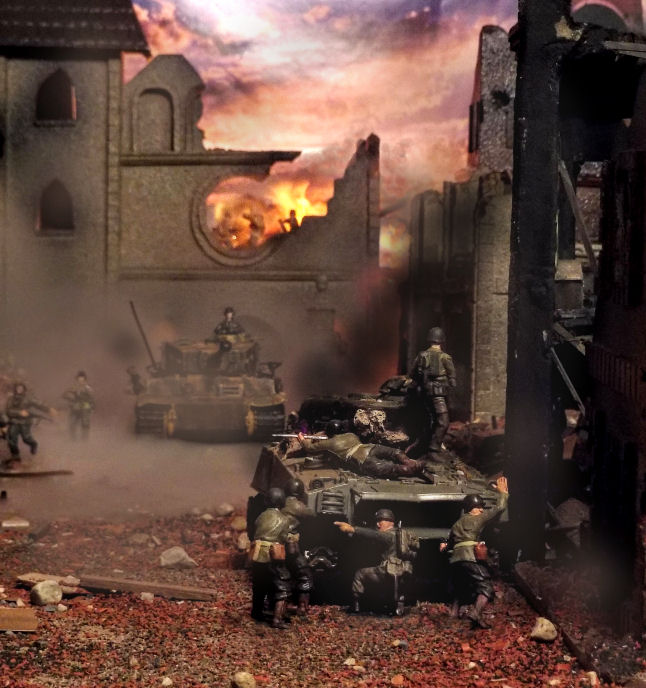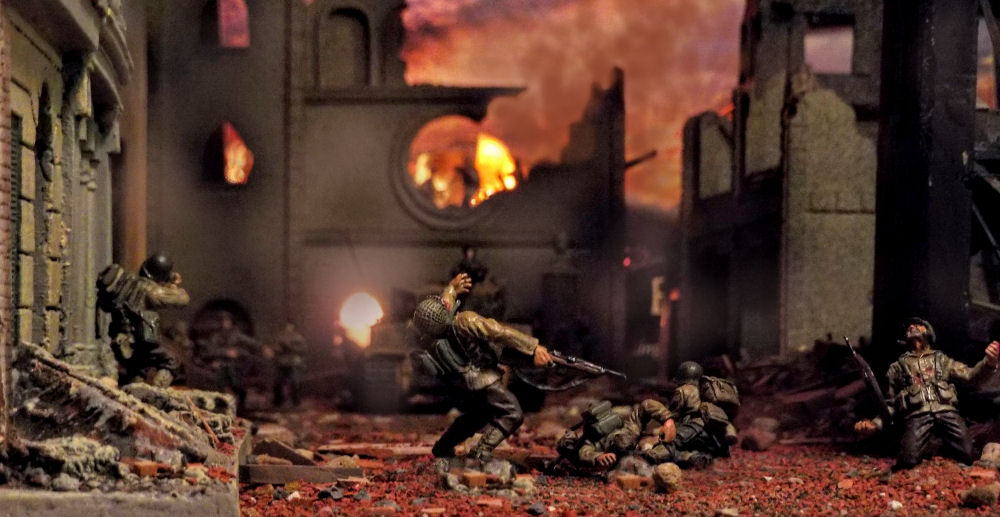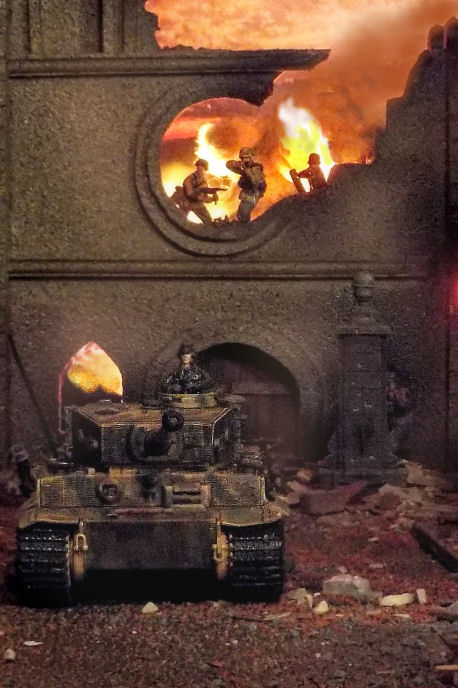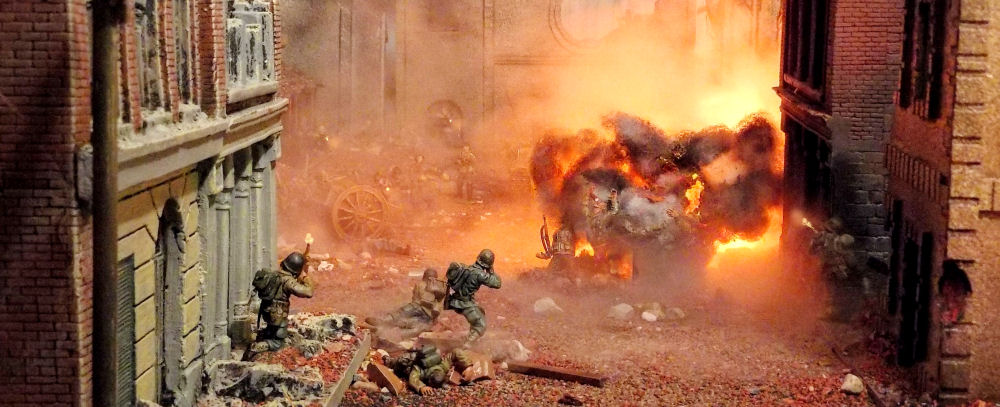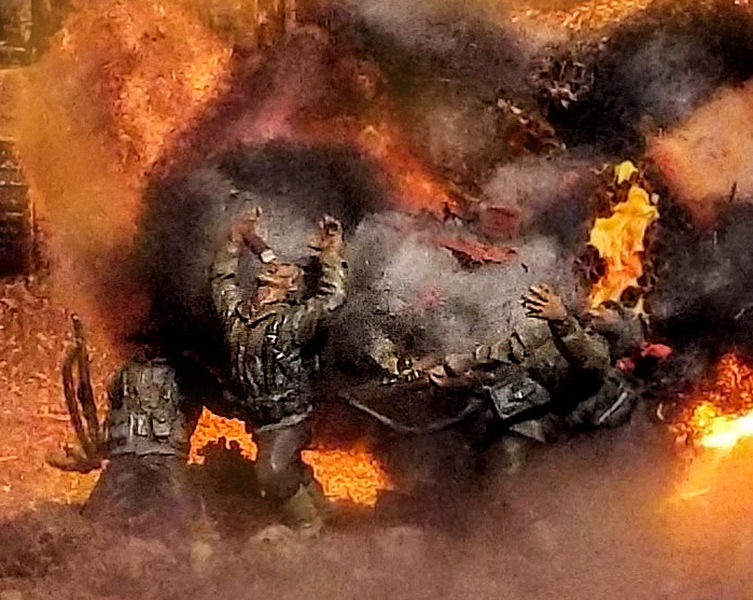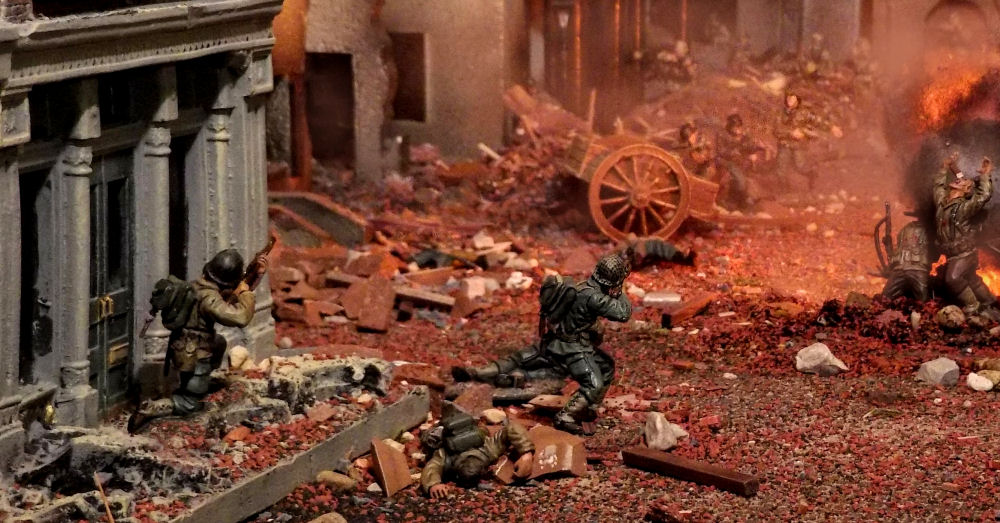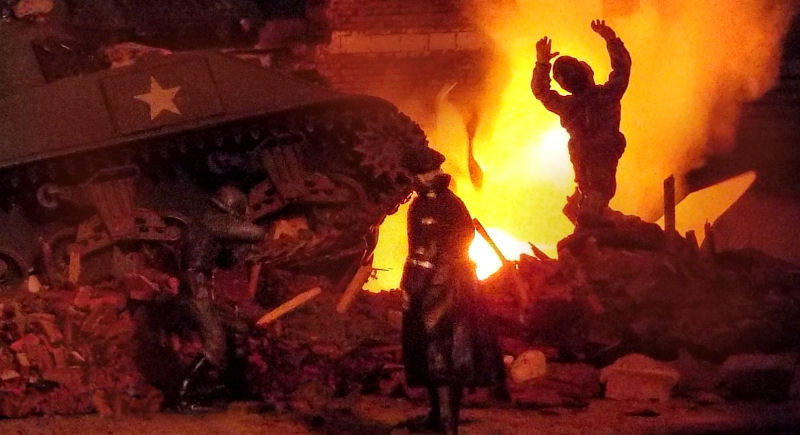 2/10-/17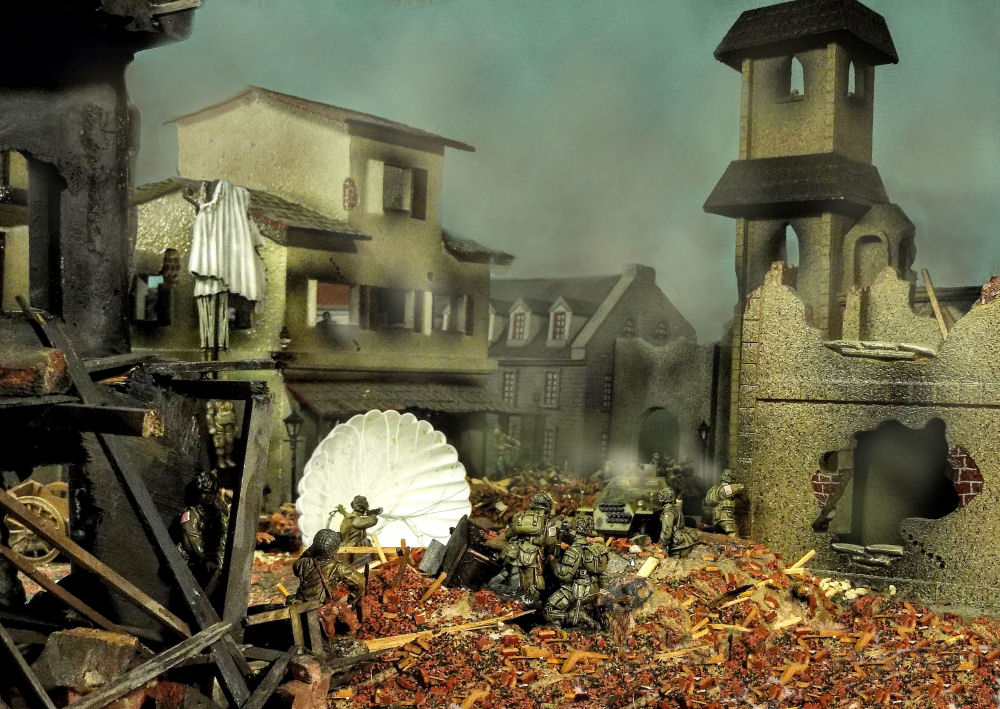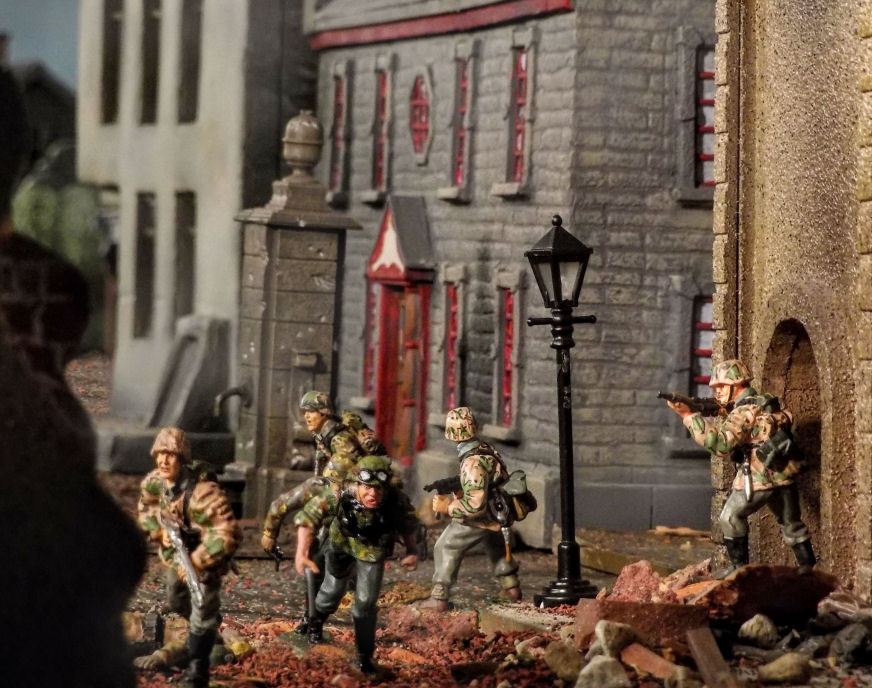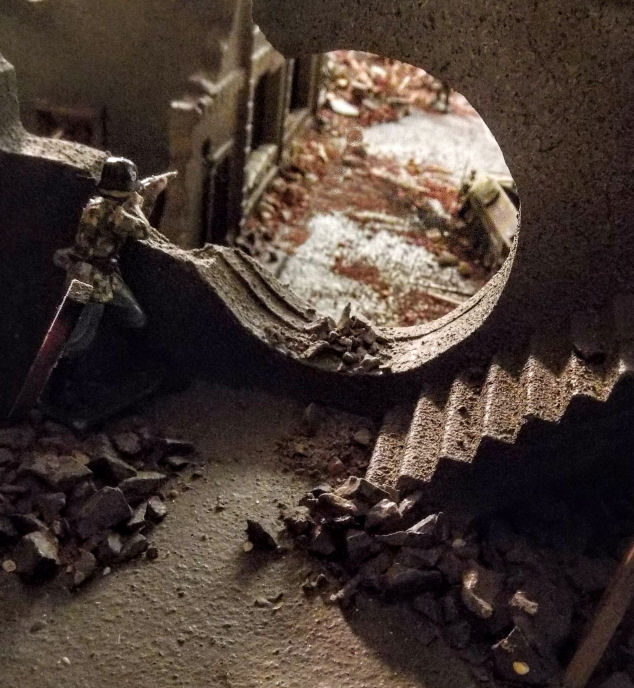 2/9/17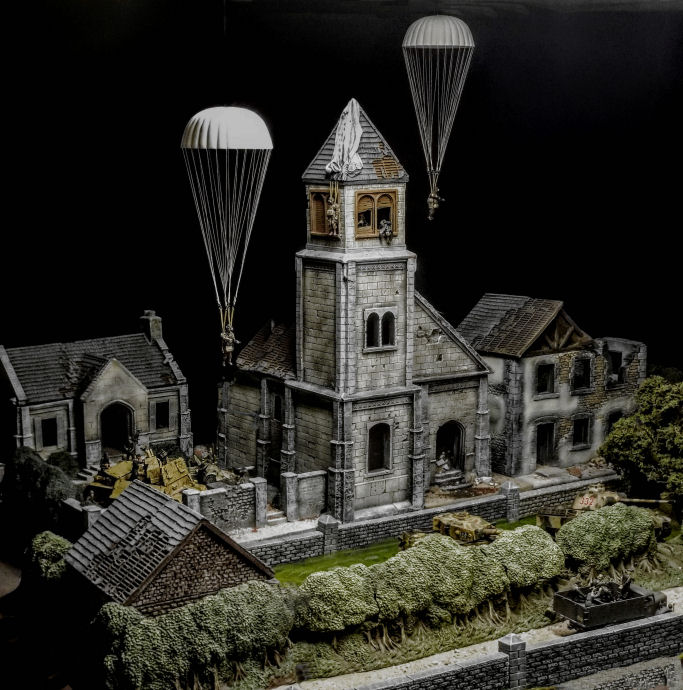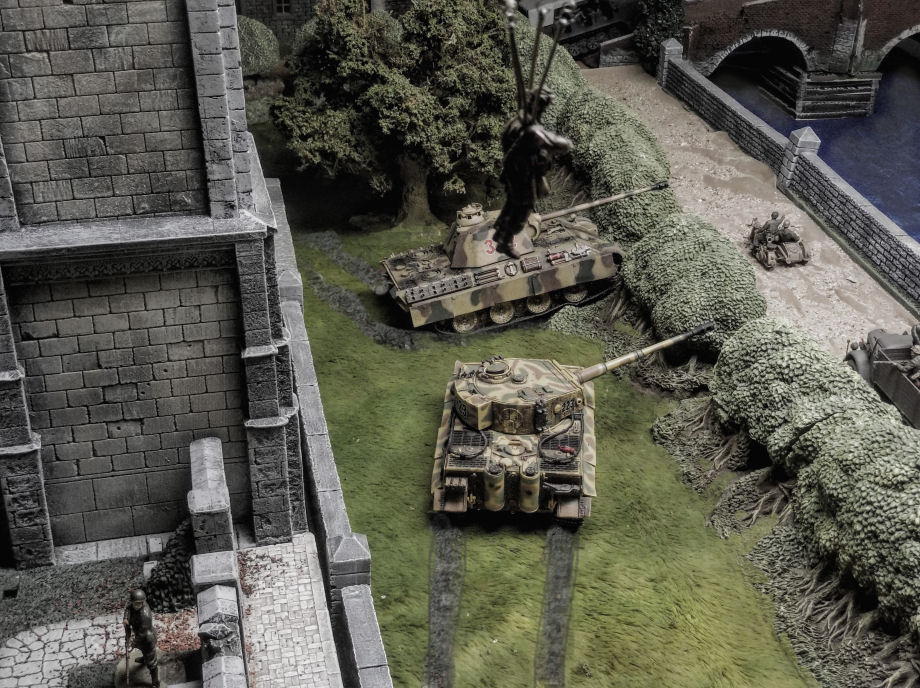 2/7/17
I don't quite know what got into me yesterday. I had made a lot of progress on my Basement Project last Friday and Saturday. I went down to continue my roll, but made the mistake of taking my camera down with me. Something caught my eye on one of the shelves and I took a picture. Themn something else caught my eye. You can see where this was going.. Later in evening I finally did finish a few new shelves, and those needed to photographed. Click on the picture below to see the results of my day of distraction.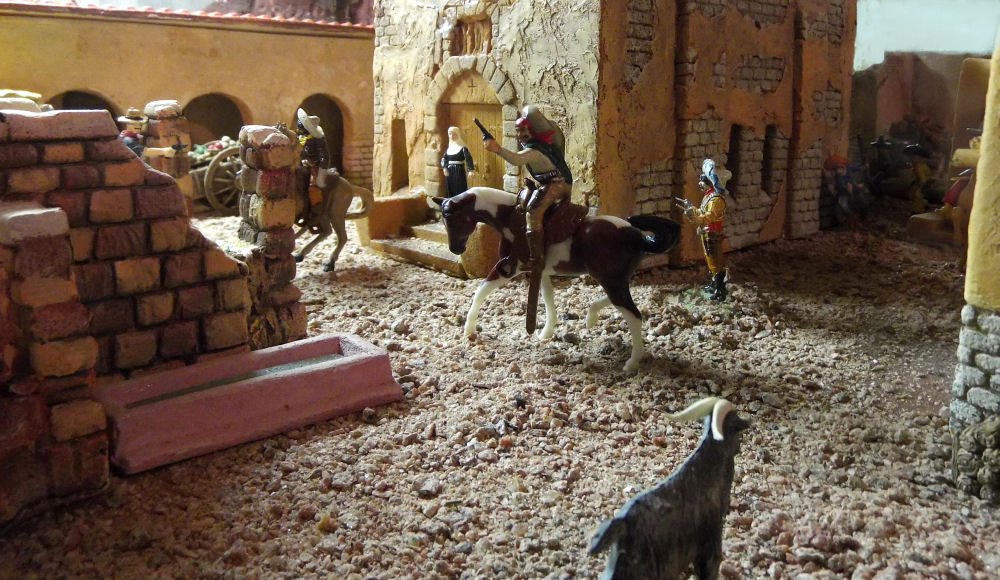 2./6/17

I decided to use the last piece of prime basement real estate on the Austin Miniatures Western Town buildings and my painted metal western figures from Black Hawk and Del Prado, as well as other painted figures that could fit in the scene,

There are a couple of B & T Products buildings as well.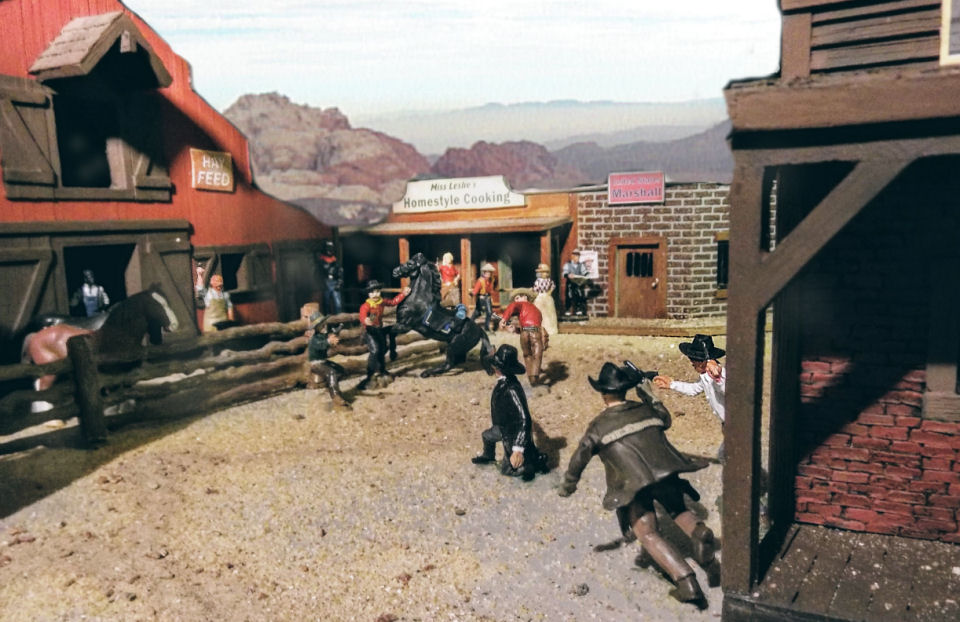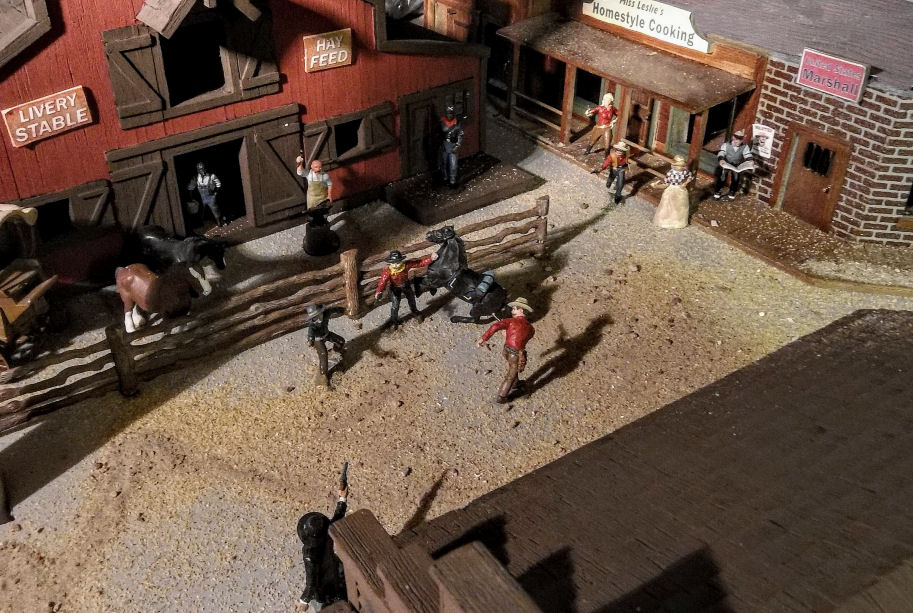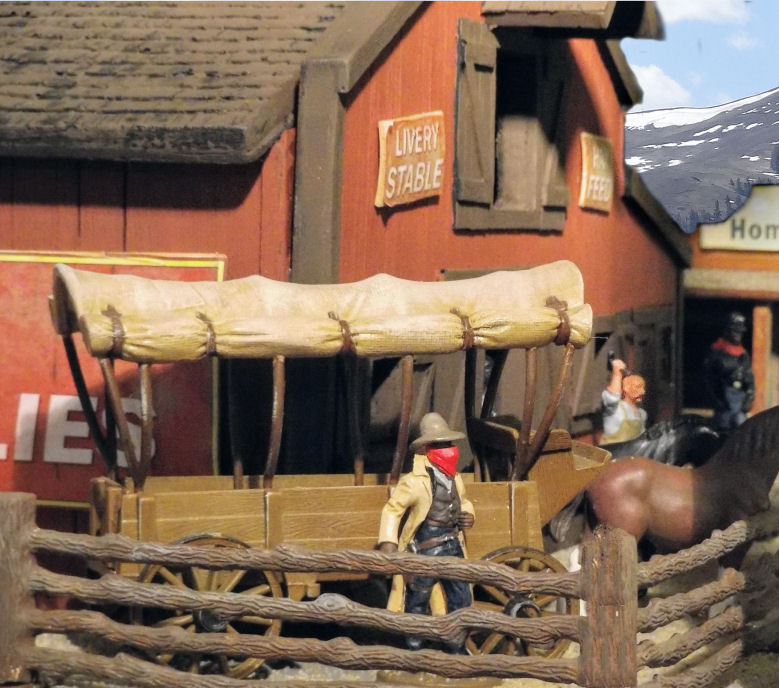 1/29/17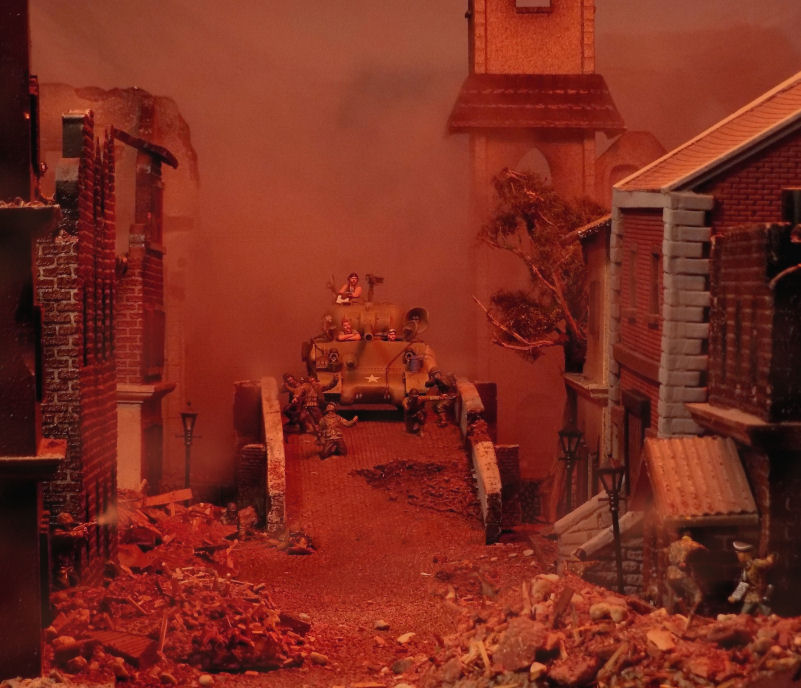 One of my Top 3 movies of all time is Kelly's Heroes. When King and Country came out with Oddball's Sherman Tank, I craved it. Finally, on a trip to San Antonio, I purchased it at King's X. How I wish K and Cs "Band of Heroes" set looked better. But they nailed Oddball and his crew. They're getting some negative vibes right here.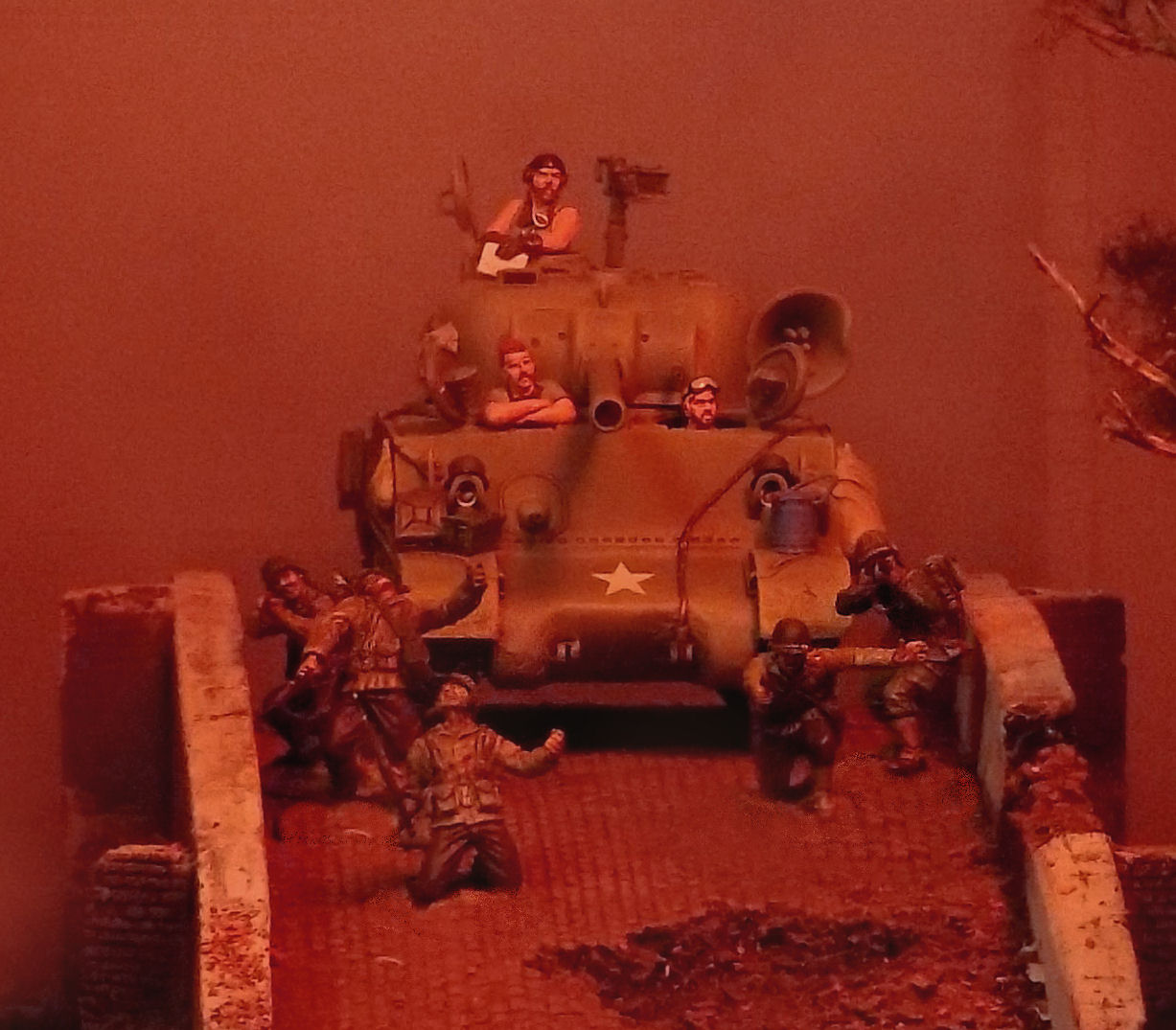 1/25/17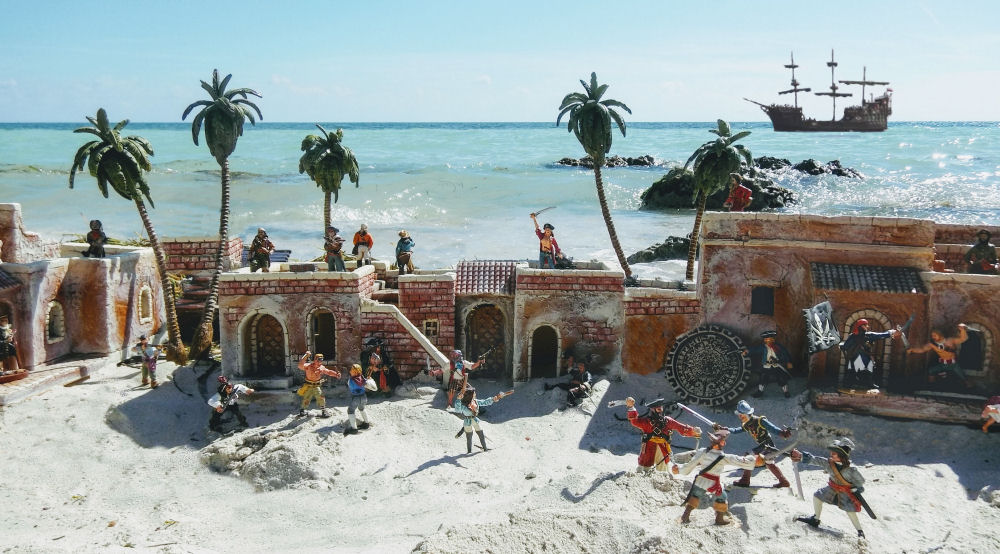 My lovely wife and I just retutned from a twelve day road trip down to the Florida Keys. She let me bring my Pirate stuff along. This set up was made at Bahia Honda State Park on Big Pine Key. Click on the picture to go to the page with the whole series of pictures.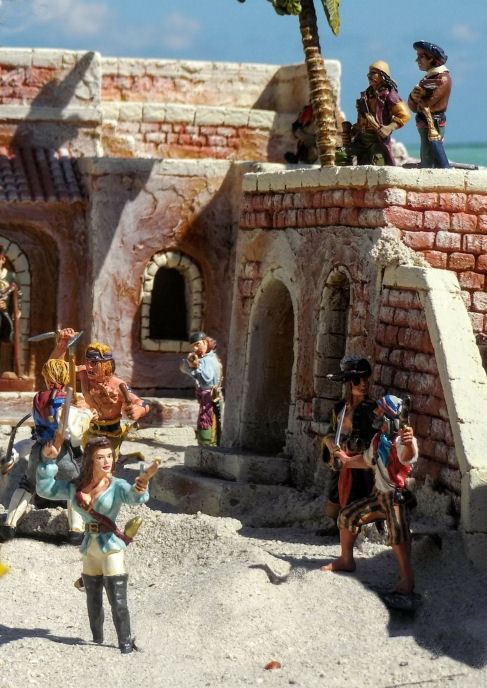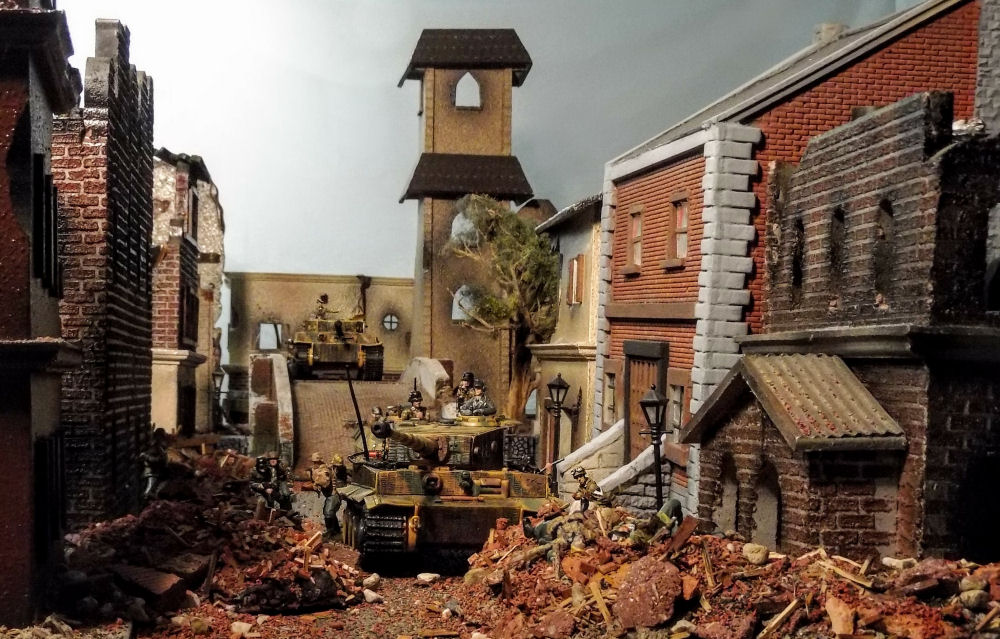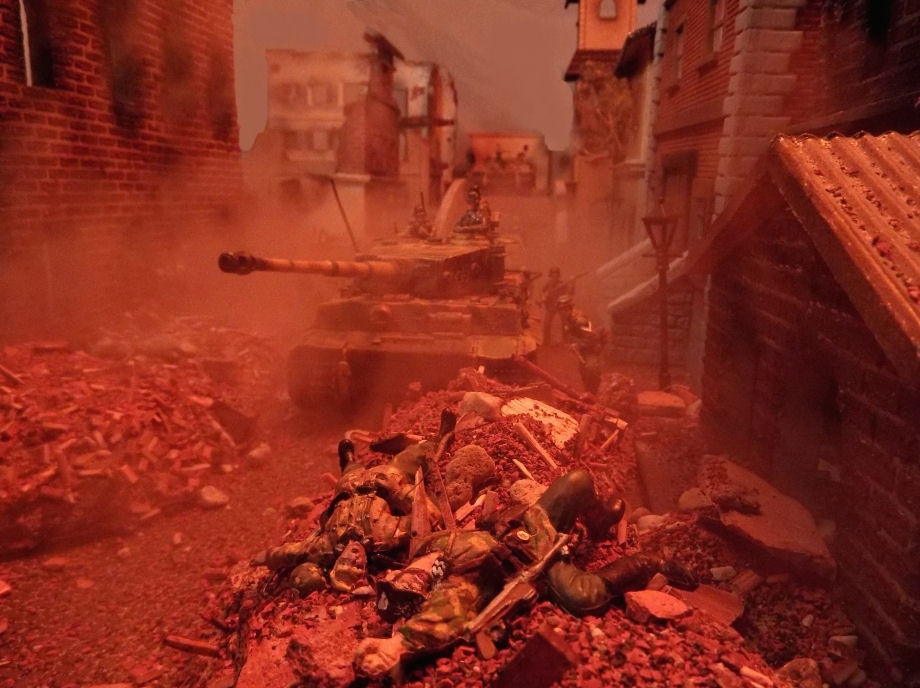 I am working with a new camera. Click on the picture below to see some of my test shots of various Shelf displays in my basement.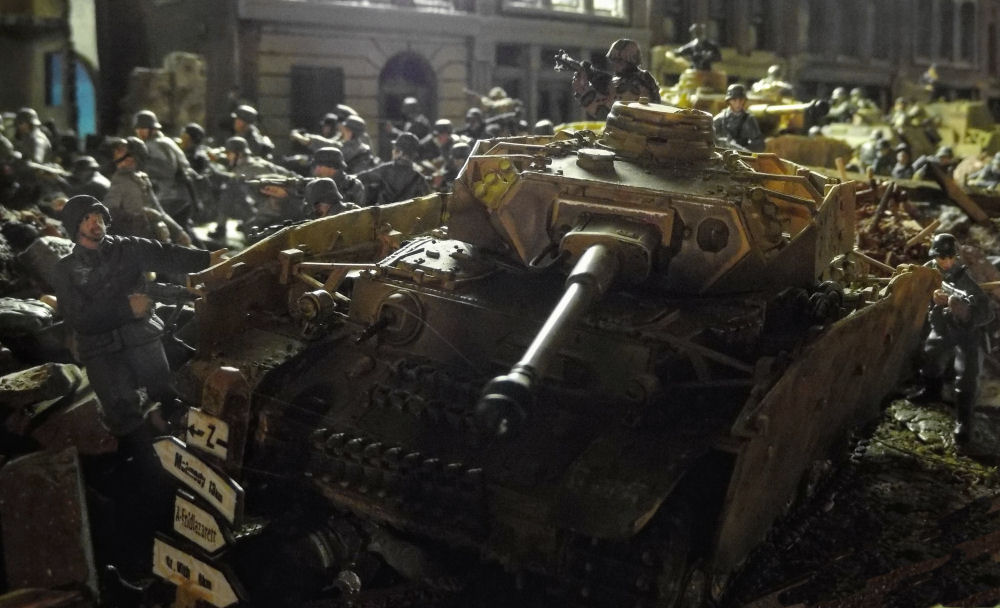 12/22/16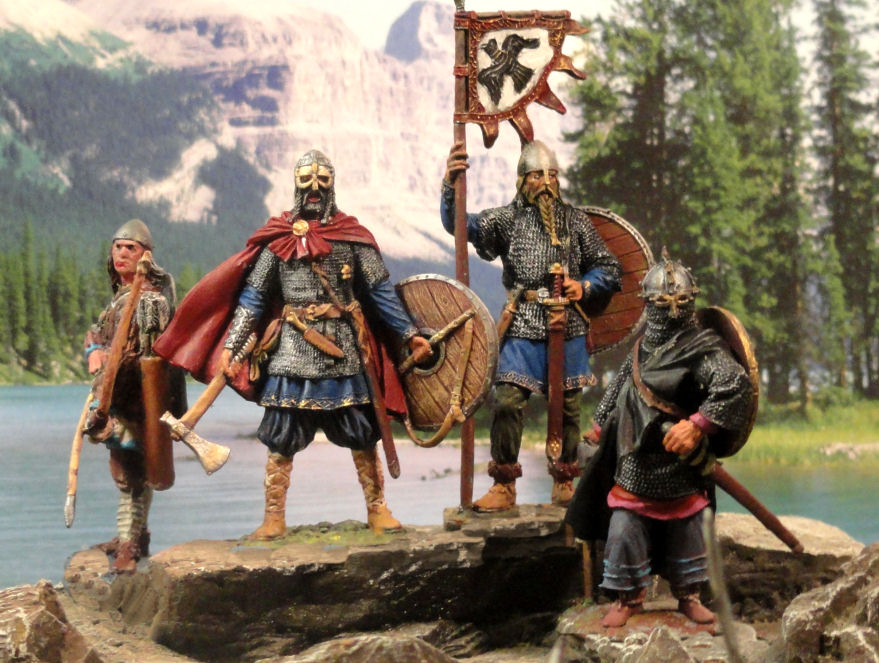 I've been painting a bunch of Russian mad Viking figures. They have turned out pretty good. Click on the picture to see more.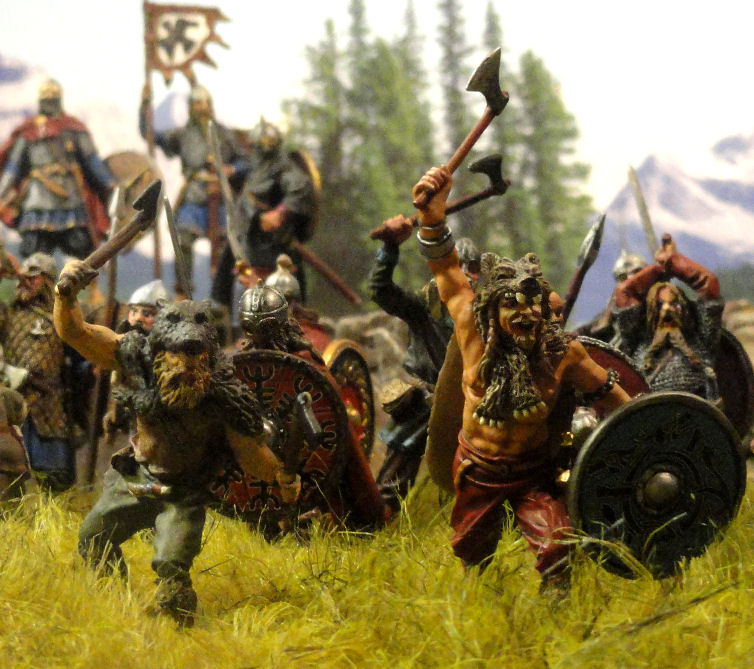 .
12/5/16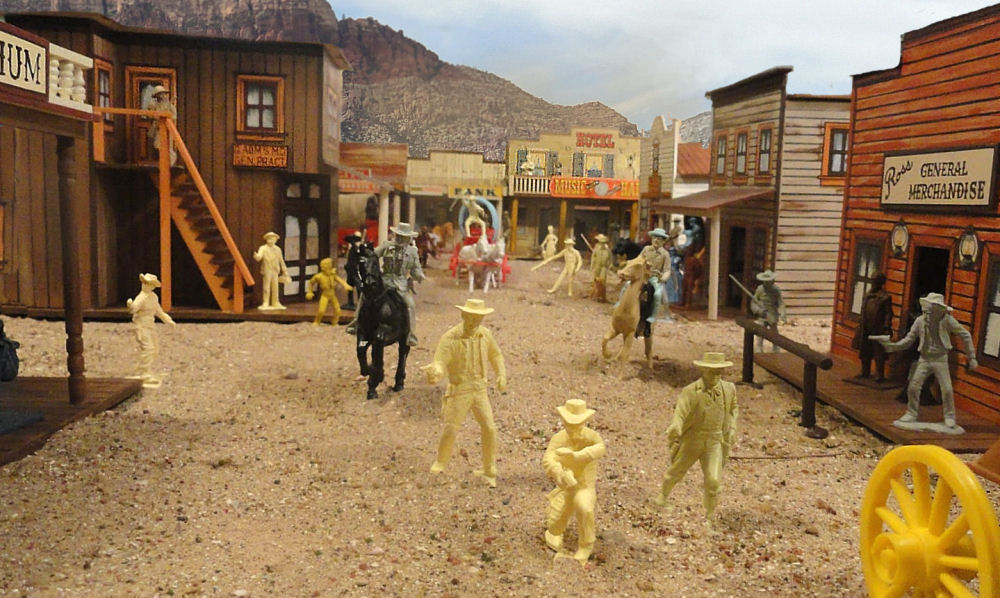 Click on the picture to see the whole series of pictures. This is one of my favorite series of pictures.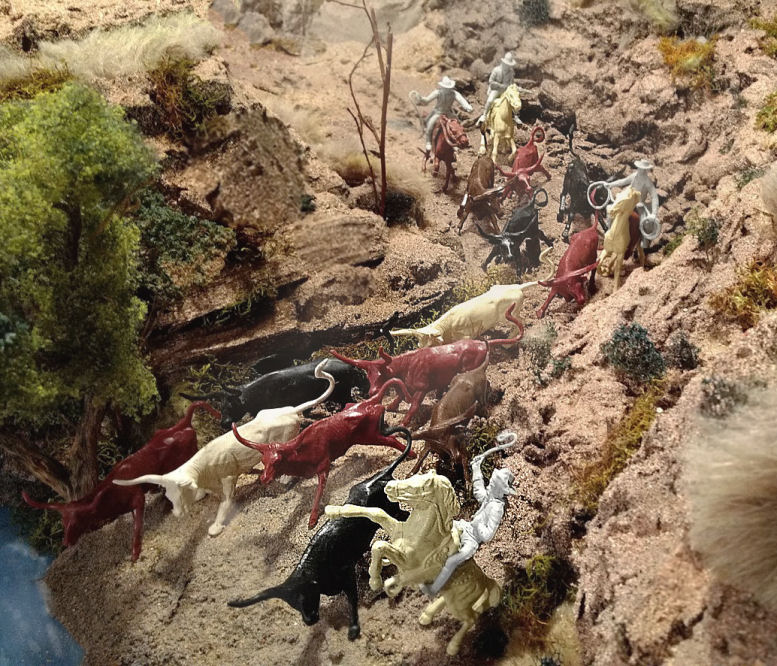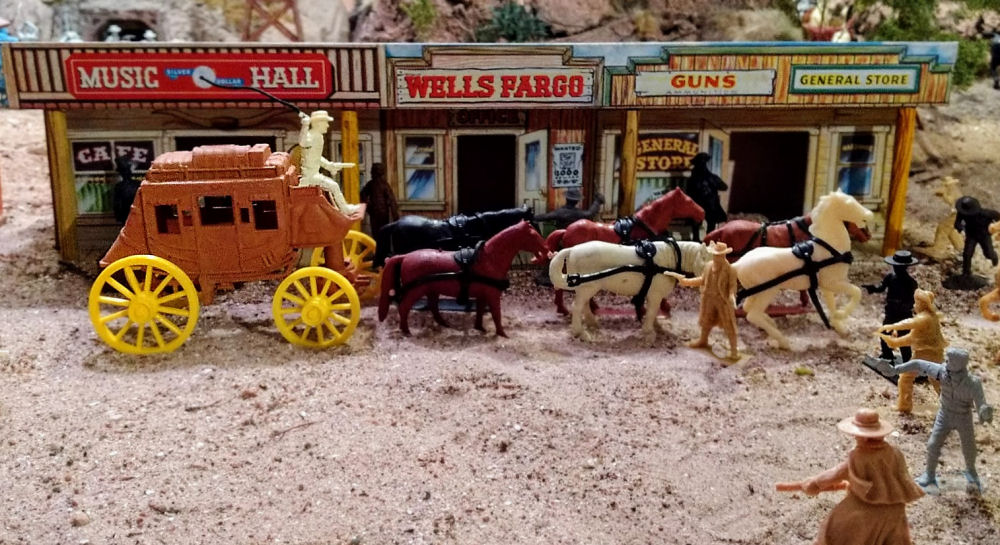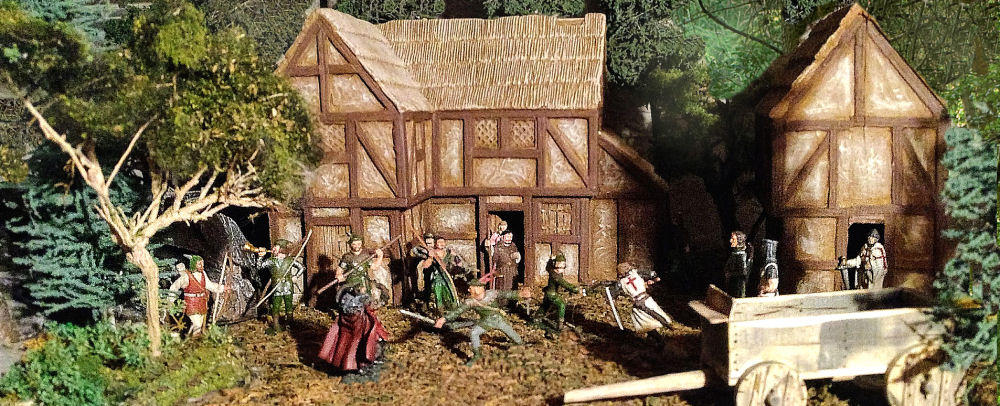 A little Robin Hood action.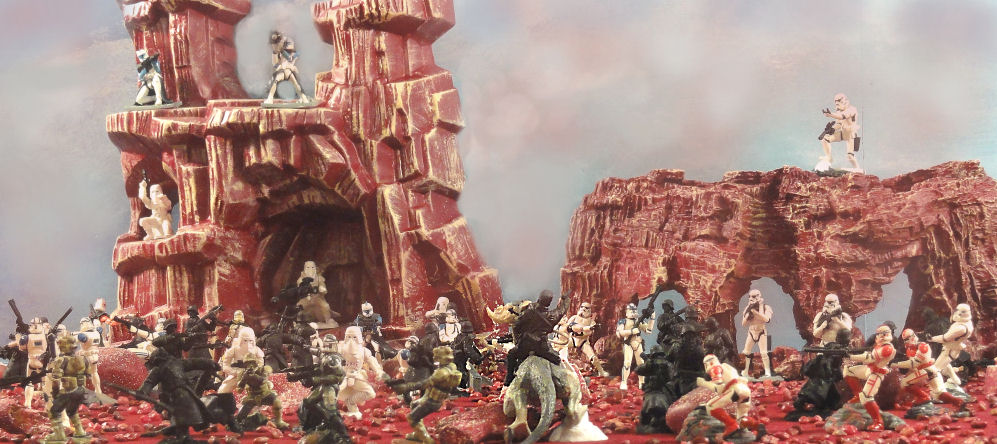 Here's something cool that TSSD had on display at the Chicago Toy Soldier Show.. I believe it was something they were selling on consignment for a collector. Click on the picture to see more photos of this unique display.

Britains had this great window box diorama on display at the Chicago toy Soldier show. Hats off to Ken Osen and his team.
September 2016
I've been reorganizing my basement and making some shelf displays.
Zulu War!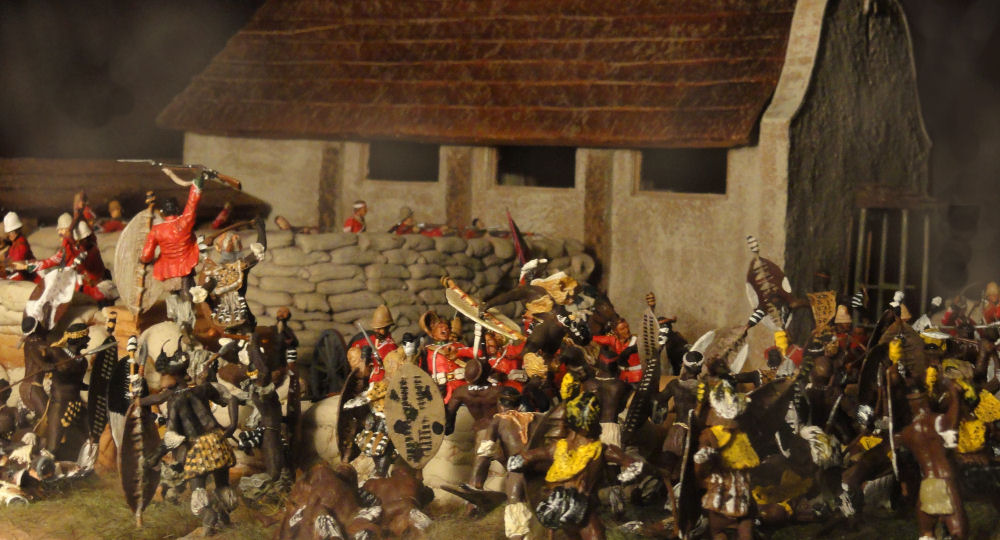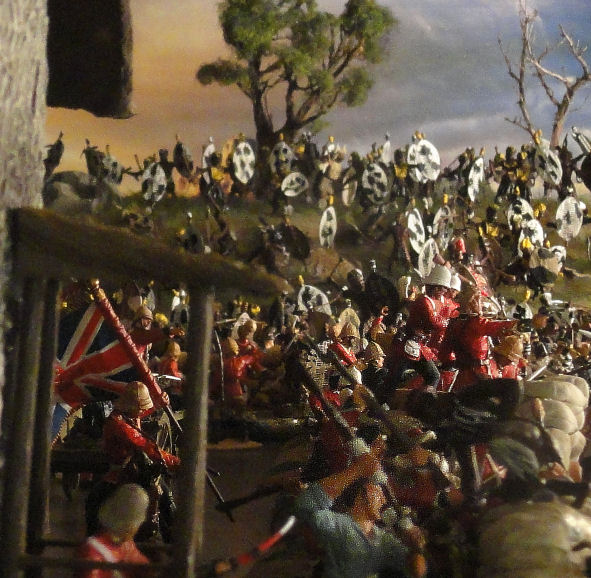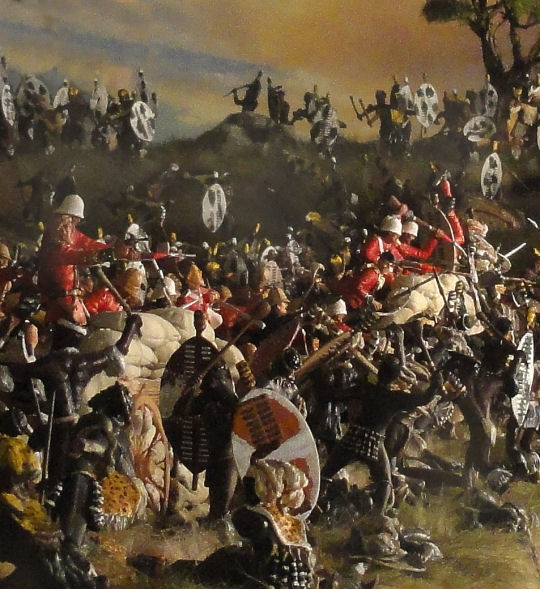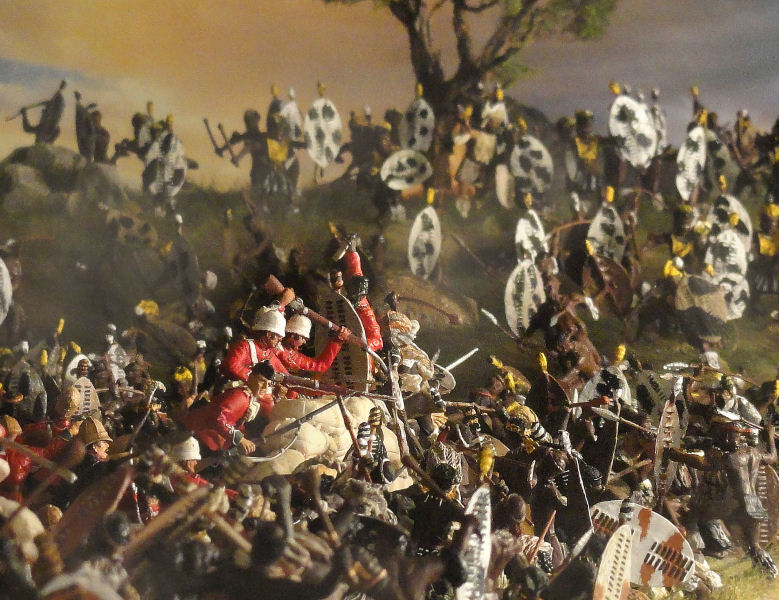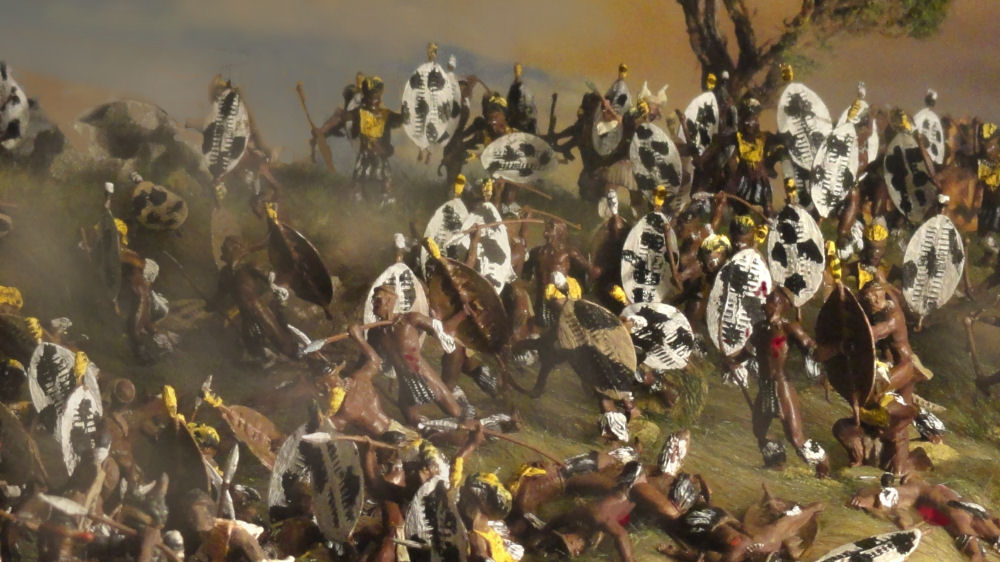 Civil War - Confederate Charge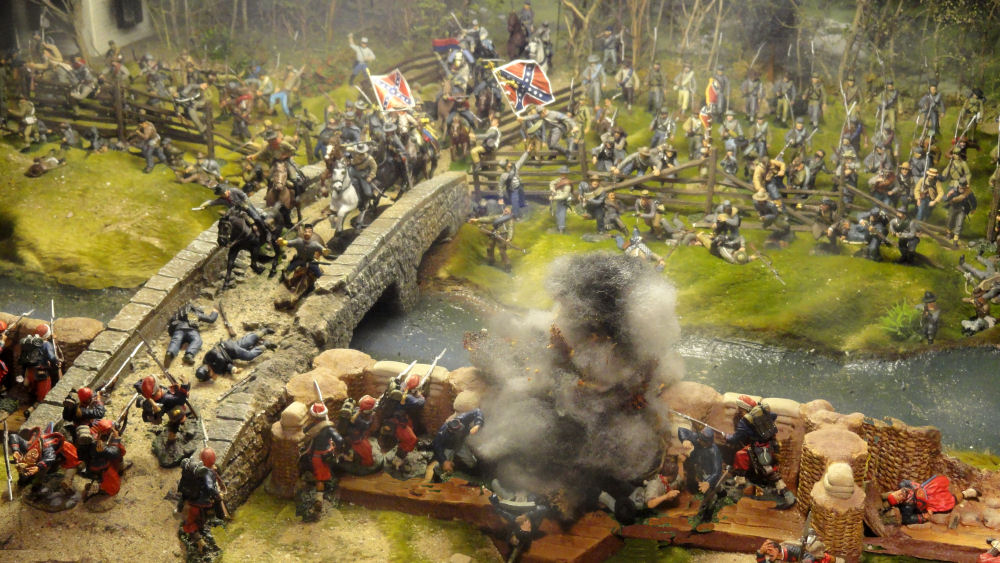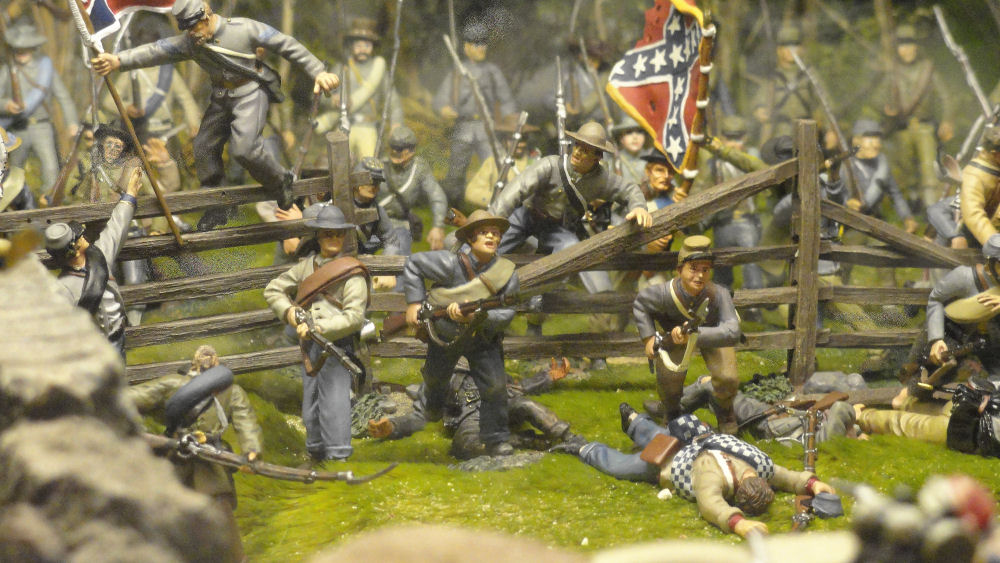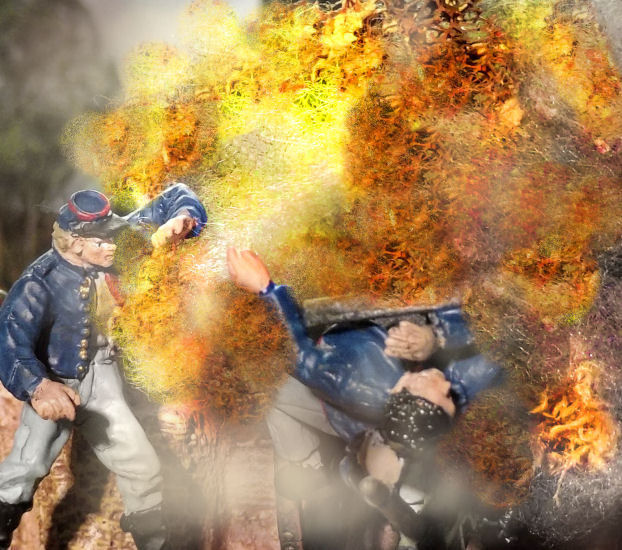 Custer's Last Stand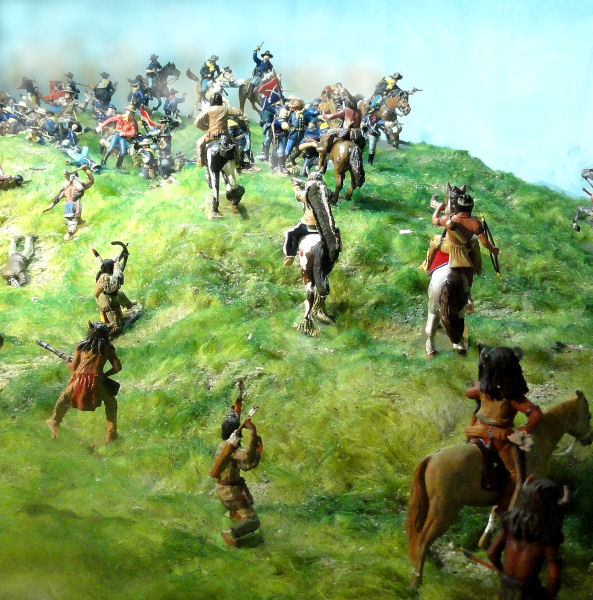 Alamo!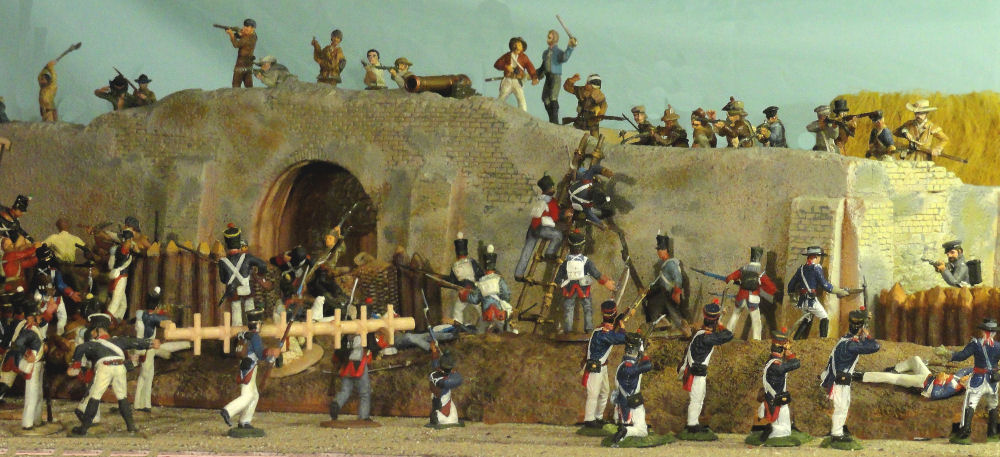 August 6, 2016
I've been cleaning up and reorganizing my hobby space and found an old computer disc with images I had blown up for posters when I did the photography work for Conte Collectibles. I enjoyed seeing hem again. Perhaps you will, too.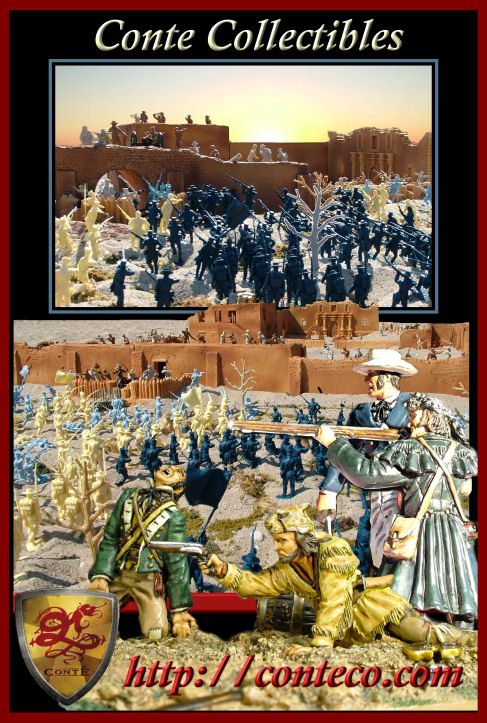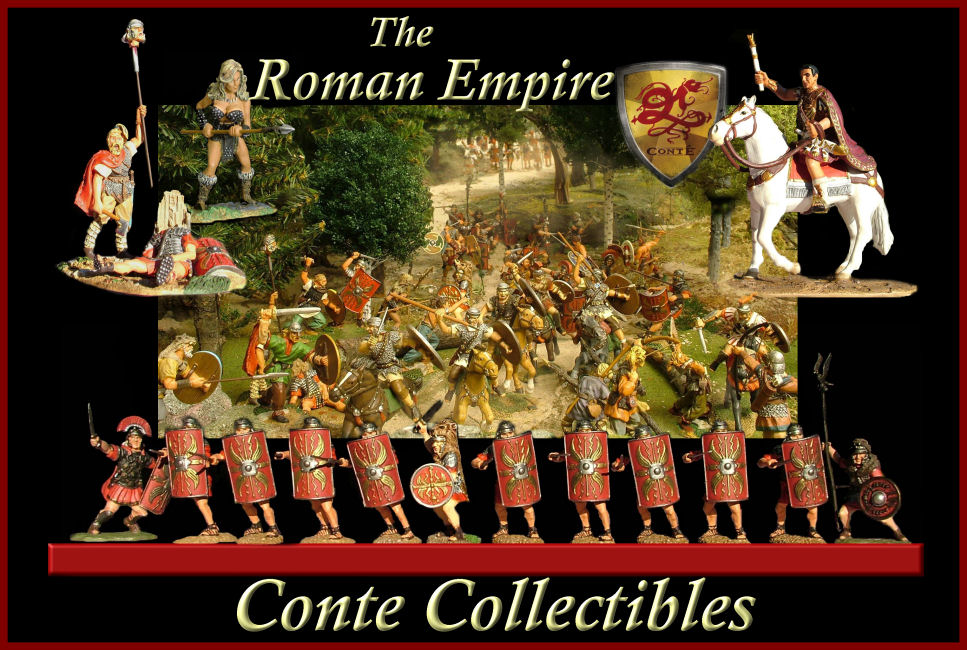 July 13, 2016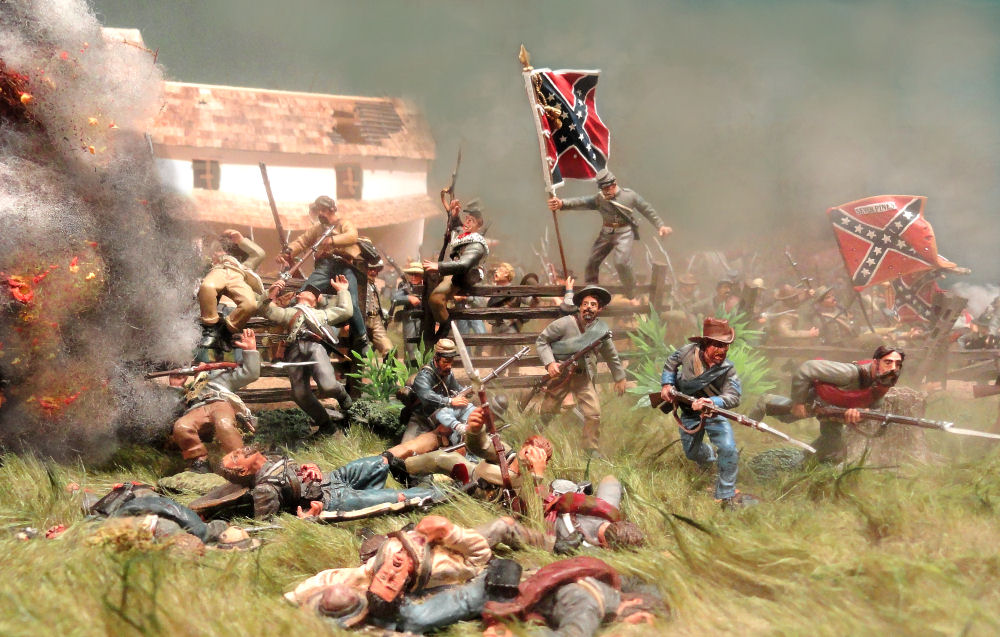 Click on this picture to see the huge series of dramatic Battle Scenes from this Diorama. These five pictures are just a small sample of what's on the other page.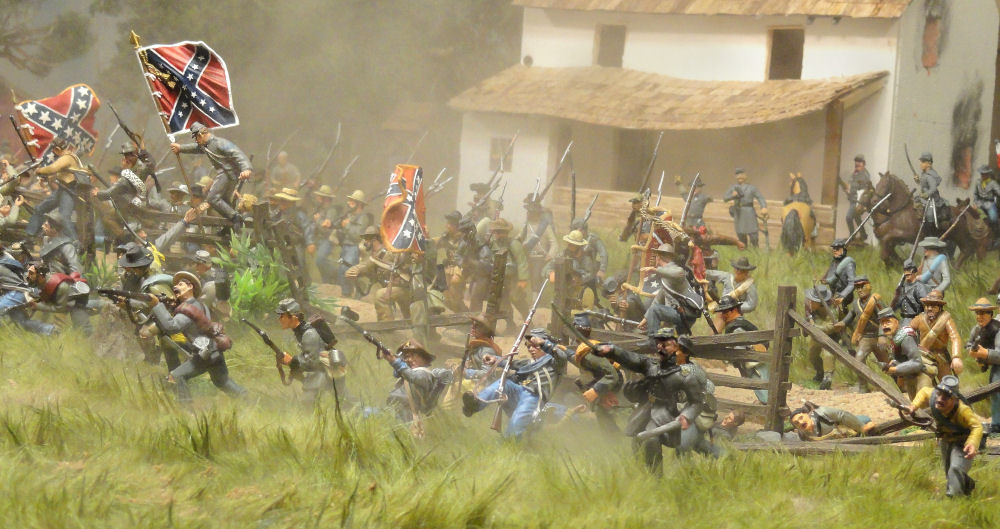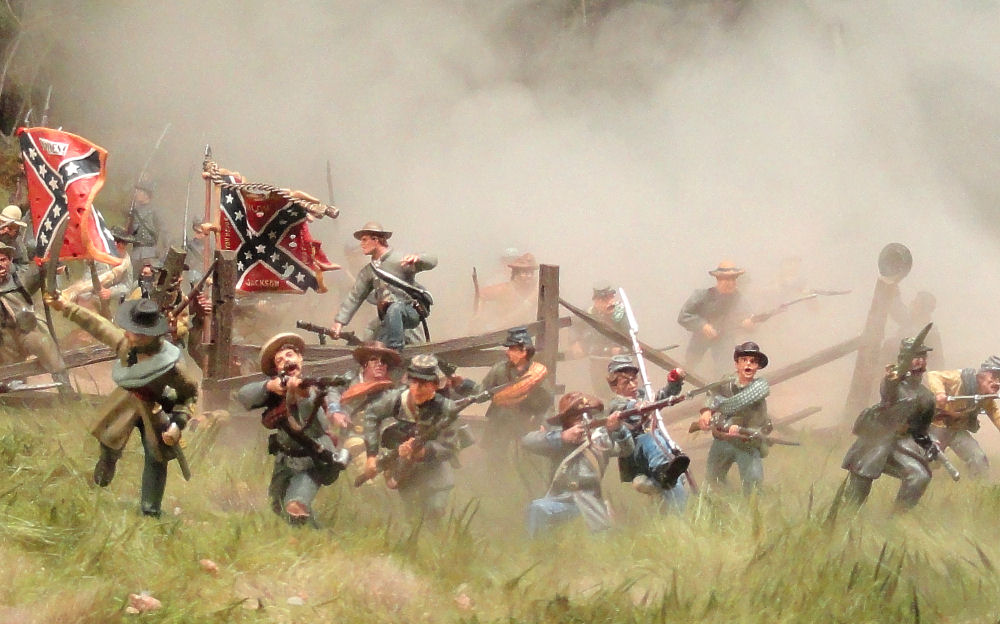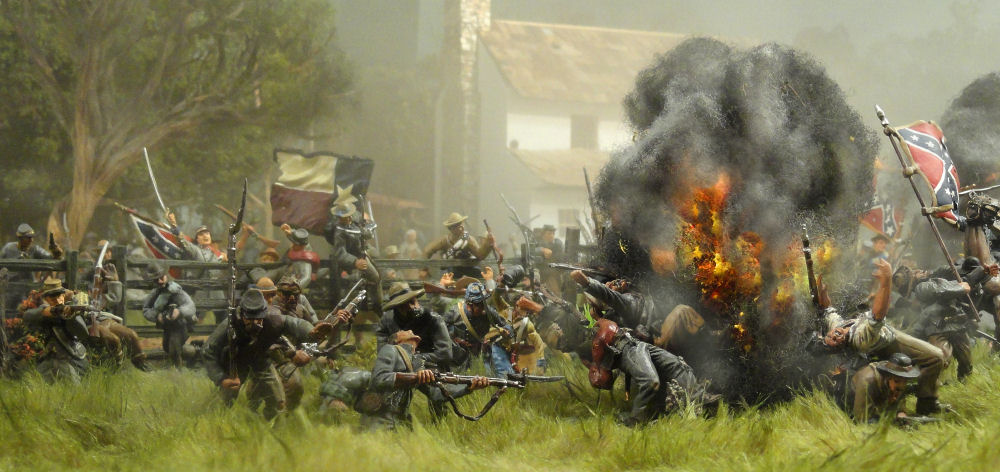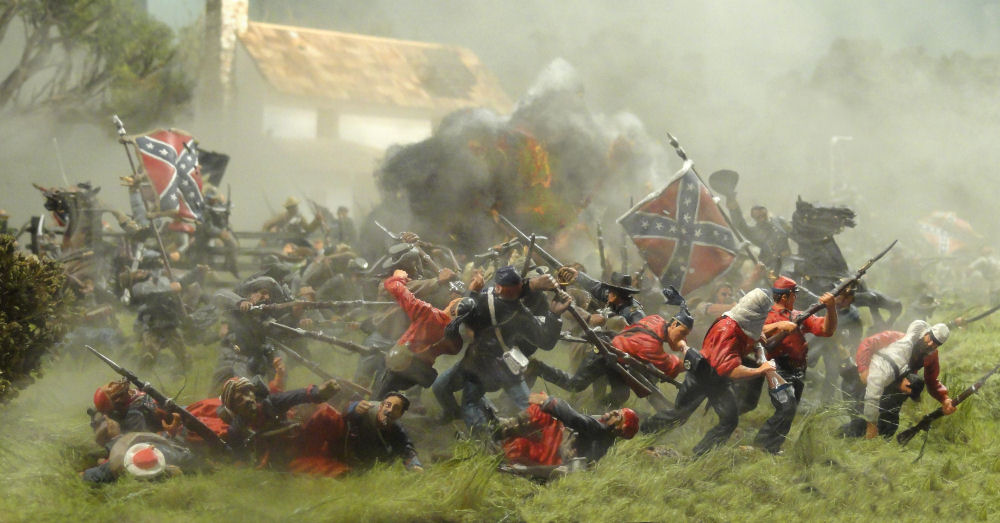 July 7, 2016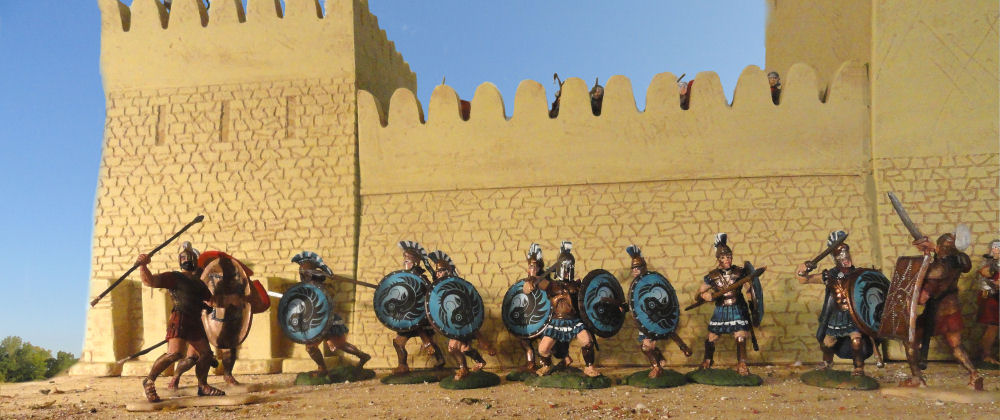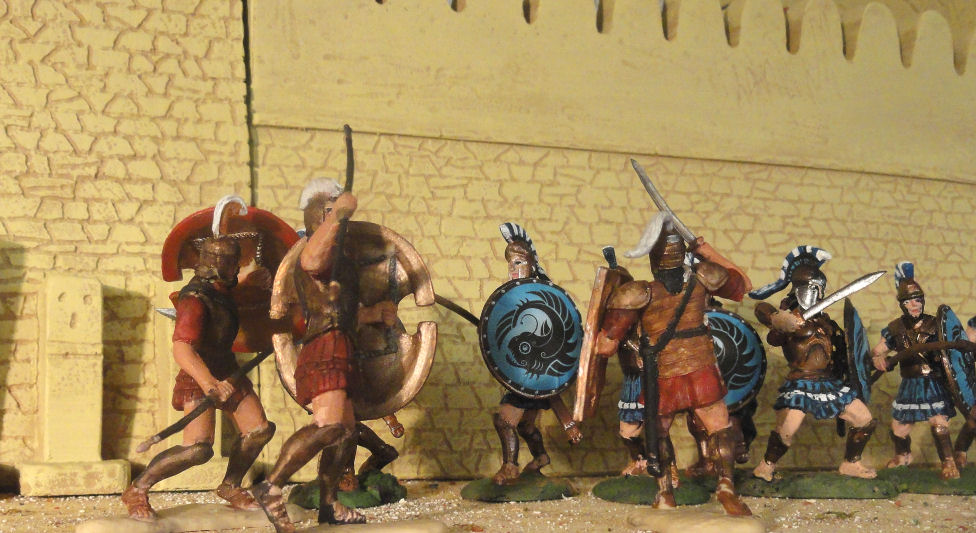 July 1, 2016

I just returned from a long road trip. I took my Cavalry and Indians with me, as well as a diorama drape. One Sunday morning while visiting my brother in Lake Tahoe, I got up early and took a table down to the beach and spent an hour and fifteen minutes setting up and photographing "The Battle of Lake Tahoe".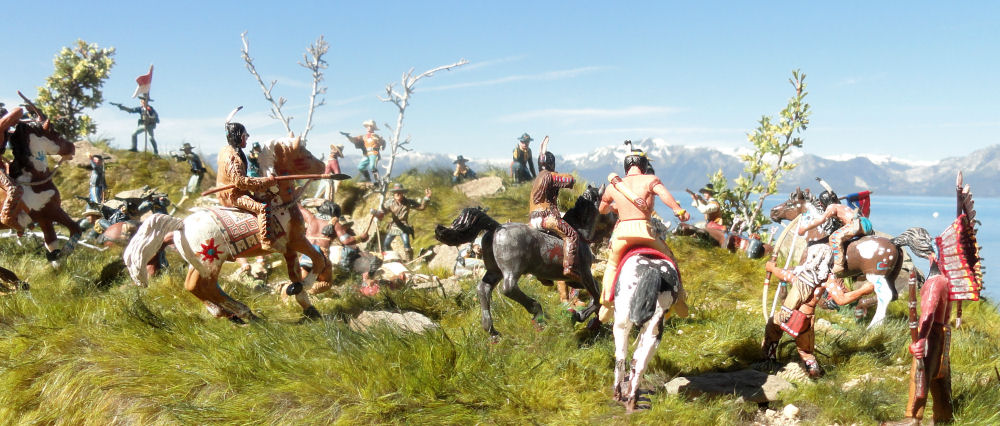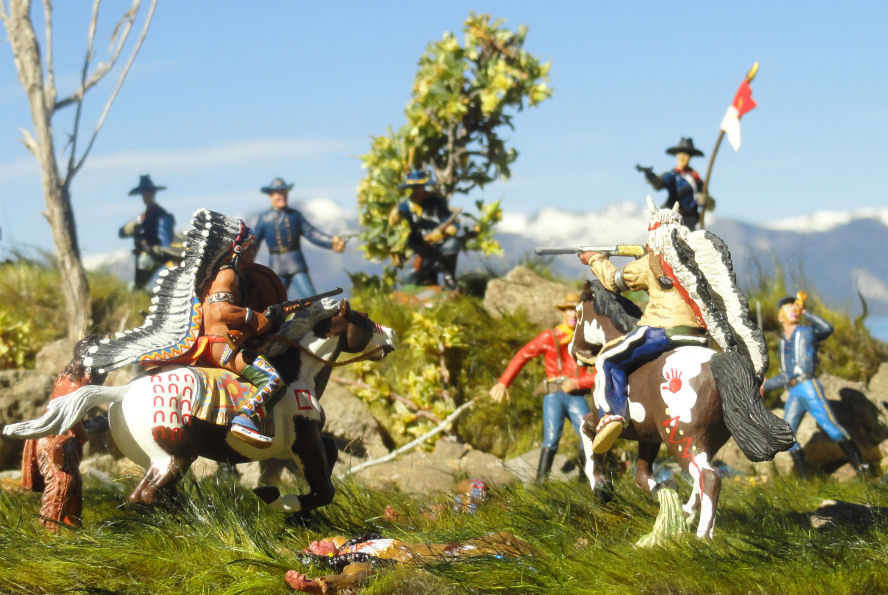 I wanted to feature this amazing King and Country chief as well as my newly painted downsized Marx six inch cavalry figures. They are a little tall, but I think they blend in OK in these pictures.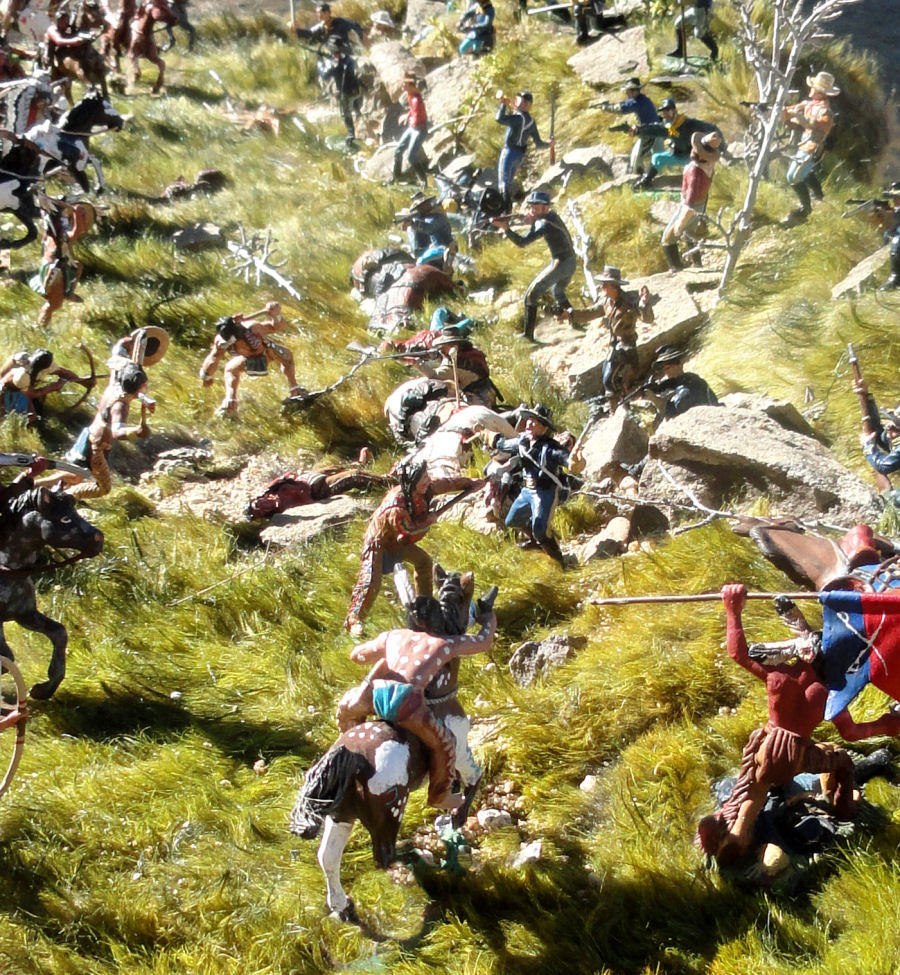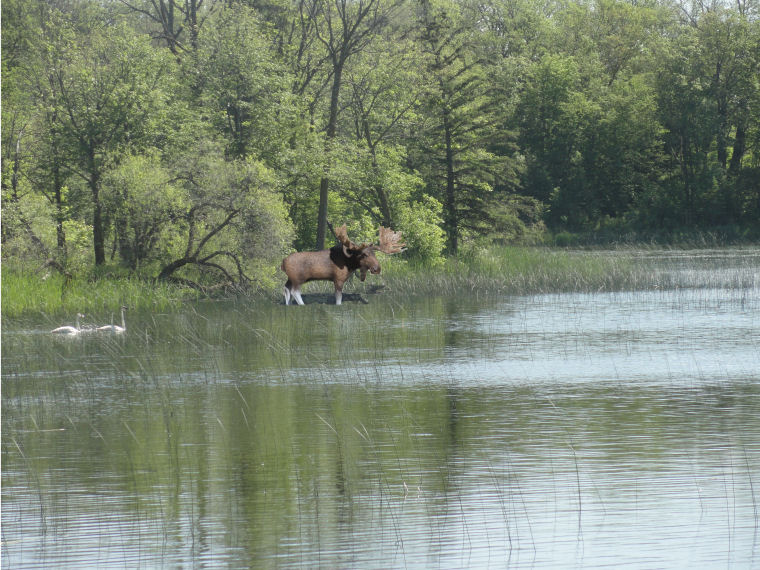 Seeing Wildlife is a fun part of traveling through National Parks.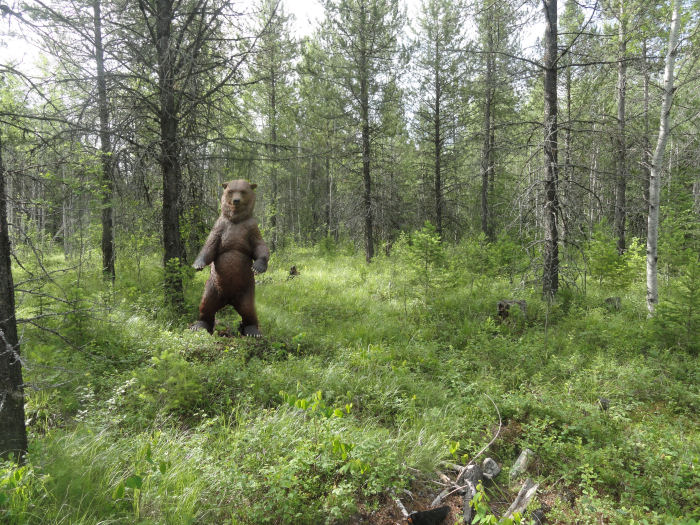 Even when you have to bring the wildlife with you.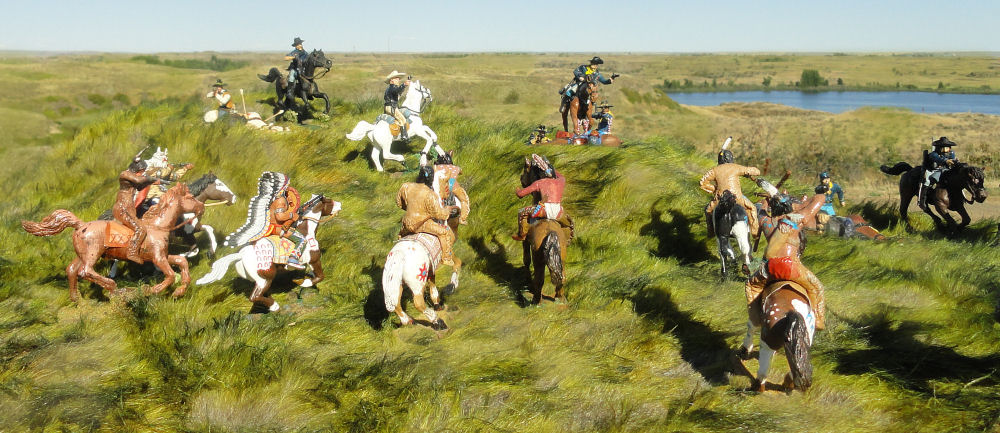 My wife needed to stretch her legs so I made this set up on a picnic table at a rest stop in Montana.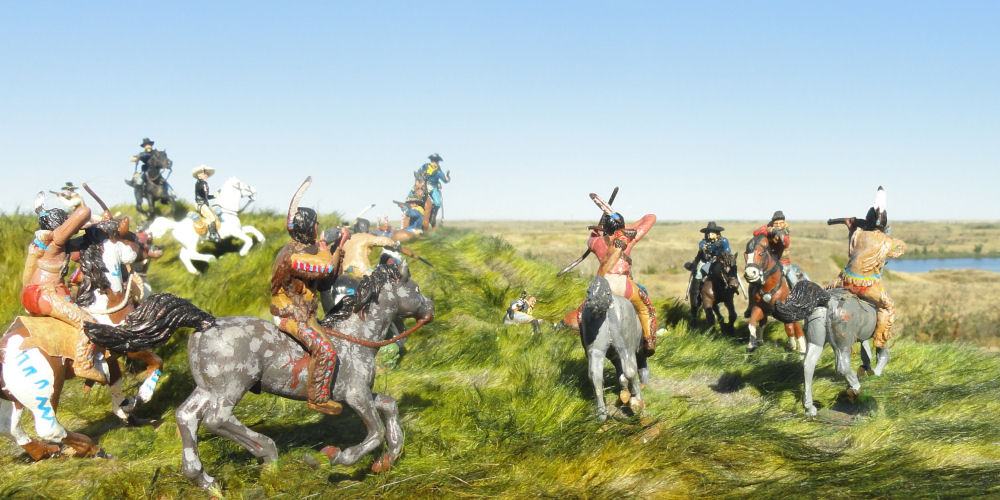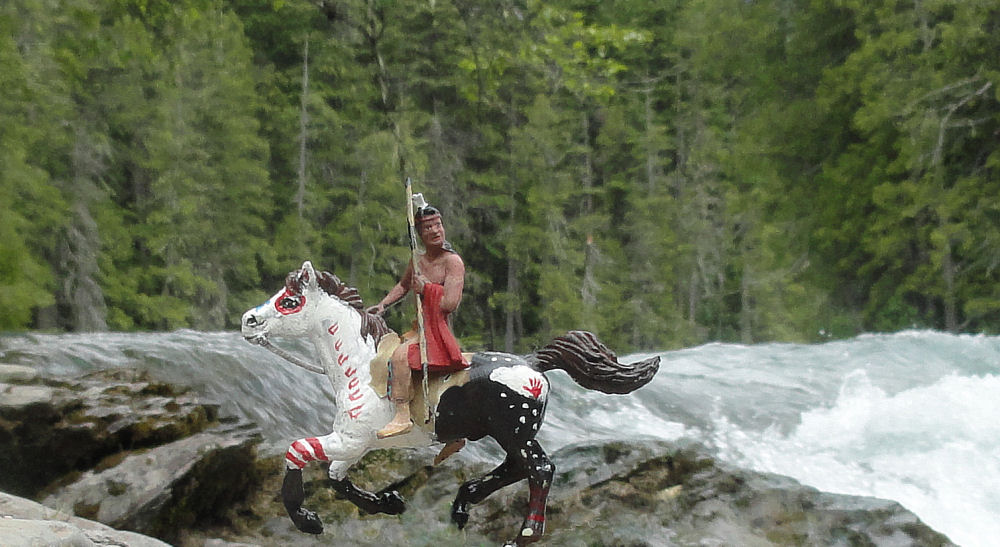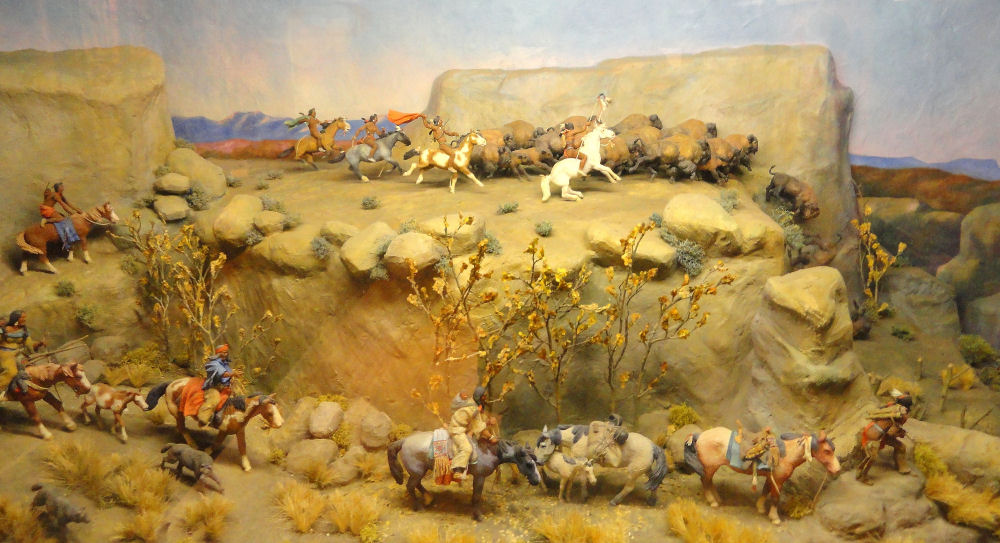 One of our stops was in Banff, Alberta. There we spent an hour going through the Buffalo Museum. They had several amazing dioramas in about 70 mm scale. I so wish the sculptor had mass produced these figures in 58mm scale. I love the horses and the dogs.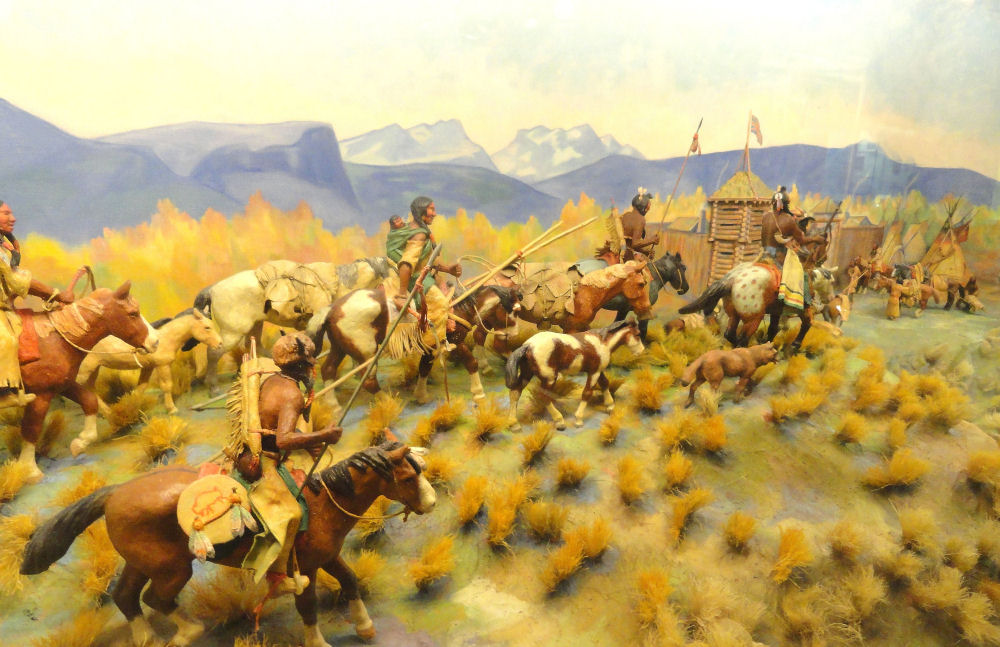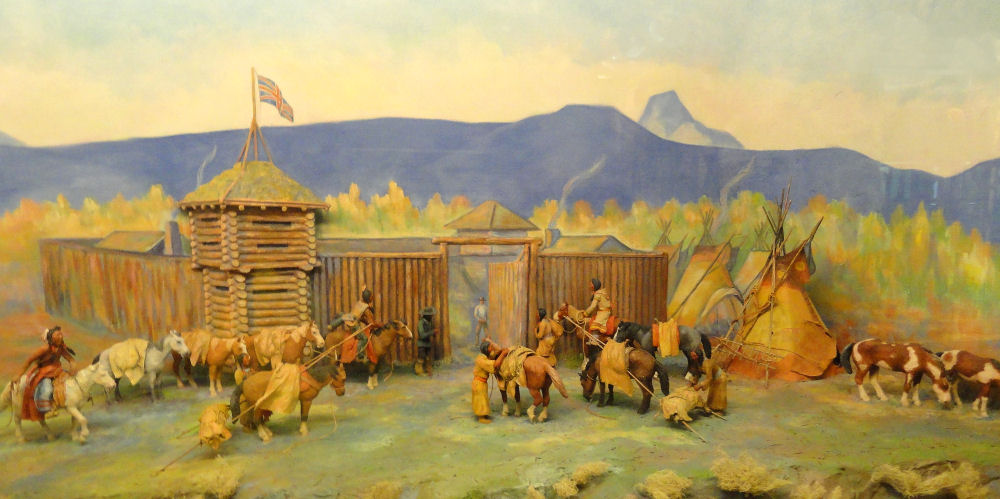 June 1, 2016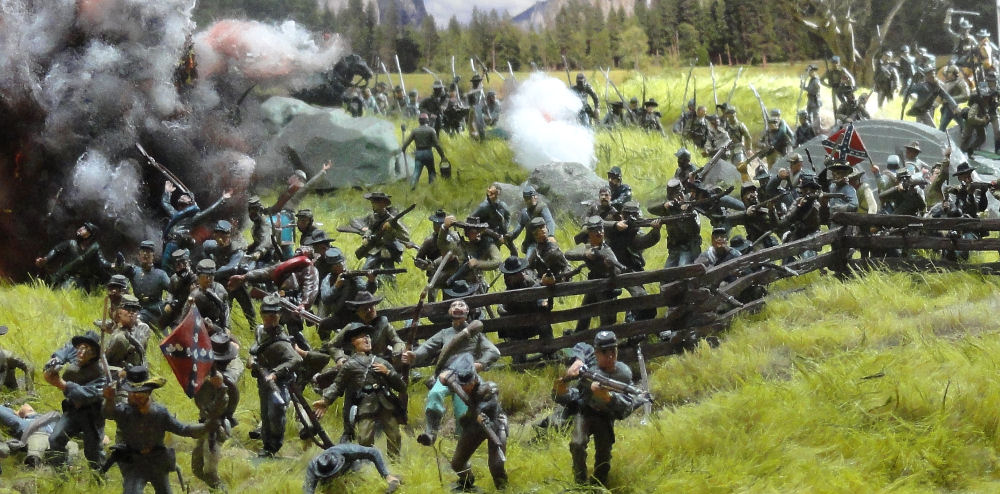 I made a new Diorama Drape and made a set up using my newly painted Confederate Conversions.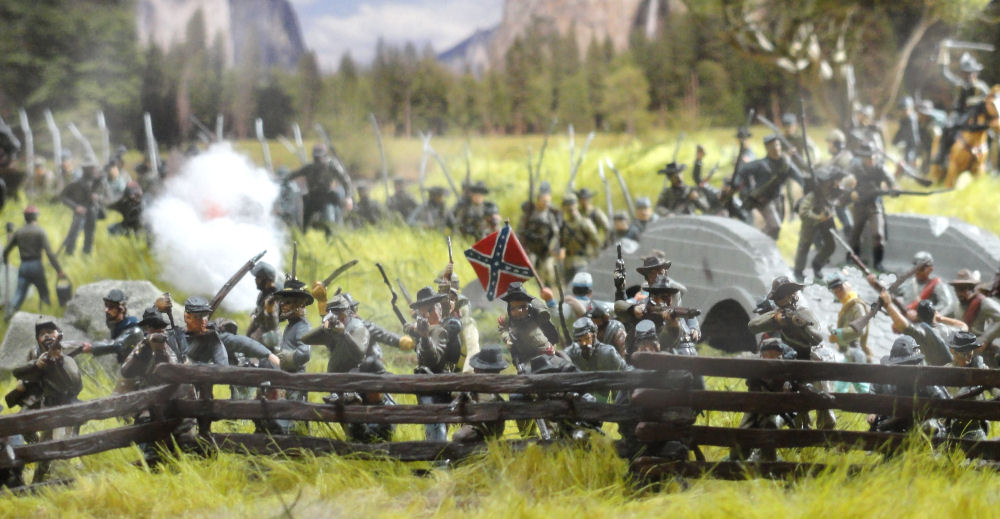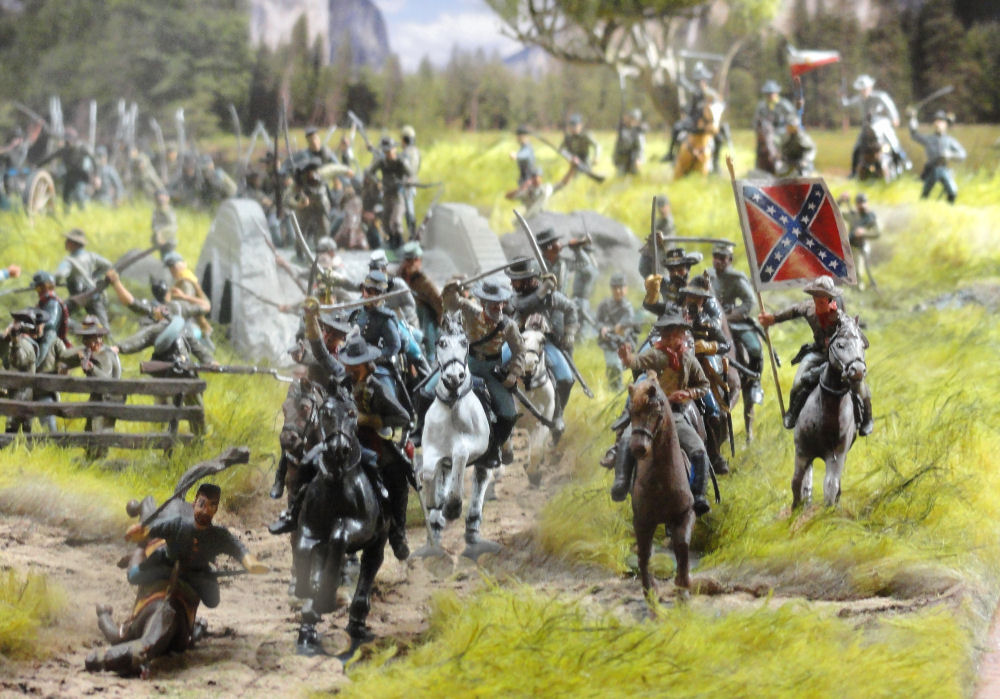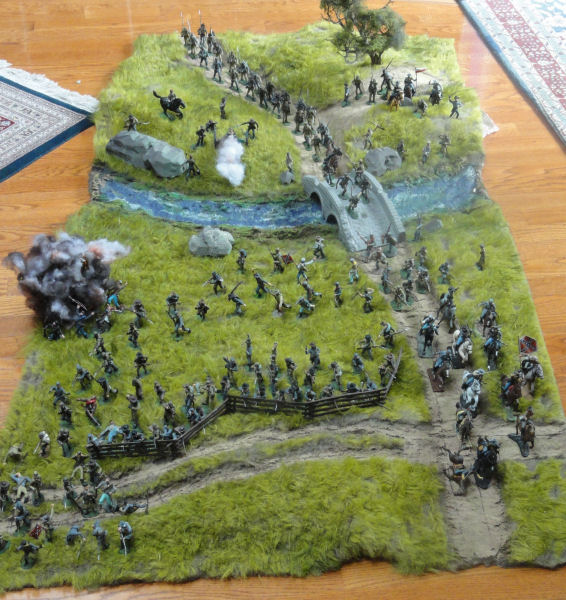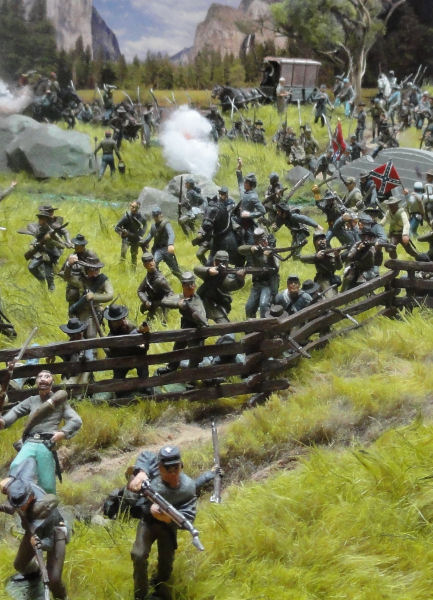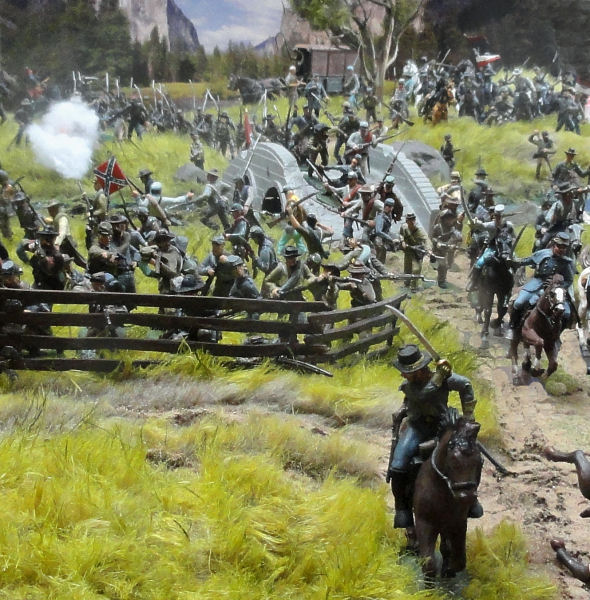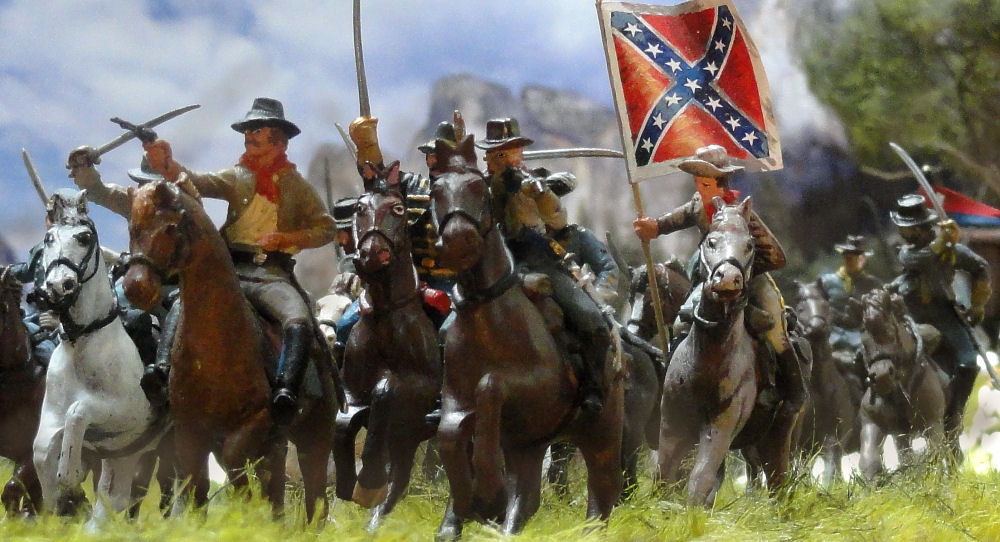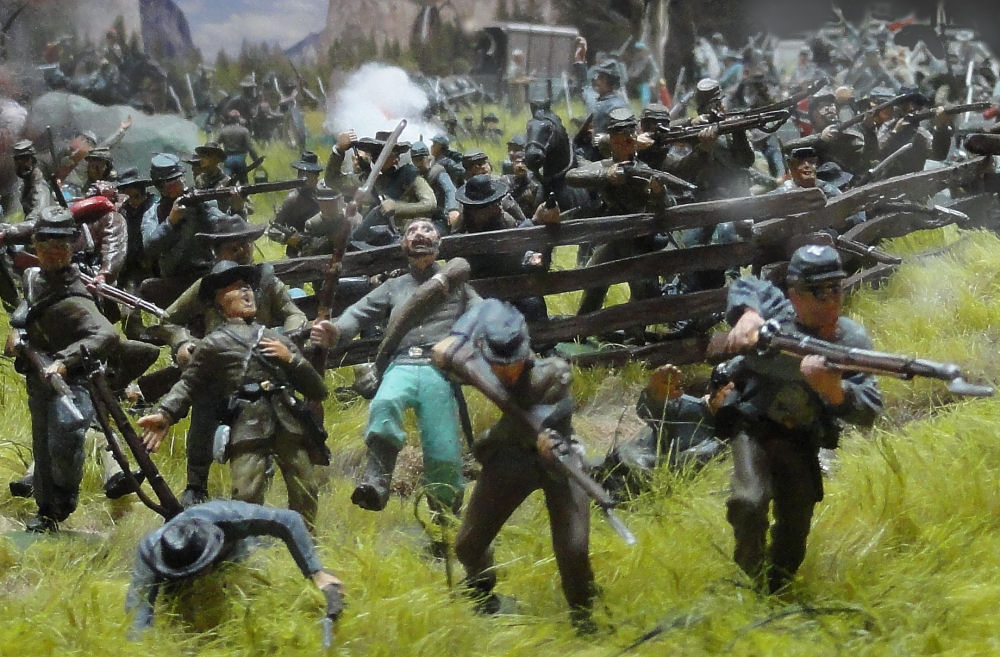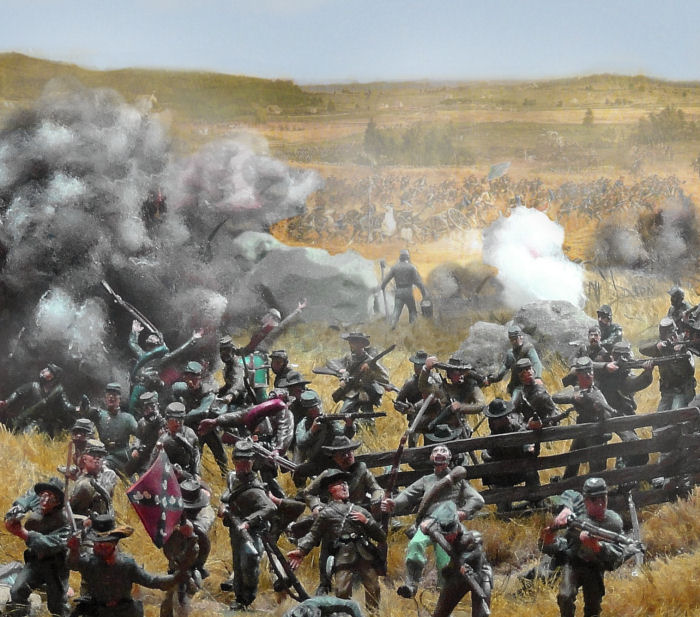 A little variation of the previous photo.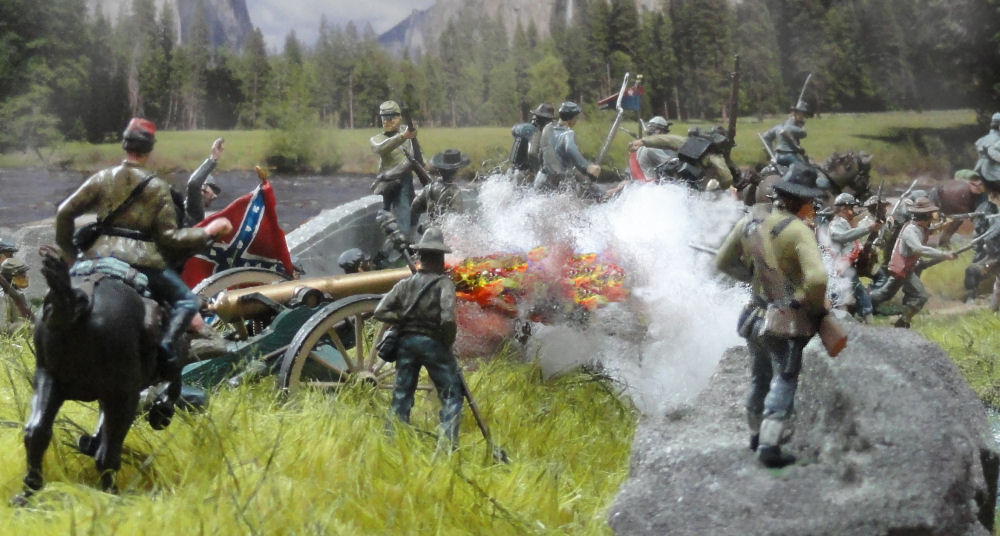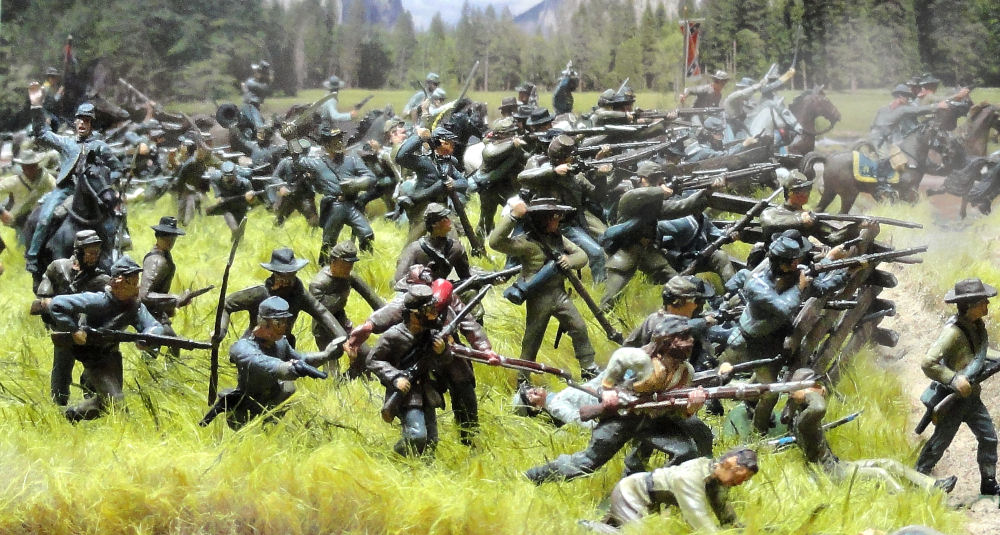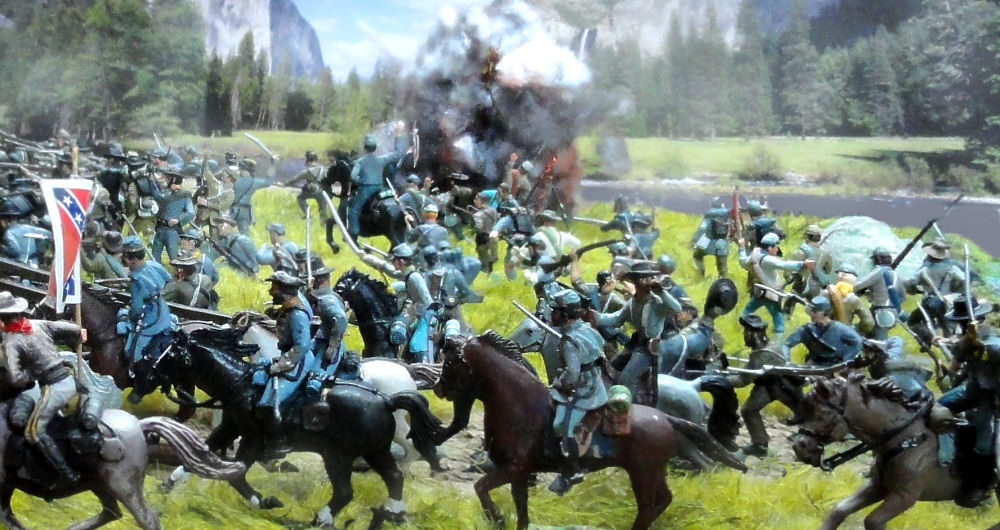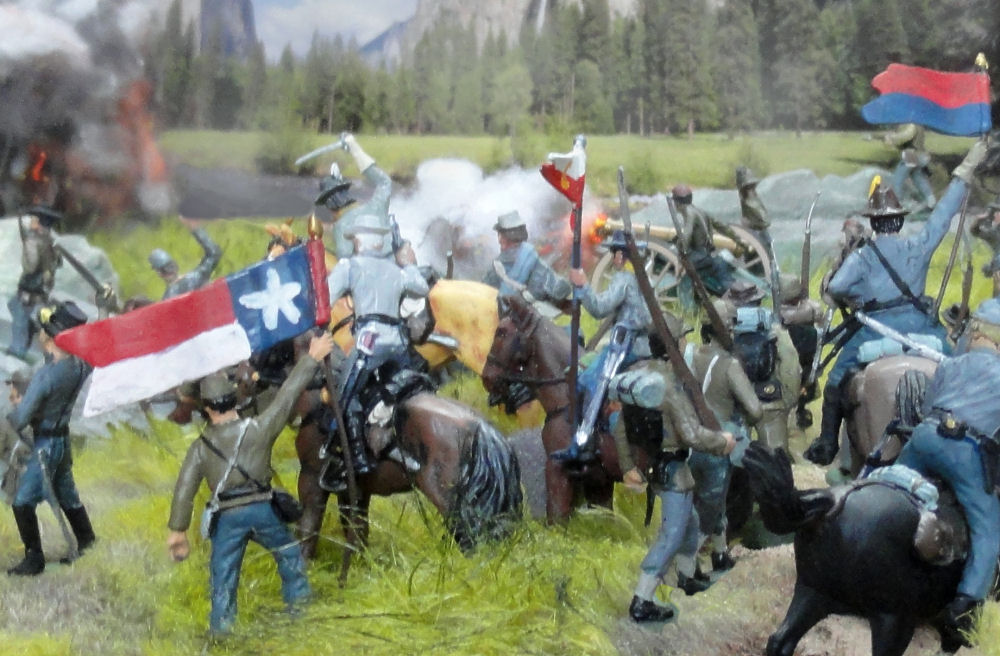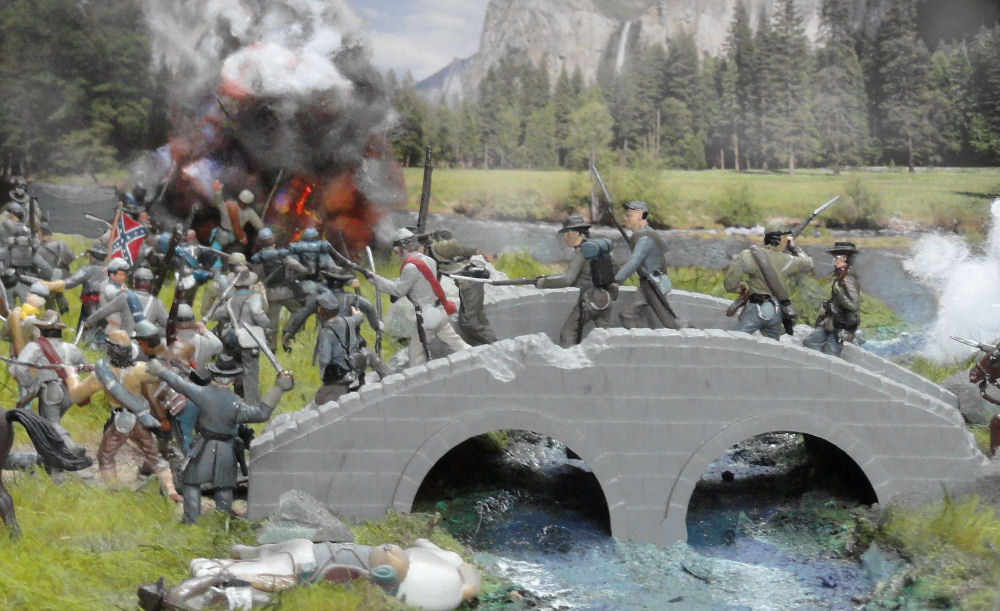 4/15/16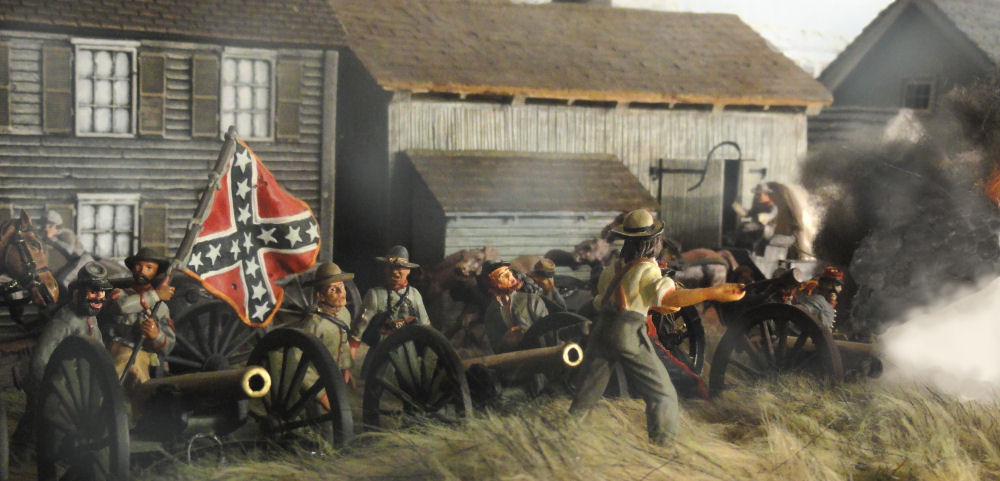 I put some new shelves up and now can display my Civil War figures between engagements, These pictures go from left to right accross the shelf. I had to add the digital backgrounds. It's so nice to be able to have pictures look like I "see" the set-ups rather than just show them the way they actually are.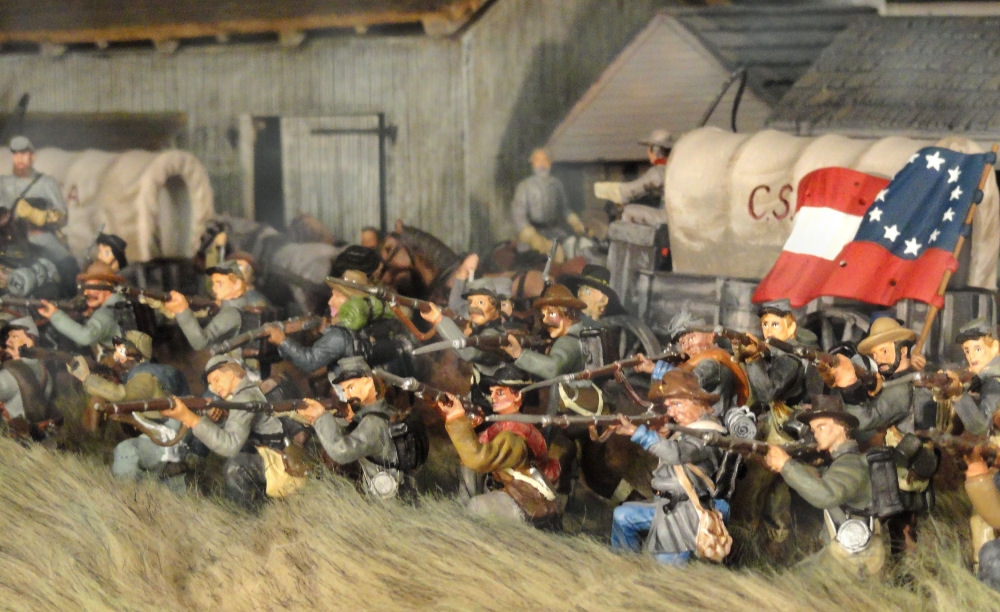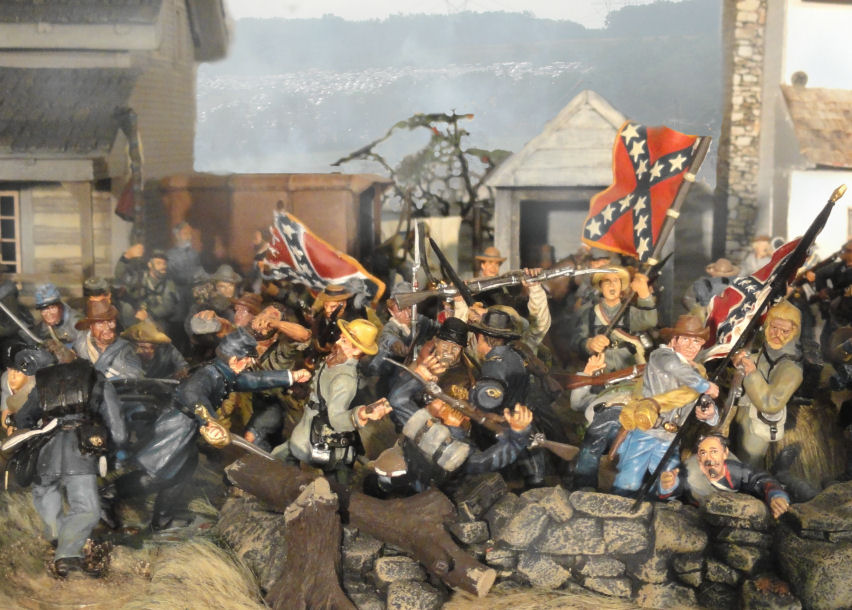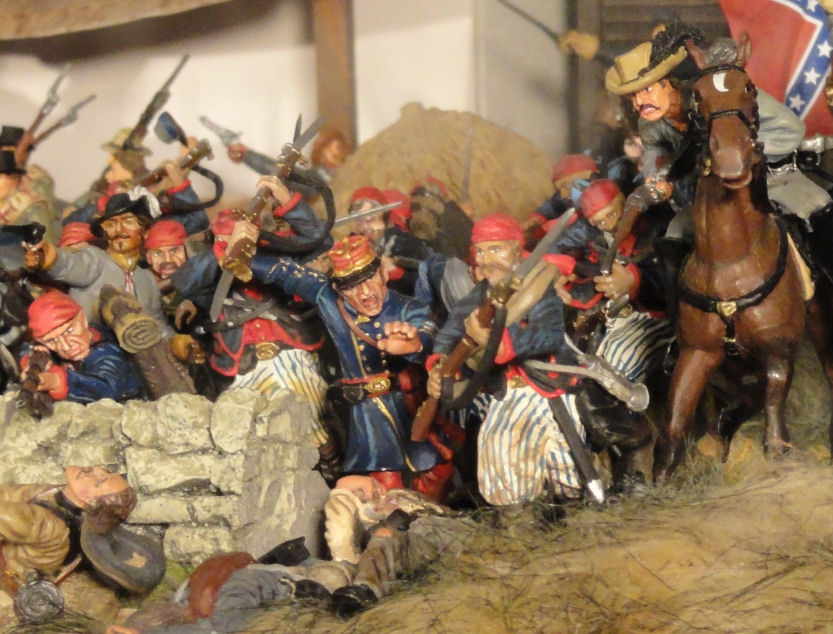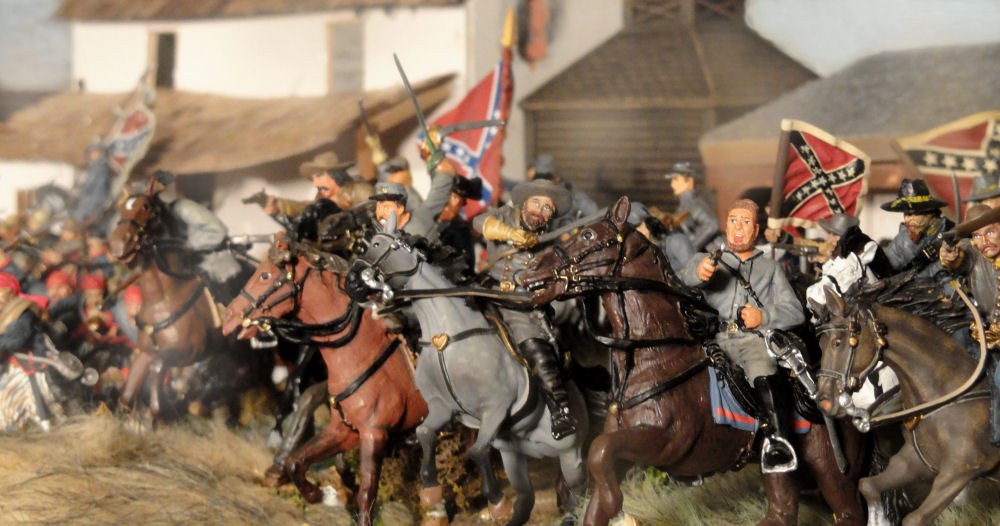 This is the Union Shelf from left to right.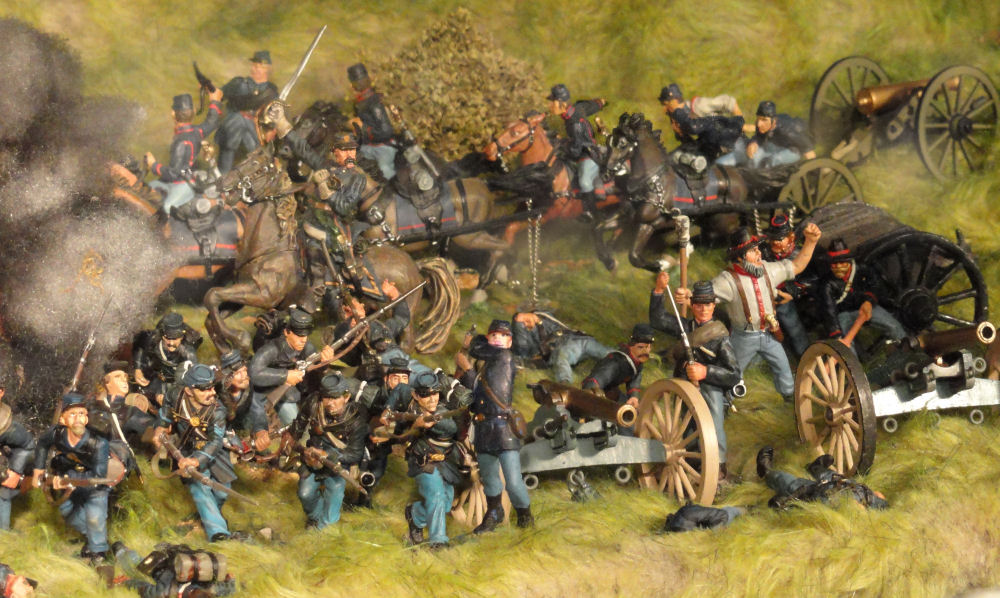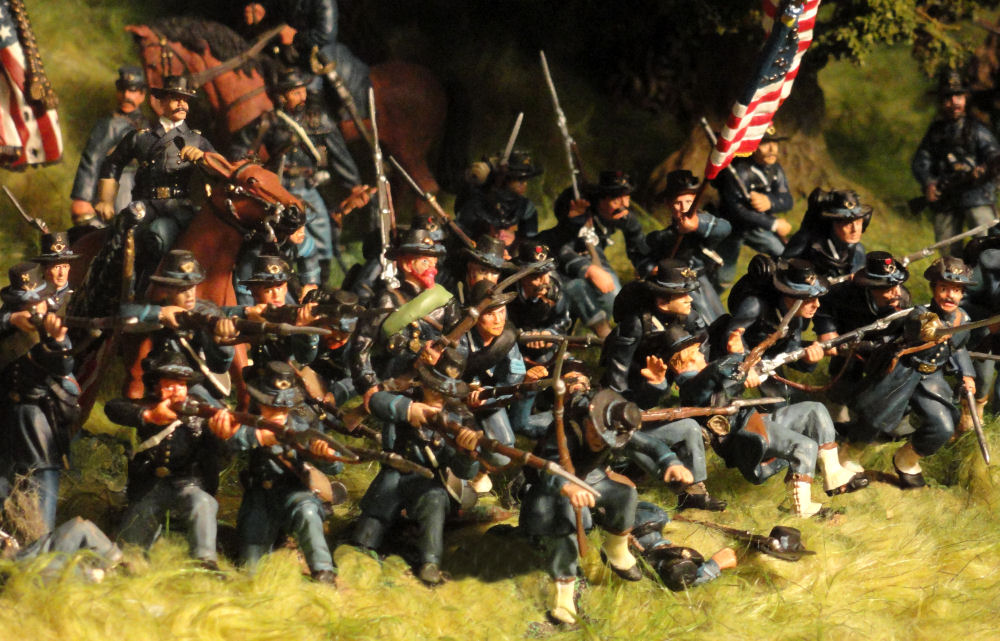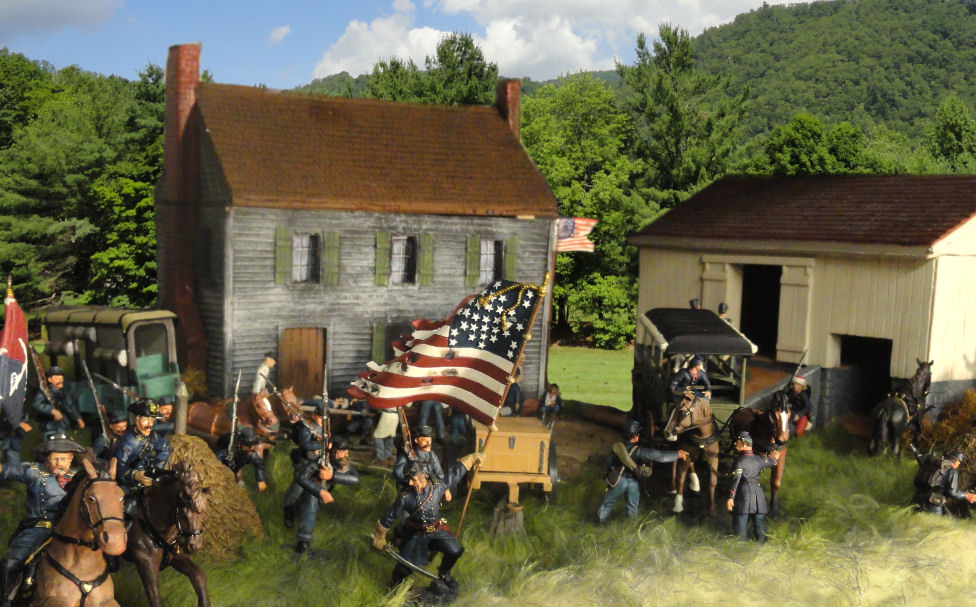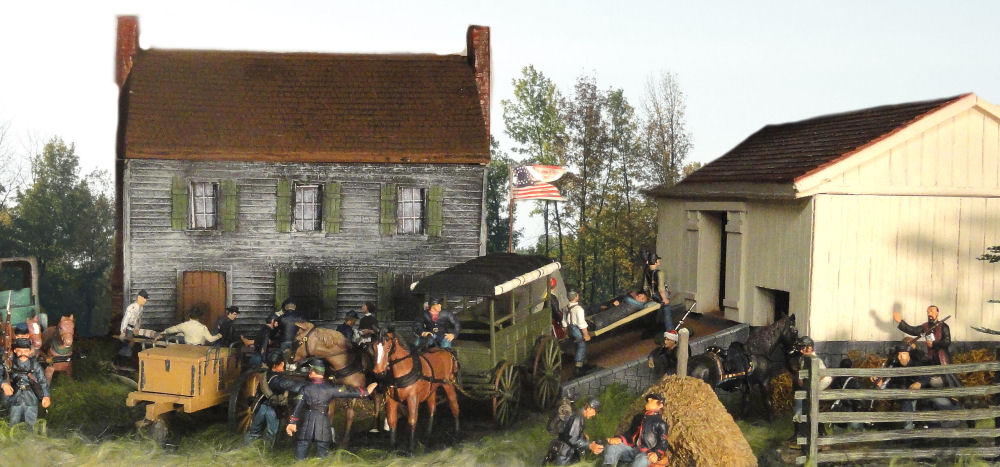 3/25/16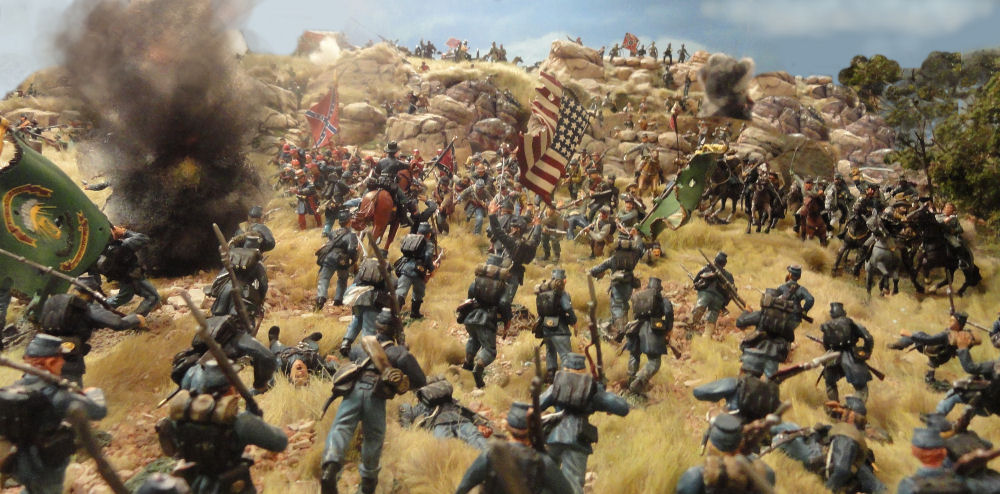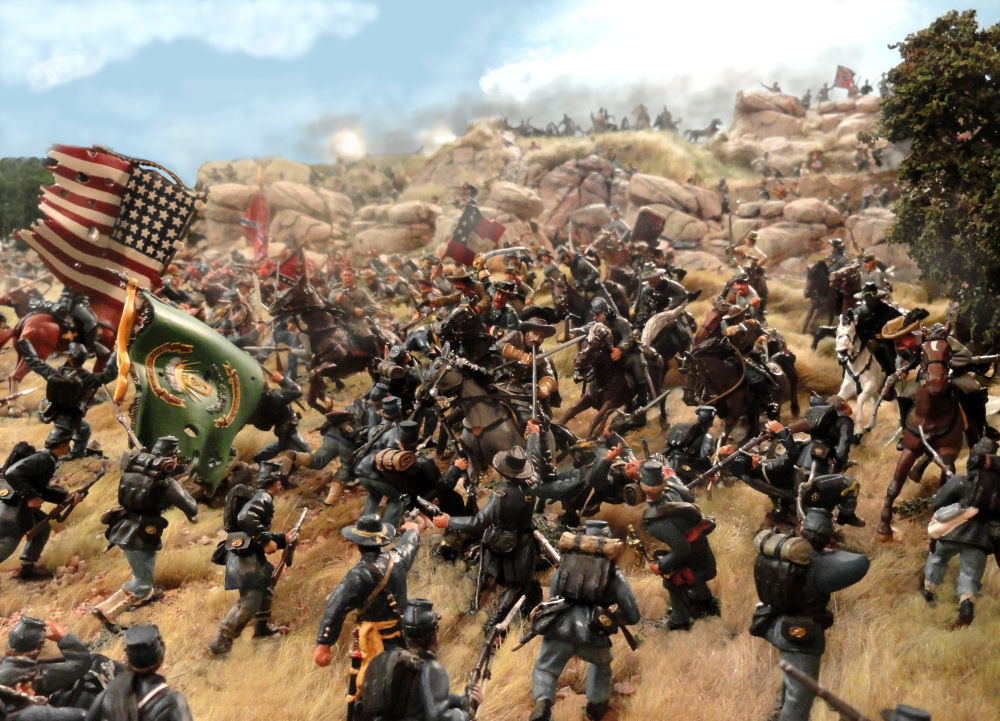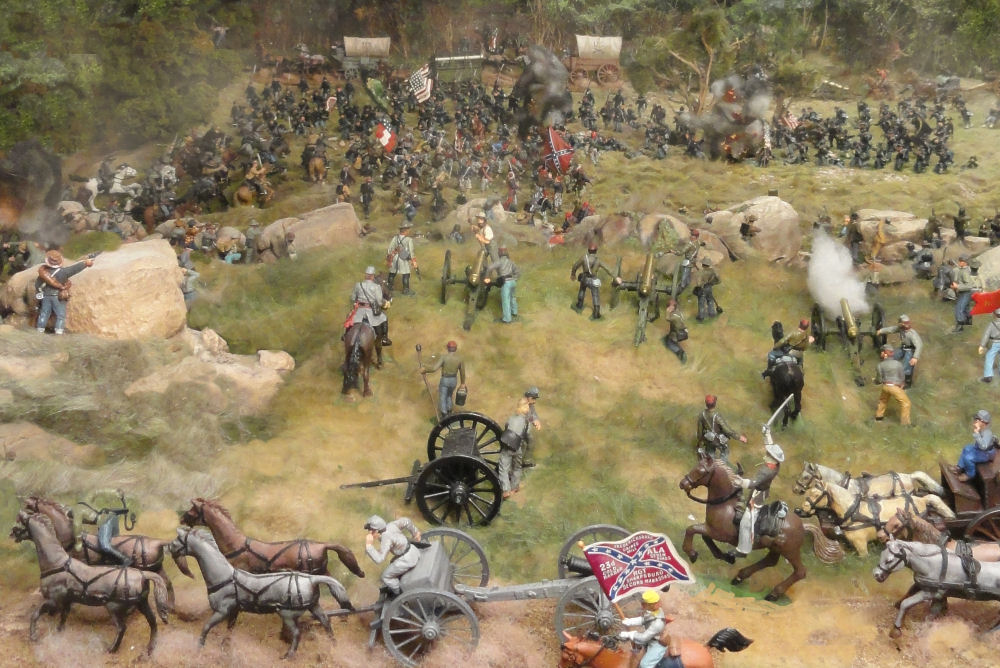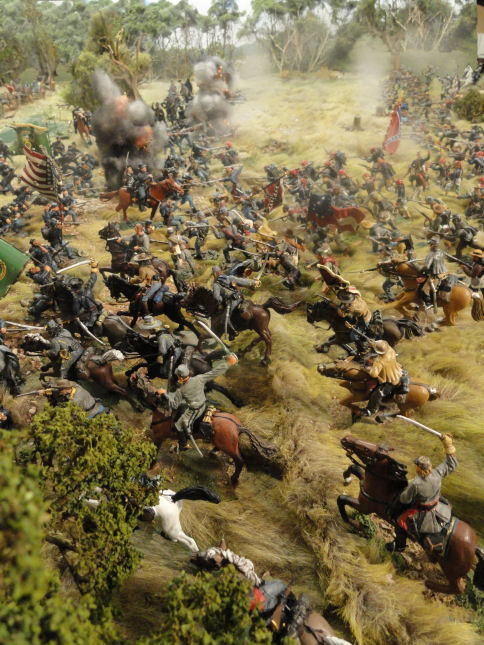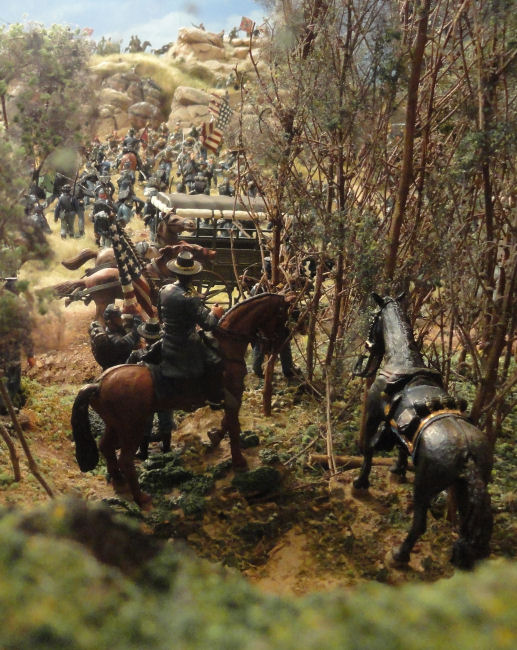 The walls of Troy! I used TSSD Romans just because I had enough of them painted to use in this quick set-up.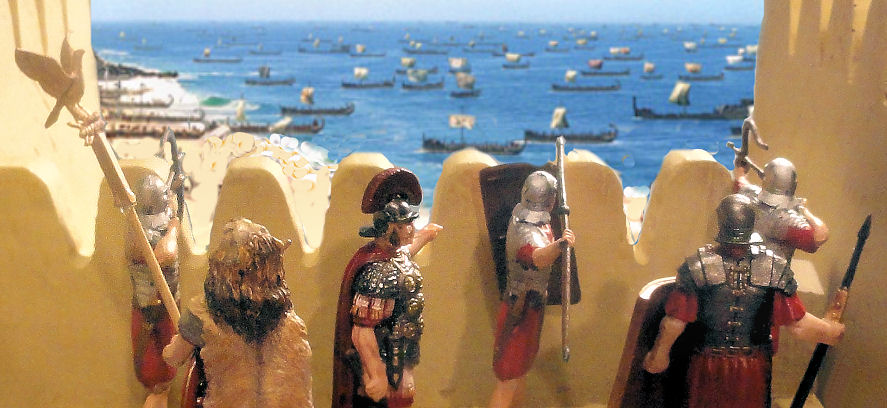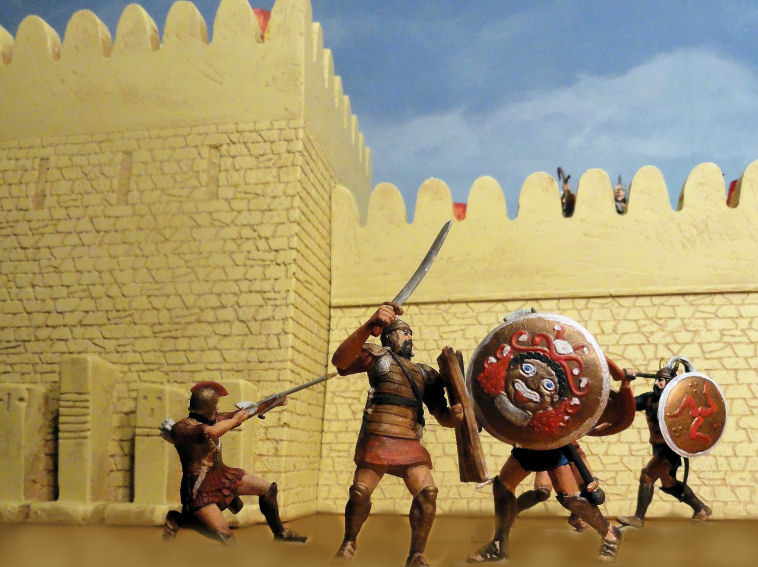 The LOD Greeks and Trojans. They paint up nice!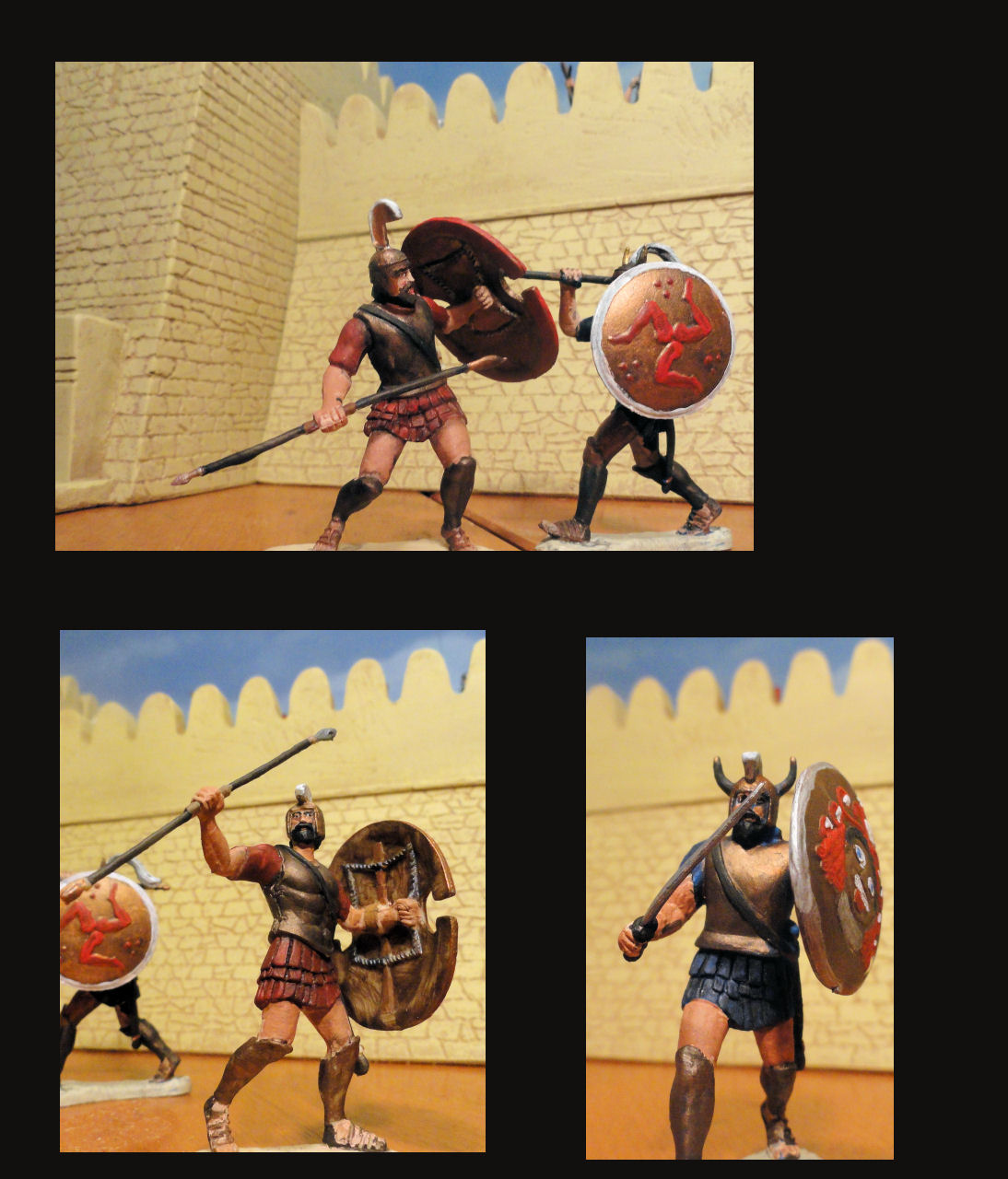 3/4/16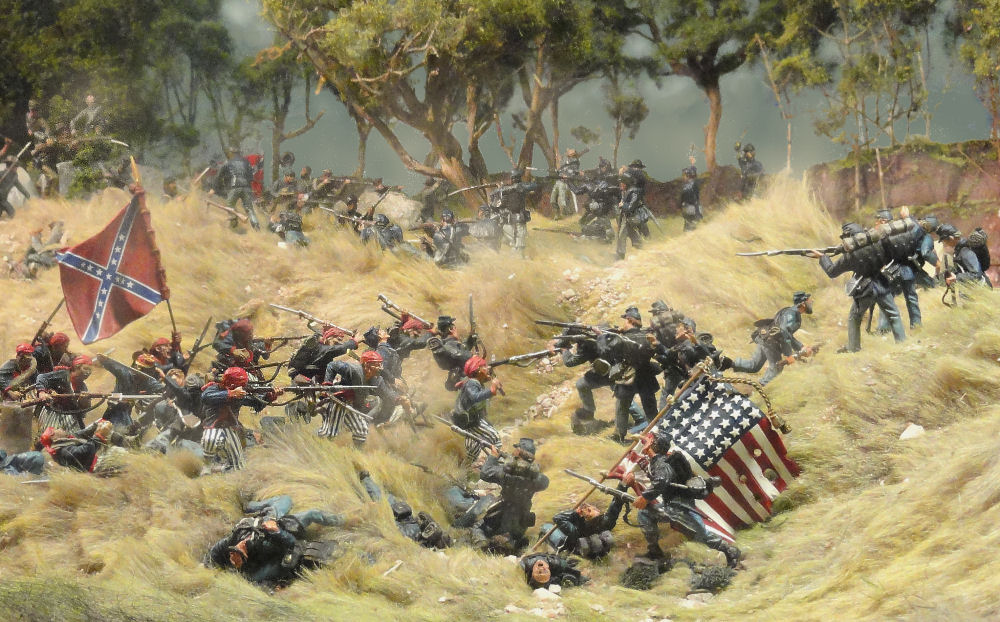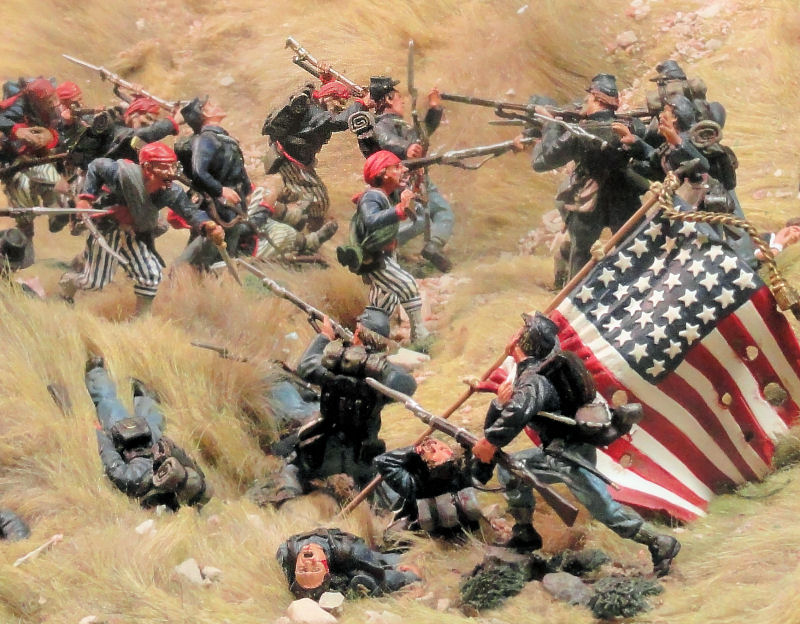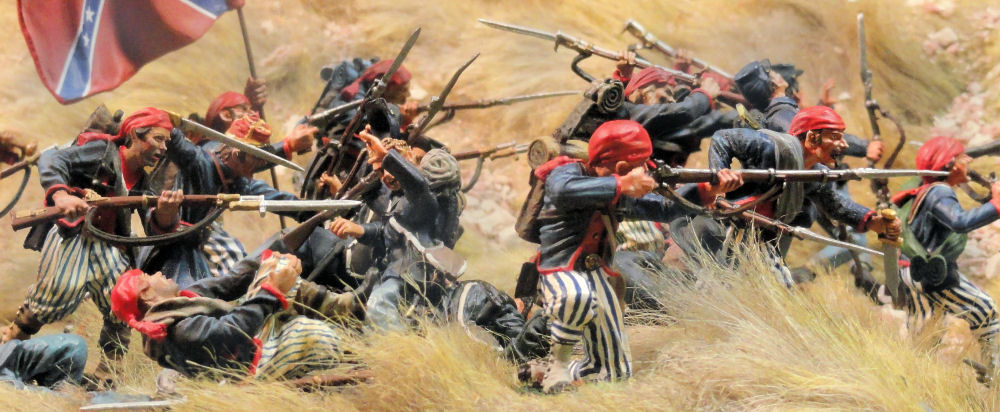 The Collectors Showcase Wheats Tigers. The second release is not quite as nice as the first release, but I am delighted to have enough figures to actually involve the Tigers in a larger set-up.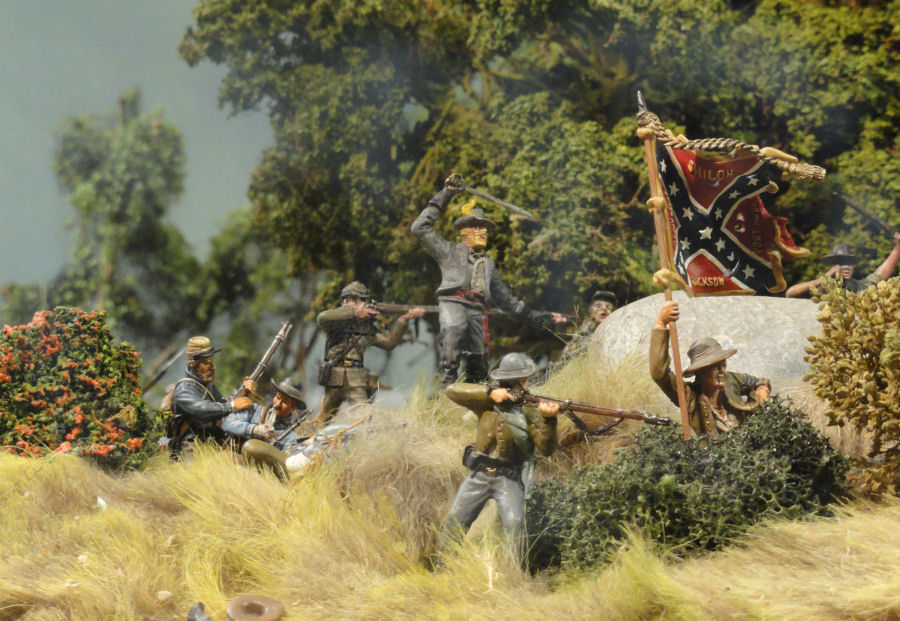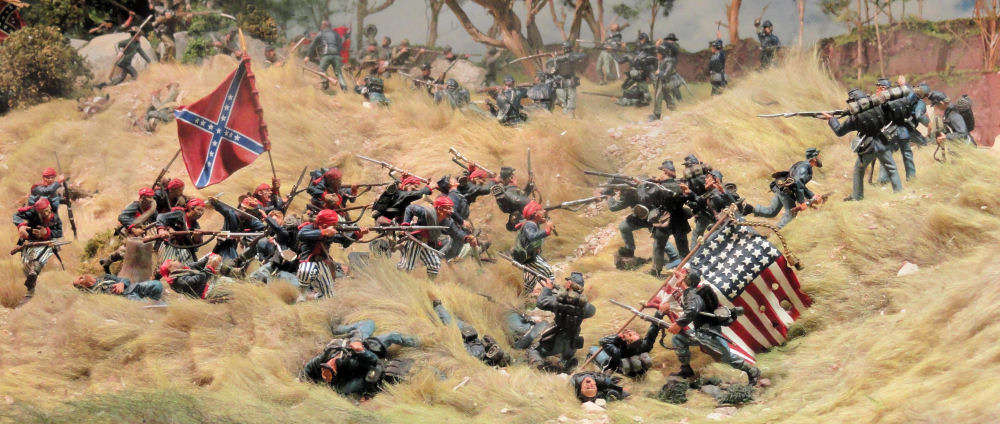 I've been accumulating painted plastic ACW figures with the thought in mind to use them in the background of set-ups. This is my first attempt.
1/18/16

This Wagon Train set by P and P Products has been on my mantle since John Mullen painted it for me.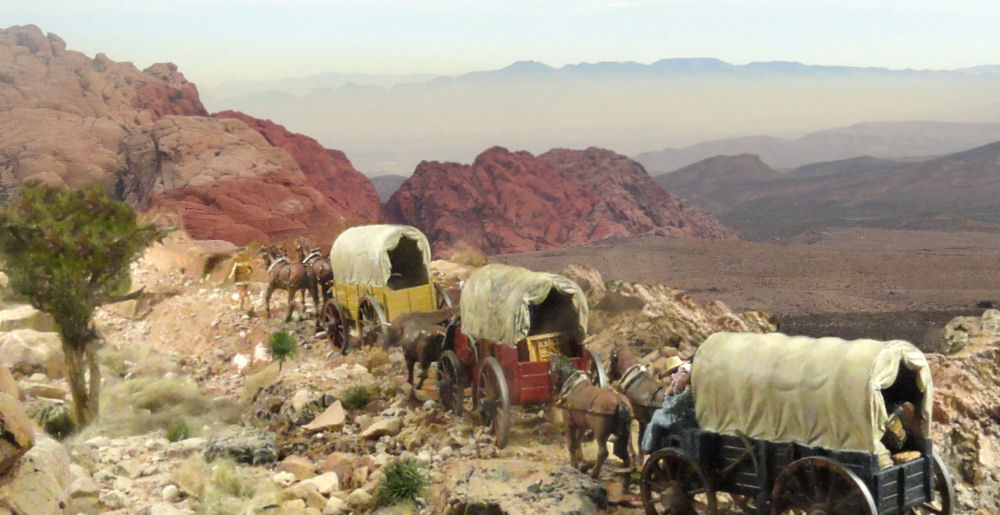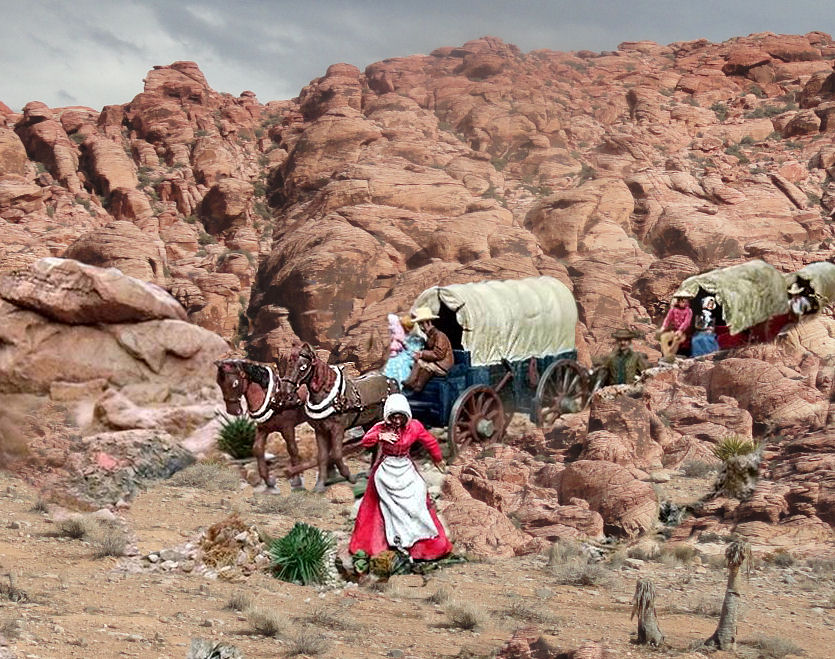 I thought I'd try using my wife's cell phone camera. I'm not sure how I feel about the results.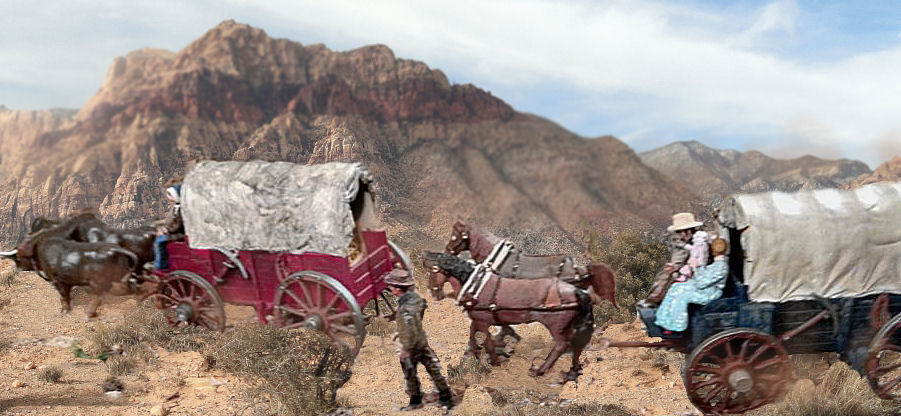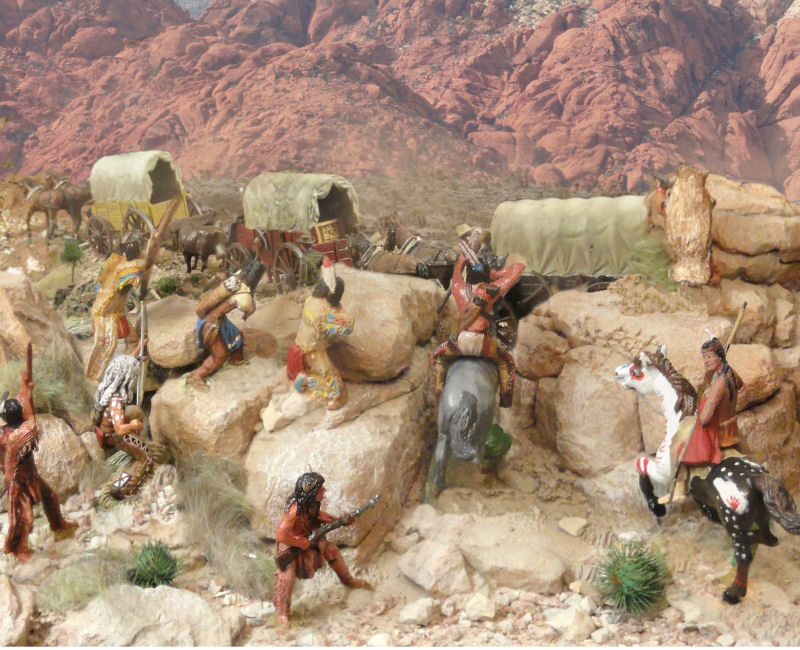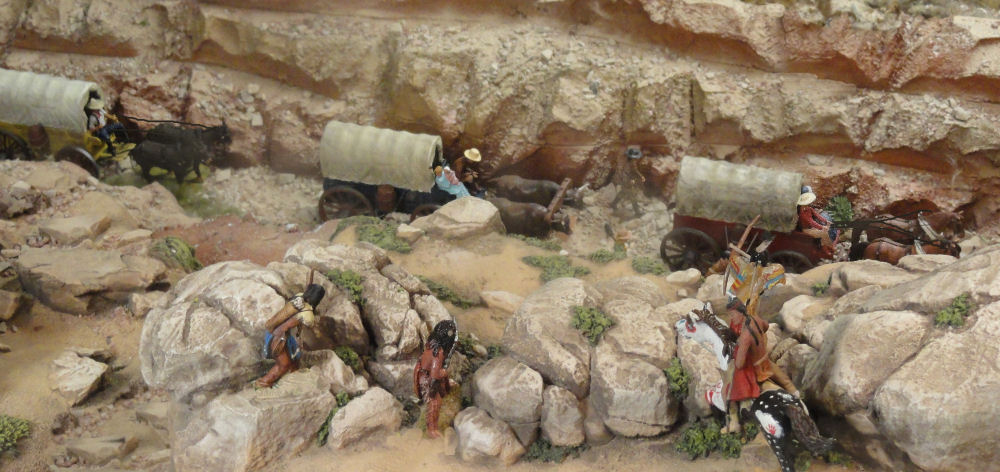 1/15.16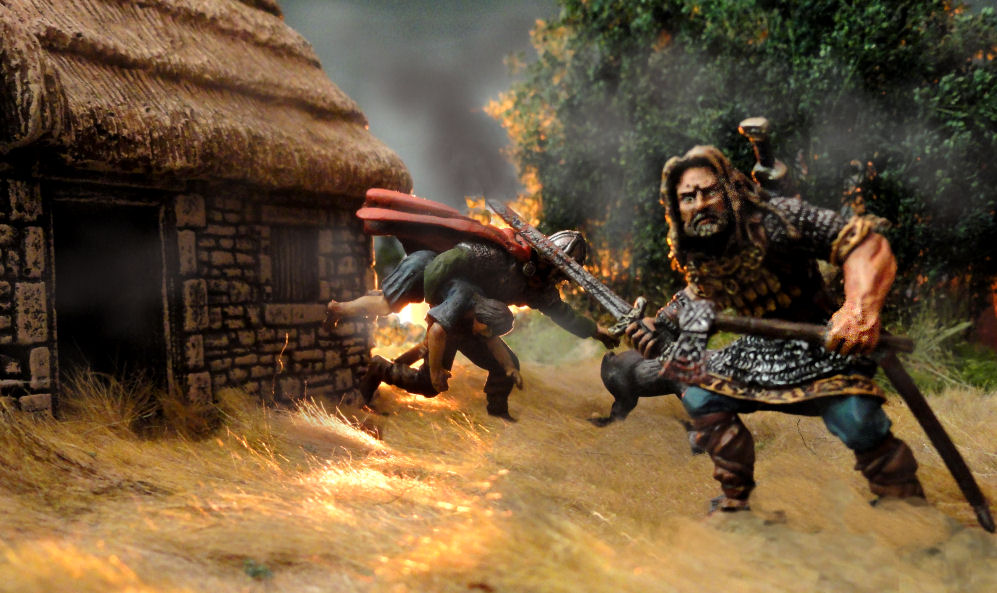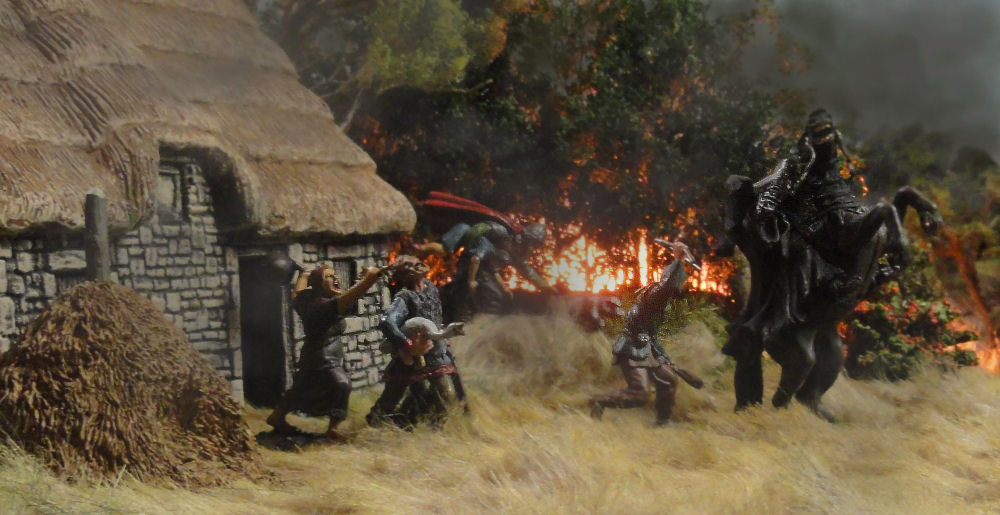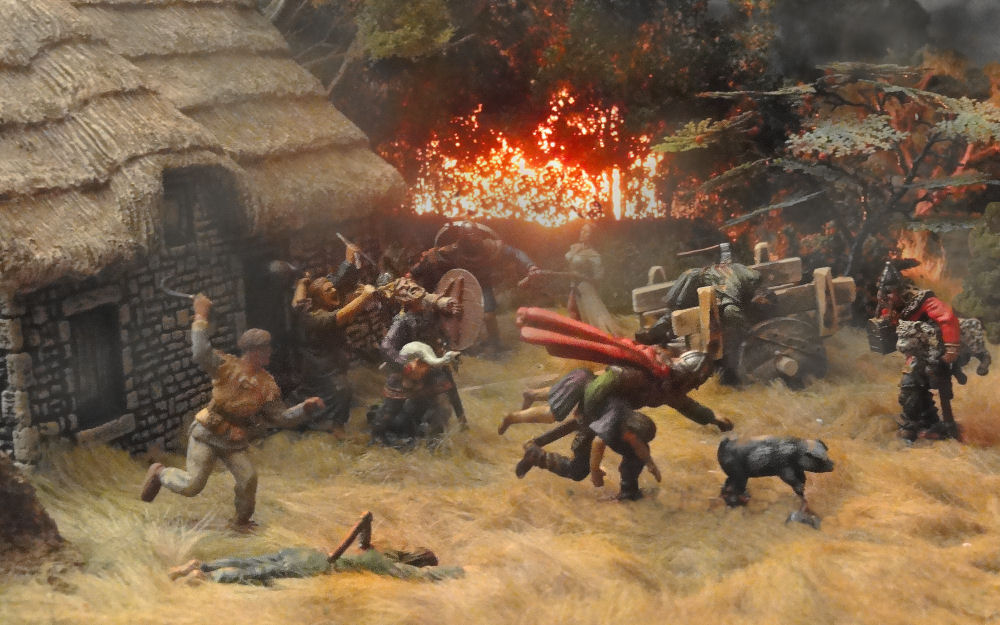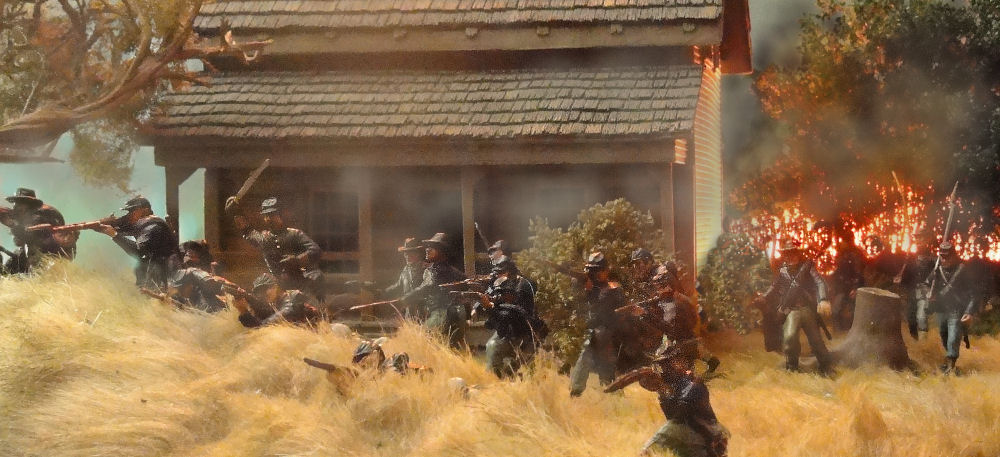 12/25/15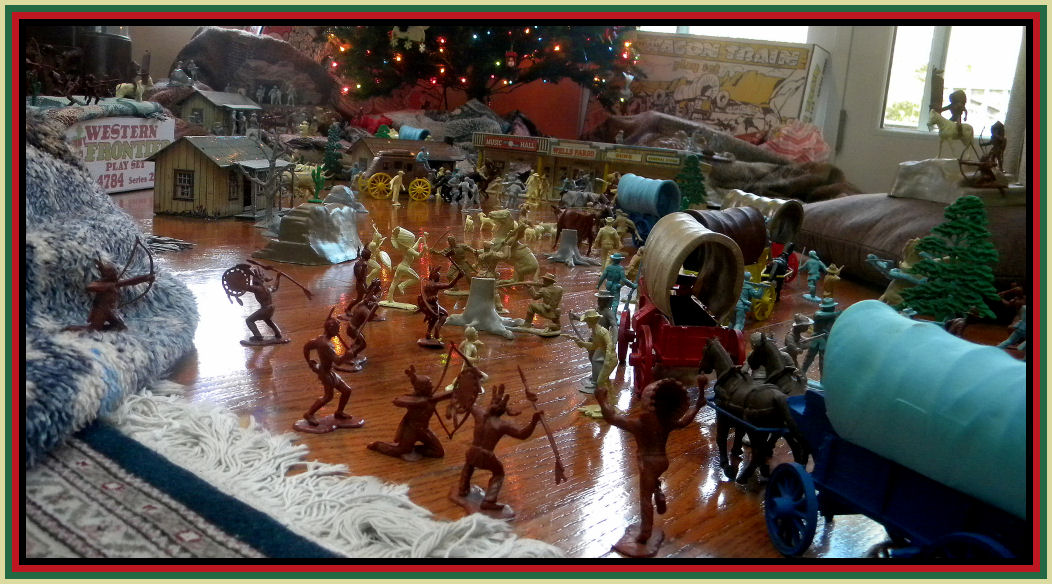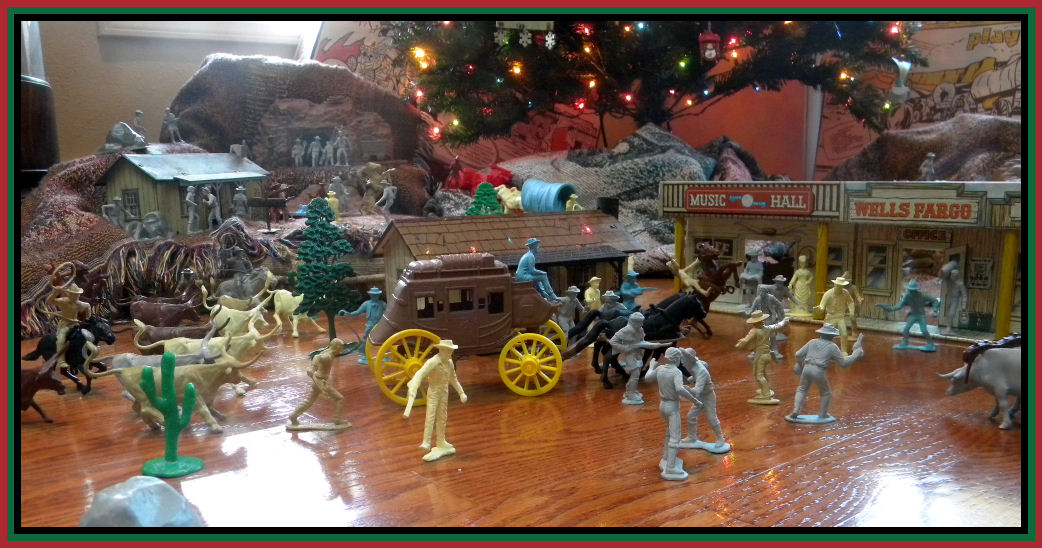 I wonder if a set up like this was made anywhere back in 1961....O to go back in time and go shopping!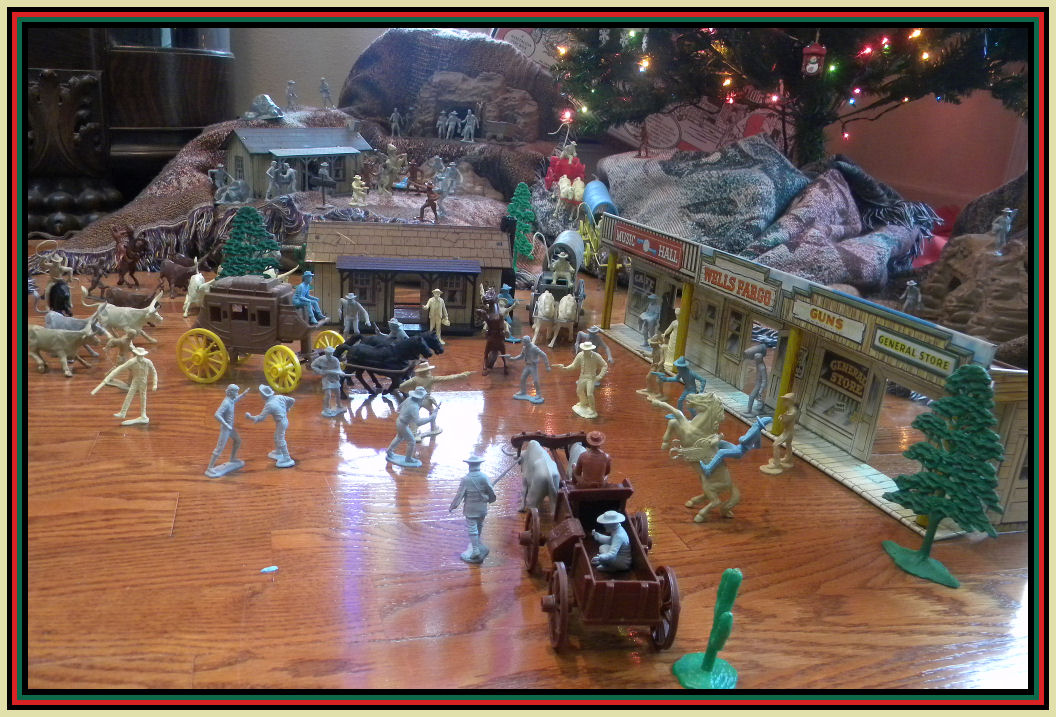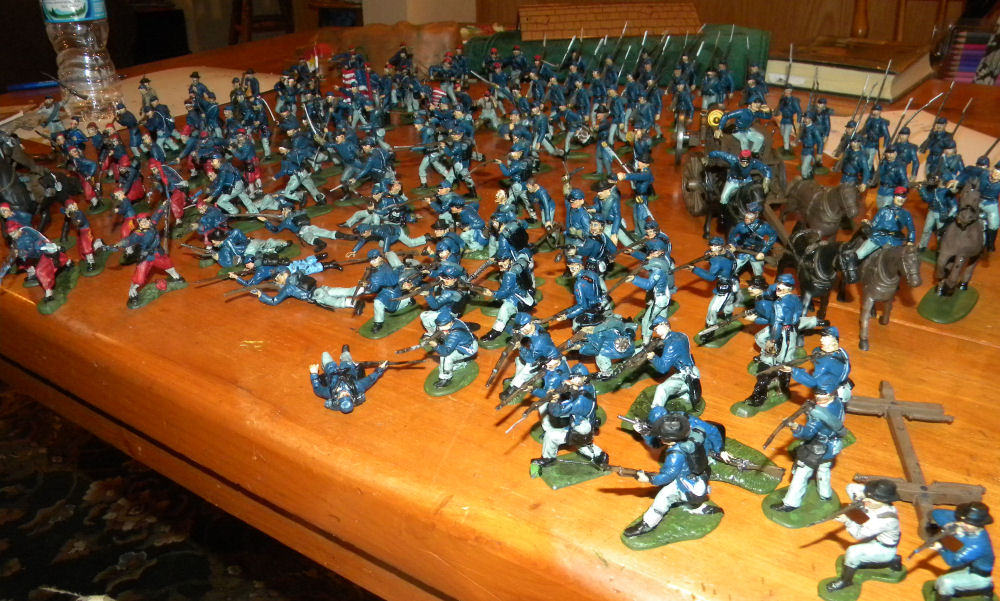 Getting these guys painted was my Christmas present. It's almost time for my biggest Civil War set up yet. I have a hundred or so conversions to paint and then look out.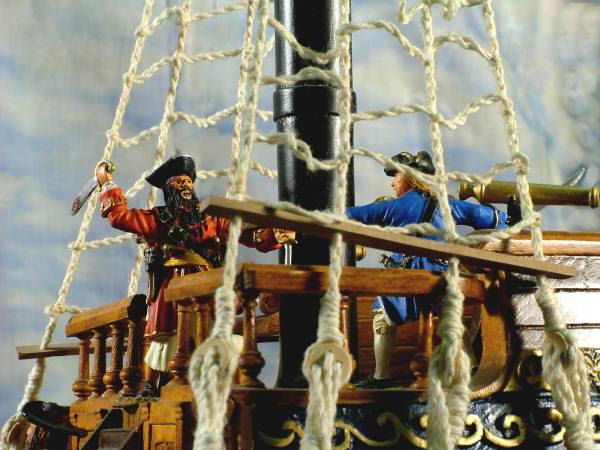 In the process of reorganizing the site I came upon some old pictures I took many years ago when I stopped by the Conte Offices in Las Vegas.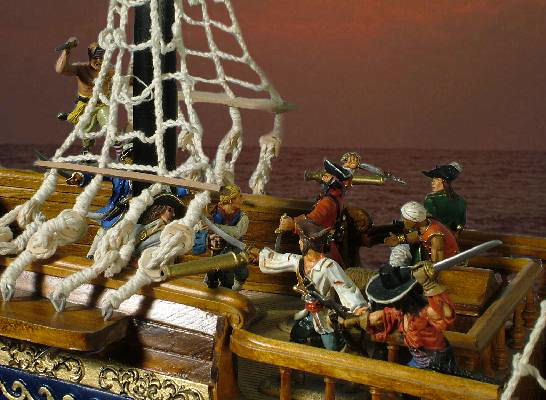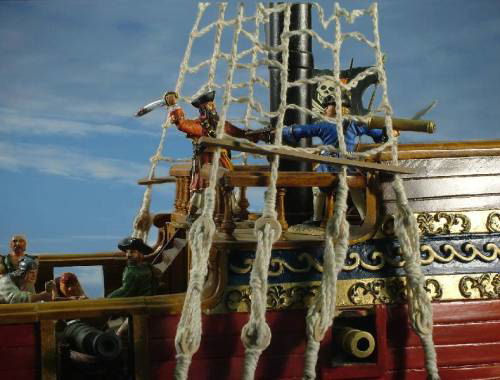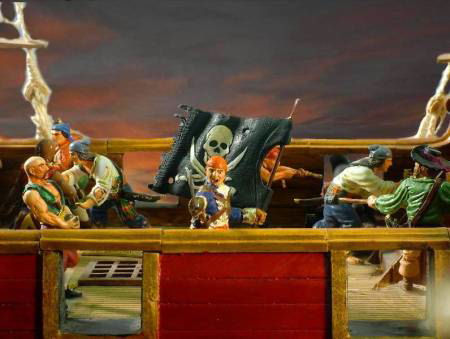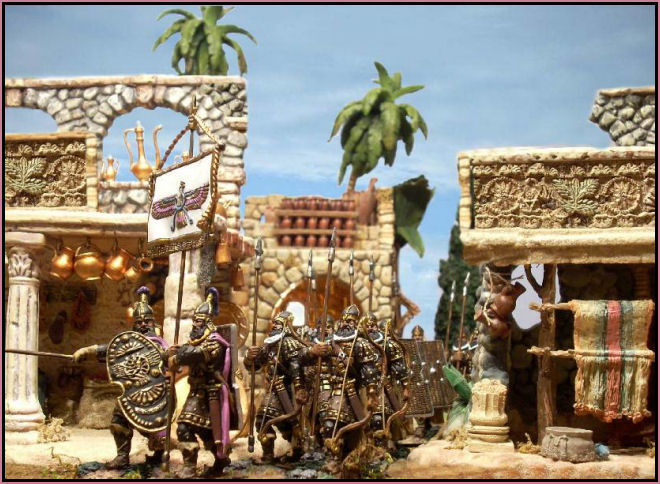 I also found these pictures.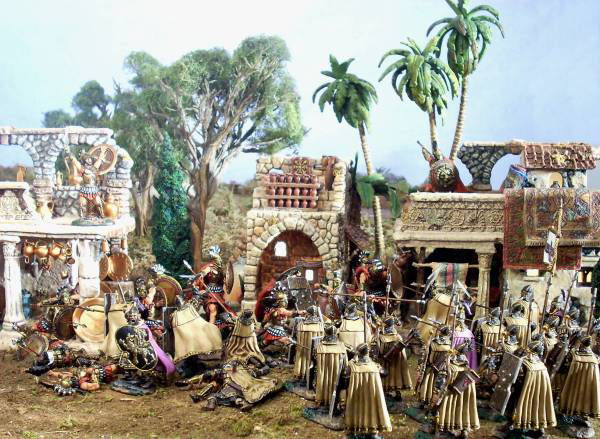 12/04/15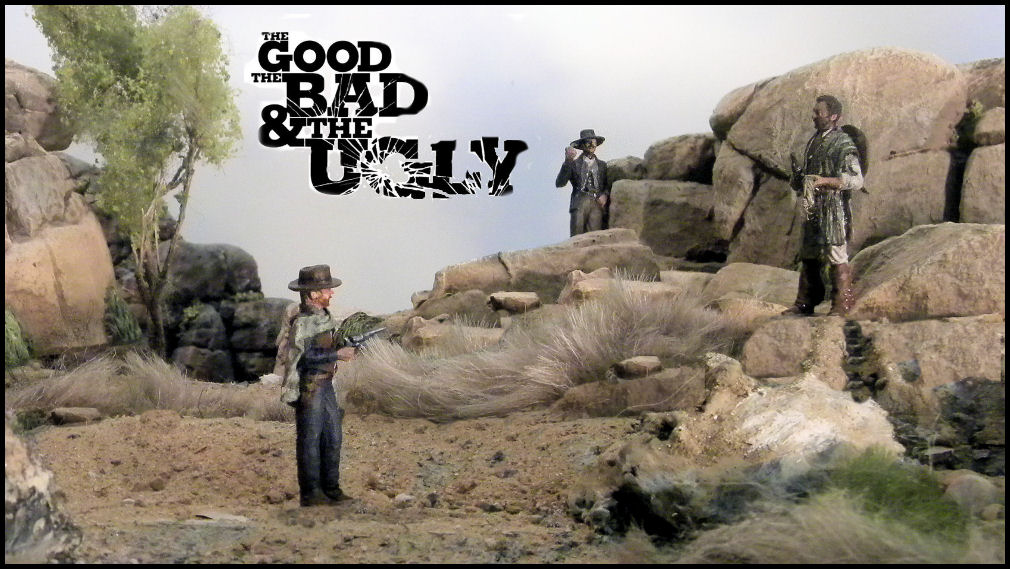 I love character figures from movies. When I saw these guys start popping up on eBay, I knew I needed to order them. They painted up nice.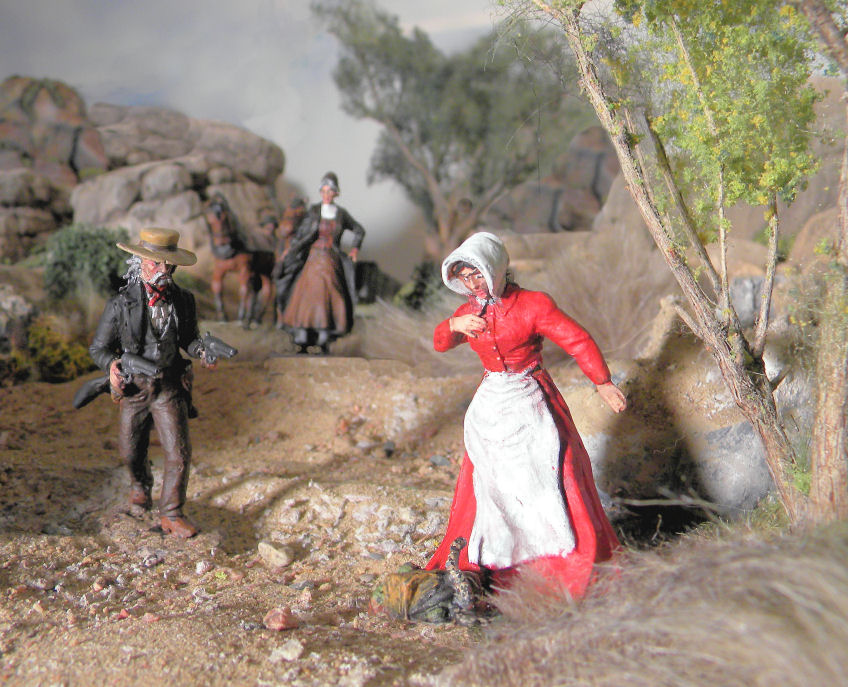 A spoiled picnic.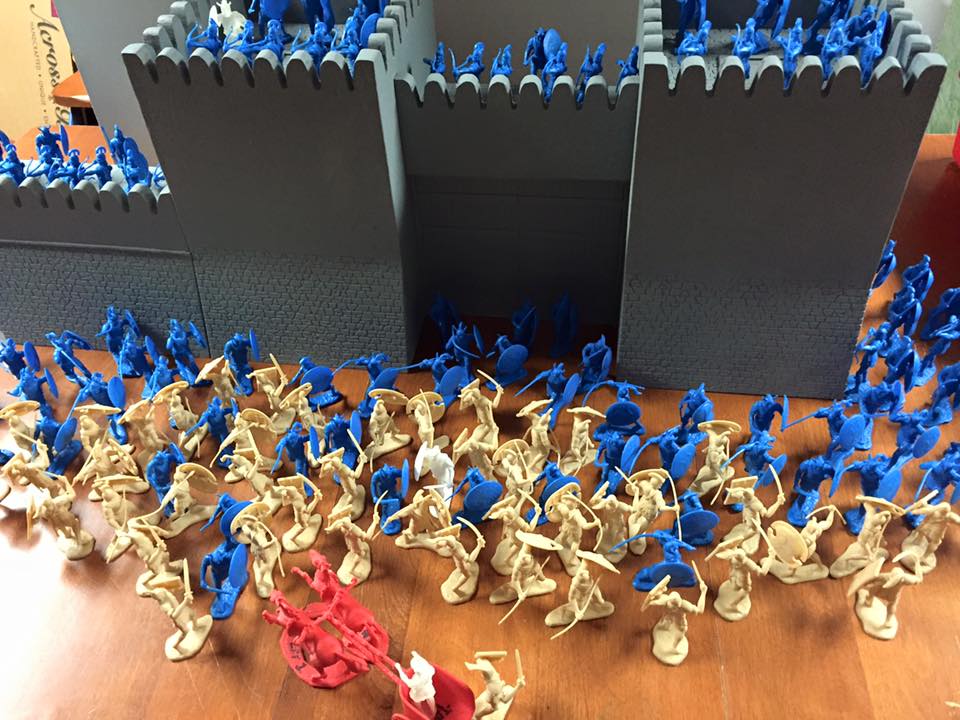 One of the exciting developments in the Toy Soldier World this year was the first offering of Trojan War figures from Ken Clark of Lod Enterprises. His first set of figures is available now as is the first Tower of the city of Troy. More figures, chariots and character figures from the Illiad are coming later, as well as a gate and wall sections for the city. Check out their website at http://lodtoysoldiers.com. I have several sets of figures and I hope to get some of my own pictures soon.
11/20/15

I have been on a painting binge lately. My wonderful wife agreed to share her craft room with me so I have been able to spend some quality time with her, my paints, a new TV and a Heritage Civil War set I picked up on eBay. The previous owner had done a rough paint job on the figures. I redid them in more detail. I've still got another 15 figures to go, but I couldn't wait any longer to see what they look like in action.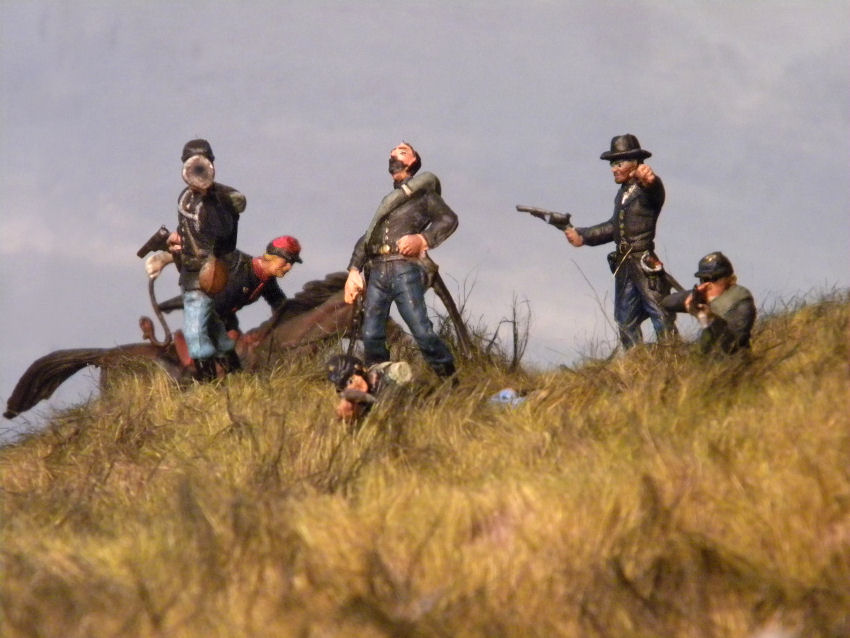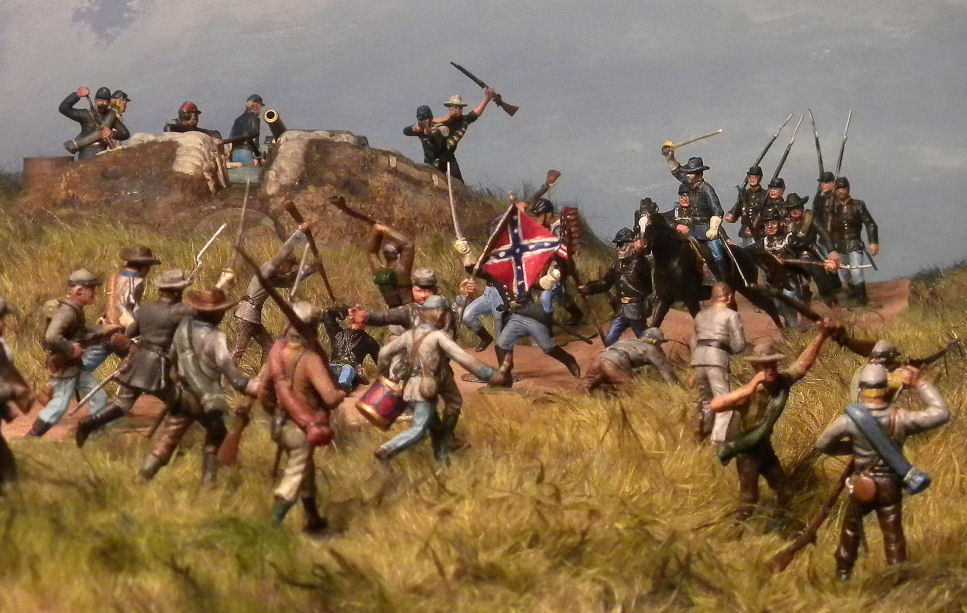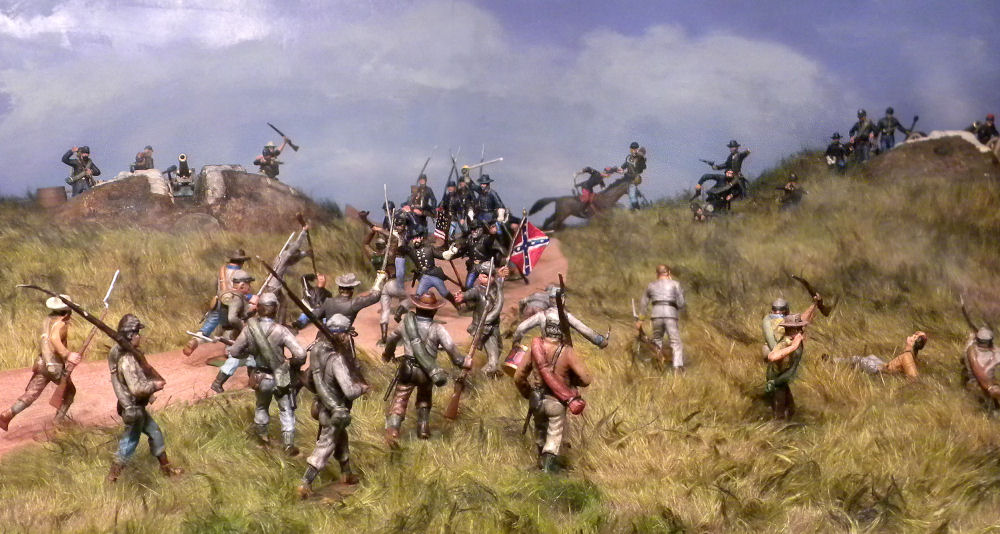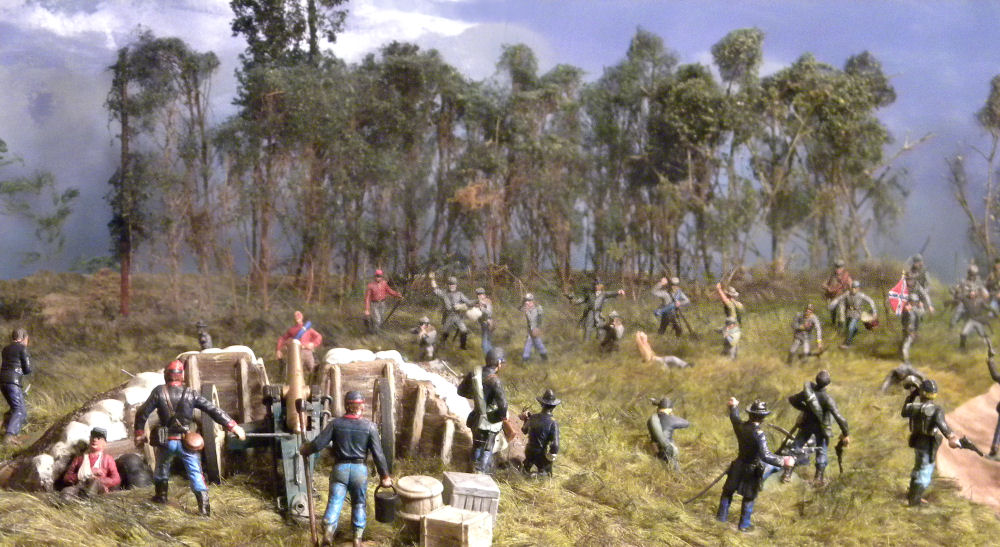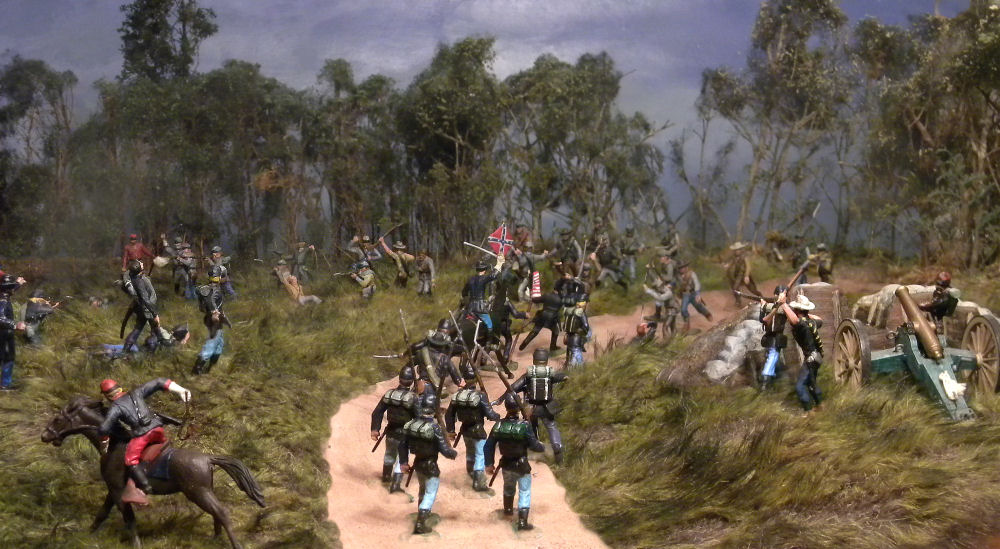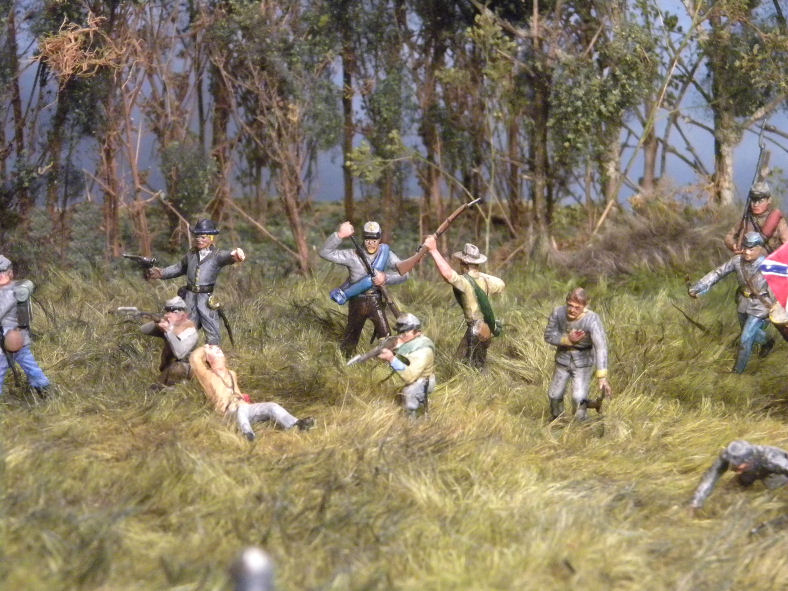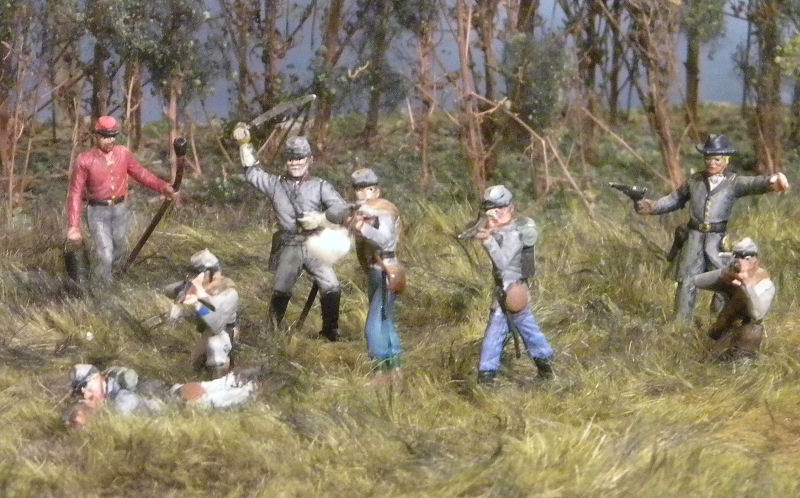 10/24/15

My big purchases at OTSN this year were the items in this group of Britains Civil War stuff. Gary Linden had purchased a large collection and was selling most stuff at less than 50% original list price. I had given up ever getting the limber set.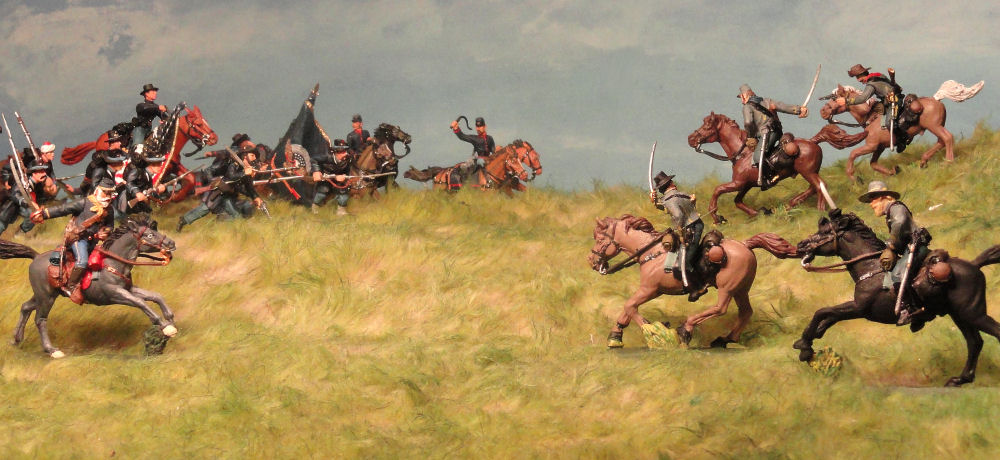 These TSSD Cavalry figures were painted by eBay seller ketcheronovich1. He does great work. Stay tuned for more of his work in weeks to come including Romans, Zulus and lots more Civil War.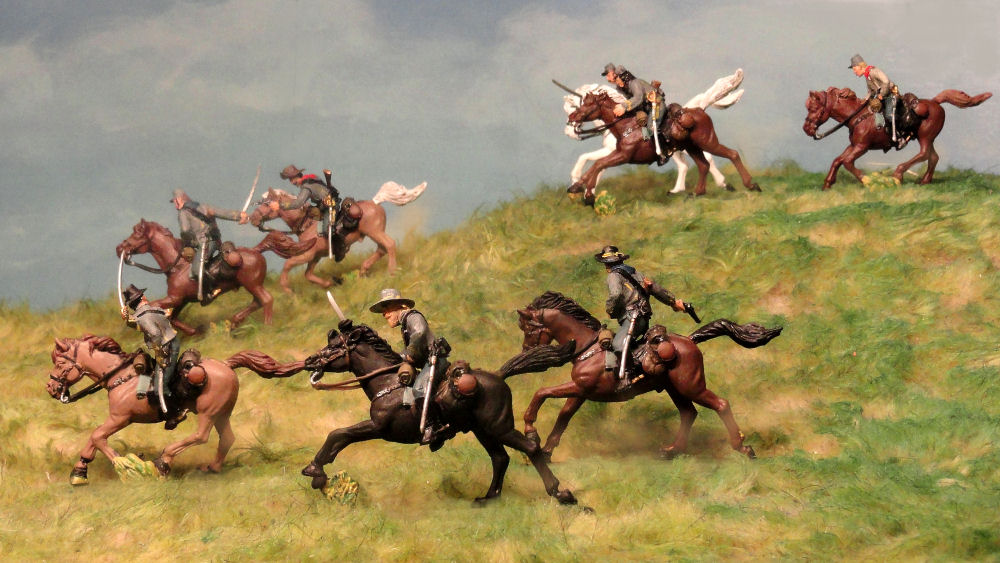 I can't believe it!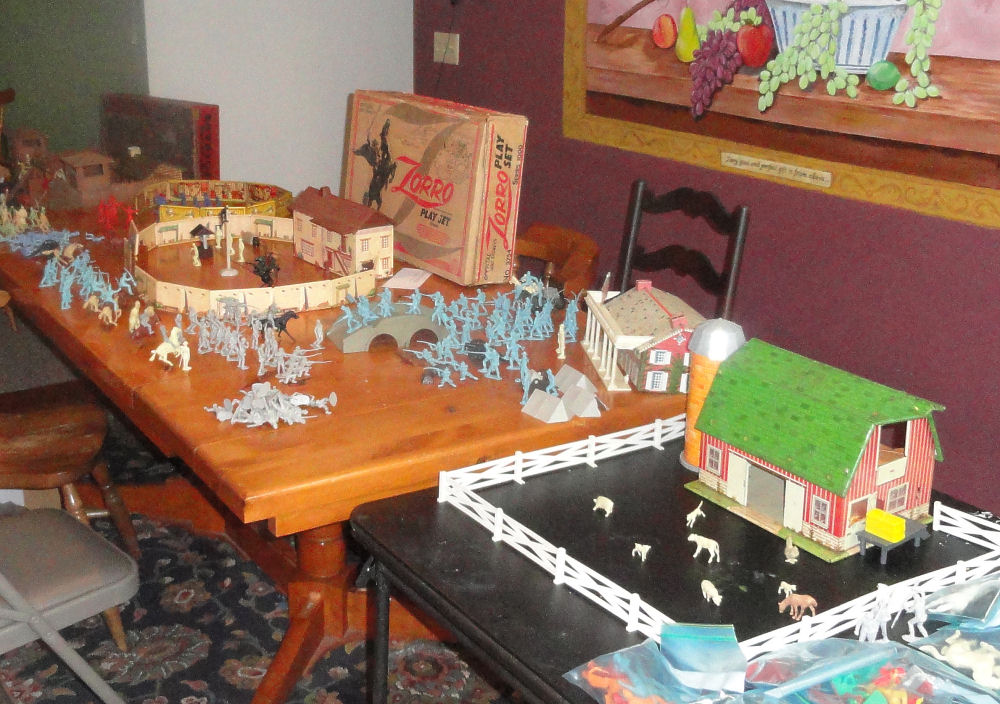 I always love interacting with those of you who enjoy and appreciate this site. I recently had an interaction that left me blown away. Terry McCullough from Missouri e-mailed me and said he appreciated the site. He went on to say that his Marx playsets were his favorite toys while growing up. He had a Zorro set,a Blue and the Gray, a farm set and a Fort Apache set. He then floored me when he said he still had them and would like to see them go to someone who would appreciate them. I had been hoping to travel south and meet him, take him to dinner and pick up the stuff, but our schedules didn't match. Imagine my surprise and joy when I arrived home from work one day last week and there were two huge boxes waiting for me. Christmas in October!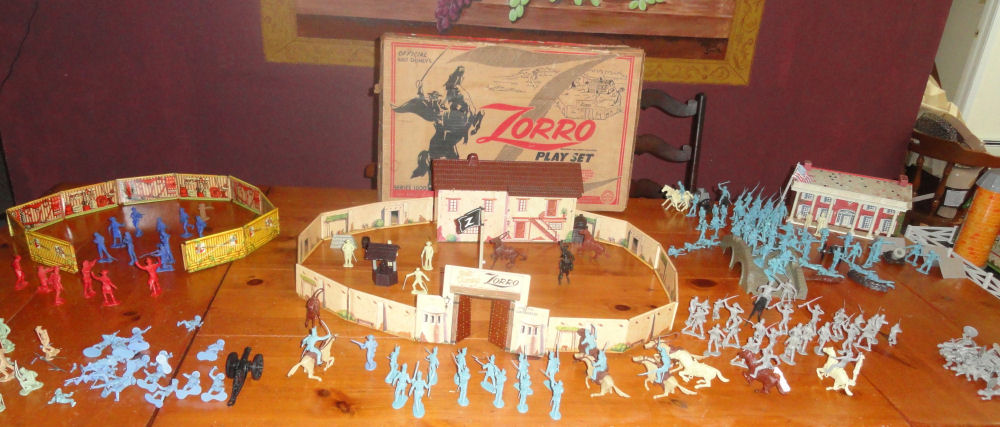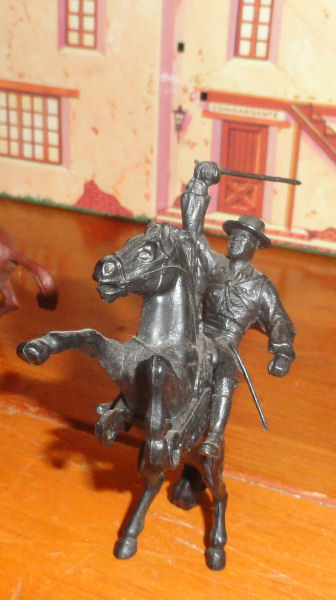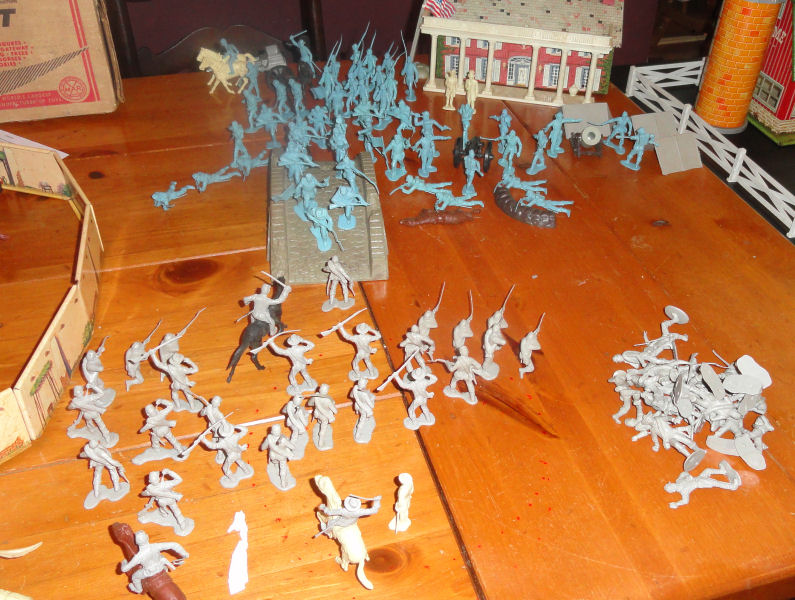 These sets have been well loved and well played with. The Sombrero Mexicans from the Zorro set and the Confederates from the Blue and the Gray had become brittle and suffered some pretty massive casualties, but the Yanks and the shako Mexicans were in great shape and in really great colors. In the next few weeks/months I will dioramatize these sets and make a permanent shelf display of them in my basement. Thank you, Terry!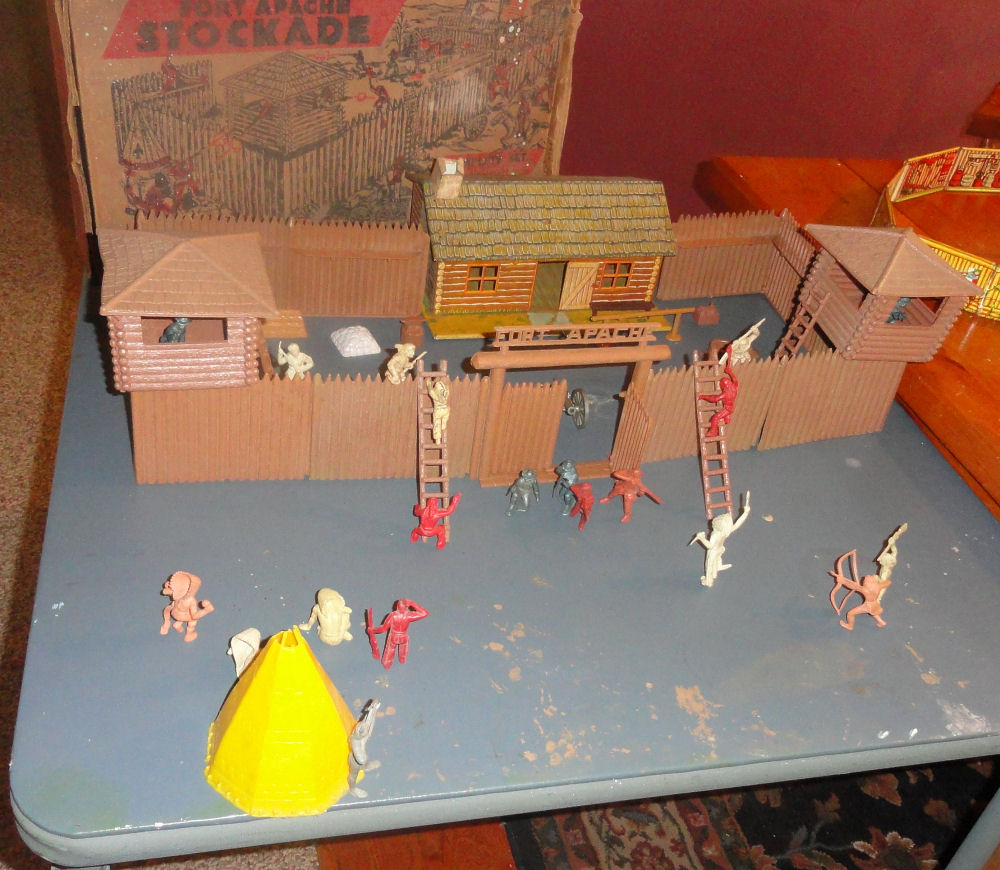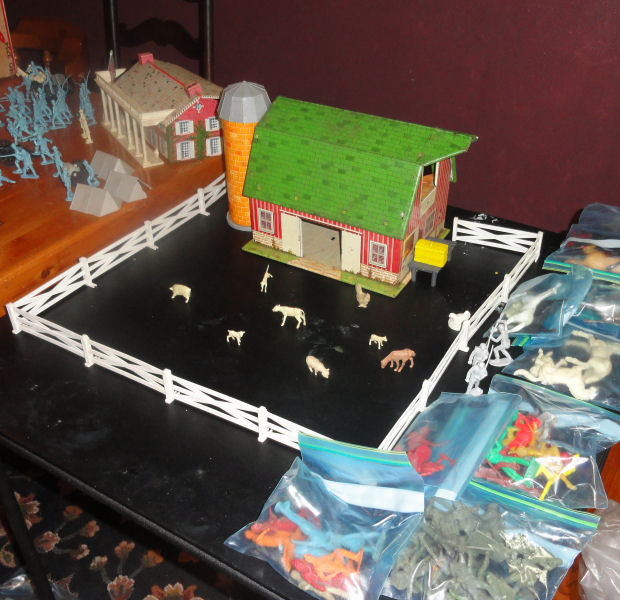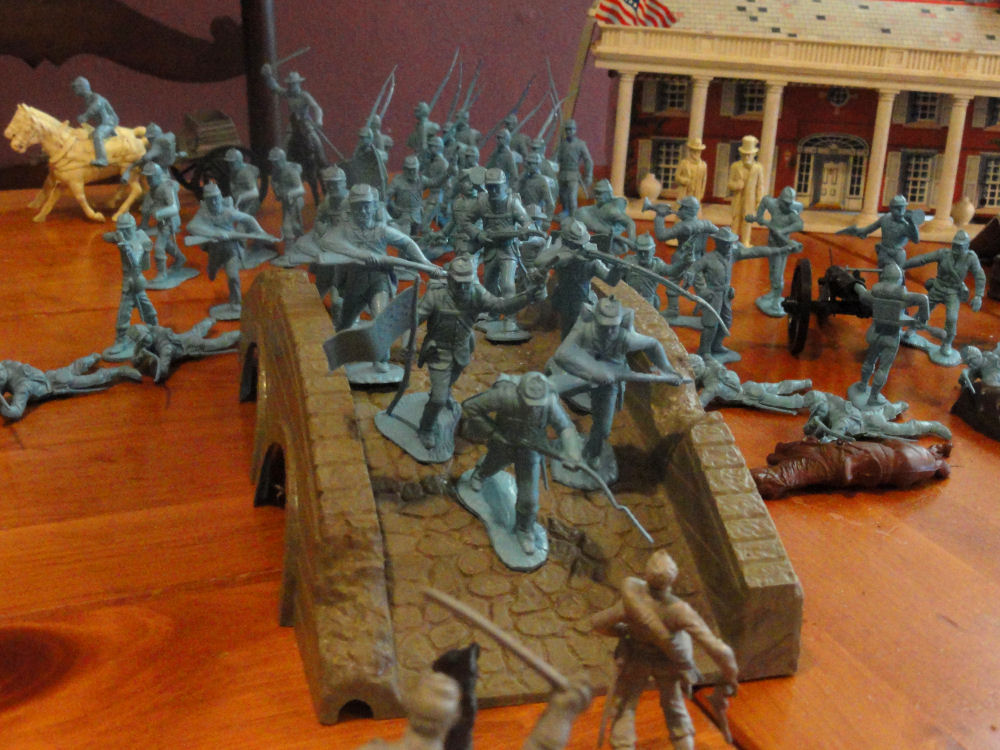 The ACW set is the big one that had 3 1/2 sets of figures on each side. There are some missing, but I got reinforcements on the way.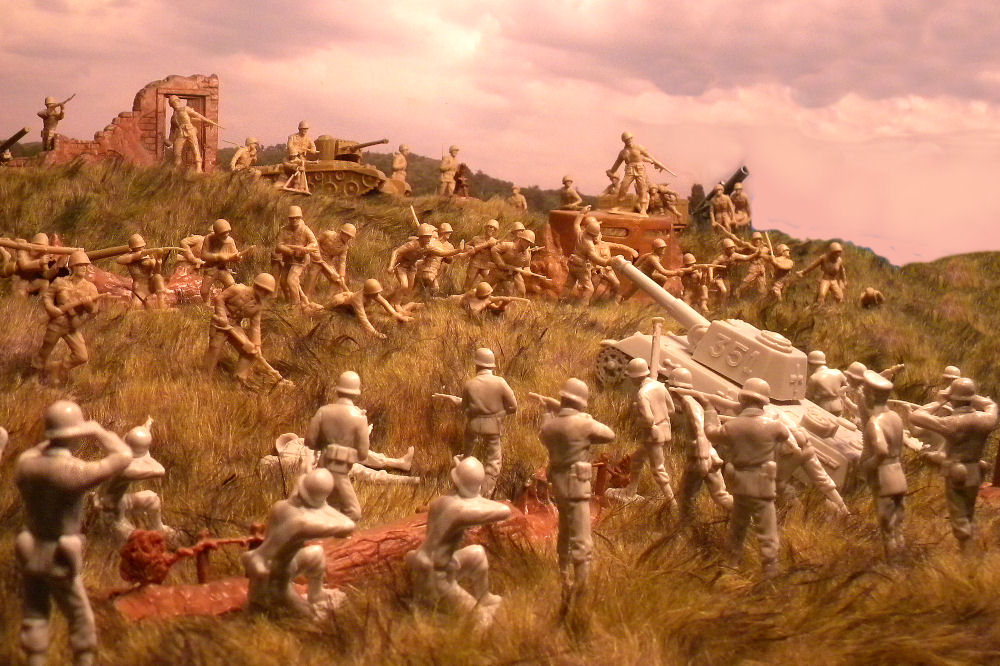 Marx Desert Fox
7/14/15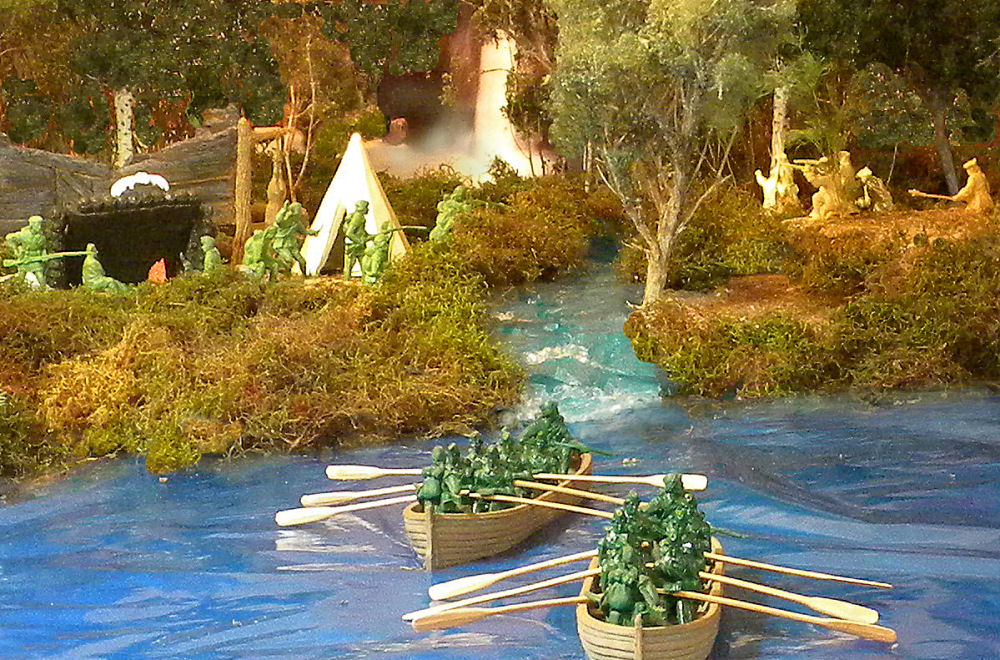 Barzso's Ranger Camp Playset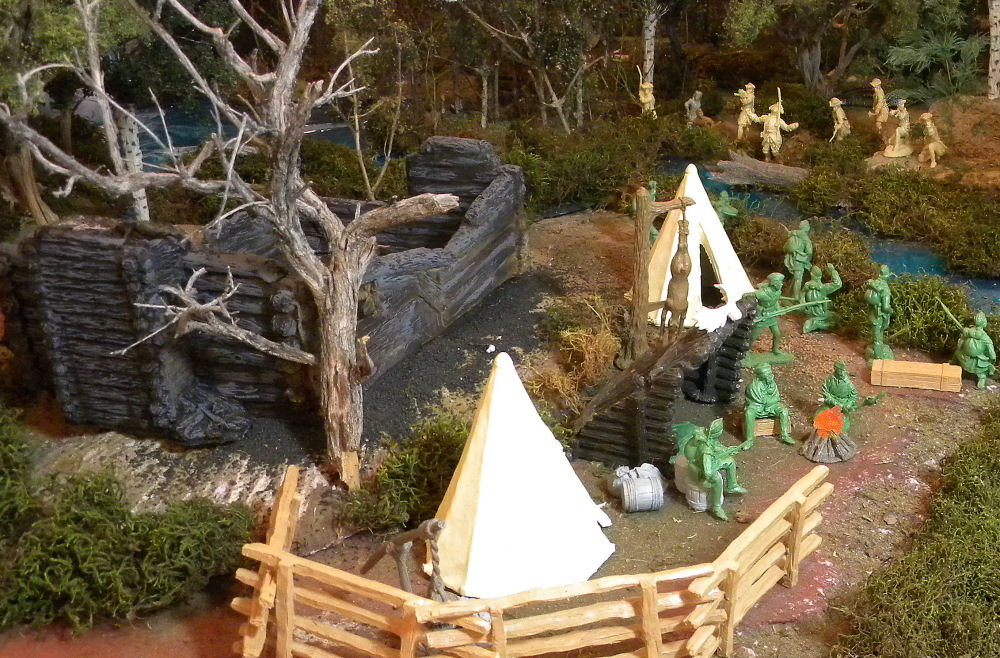 Click on the above picture to see the whole series of Rogers Rangers pictures.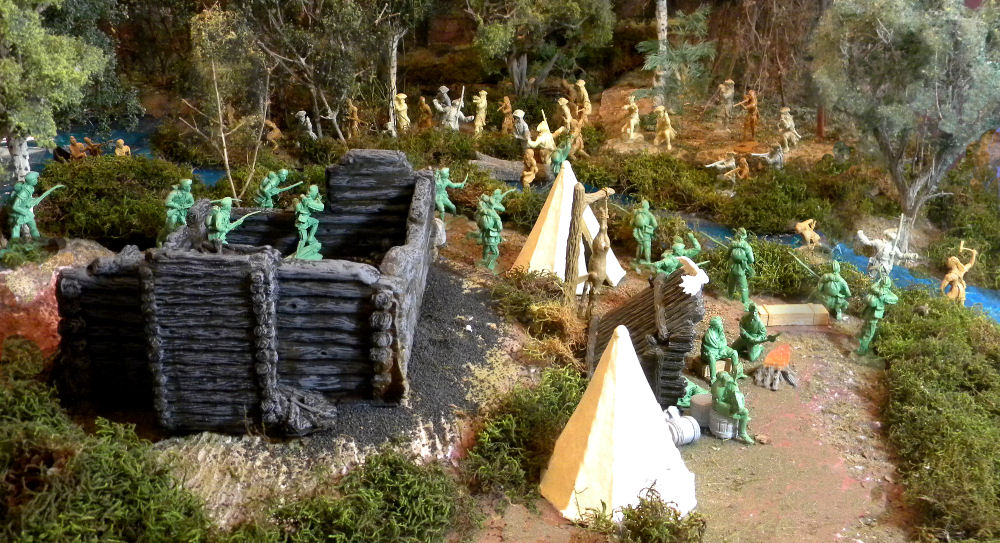 I found three bags of Barzso figures I had forgotten I had. There's a set of 2nd series Rangers, a bag of different Indians and another set of French Infantry.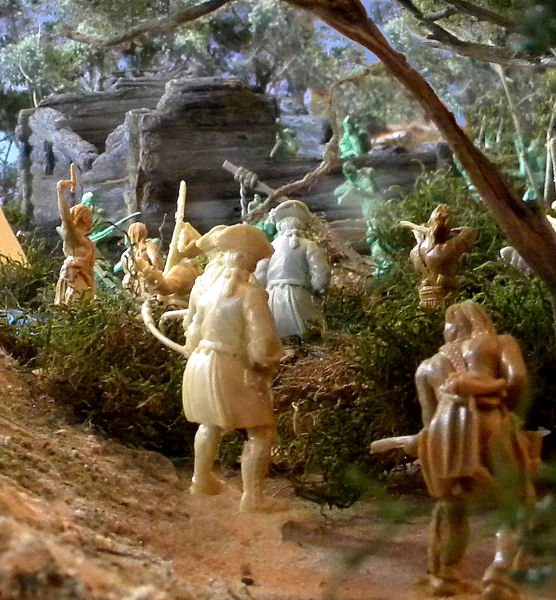 Can you believe it's been 22 years since Ron Barzso released his inaugural playset - Rogers Rangers and the Attack on St. Francis. I remember being so excited that someone was going to make a brand new playset in the Marx style. It had been about 20 years since Marx quit making playsets. PFPC had a great article on Ron and I pre-ordered my set. With this set. the new Golden age of playsets began.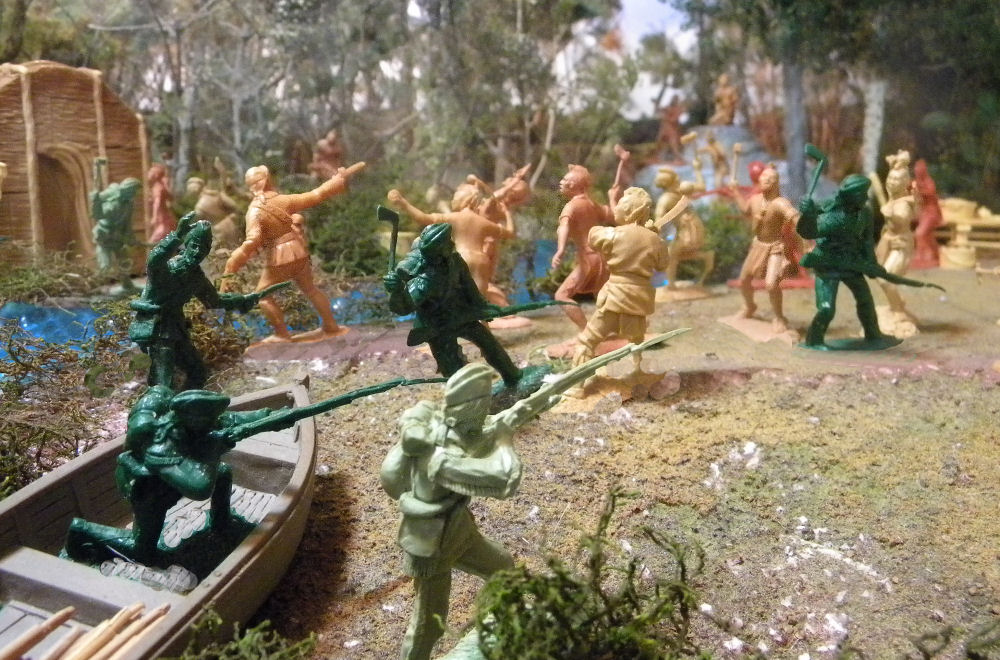 6/21/15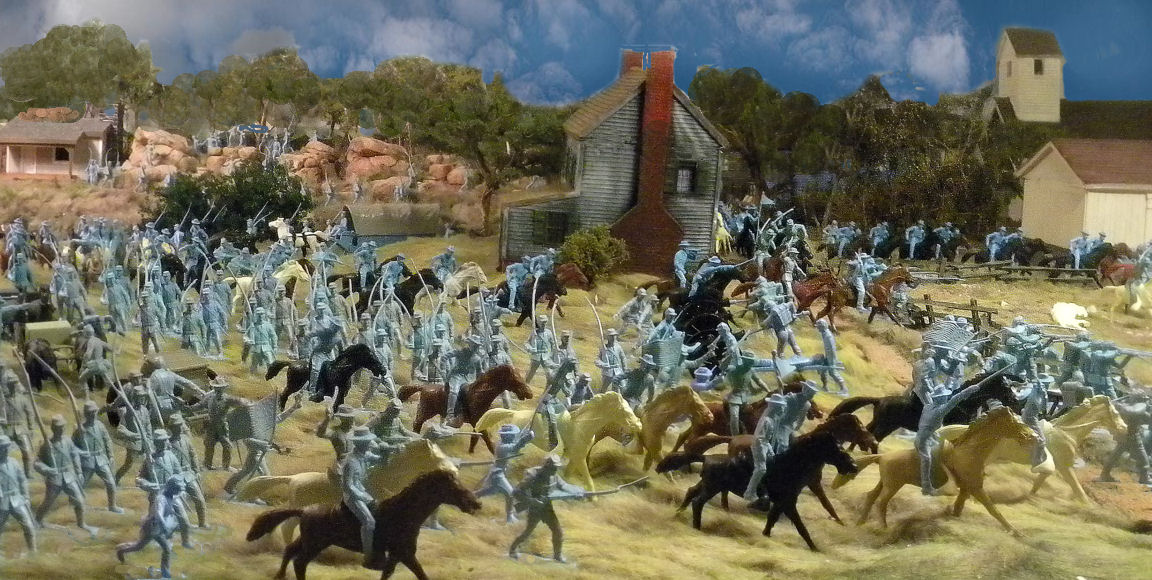 My motivation in this set up was to get as many of my original Marx Union troops into action. I ran out of space.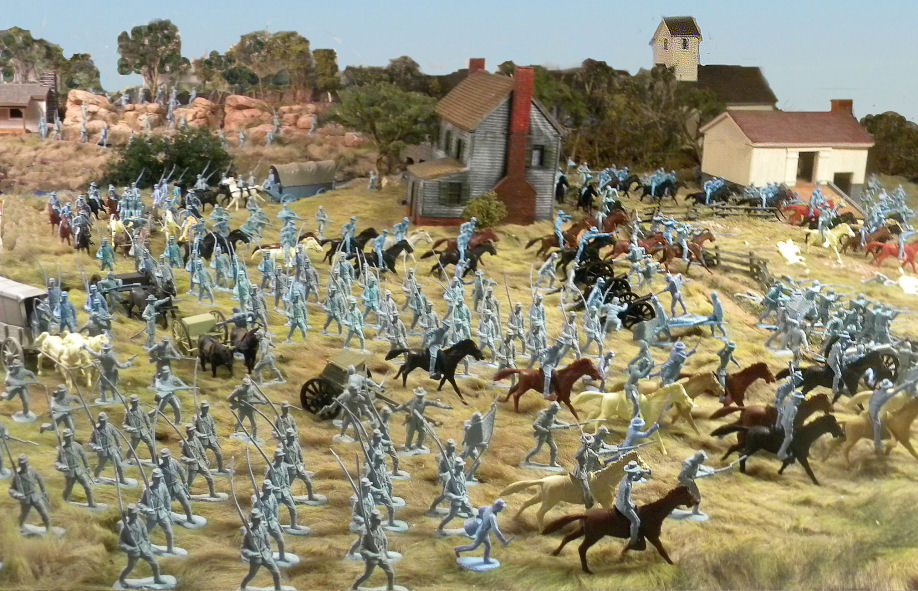 I especially wanted to get my accumulation of 50 some Longcoats into the picture.
I think the standing Union Firing figure is my favorite Marx figure.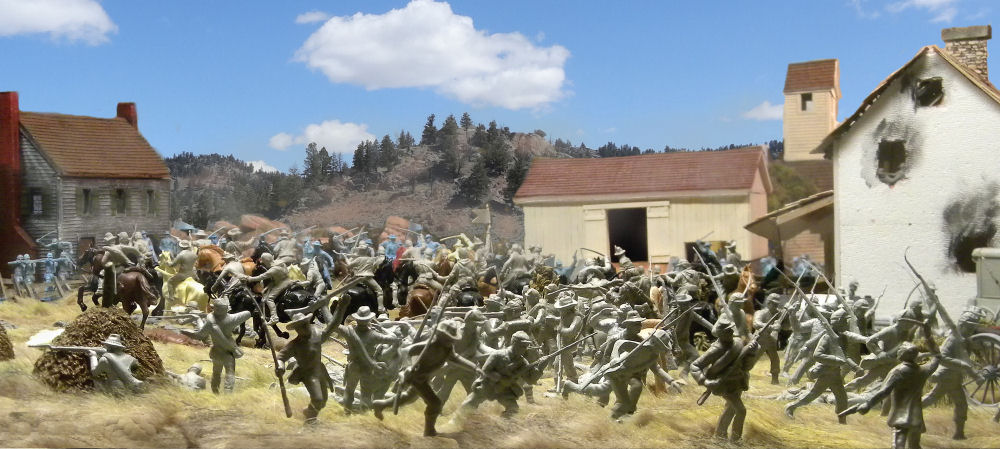 I used my Converted figures for the Confederates. I didn't have much space so I had the rebs doing a holding action while the main force tried to retreat.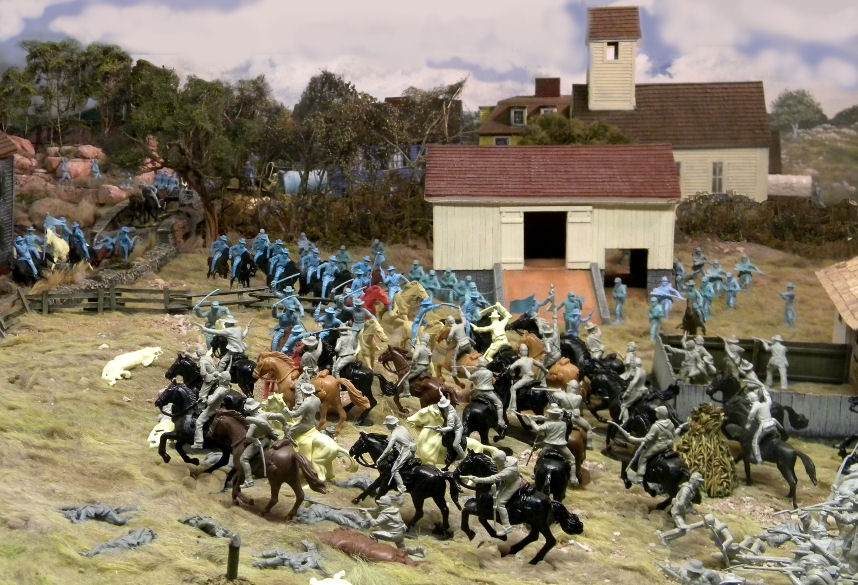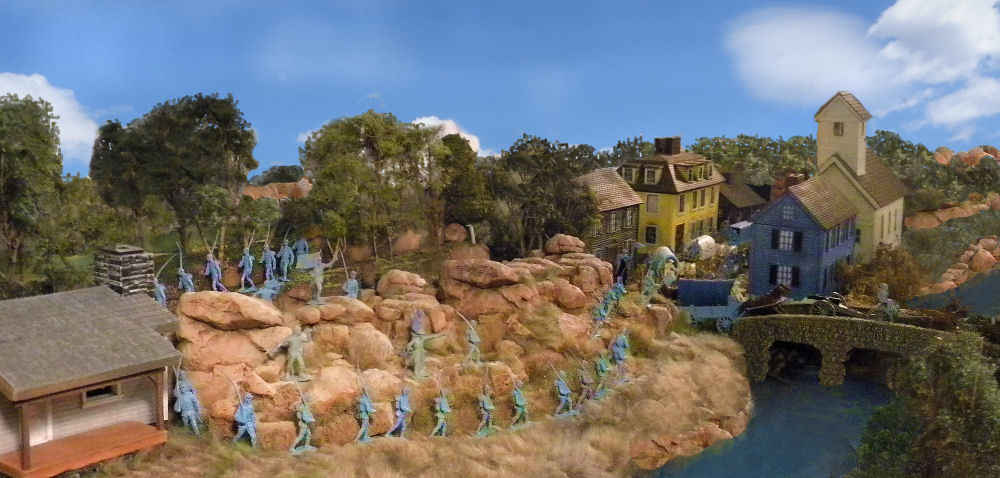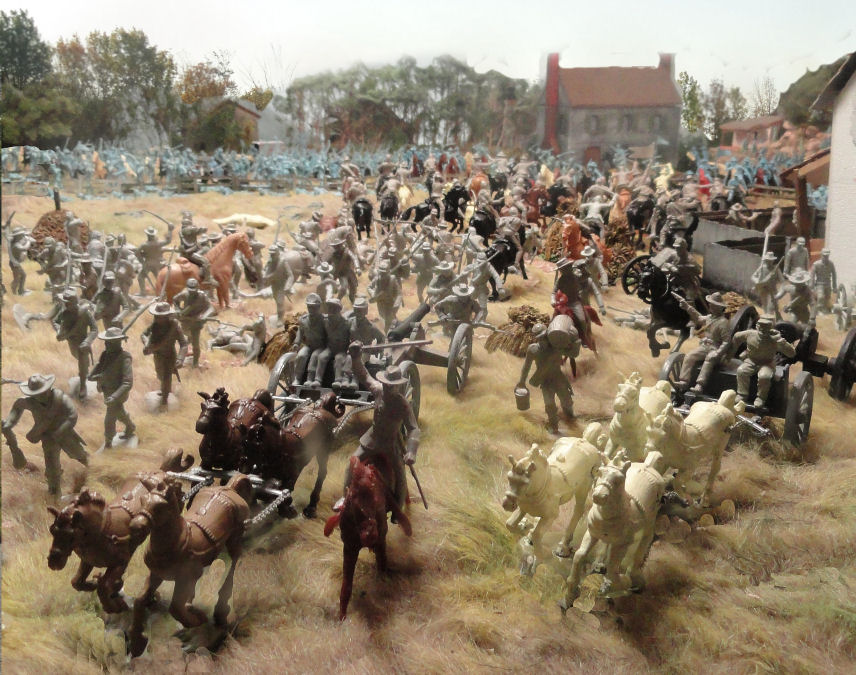 5/21/15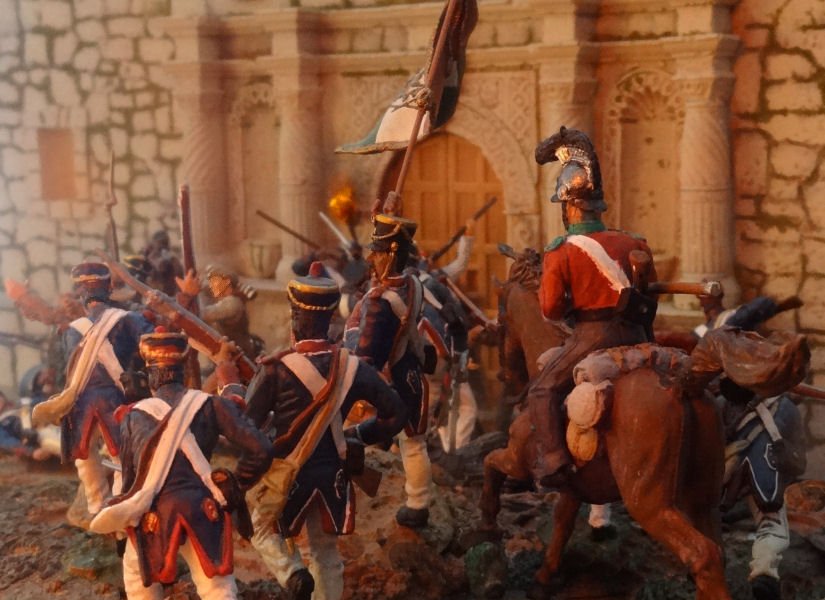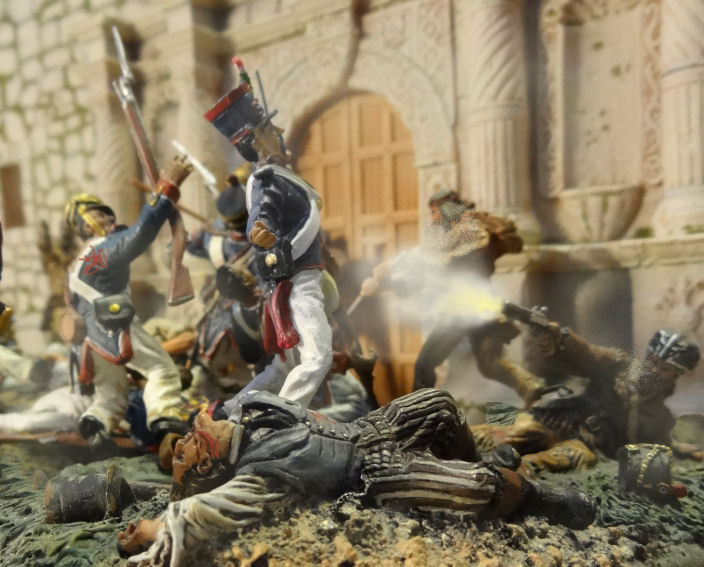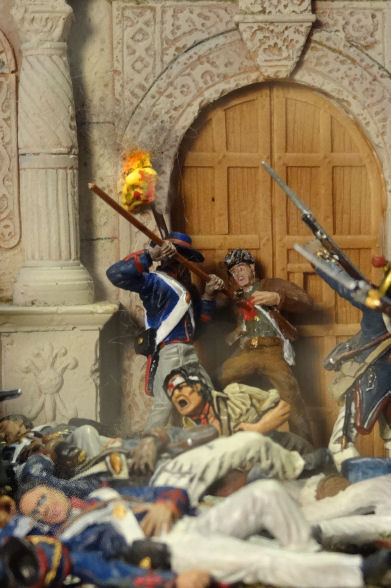 5/15/15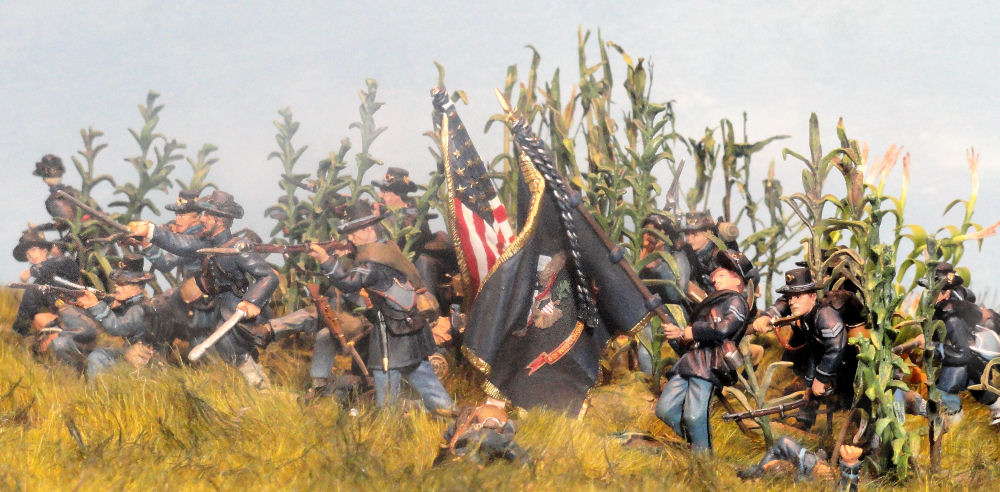 Click on the picture for the whole series of Iron Brigade Pictures.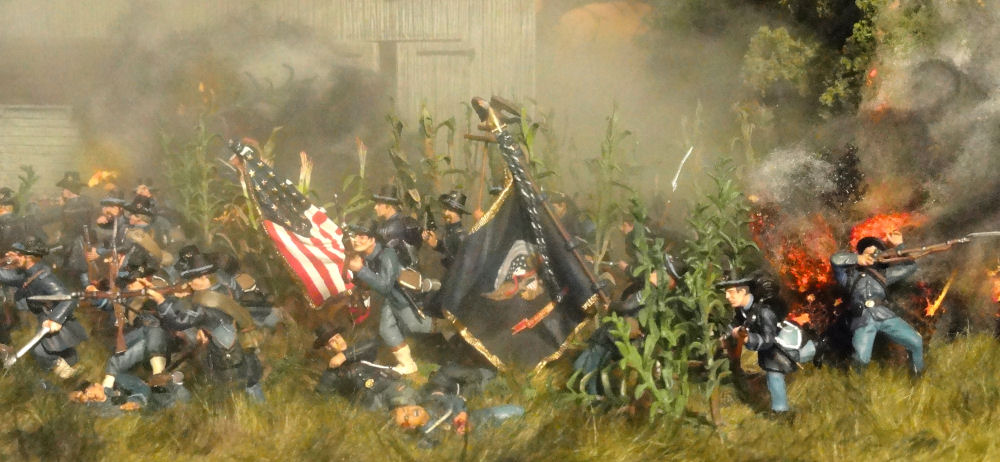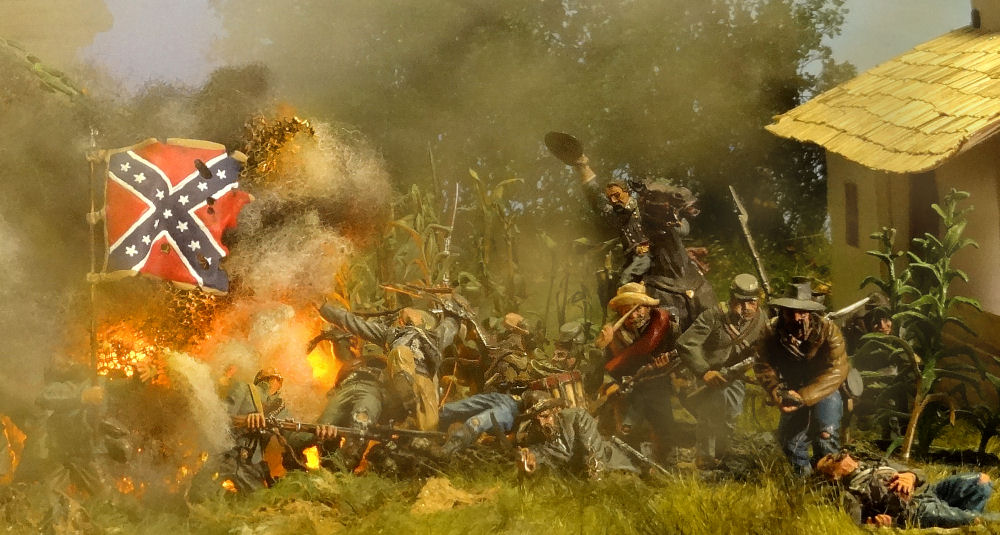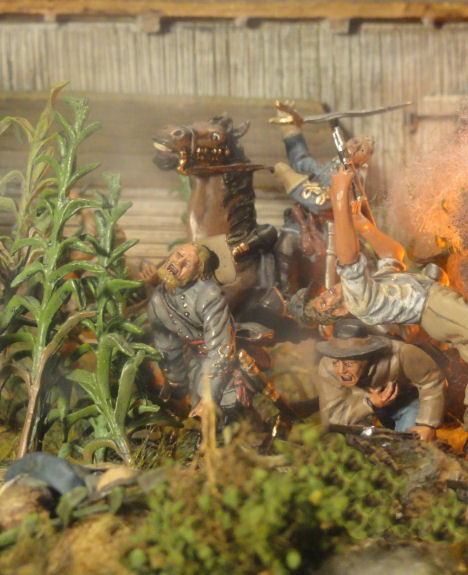 5/13/15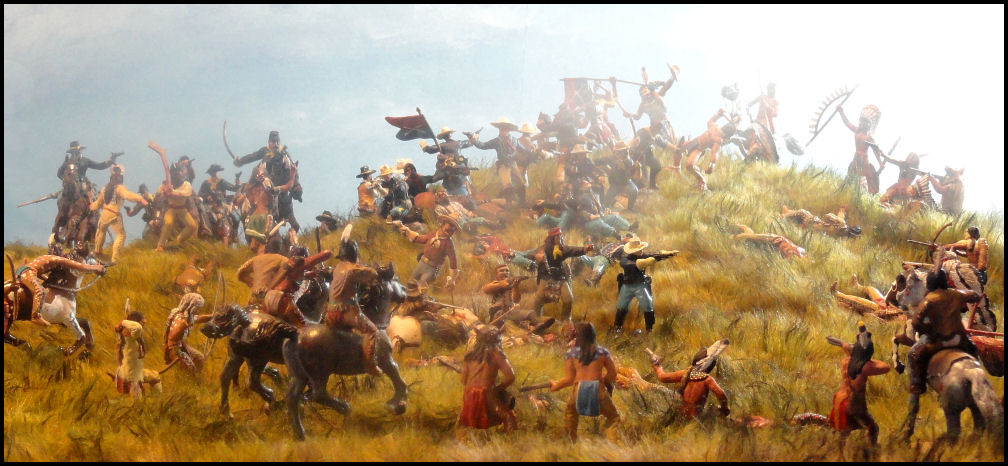 I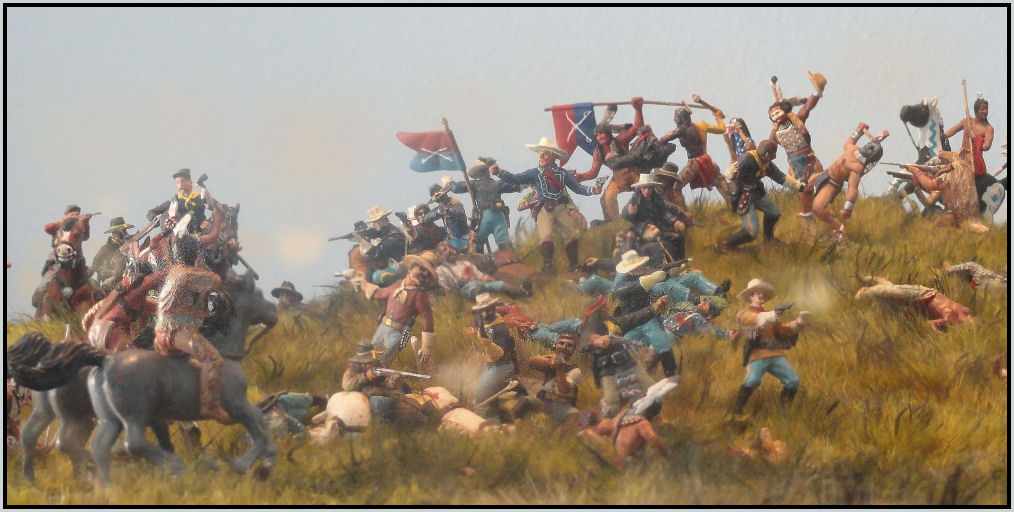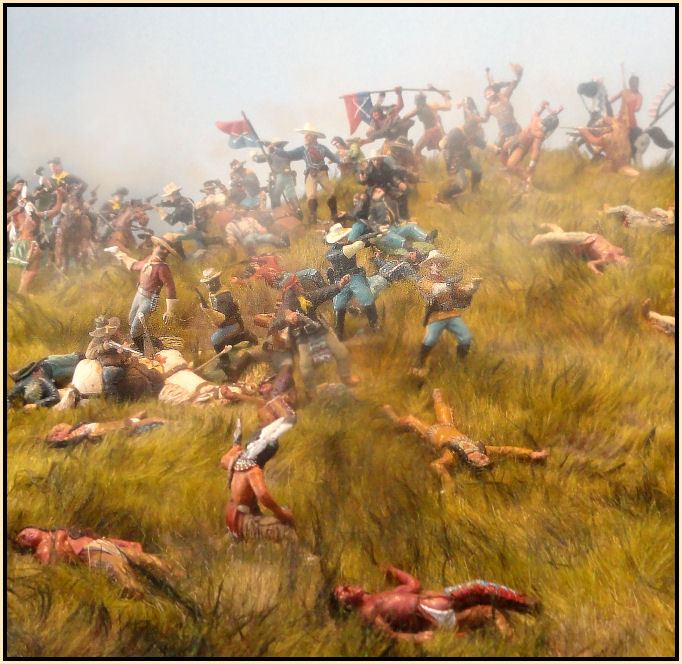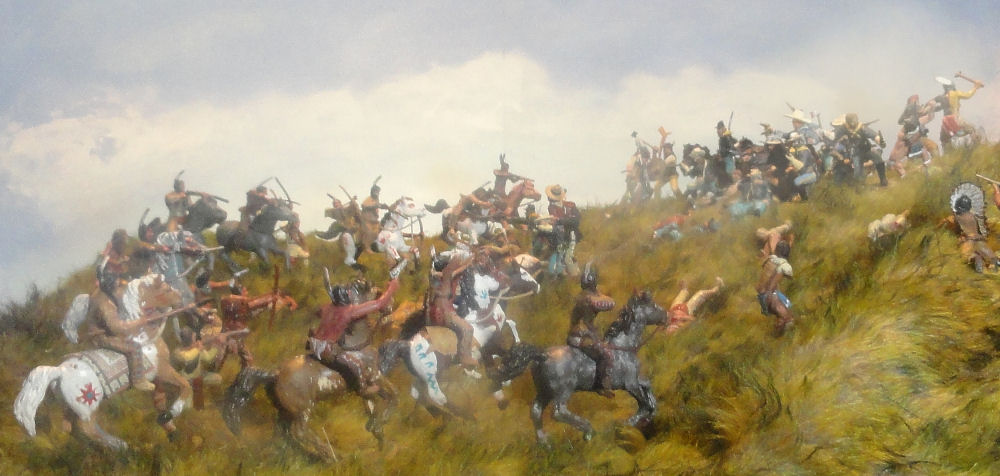 4/25/15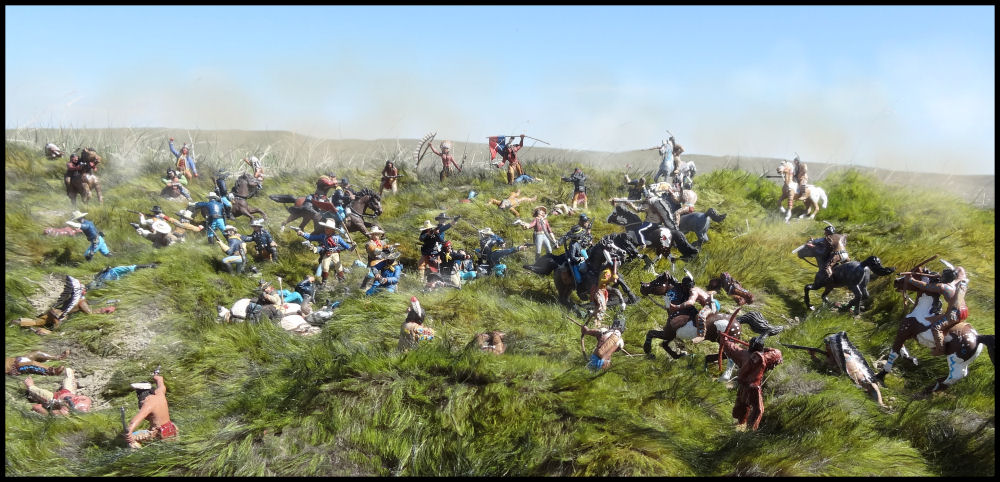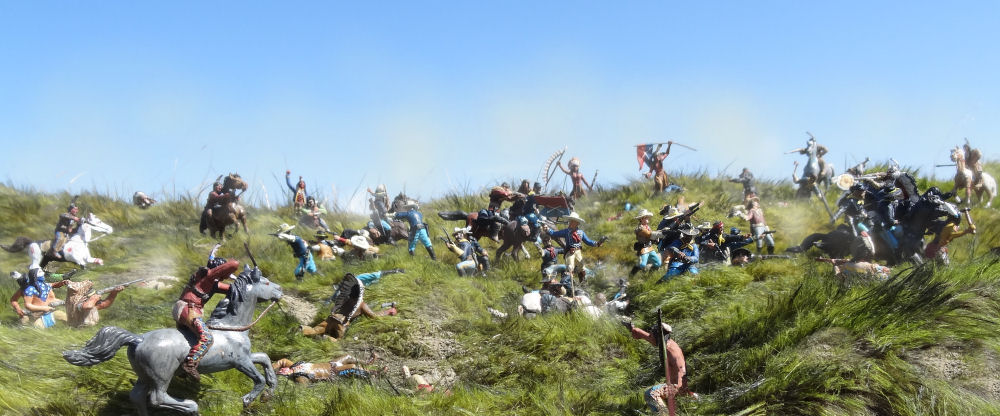 I made this set up alongside the road at the actual Little Big Horn Battlefield.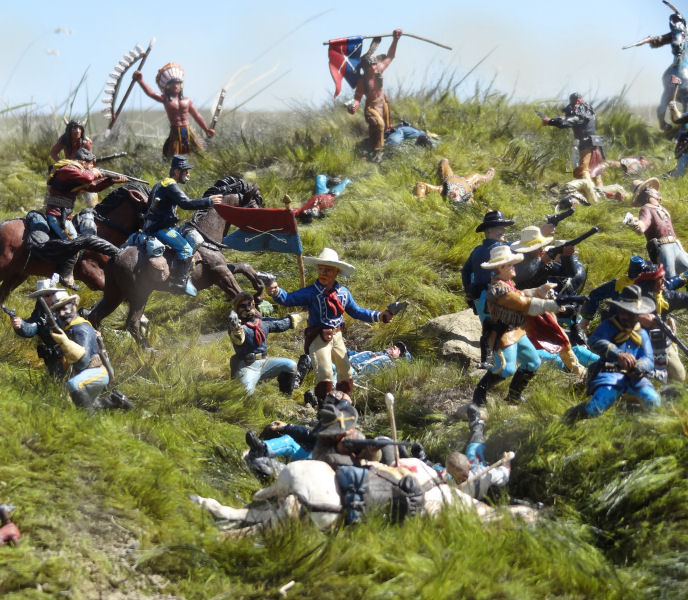 Heritage Battle of the Alamo Playset. Click on picture for more pics.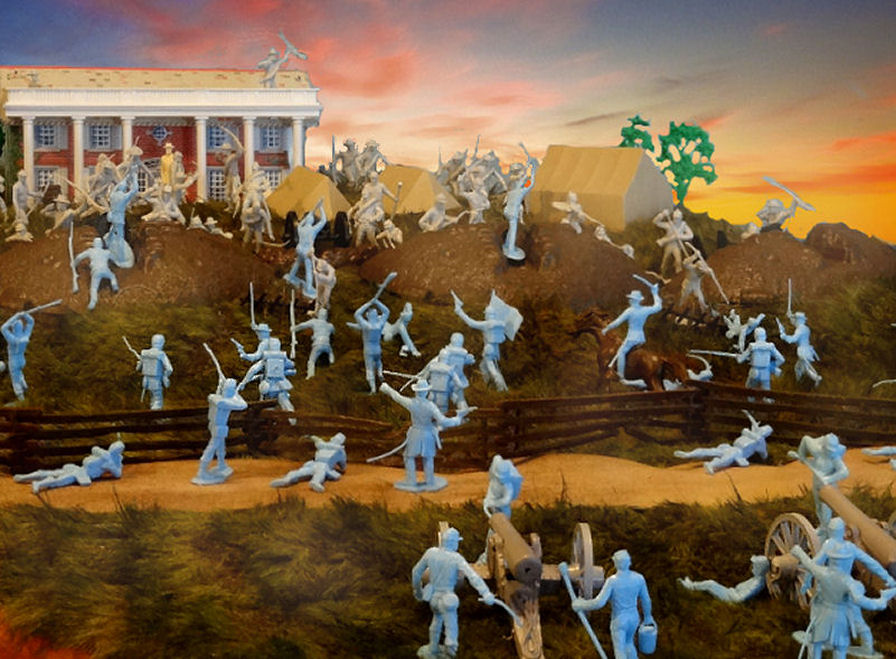 Heritage Blue and the Gray Playset with extras. Click on picture for more pics.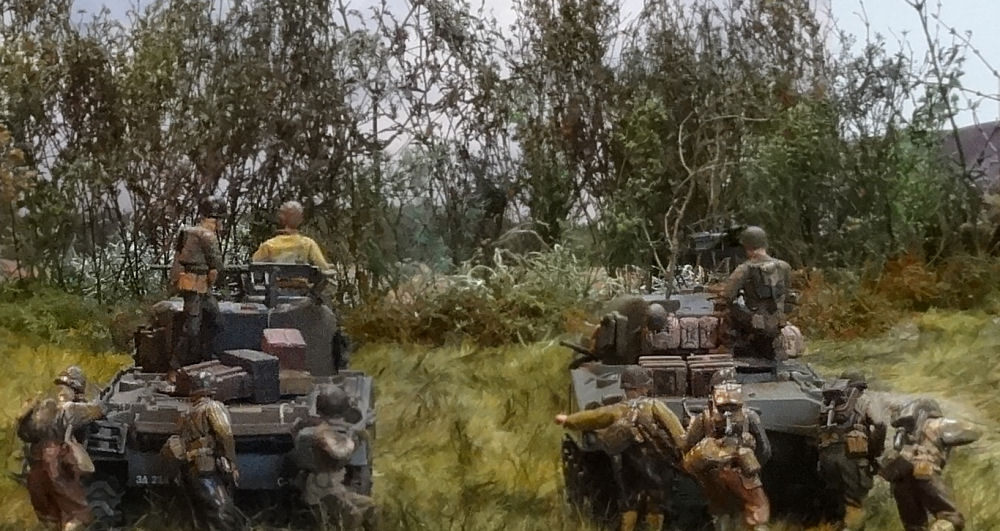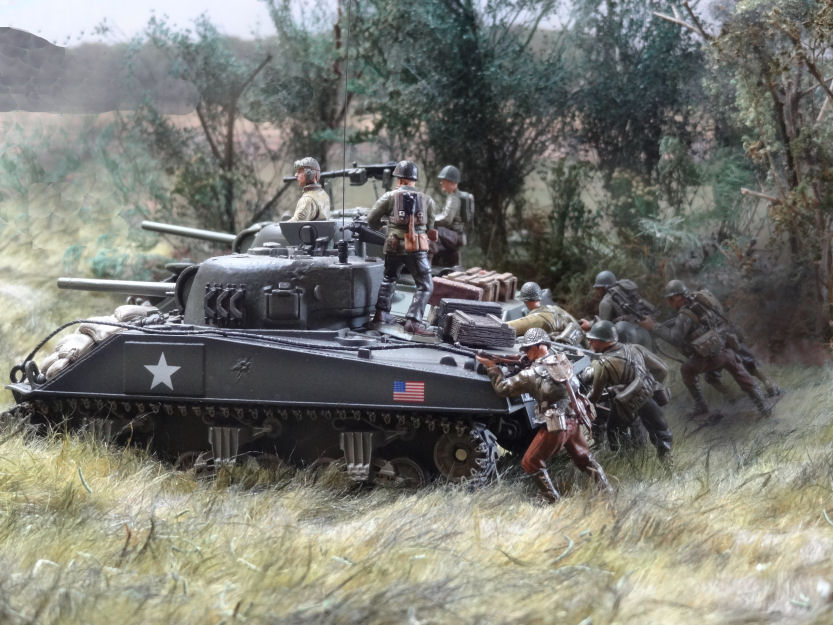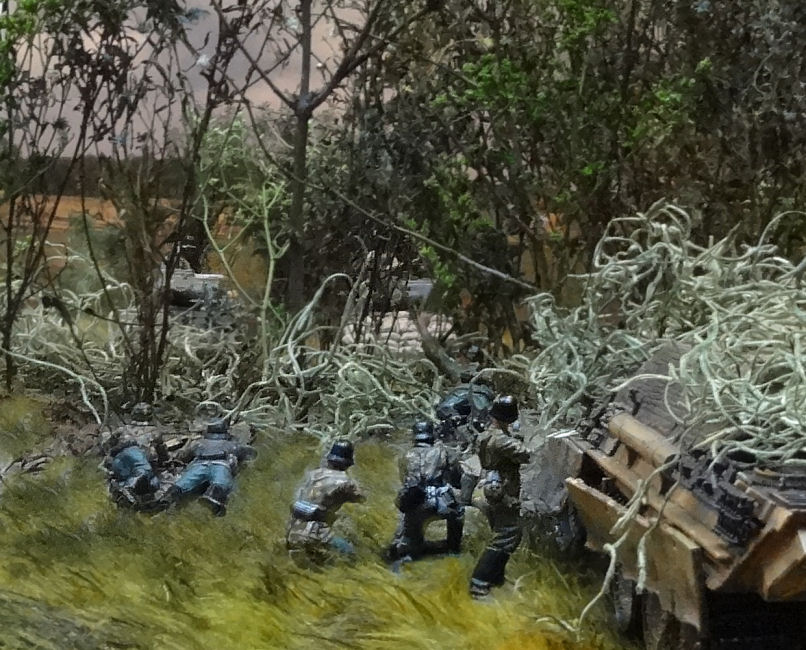 10/24/14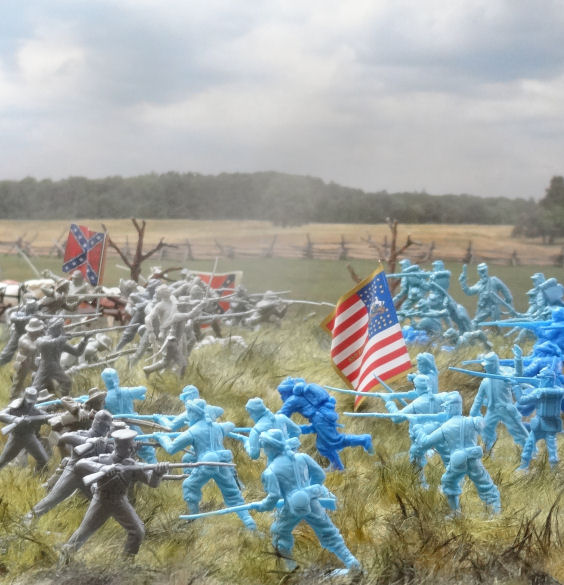 This is a small set-up getting my new Expeditionary Force Zouaves into some action. These are very nice, if expensive, figures. They are much, much better than the previous Ex Force ACW offerings. They fit almost perfectly with the origianl Marx Civil War poses. Each box of figures contains nine figures with plug in arms and heads. The cool thing is that they provide extra arms and heads which can be used to convert the old Marx figures into some of the poses I've always wanted. There are a number of such conversions in these pics. Click on the picture to see the whole series of pics.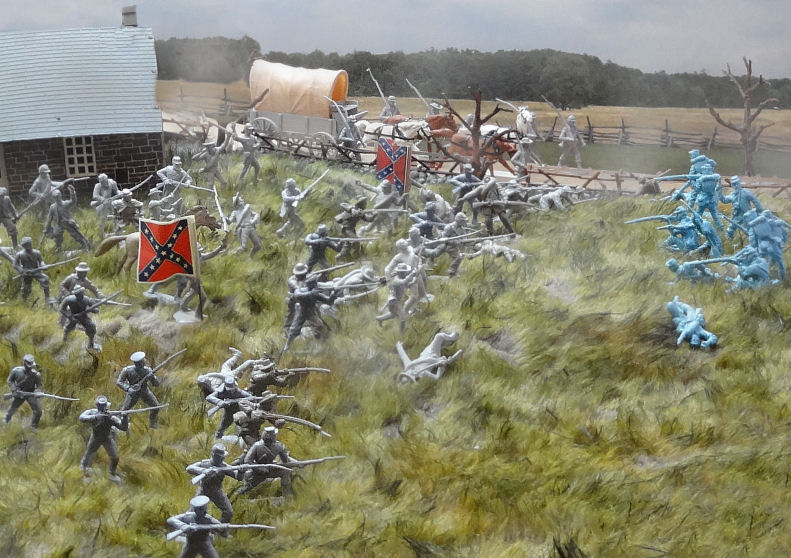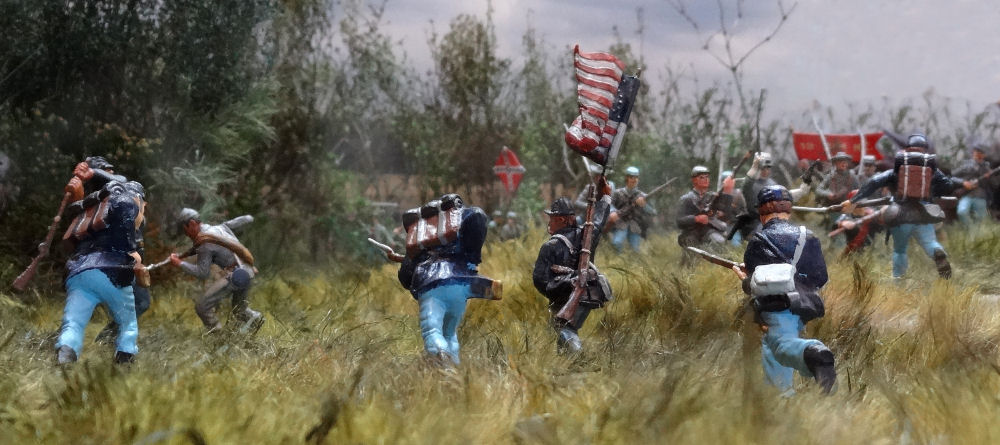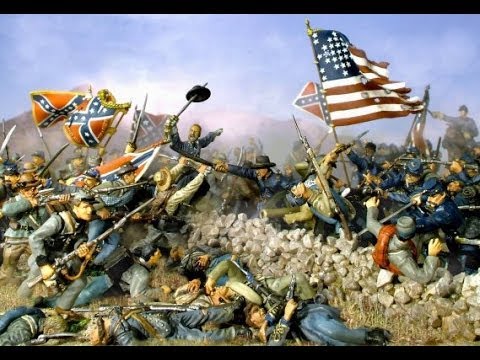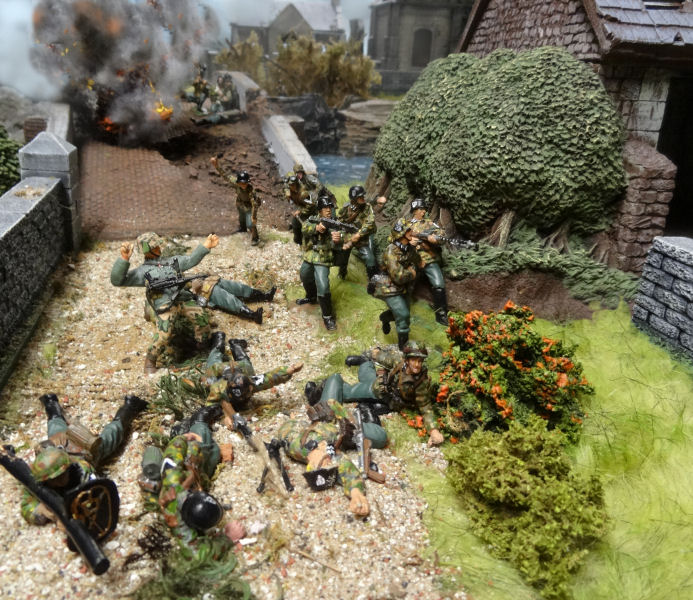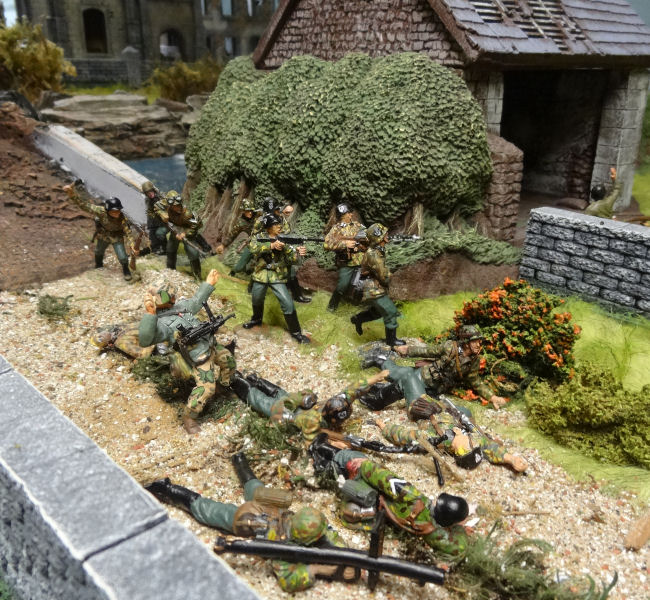 8/20/14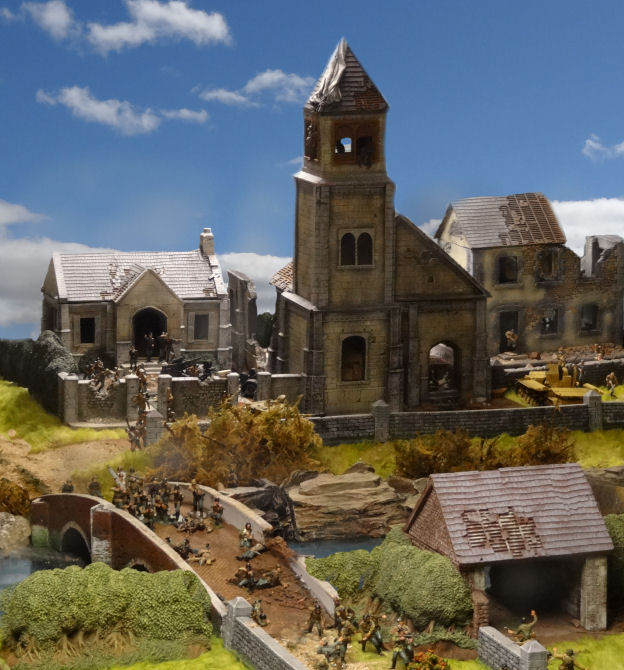 I am finally returning to WW2.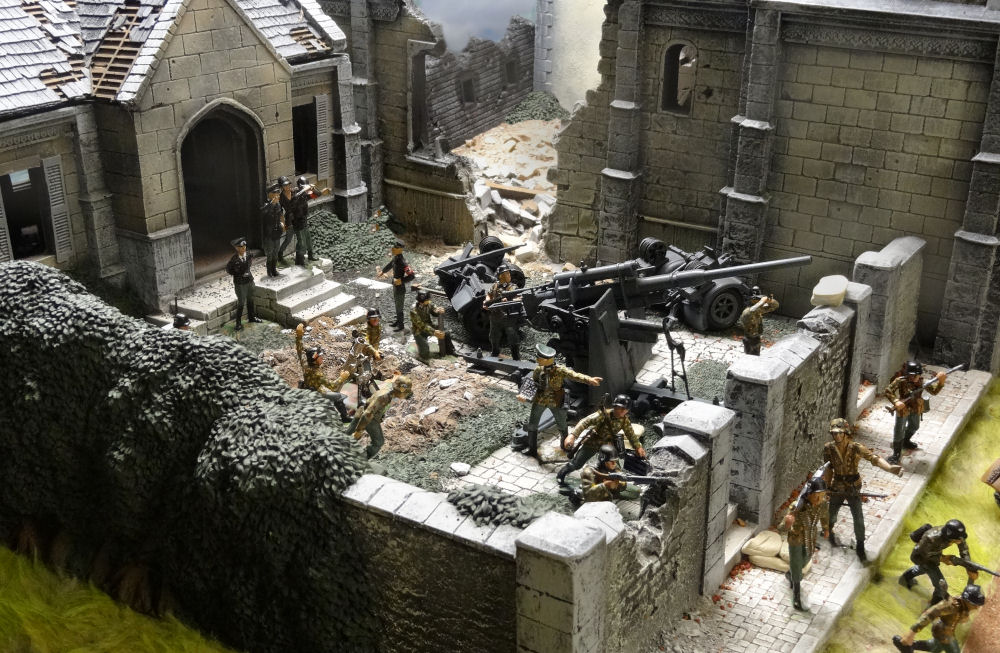 Over the last year John Mullen has been painting figures for me. My biggest single project for him was to paint up an example of all the different plastic German poses I could find as SS Soldiers. How many of these figures can you identify?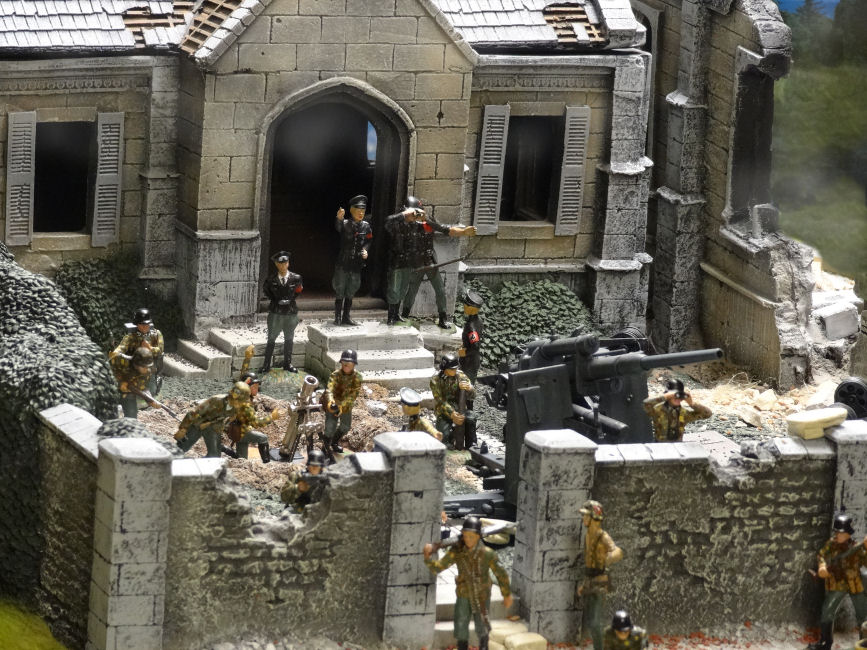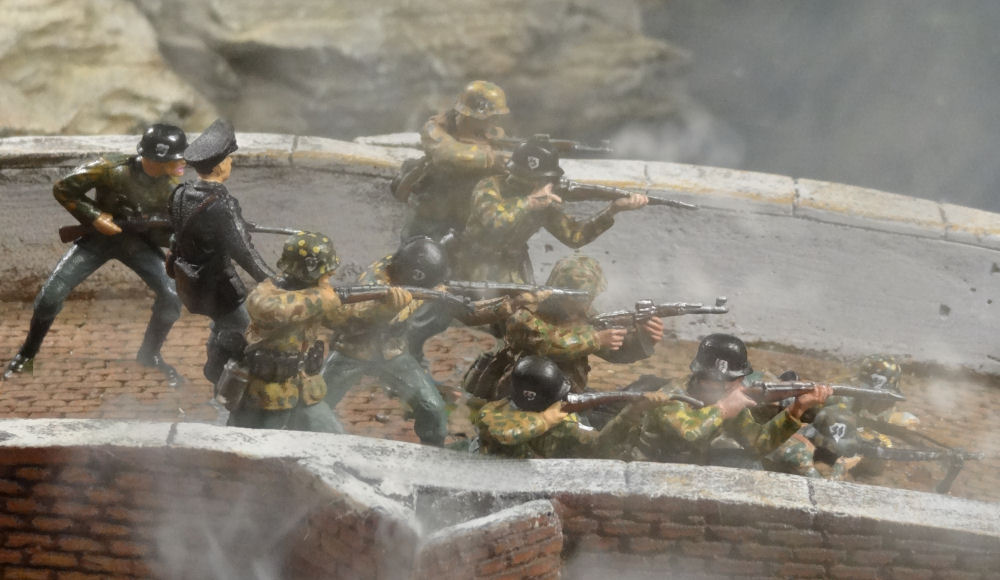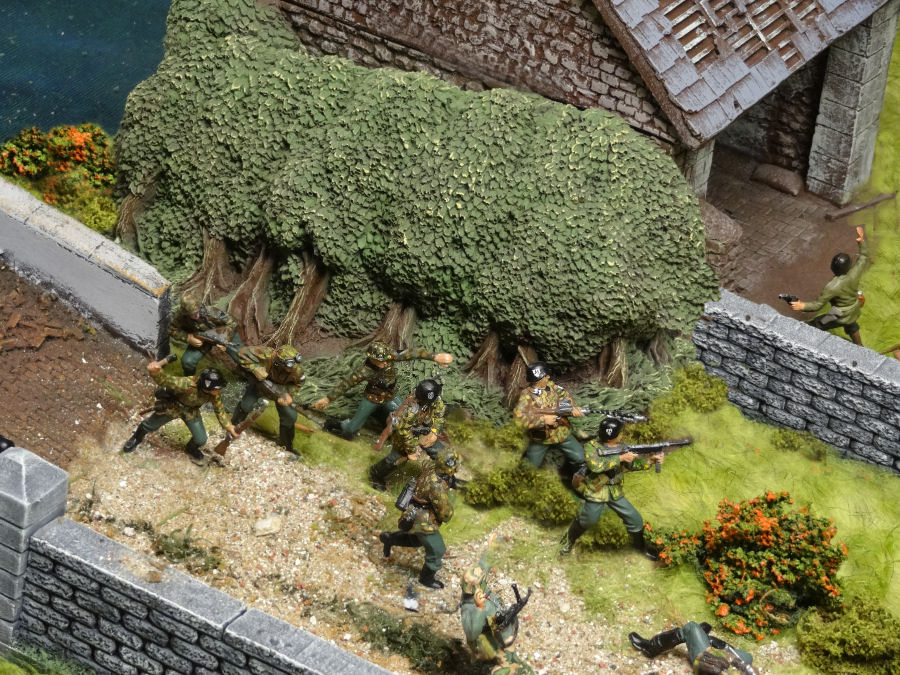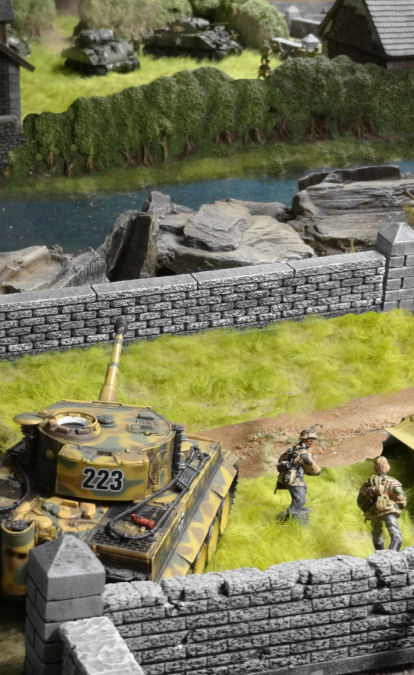 Someone's in trouble...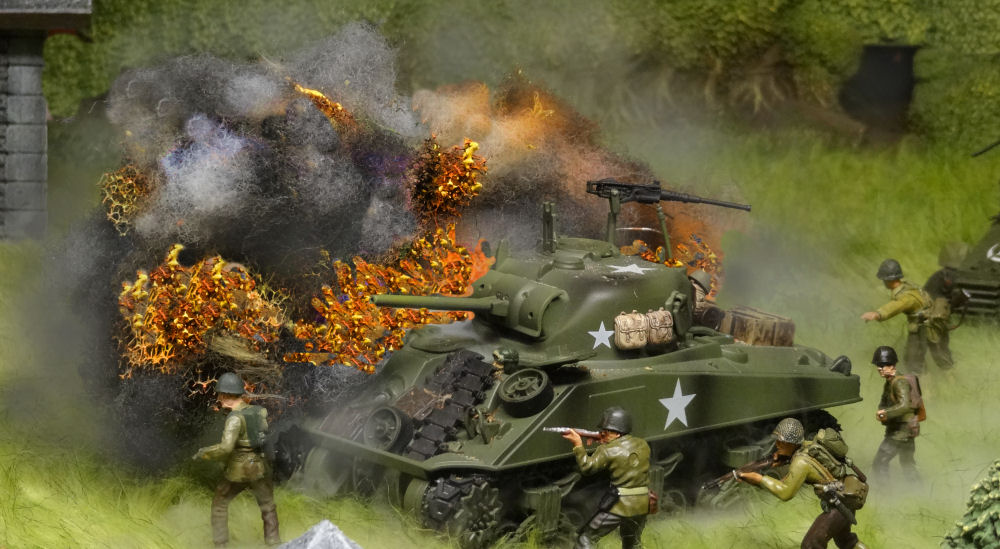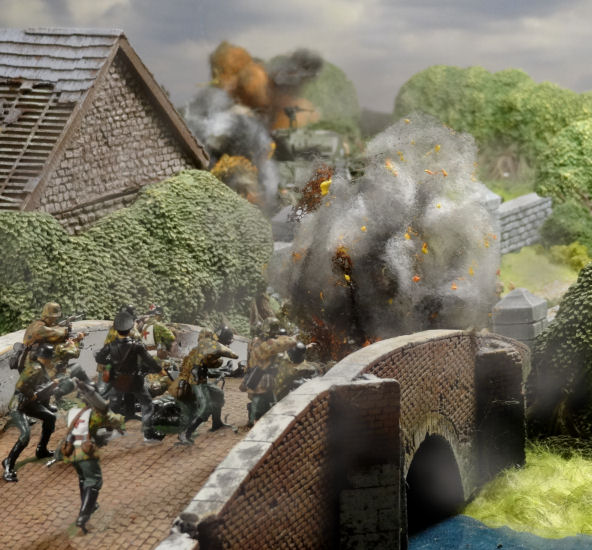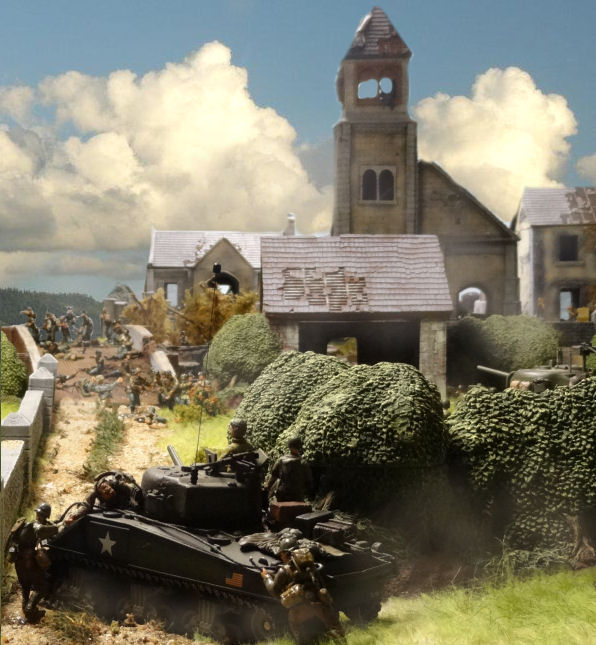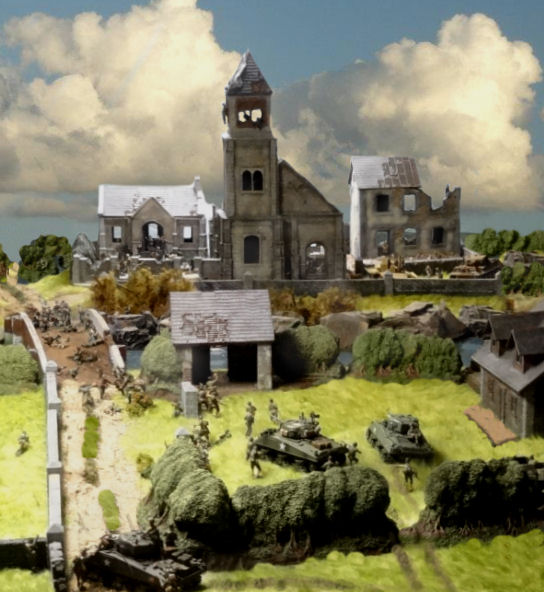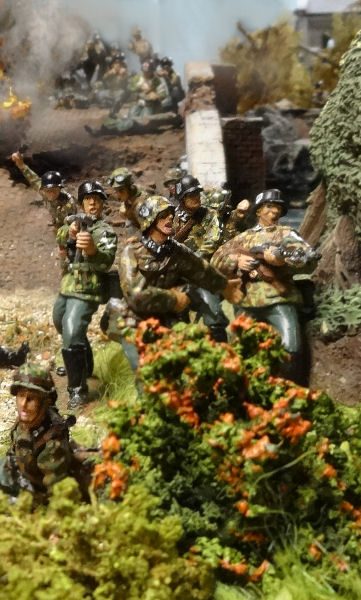 7/31/14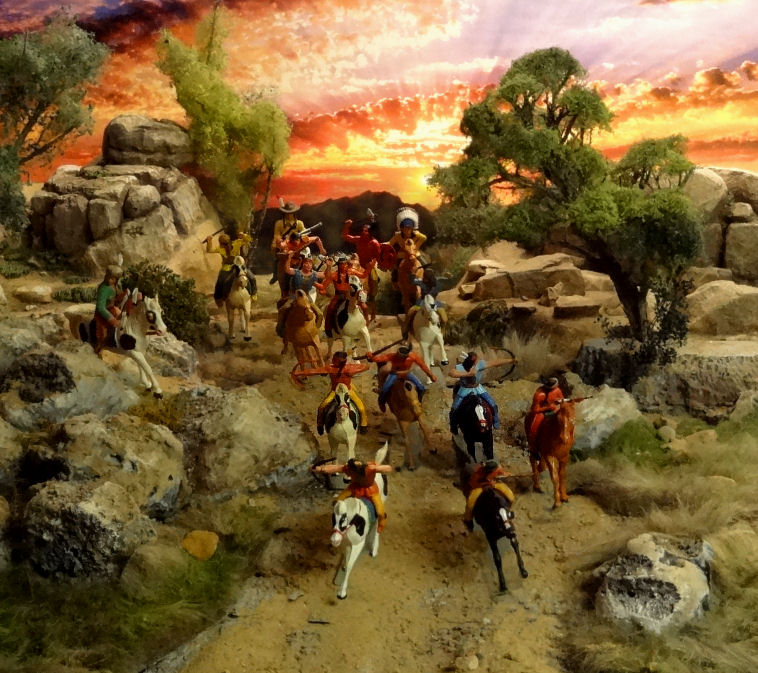 I have had these Starlux plastic Indians for quite a long time. 14 differnet poses here. They're kind of impressive as a group.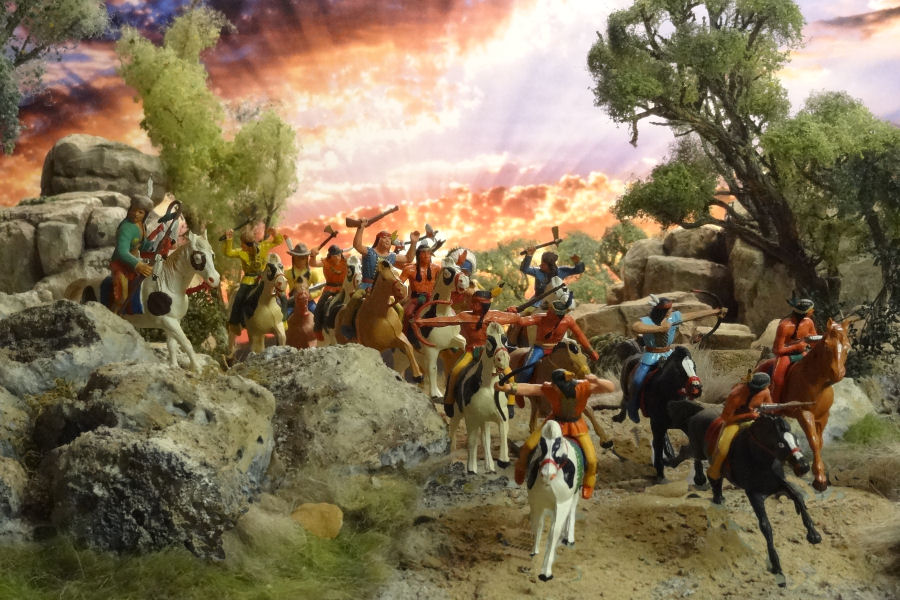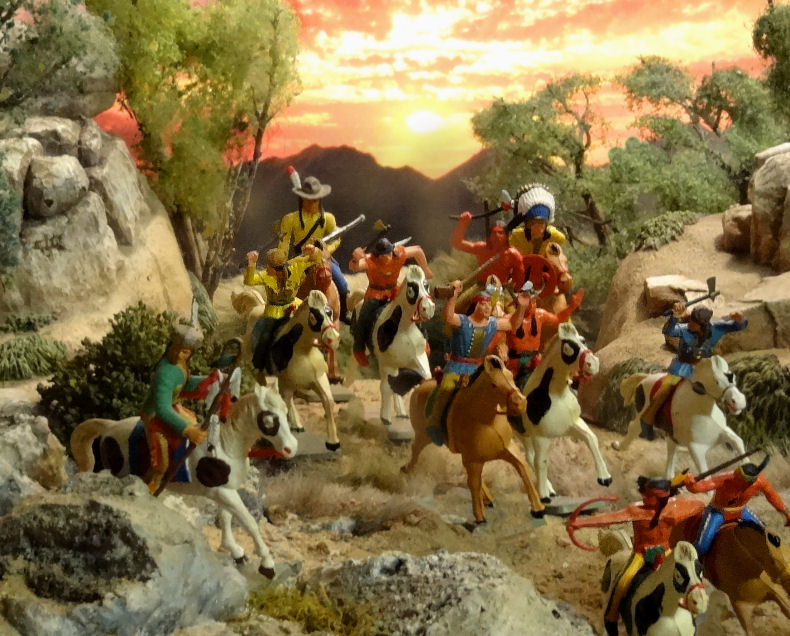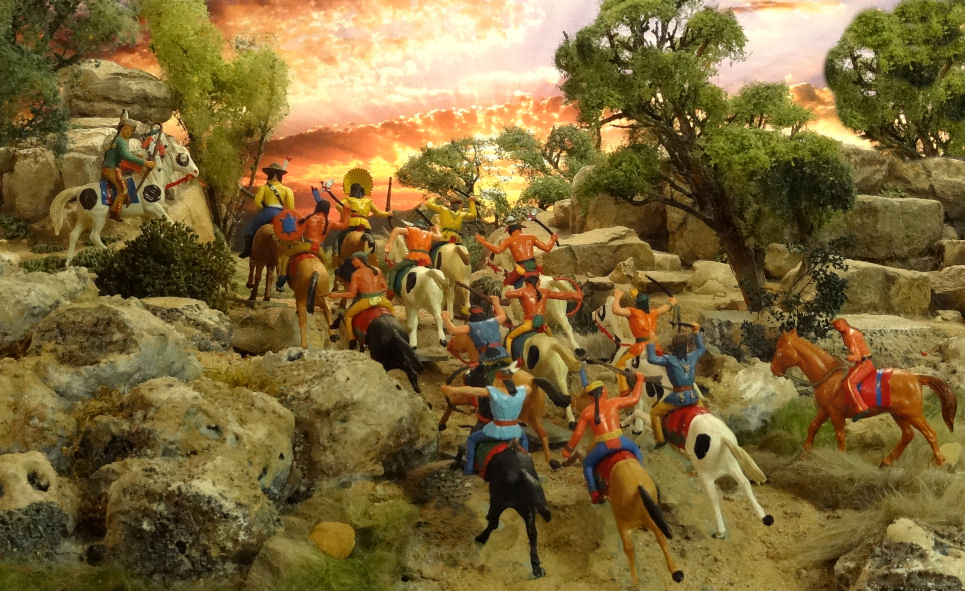 6/13/14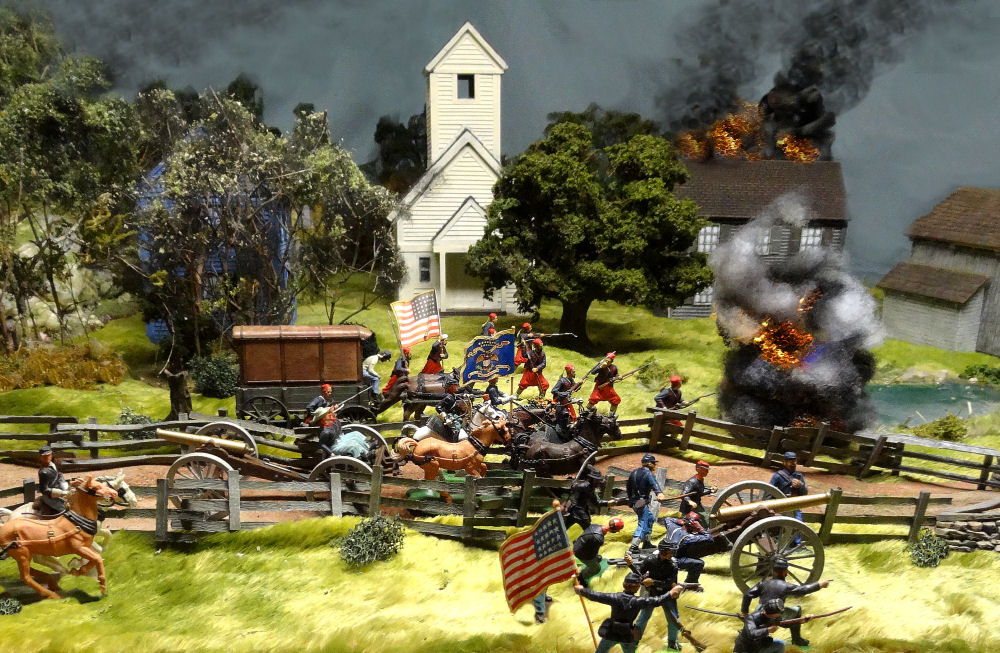 Up next will be some Britains Civil War stuff and some great Shenadoah zoaves that were painted by award winning pfigure painter John O'Brian.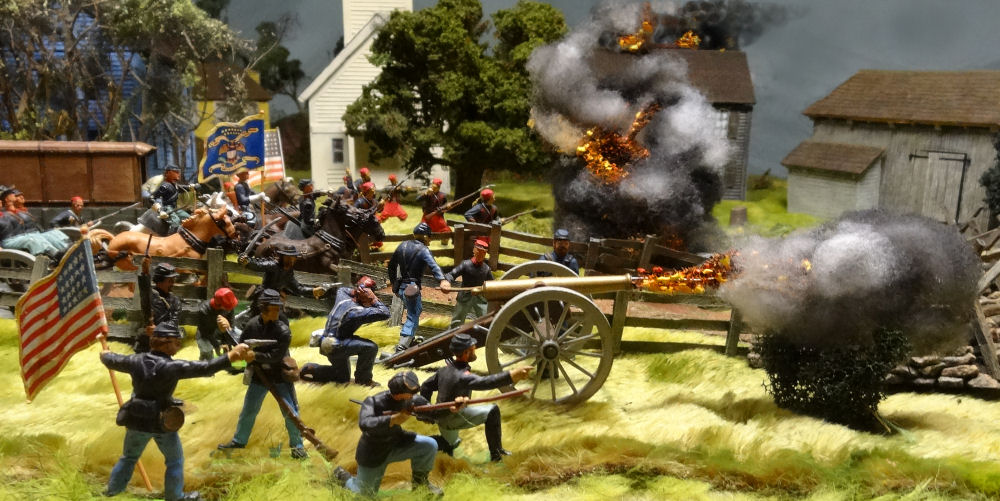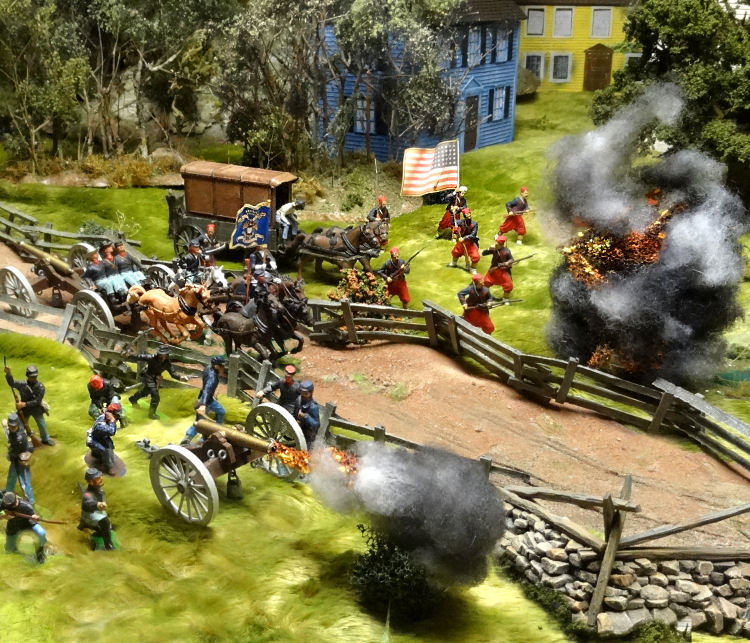 5/22/14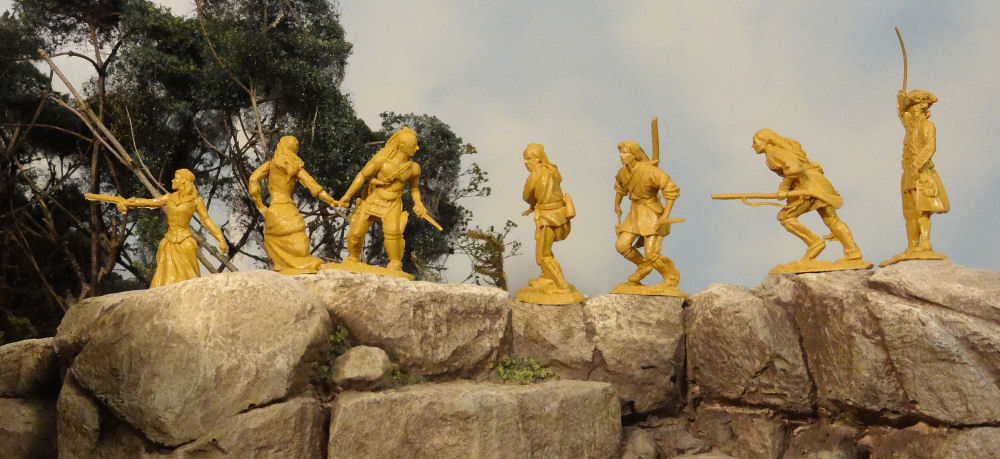 Barzso's Last of the Mohicans Character figures. They are the latest victims of the Great 2014 Spring Cleaning eBay Massacre.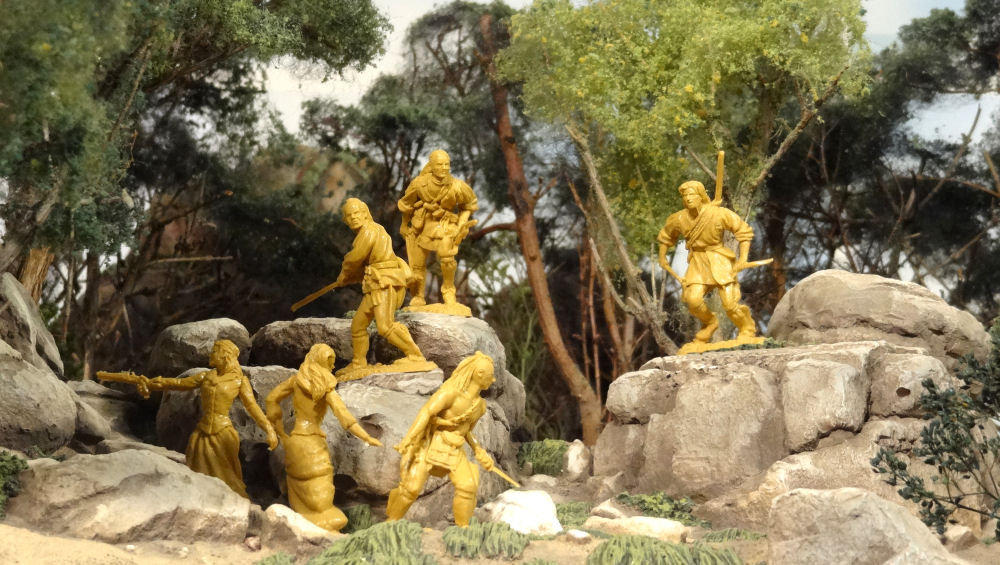 Please check out all my auctions on eBay. Search under user name "playsetaddict".
5/13/14

The Conte GIs are such great figures. These guys recently got a new home.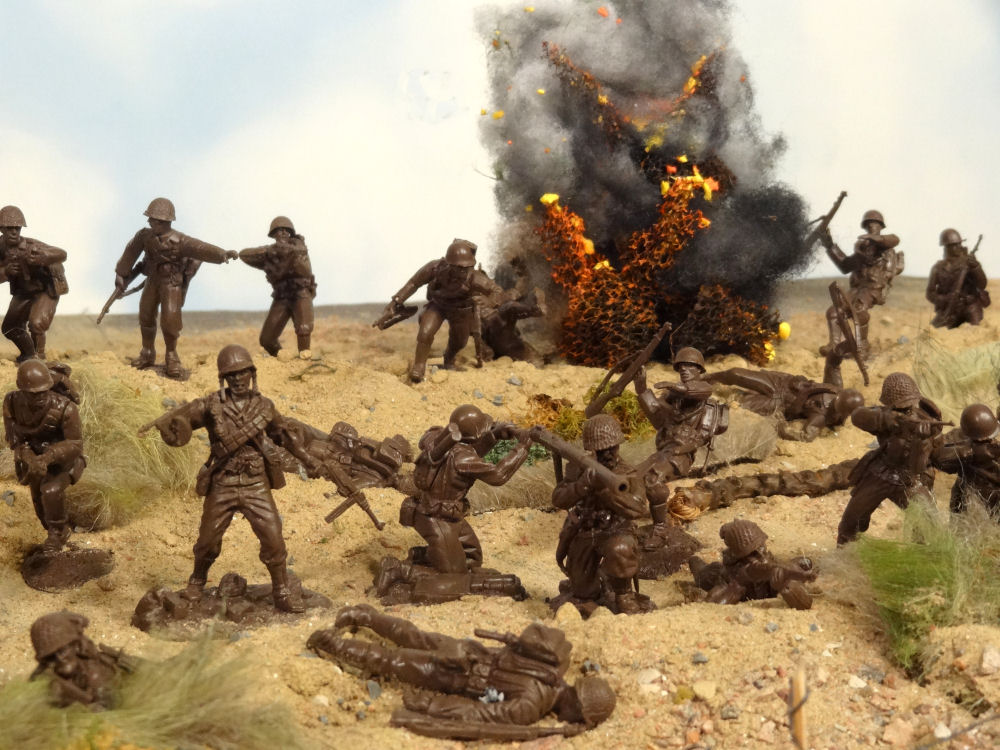 5/2/14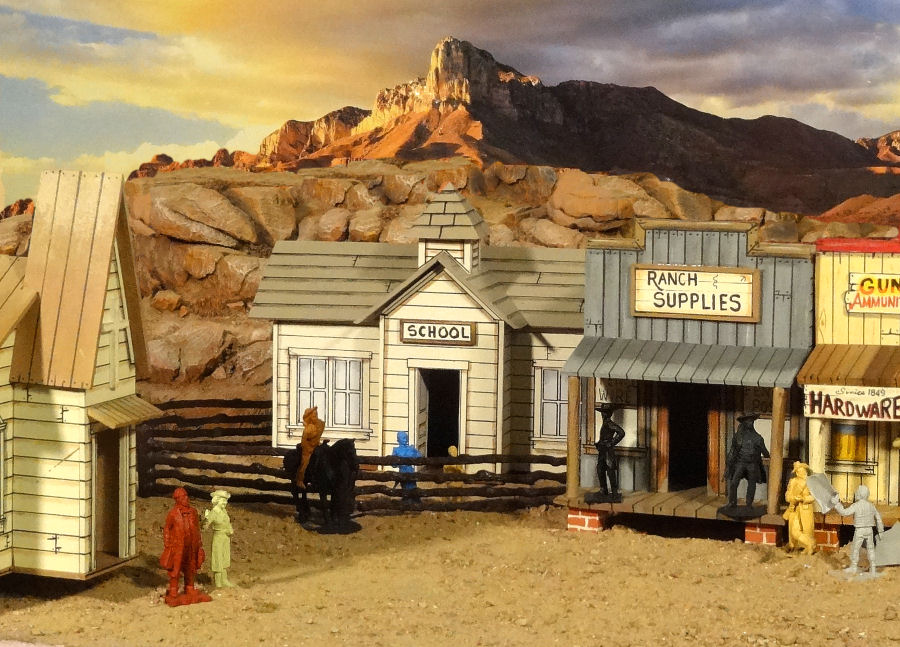 I decided to put together a second Western Town "Playset". This one features 7 handmade Buildings of the Old West and a bunch of the great P and P Products resin Western Town figures plus a few other figures. Click on the picture to see all the pictures. You'll need to scroll down once you get to the new page.

4/30/14
Time to put some more stuff on eBay.
Click on the picture to see the whole set of pictures.

4/18/14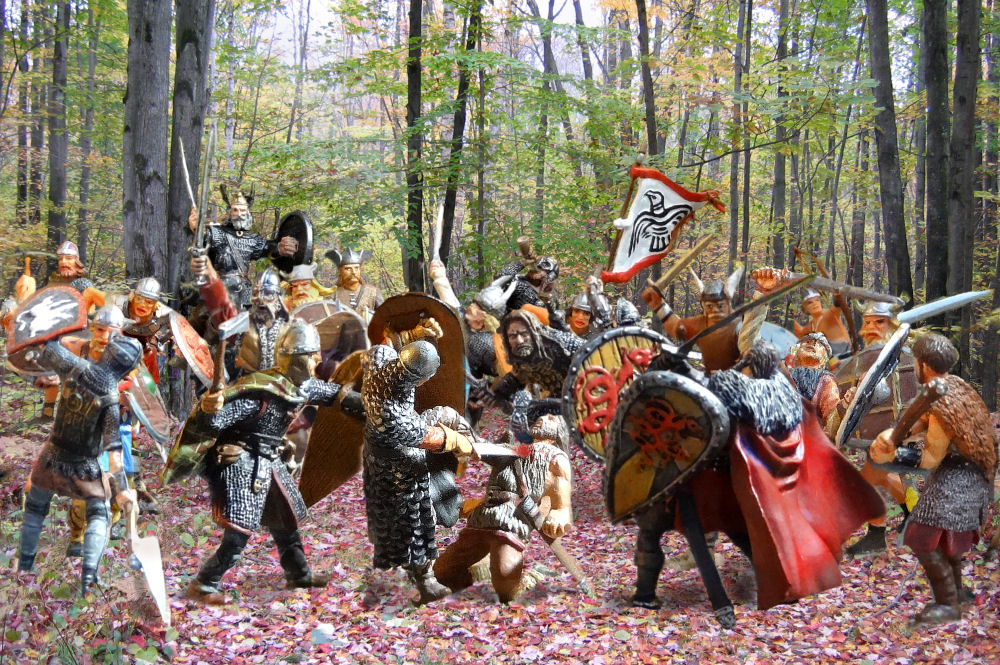 I've often dreamed about the day 3D scanners and printers would become cheap enough to use in the Toy Soldier Hobby. The first thing I would do with the technology would be to scan some of the great, 70mm Elastolin plastic figures and print them out in 58mm to match the Conte Viking figures. In the mean time, I'll have to be content with layering to use the figures together. In this picture are 70mm Elastolin figures, 54mm Marx, 58 mm Conte, 60mm Marx and 70mm Ideal, Each figure is a separate layer. Click on the picture to see the process in stages.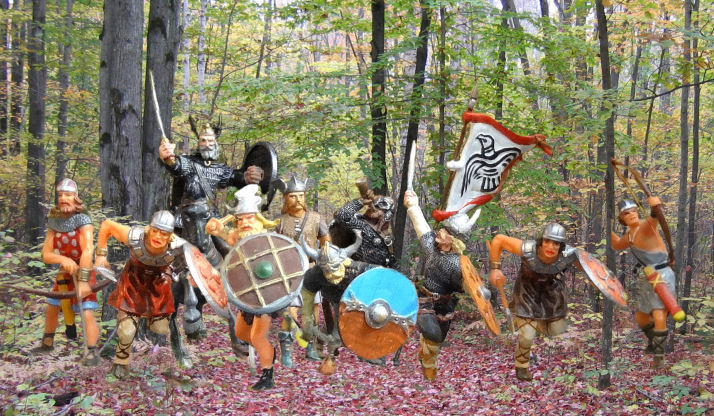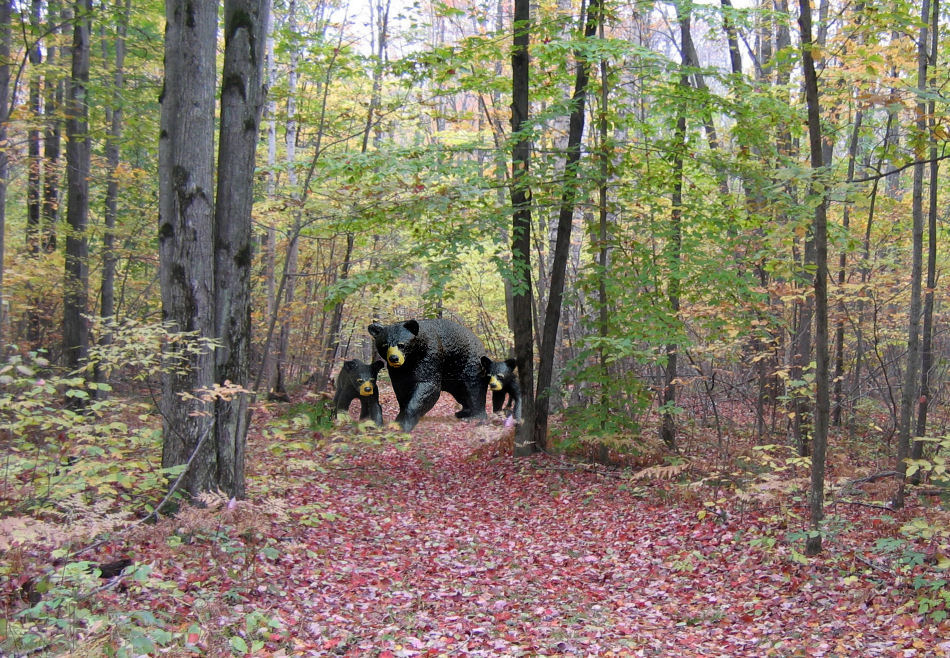 4/16/14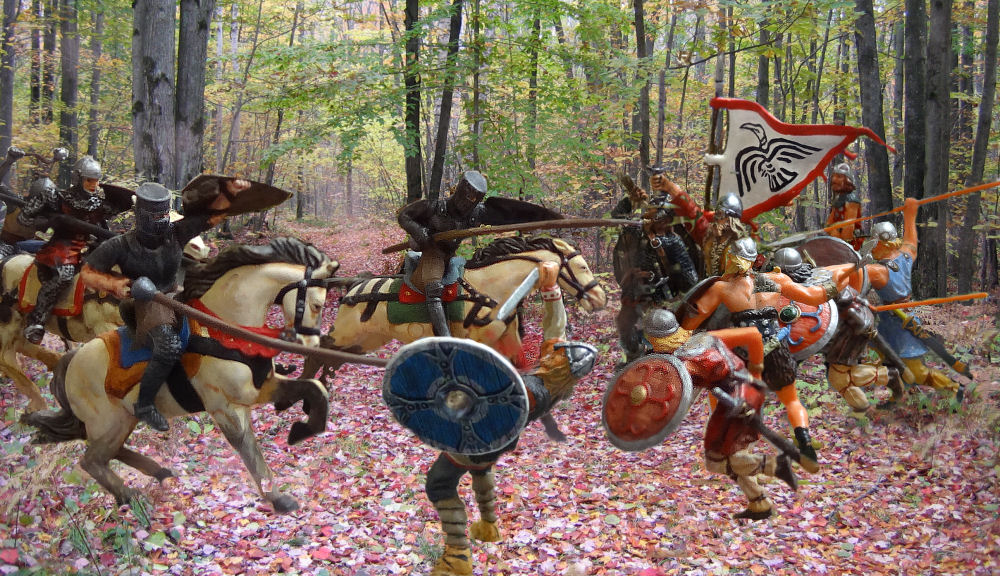 4/15/14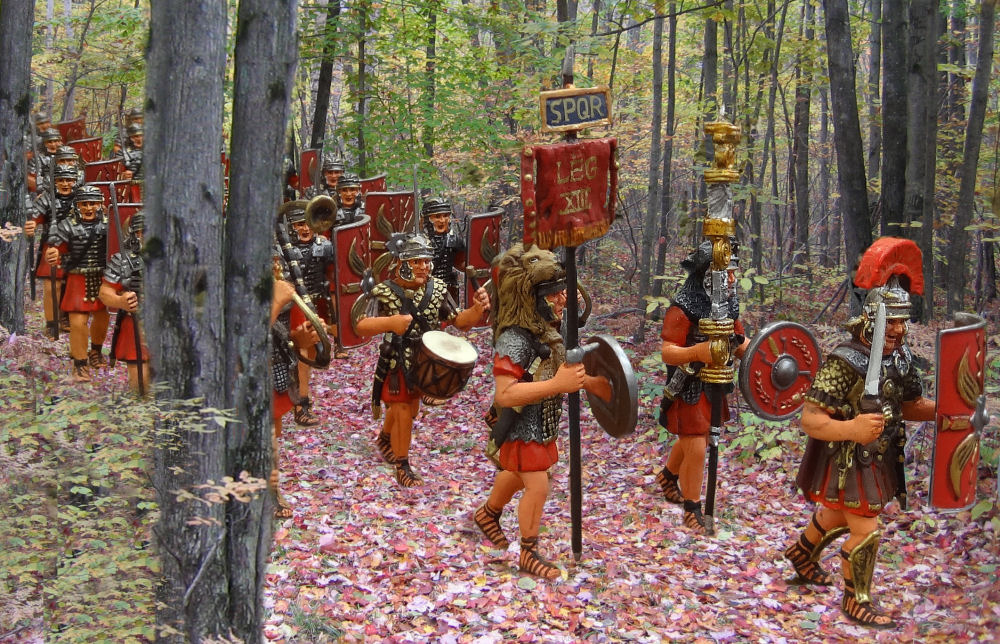 4/14/14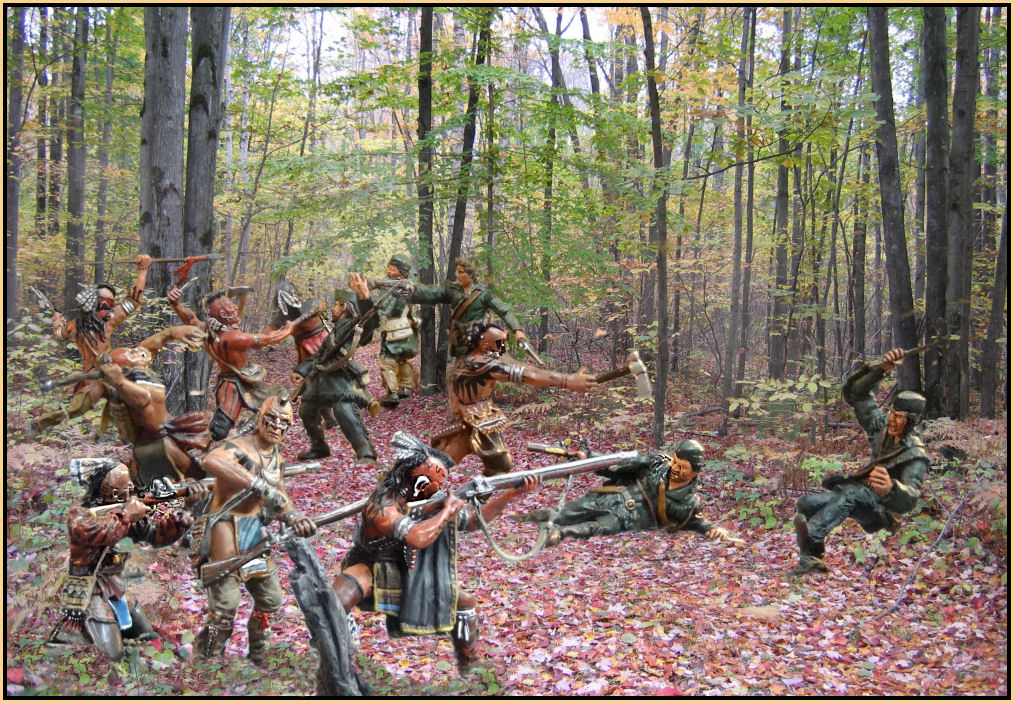 A friend of mine gave me permission to use this background photo.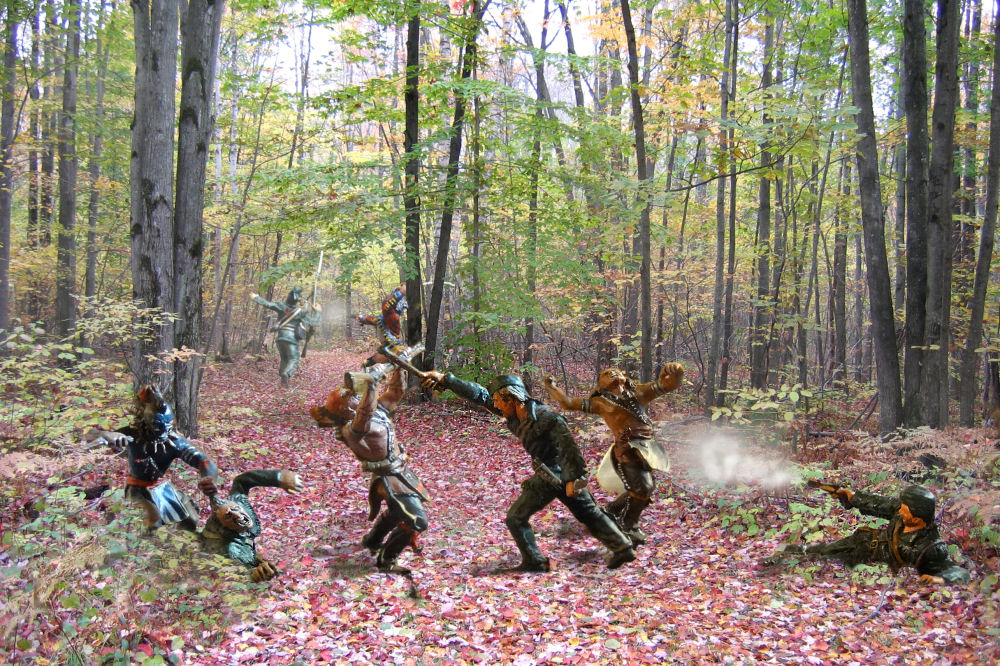 4/10/14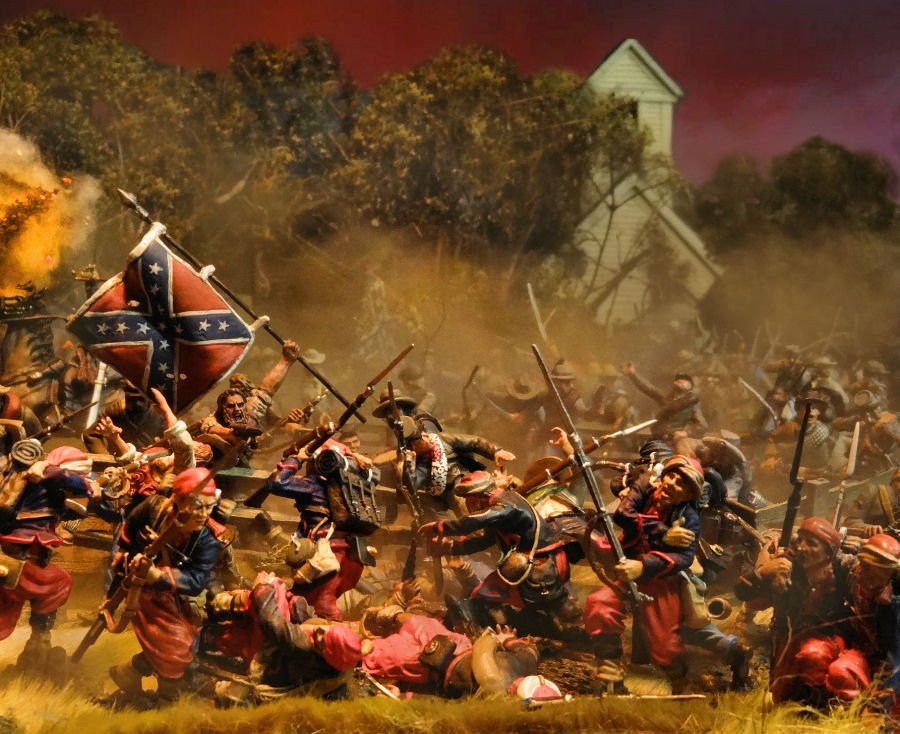 In April of 2014 I made a large Civil War set-up. Click on the above picture to see all the pictures. I think they are some of my best.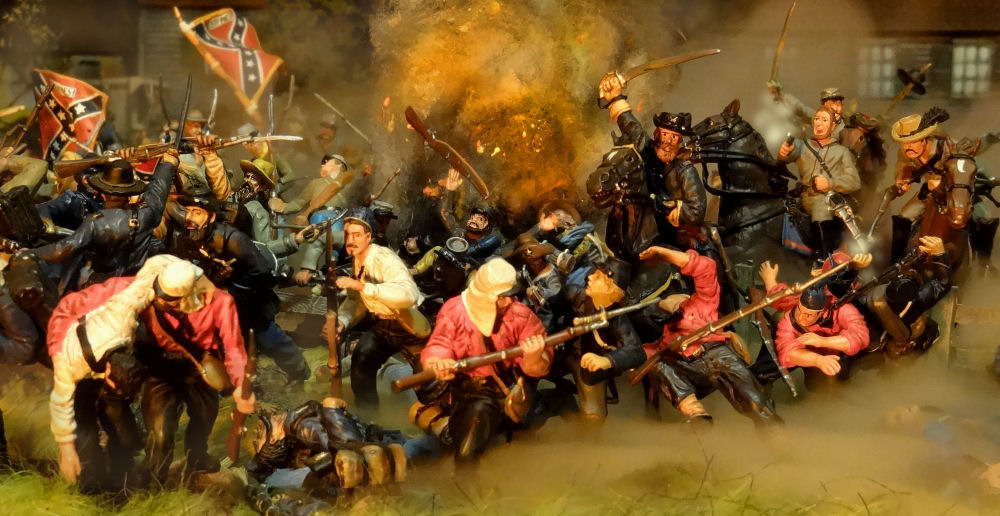 The Conte "First at Manassas" figures are some of my favorites. I wish we had more dynamic figures of Civil War soldiers being routed.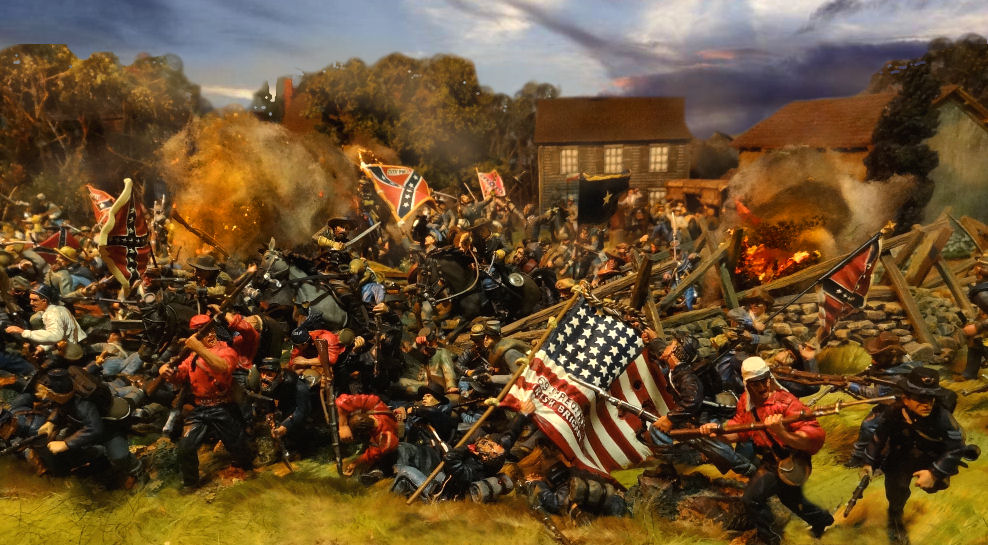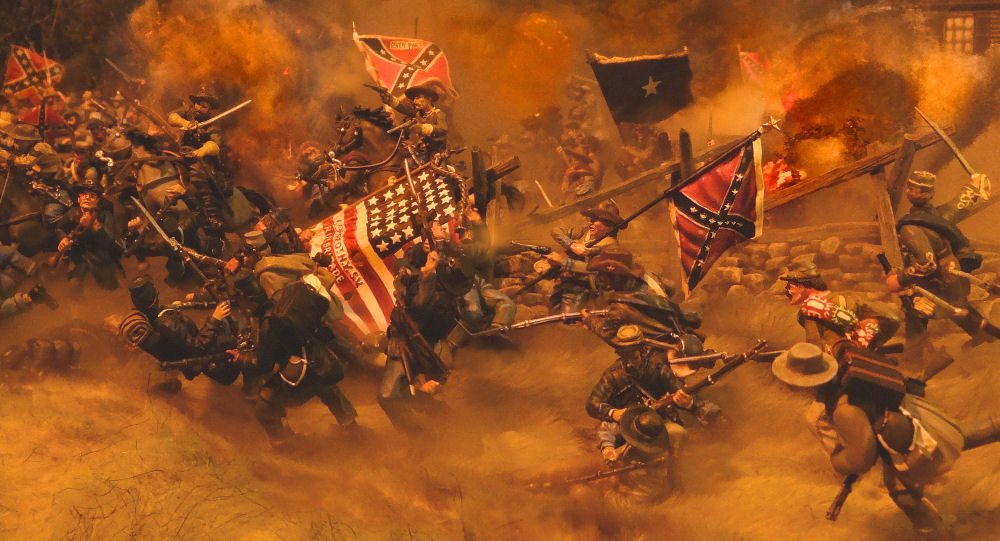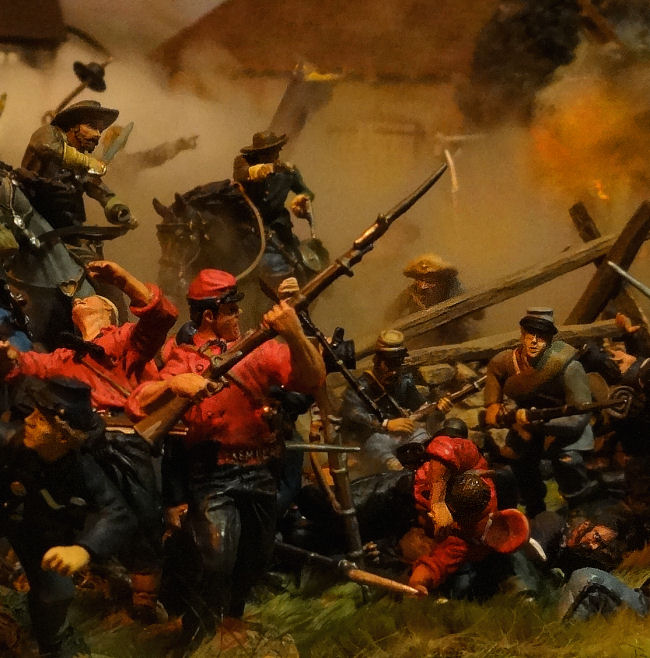 I started the set-up with painted plastic figures. How many can you identify?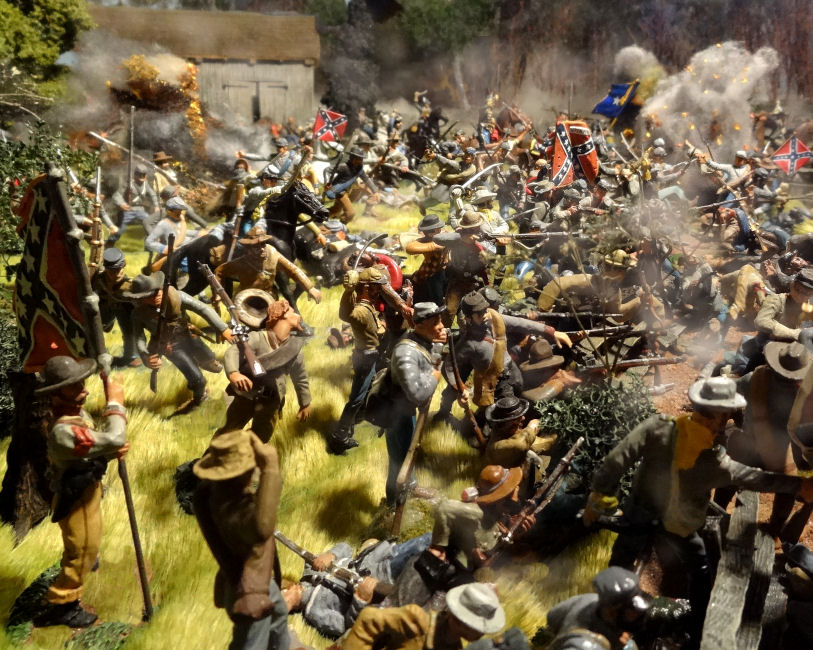 I thought I'd repost this old picture. I'm quite proud of it.
3/14/14
I've been enjoying the History Channel's "Vikings" series. For some reason I had assumed it was a documentary, not a drama, so I had avoided it until a few weeks ago. Watching the show got my creative juices flowing again so I did some converting of some plastic Viking figures. Of course I had to mix in some of the fantastic metal Conte Viking figures.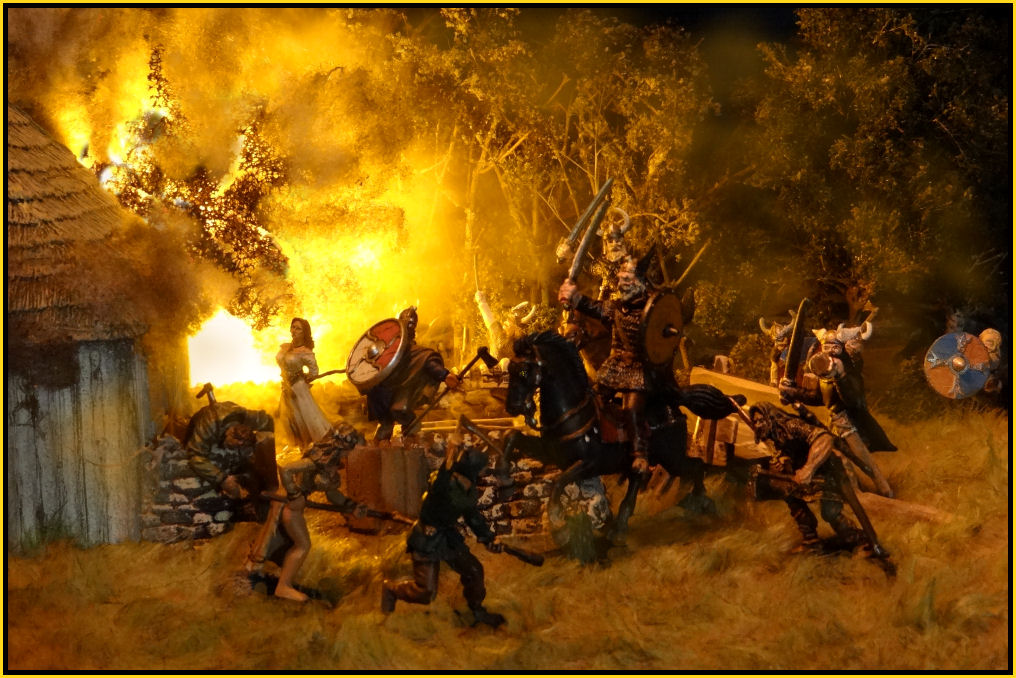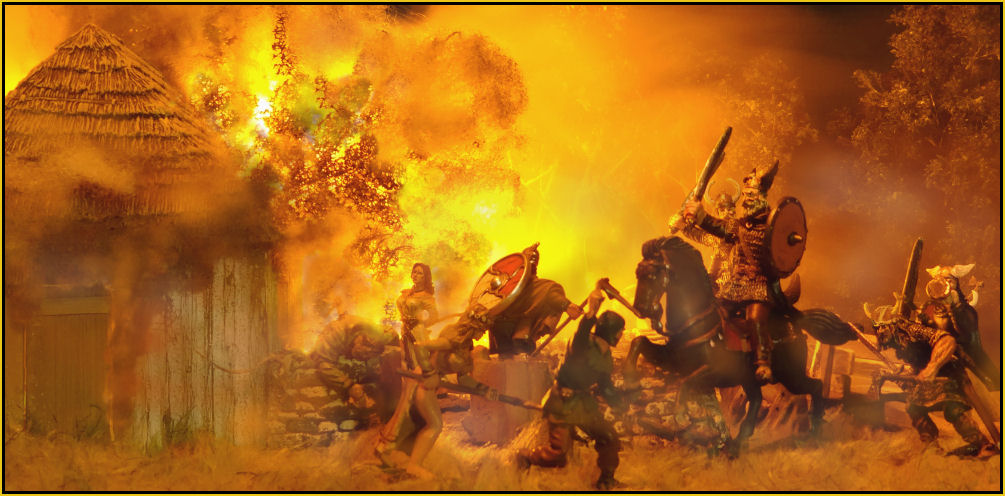 2/26/14
2/18/14

This set found a new home on eBay. I love the color of the yanks in this set. It's so hard to put these sets up for sale. I'd much rather be buying than selling.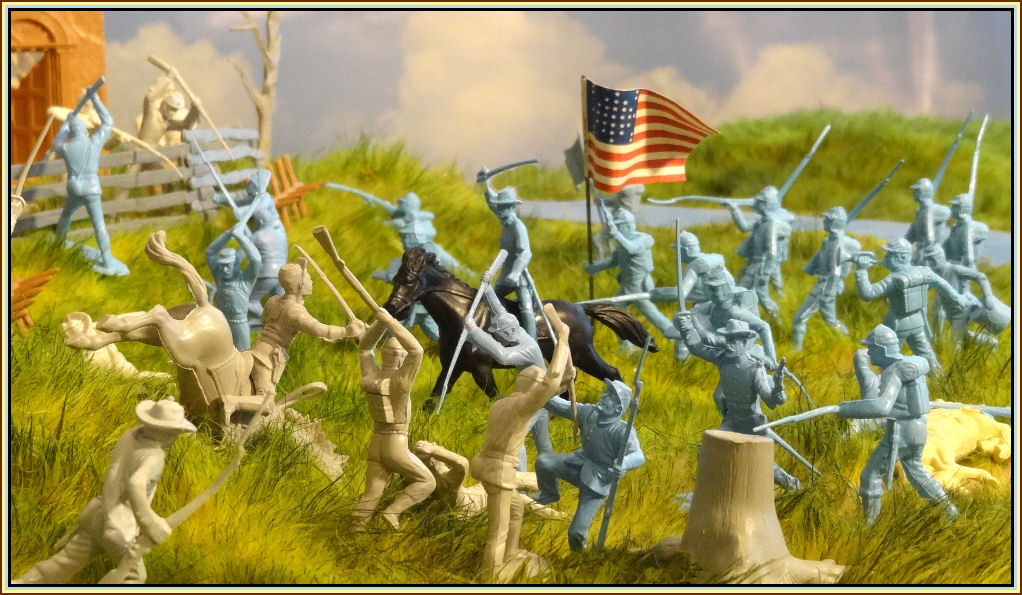 2/14/14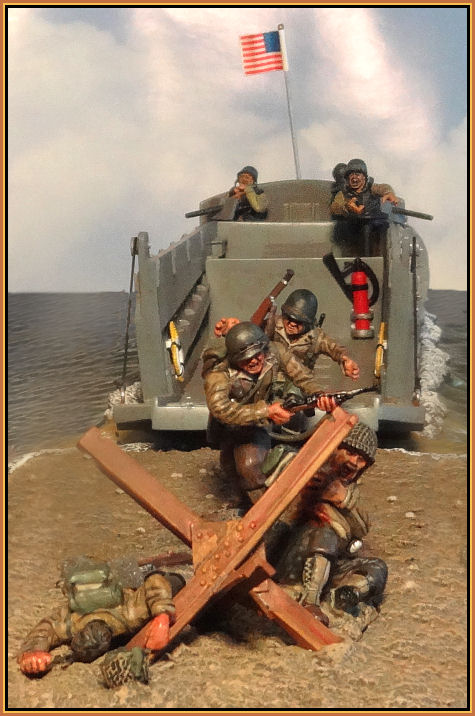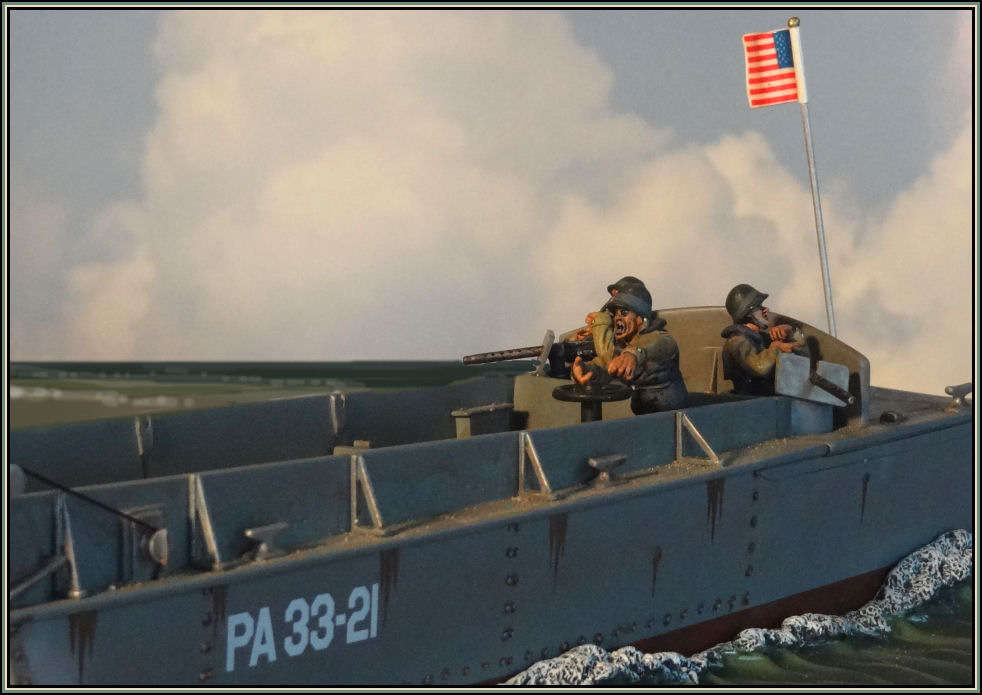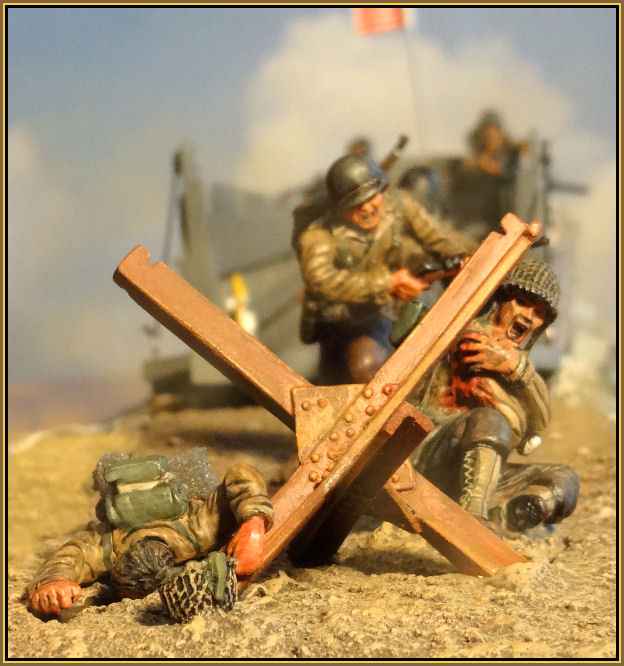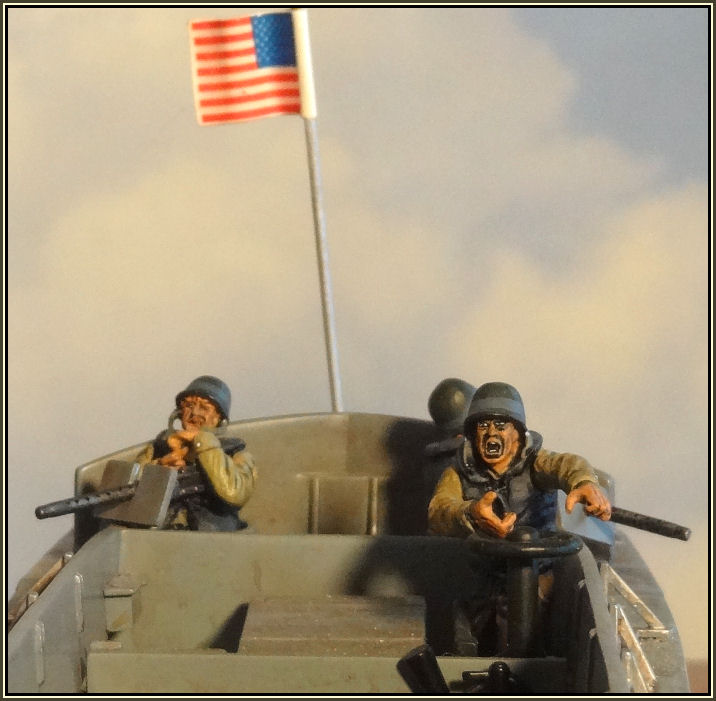 These two sets - the BOSS set and the Landing craft found a new home in Canada.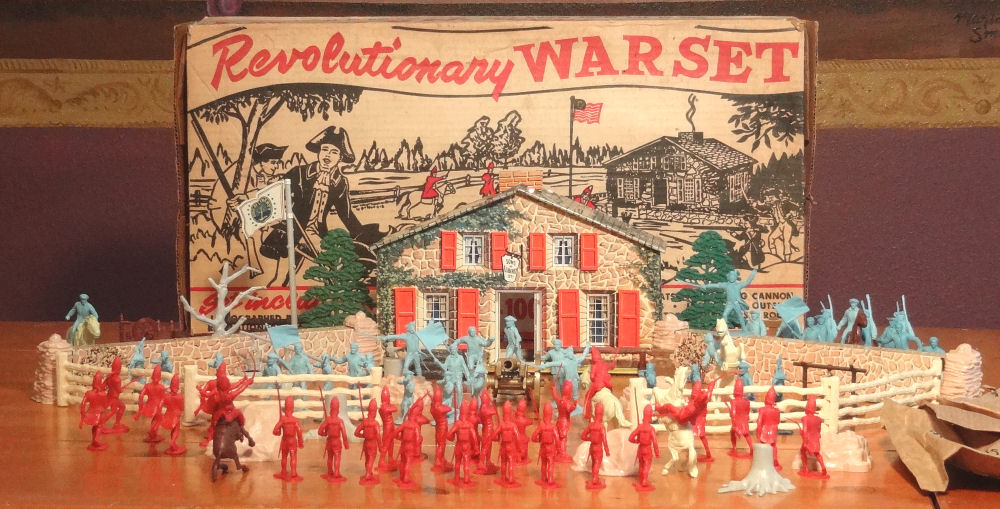 Another great set gone to a new home.
2/12/14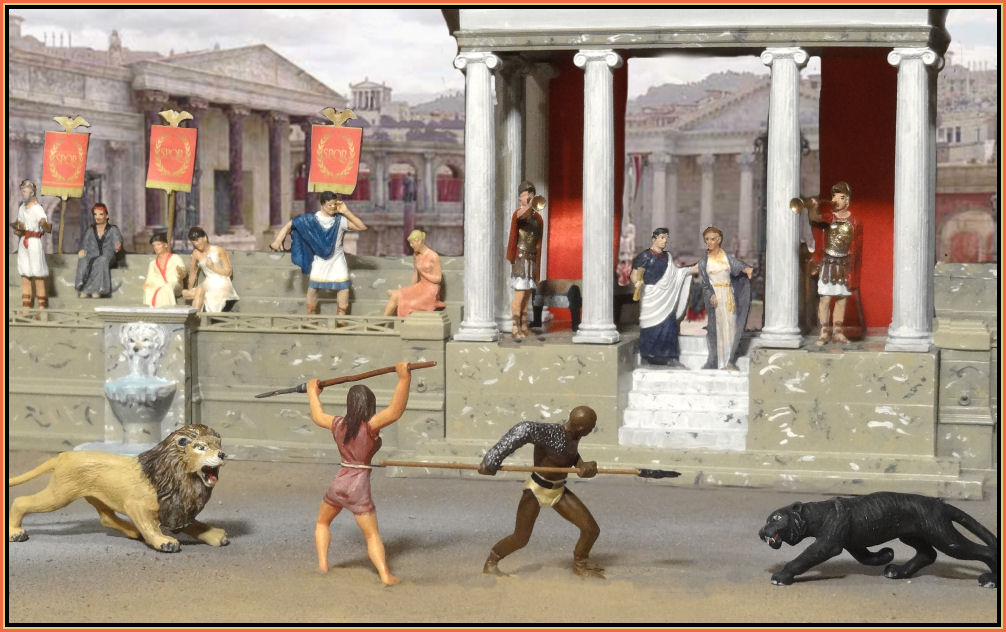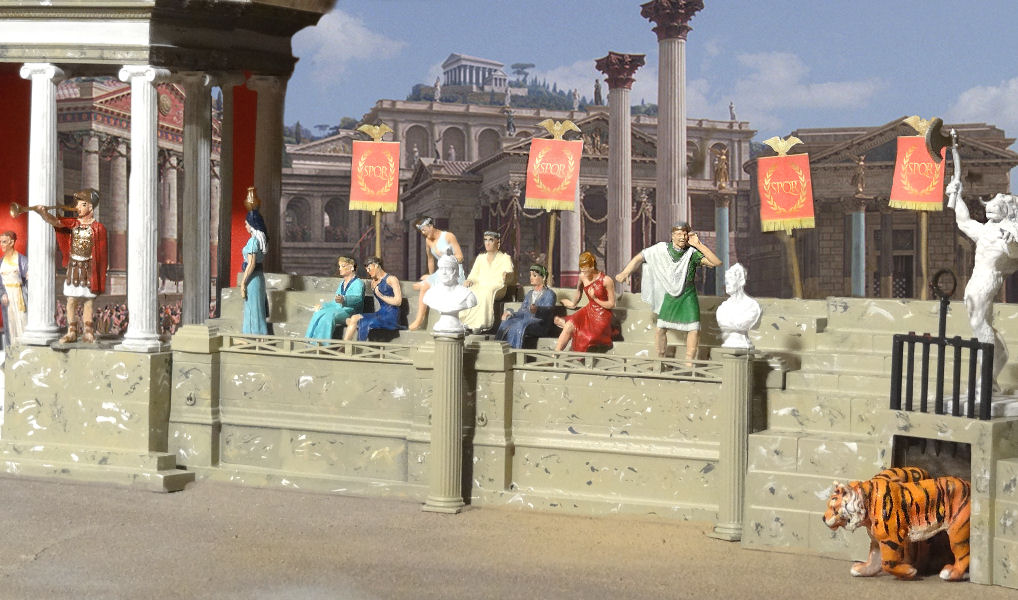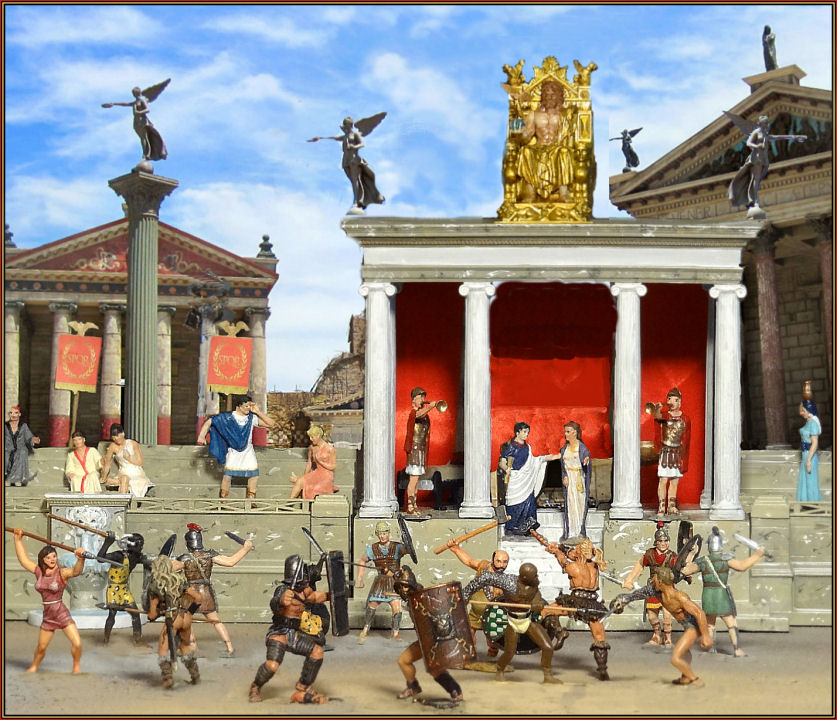 2/11/14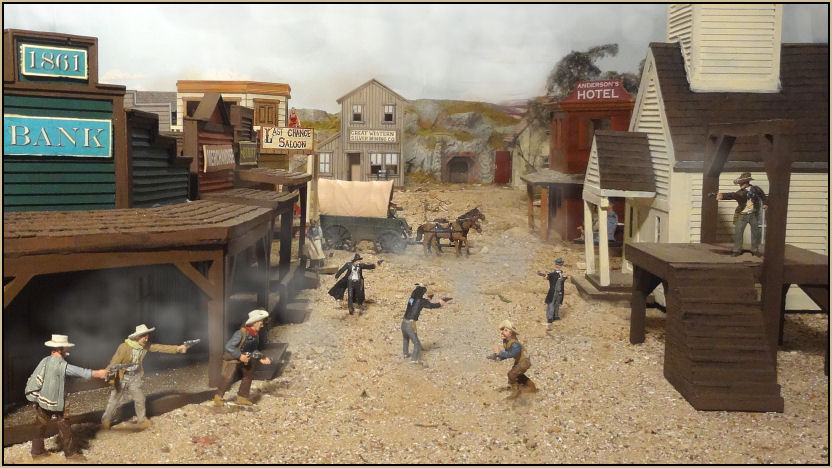 I finally painted up a set of the Austin Miniatures cowboys.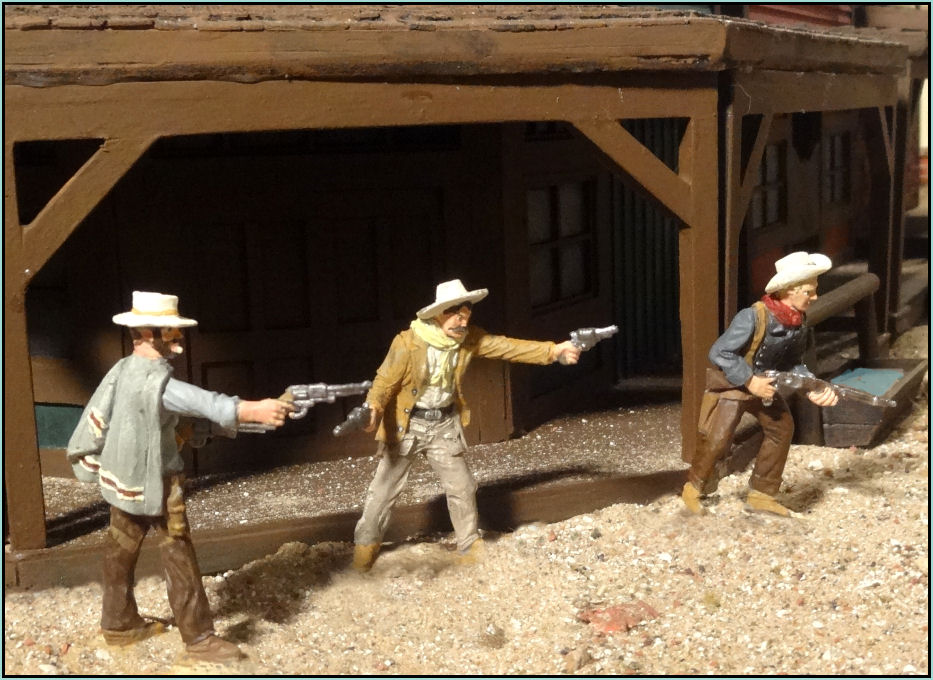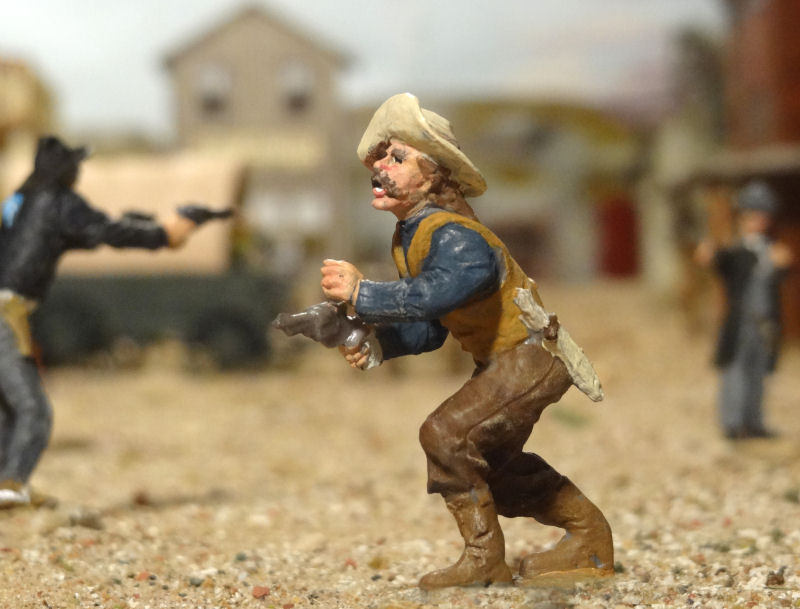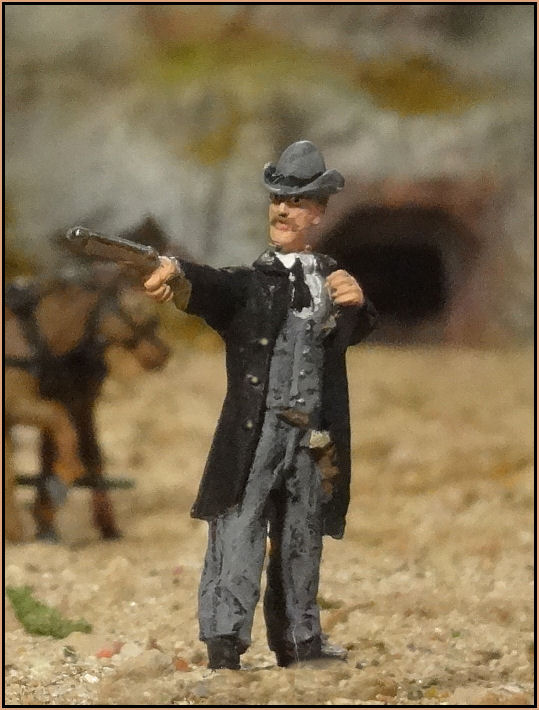 2/10/14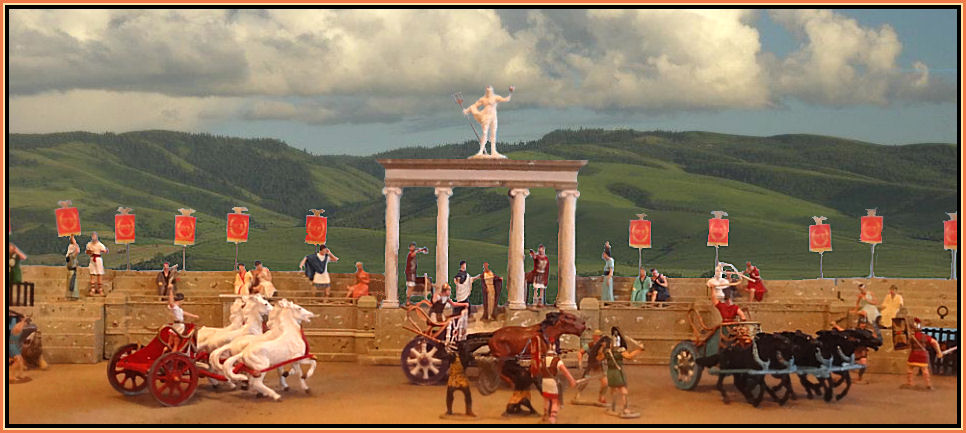 A while back I realized that I have never seen a Ben Hur playset painted up. I got a Mexican Ben Hur set at a fairly good price on eBay and then realized I had another Mexican set buried in a corner of the basement. So I started painting. I picked up vintage versions of some of the pieces that didn't come in the Mexican set from various sources and added them into the set. I am very pleased. I just wish I could get more seated spectators and some of the standards.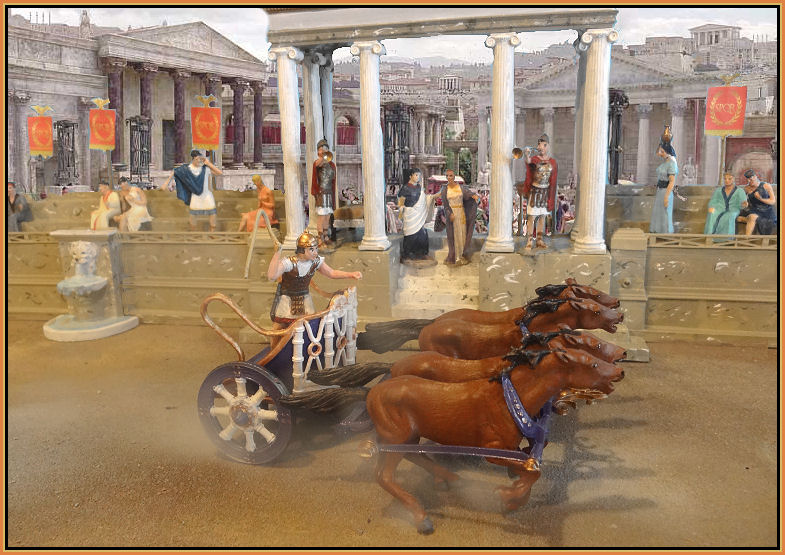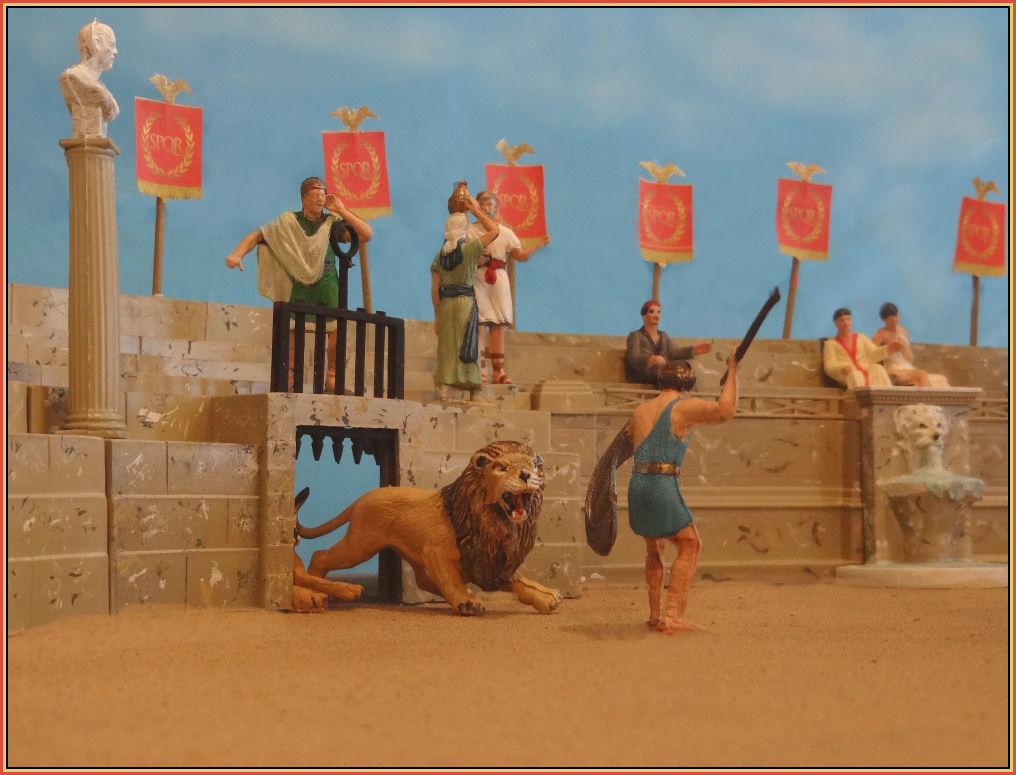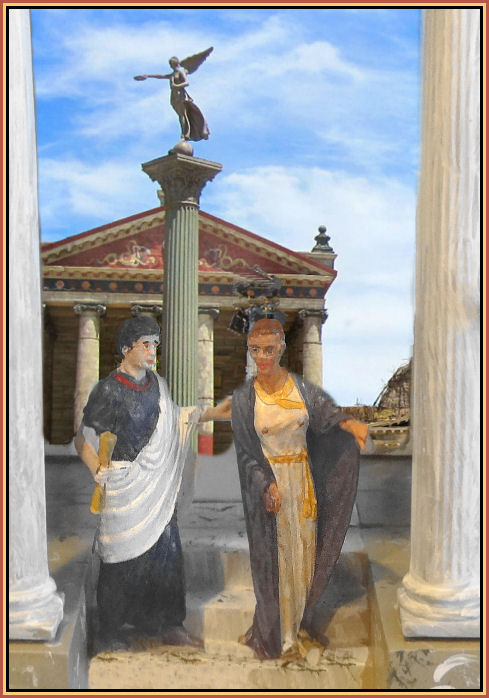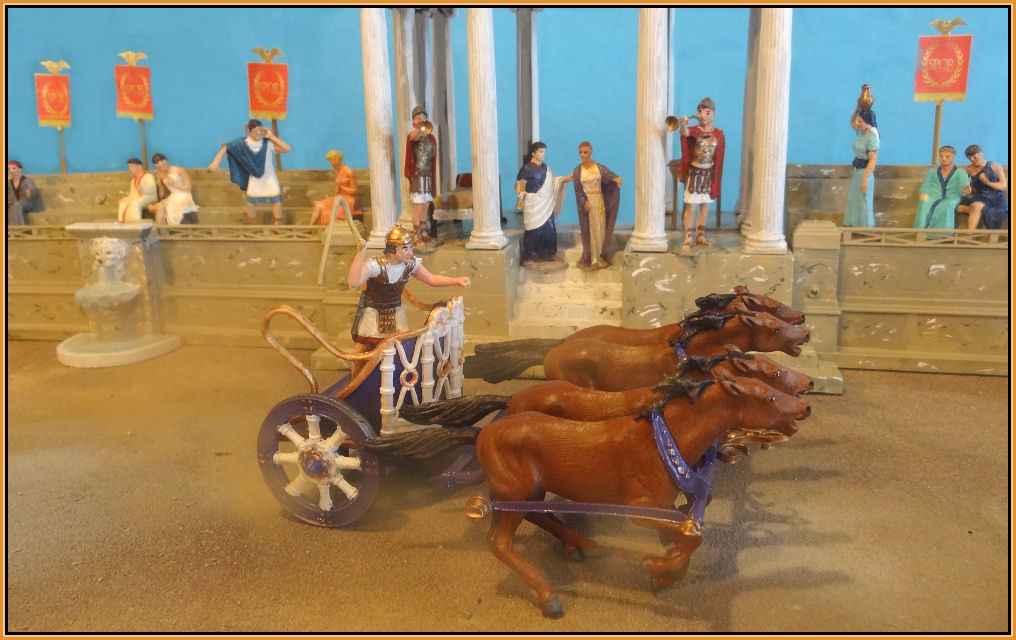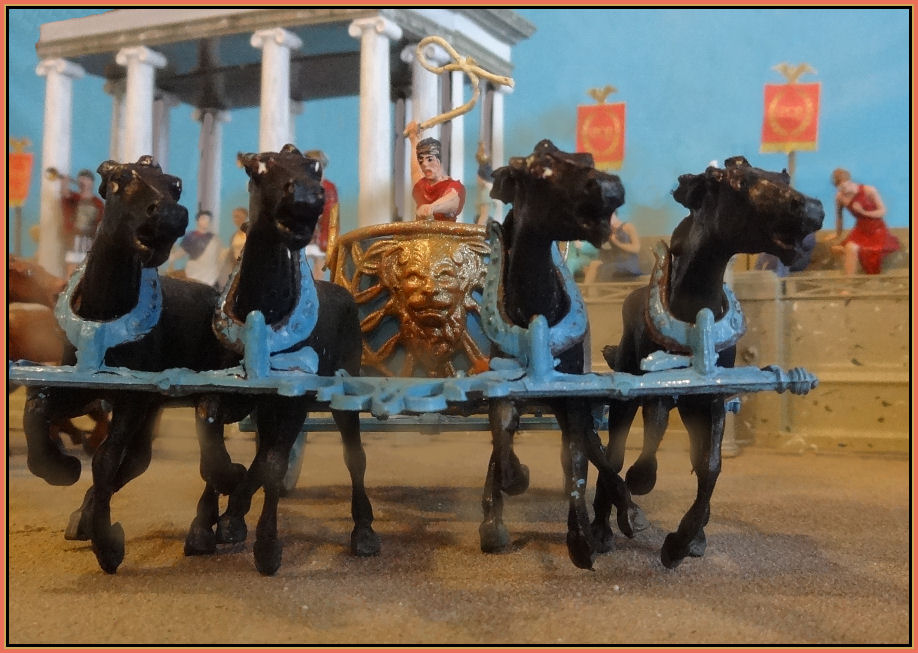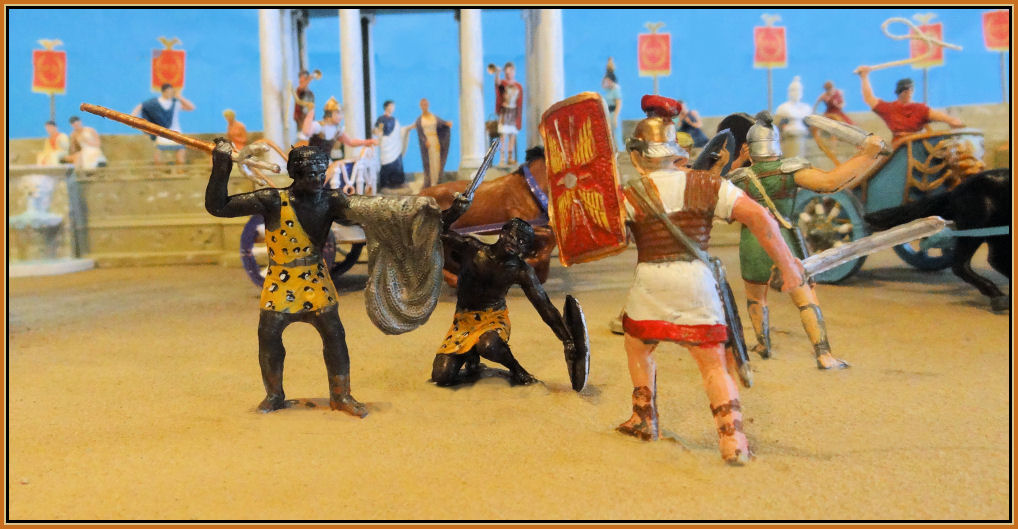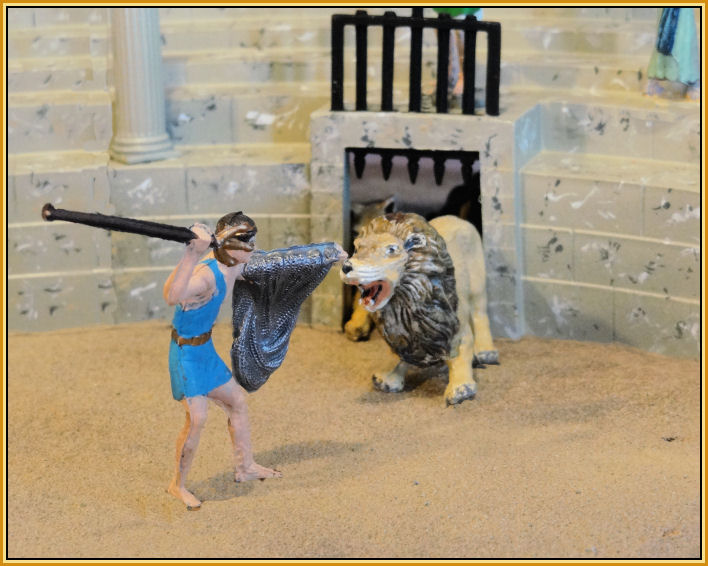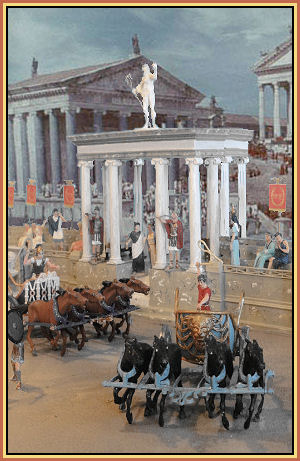 1/15/14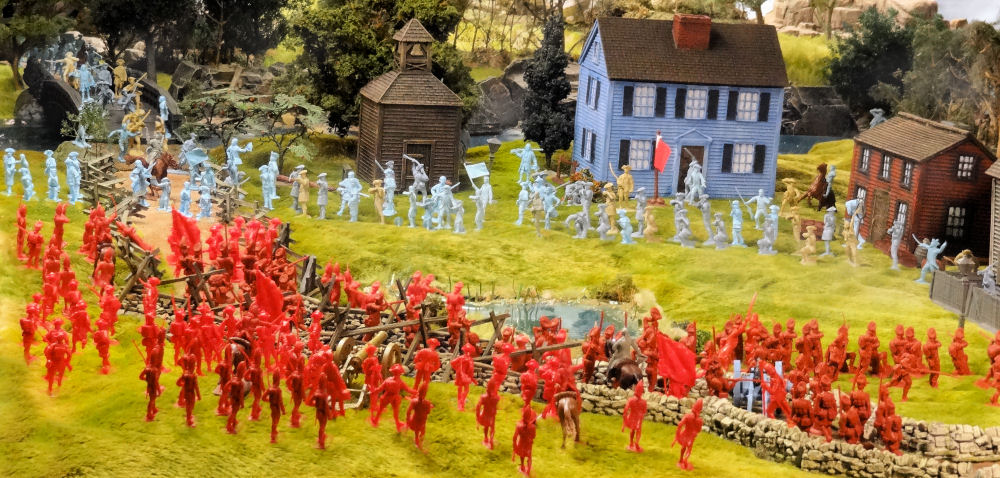 I added a Marx Rev War set and some Accurate, IMEX, CTA and CTS figures. Click on the picture to go to the Revolutionary War Page where the whole seriesis posted.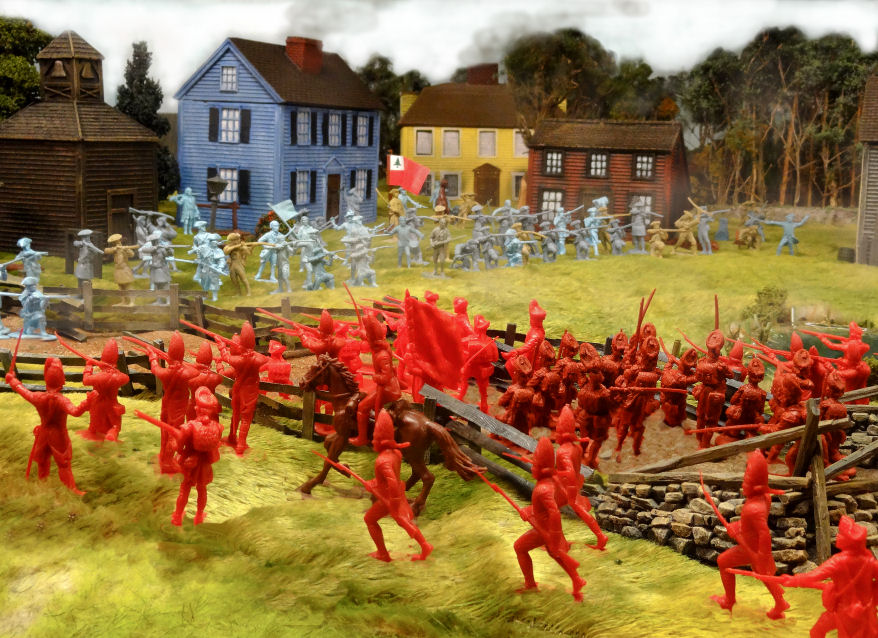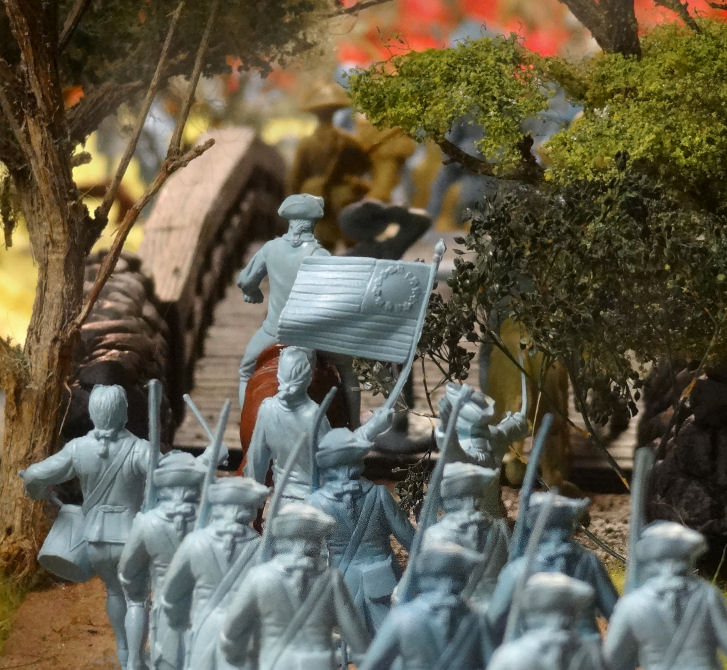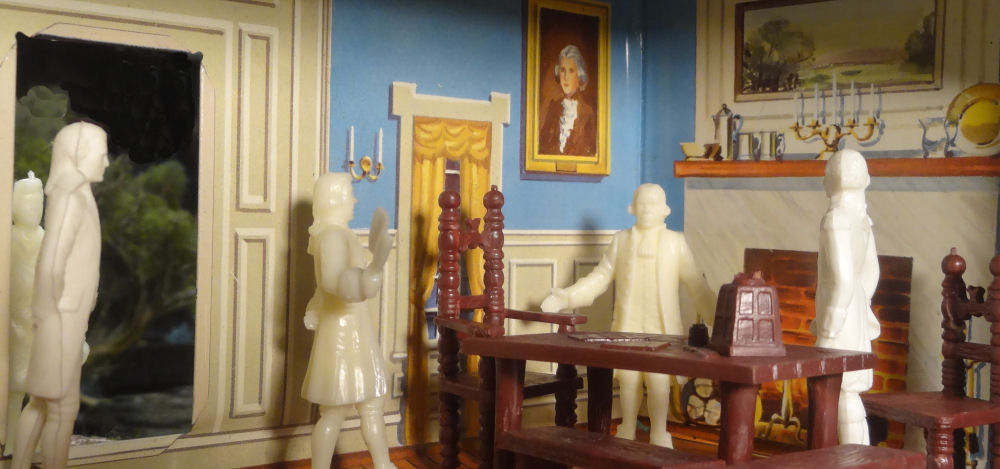 1/10/14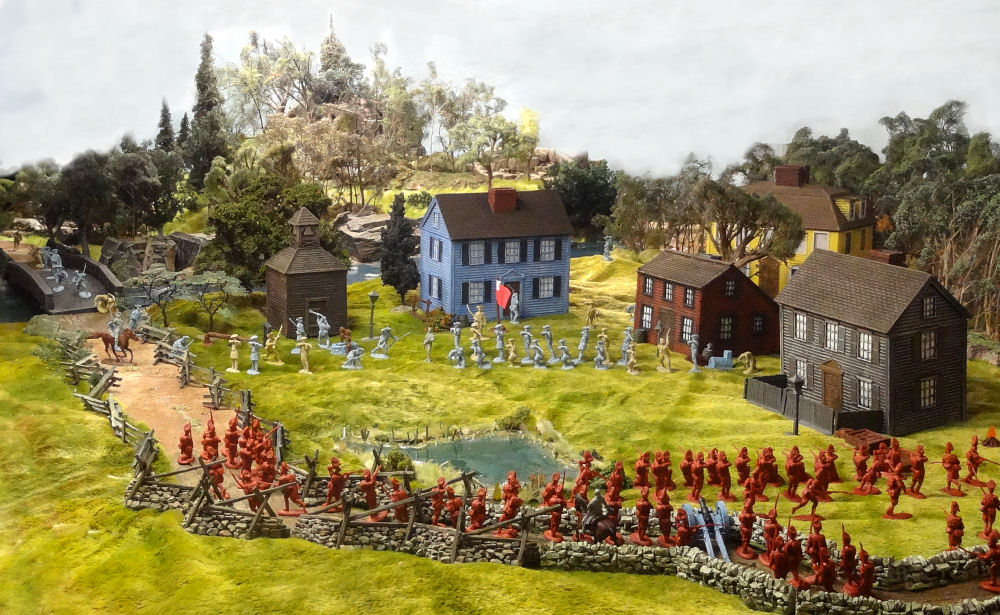 I decided to redo my Lexington Green Set-Up with a greener ground cover. I also painted the windows on the buildings. Click on the picture for all my pictures of this great set.
1/07/14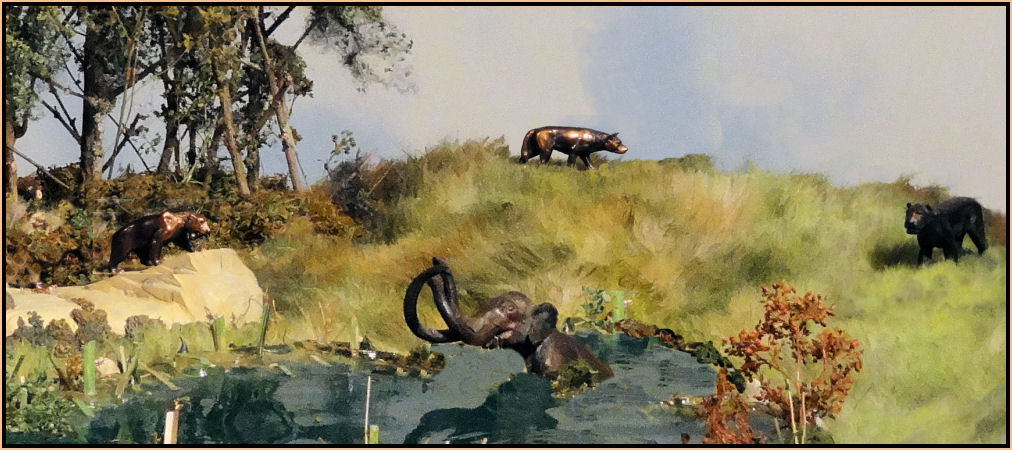 I picked these bronze sculptures of Pleistocene Mammals when I was a kid. The Labrea Tar Pits were one of my favorite places to go and the highlight of the visit was picking up one of these William Otto sculpts. I fudged the scale of the different sculpts a little to make the figures closer to being in scale.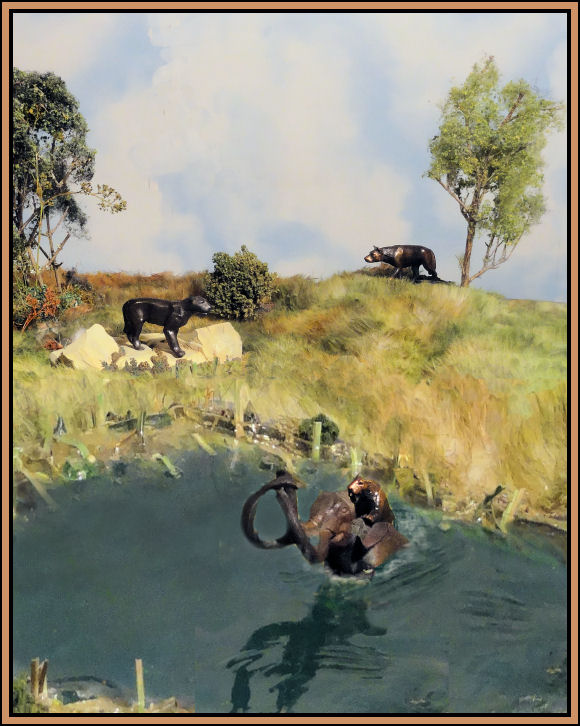 January 6, 2014

Barzso's Battle of Lexington Green Playset. This the first set up I made using this set.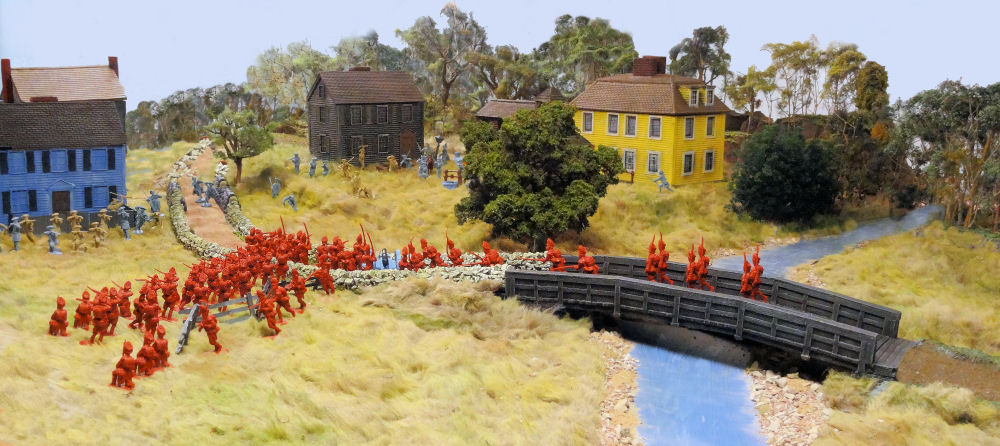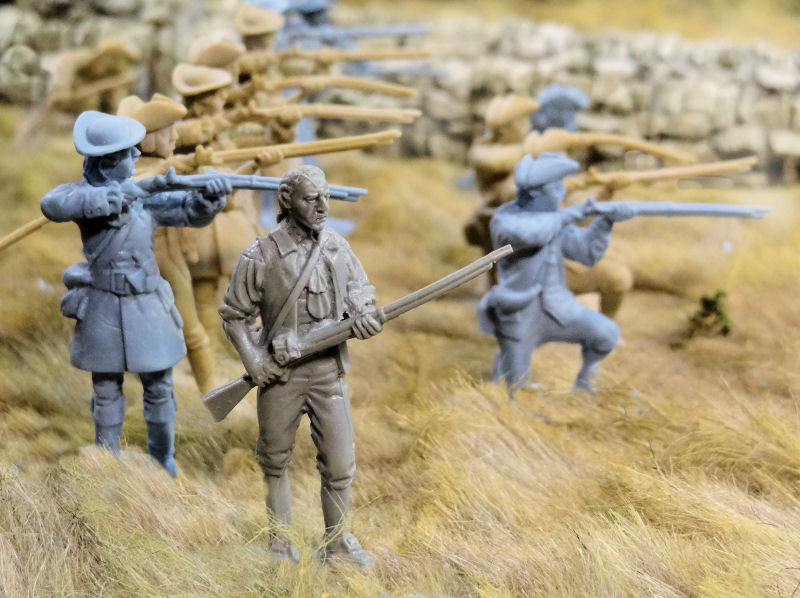 10/3/13

Click on the pictures to see the whole series of pics.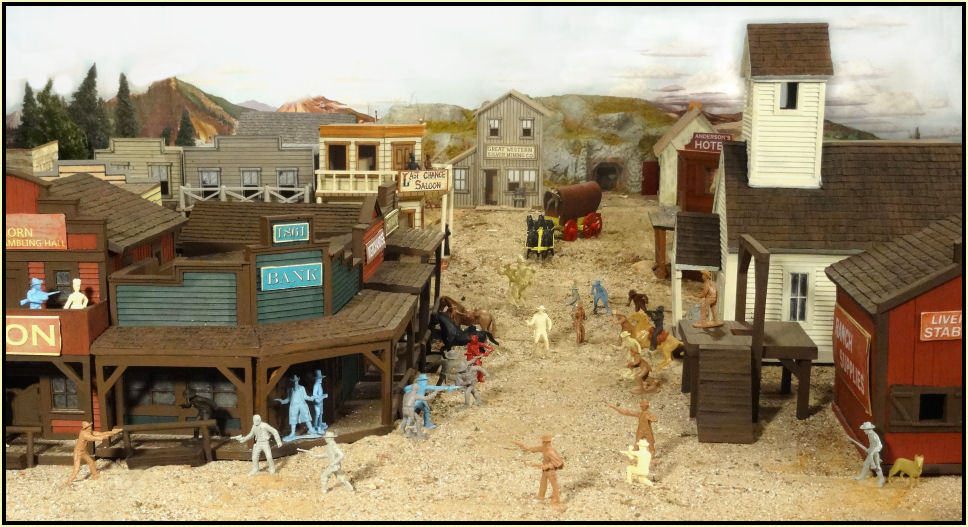 9/24/13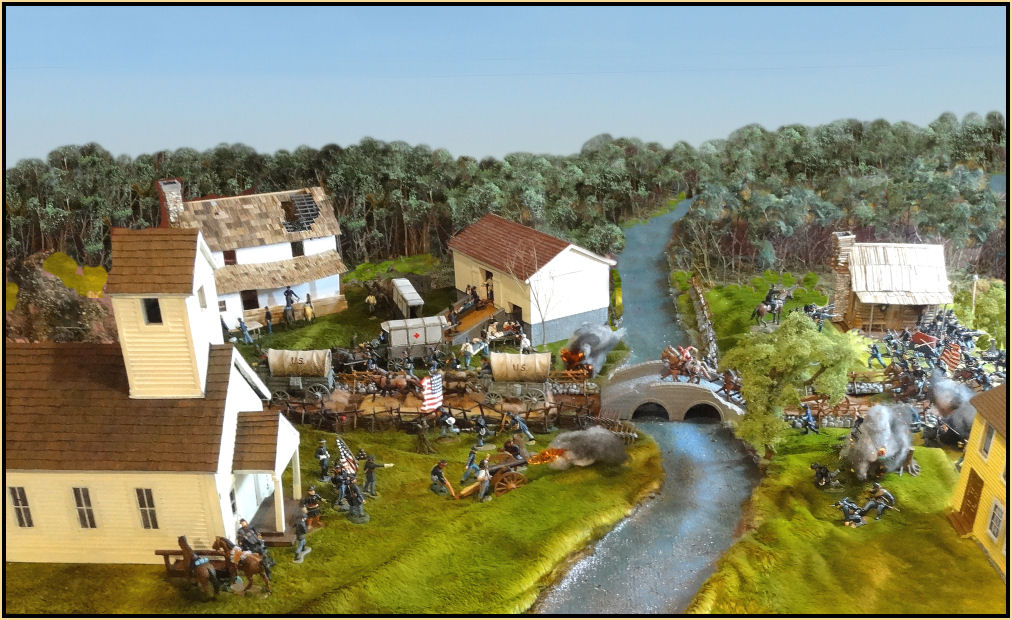 Clcik on the pictures to see the whole series of photos of this Union Retreat set-up.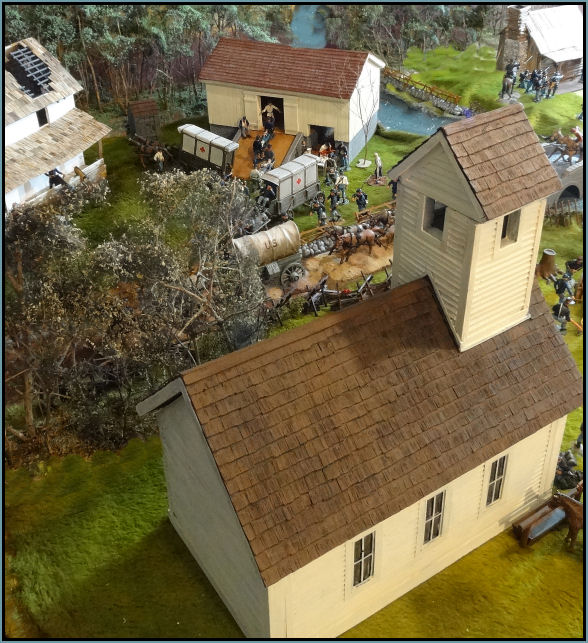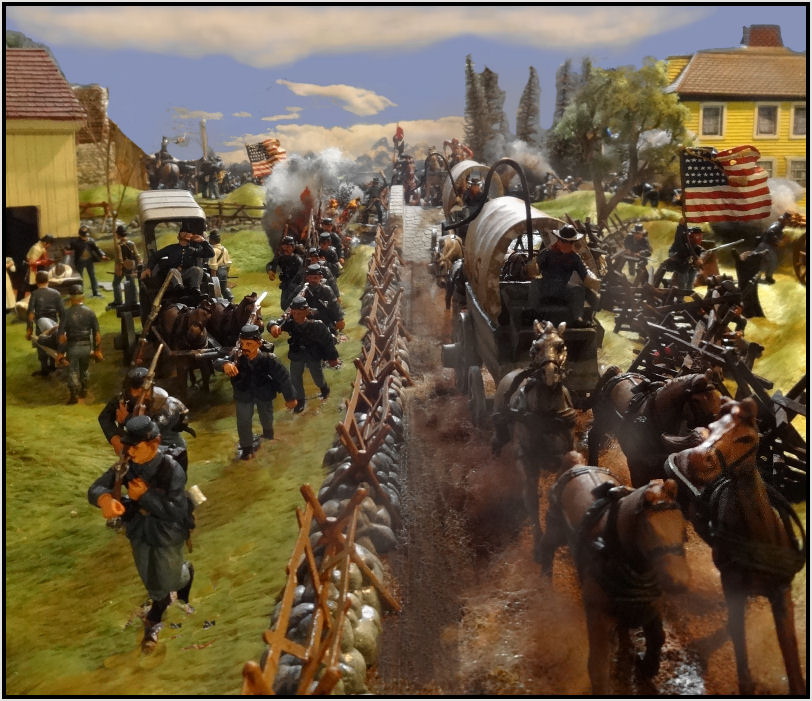 9/21/2013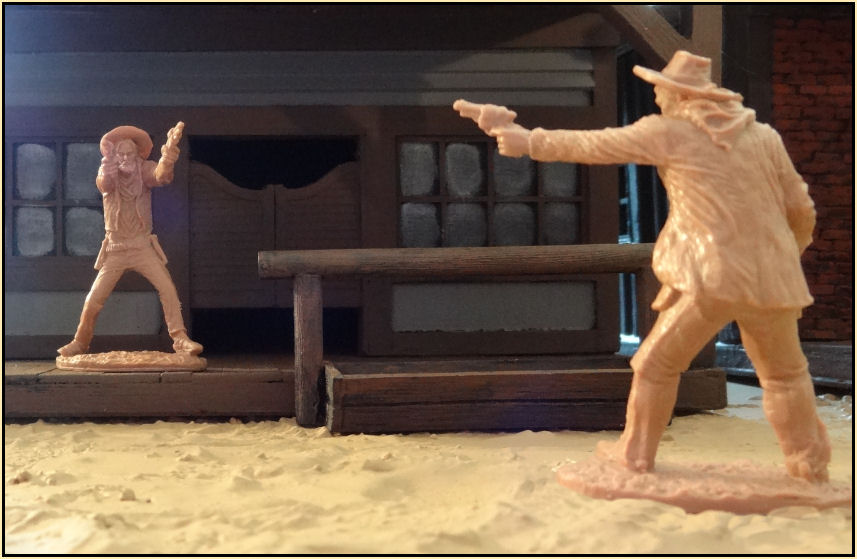 Click on the picture to see some more pictures from the Chicago Show.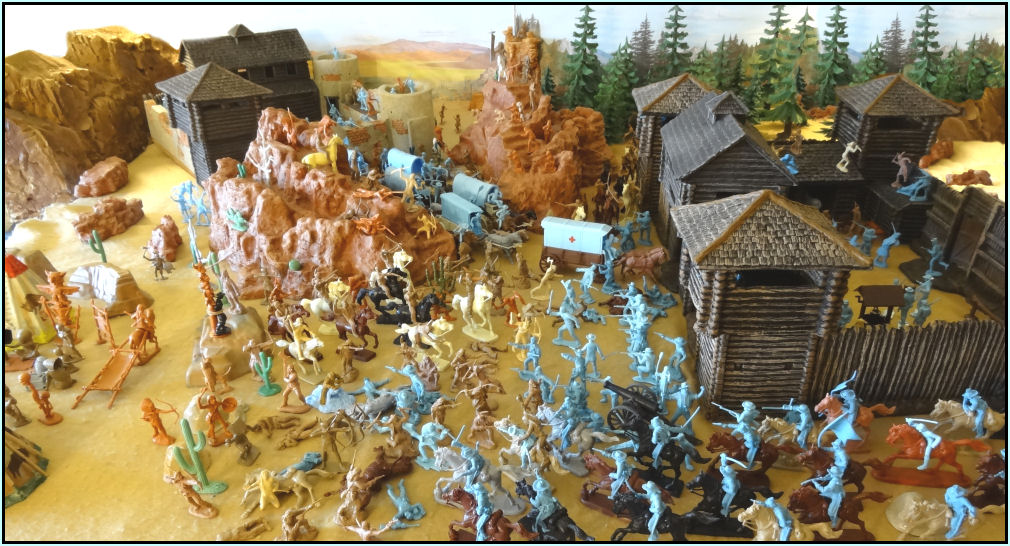 I just got back from wandering the halls of the Schaumburg Hyatt for pre-OTSN toom trading. Len and Colleen Hardt had their usual great display. This year it was Fort Apache.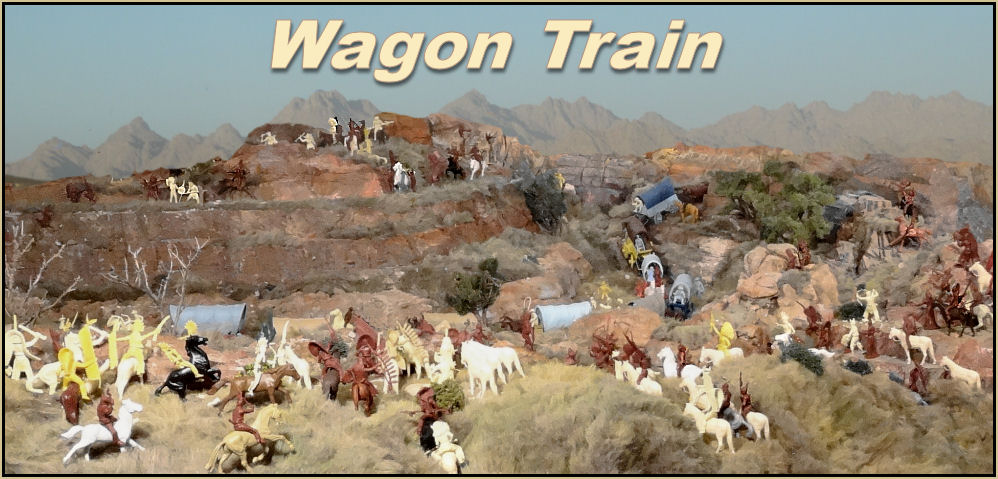 Click on the picture to see the whole series of photos. This set-up has been a long time in the dreaming. It's one of my most ambitious set-ups.
9/6/13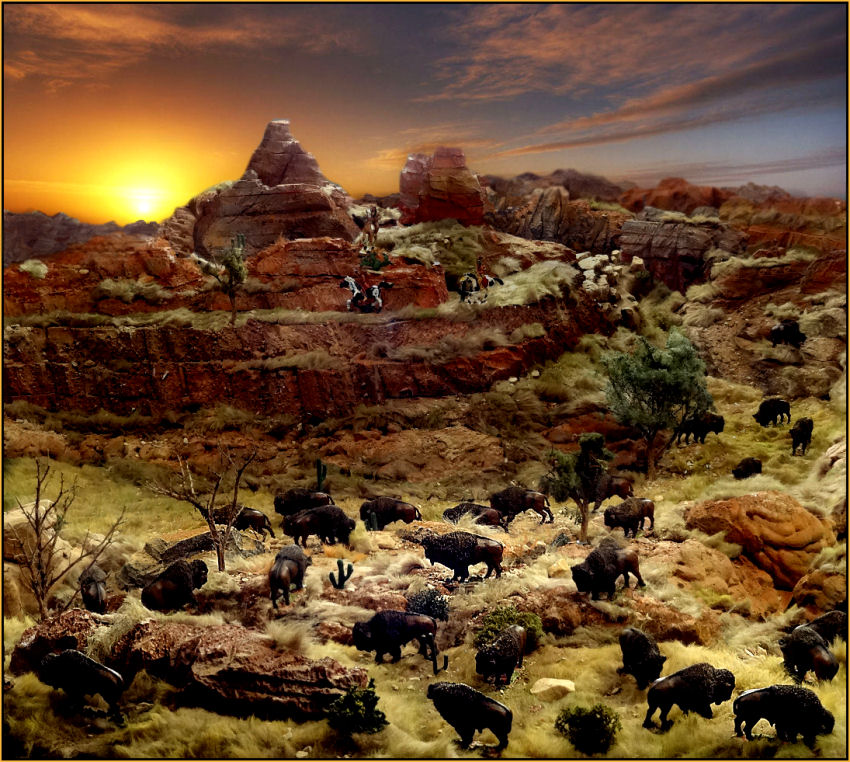 8/30/13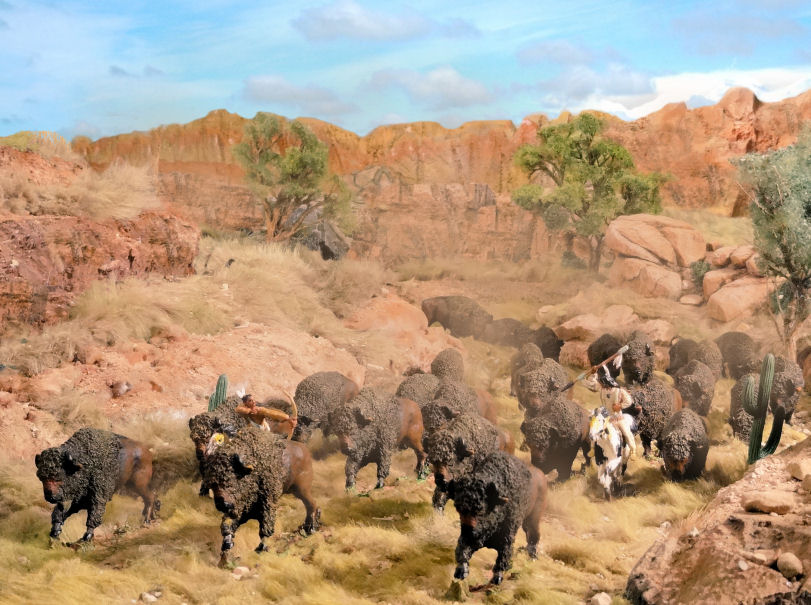 8/24/13

Click on the picture to go to the Western Scenes Page featuring my Canyon country lay-out.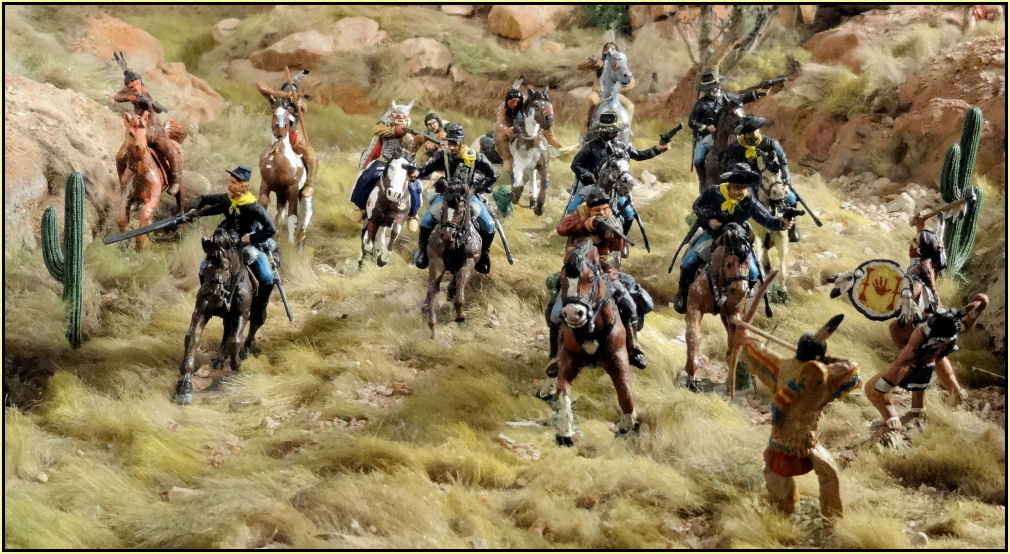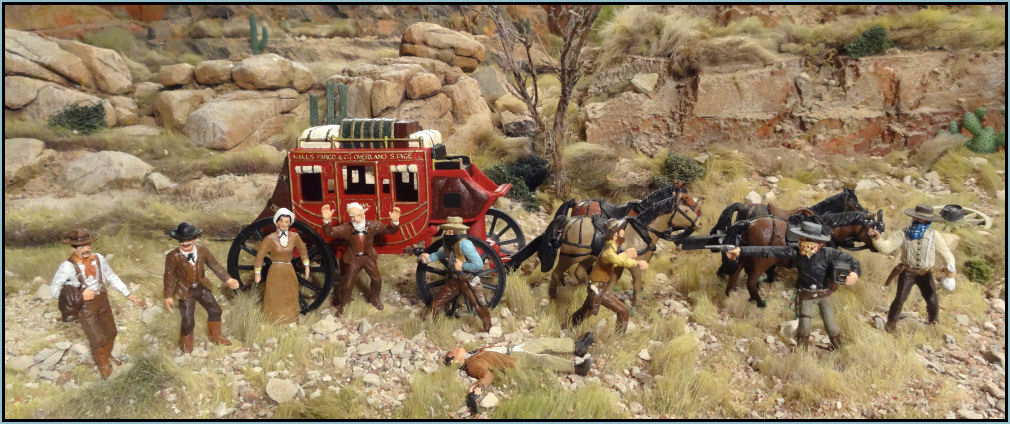 Here's a set of Mike Mullins conversions that I picked up on eBay. I love his vision in seeing the possibilities available through converting familiar figures.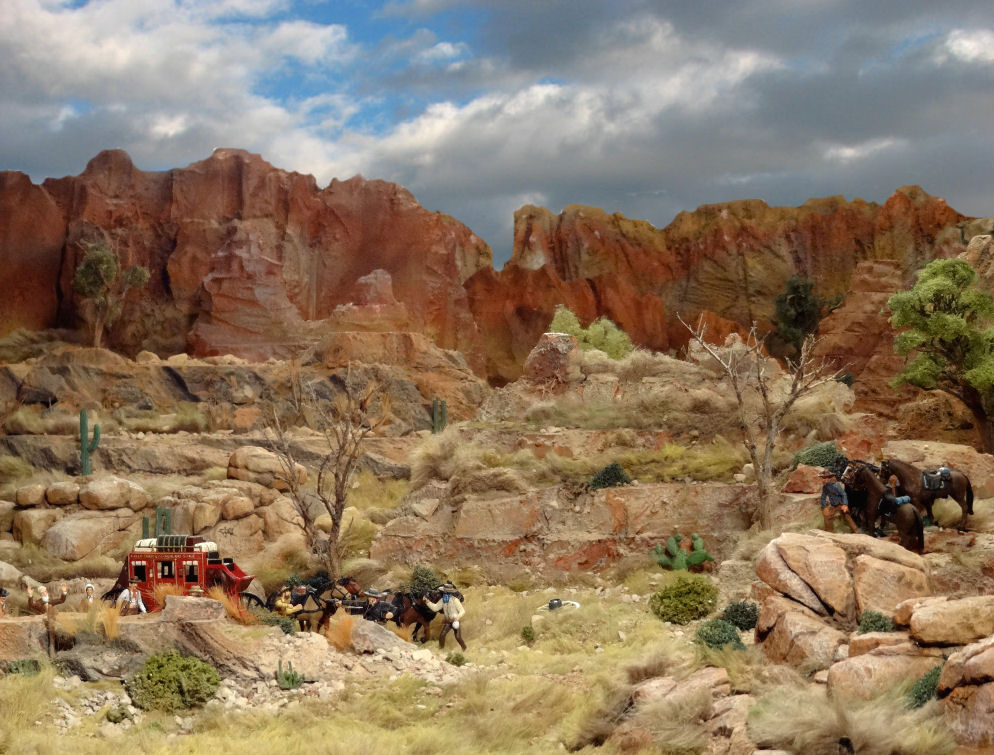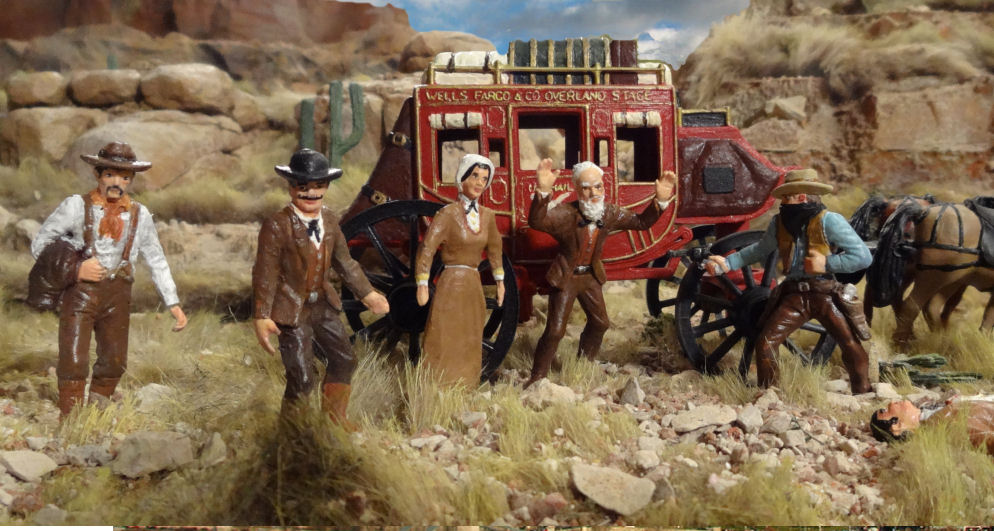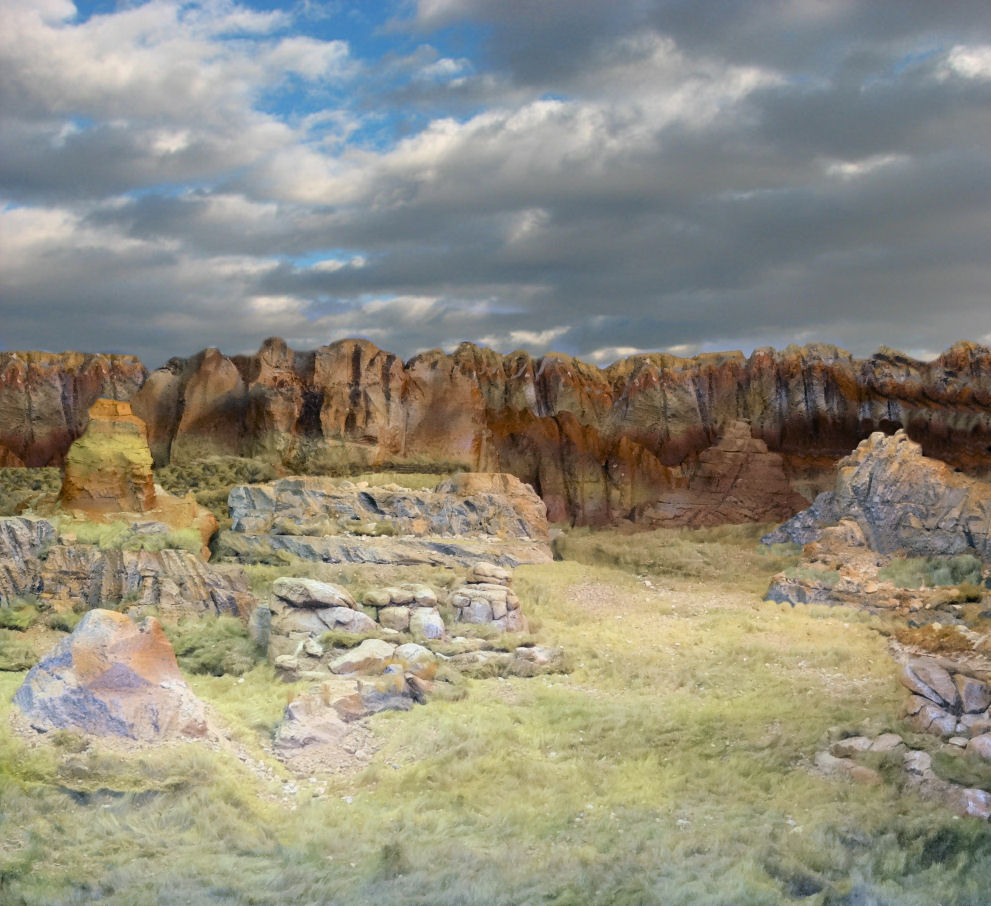 Here's the set for the next few scenes I want to photograph. Click on the picture to see the process that led to this landscape.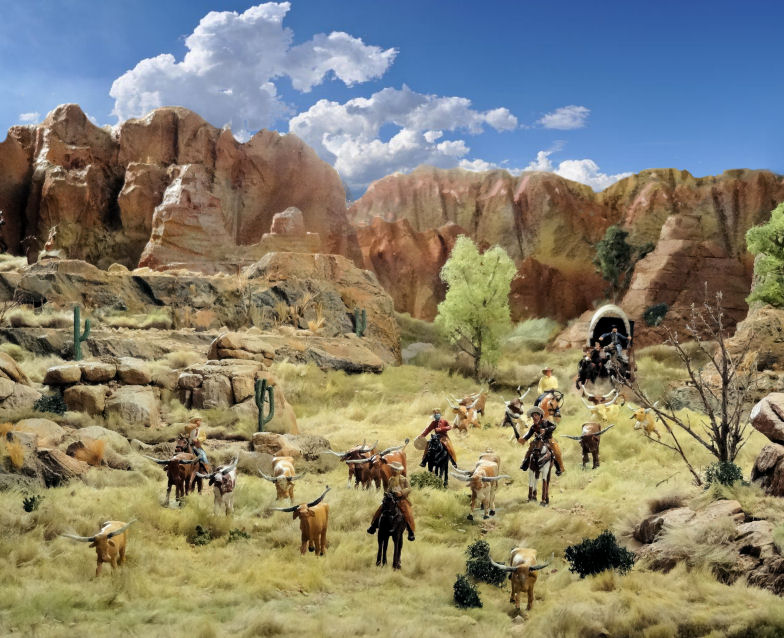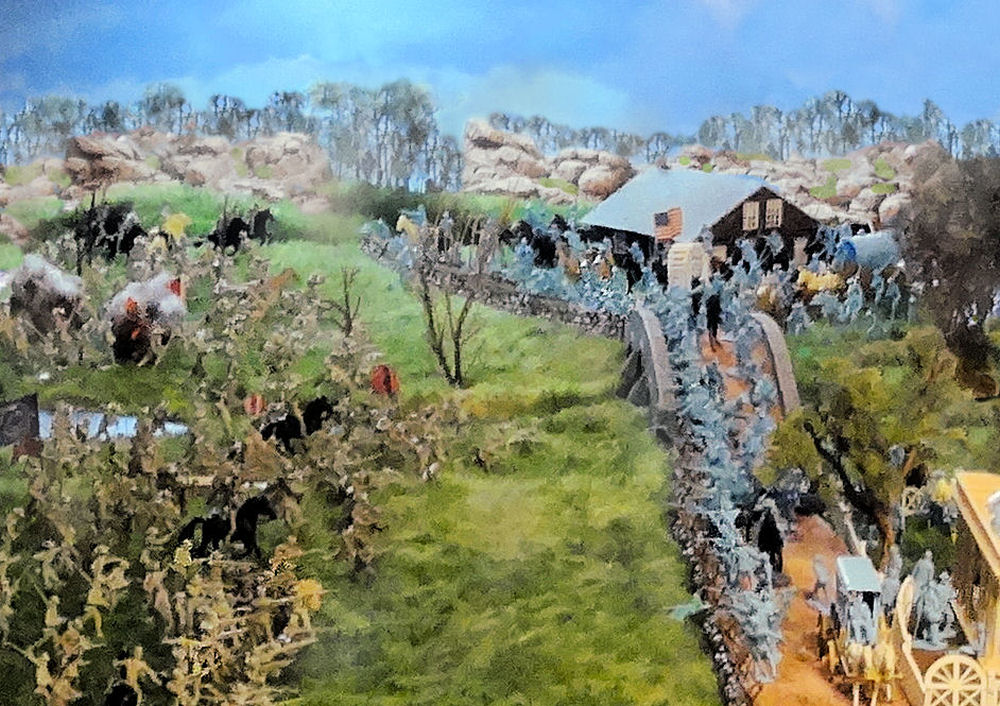 In Honor of the 150th anniversary of the Battle of Gettysburg, I made another of my big Marx Civil War set-ups. Click on the picture to see all the pics.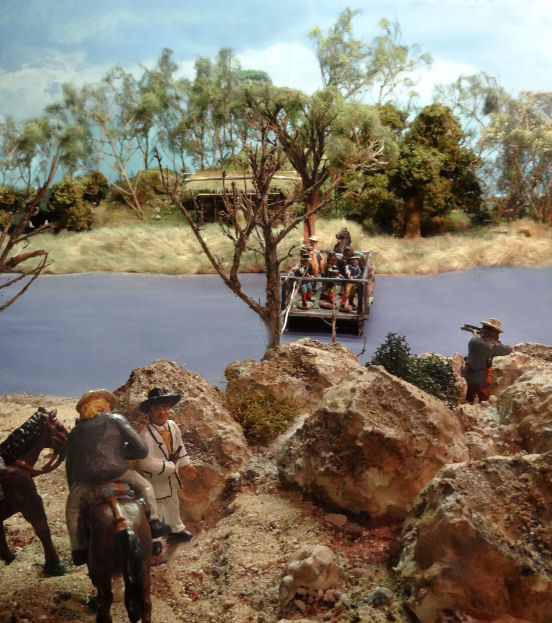 Can you say "Missouri Boatride"?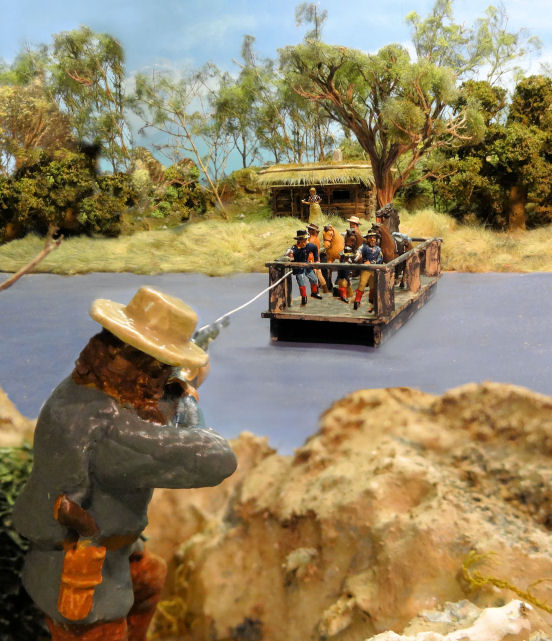 Click on the picture to see all the Josey Wales pictures.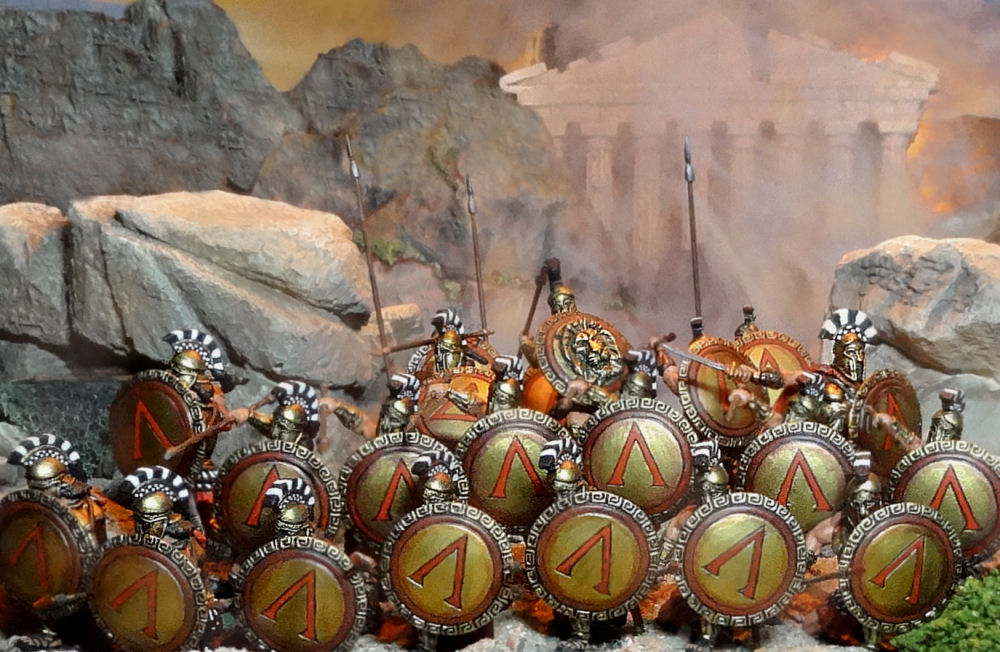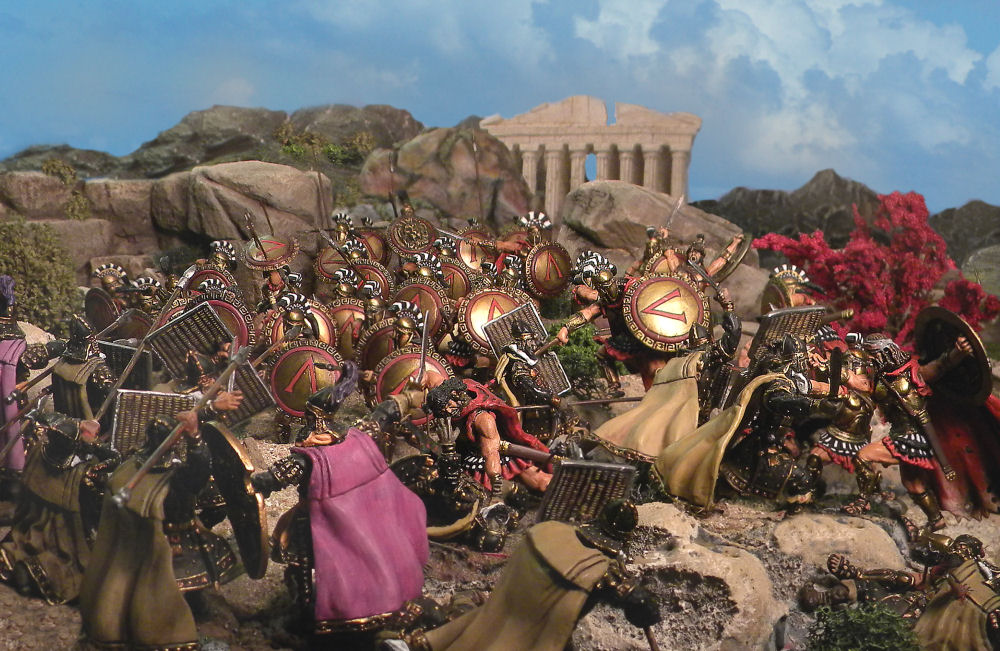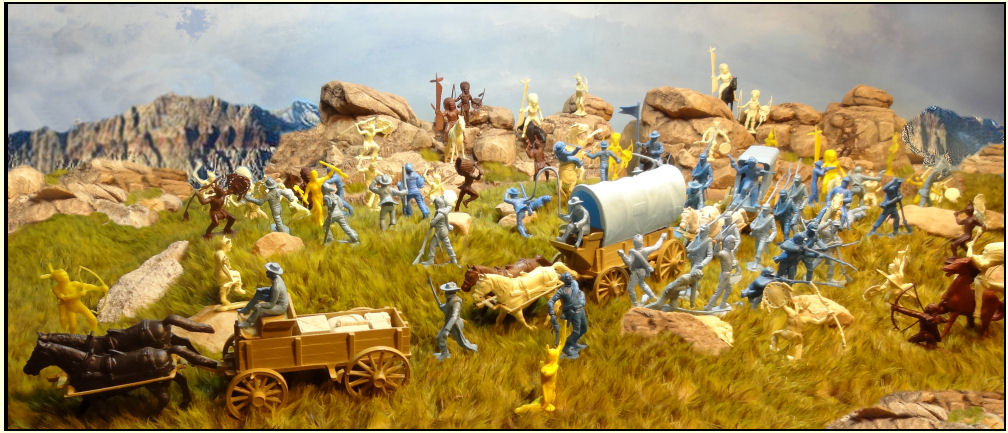 I love the rare colored Marx Western figures. It's time I set them up one more time before liating some of them on eBay.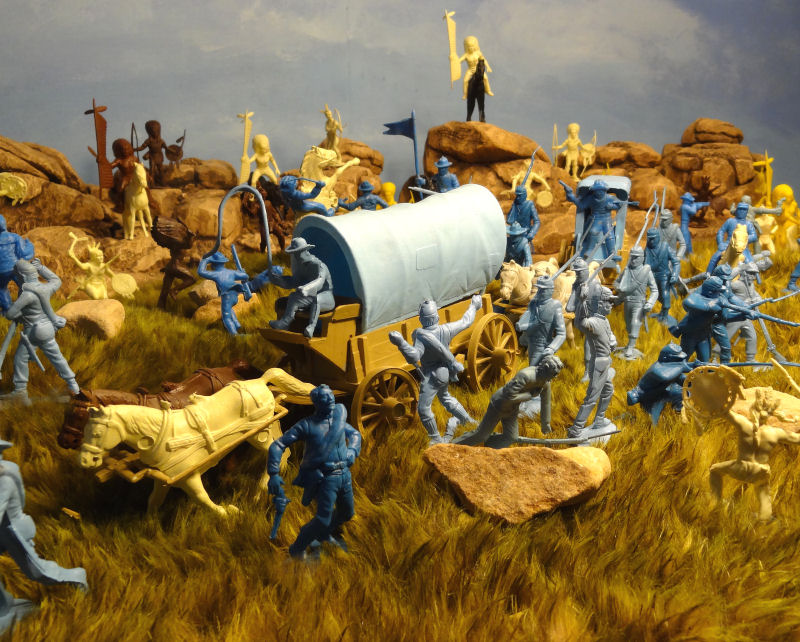 Click on the picture to see the whole series of pictures.
2/19/13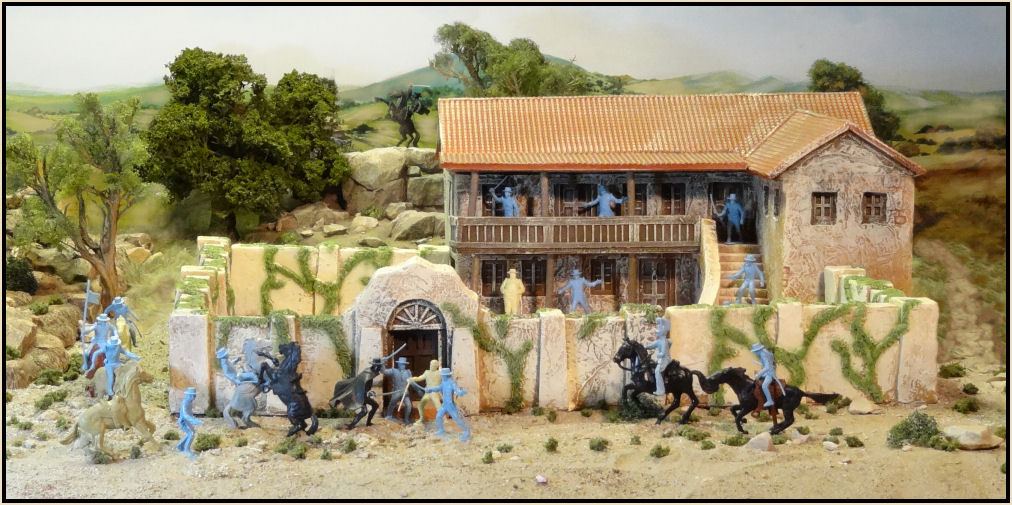 Barzso's Zorro Hacienda with (mostly) Marx figures.
11/28/12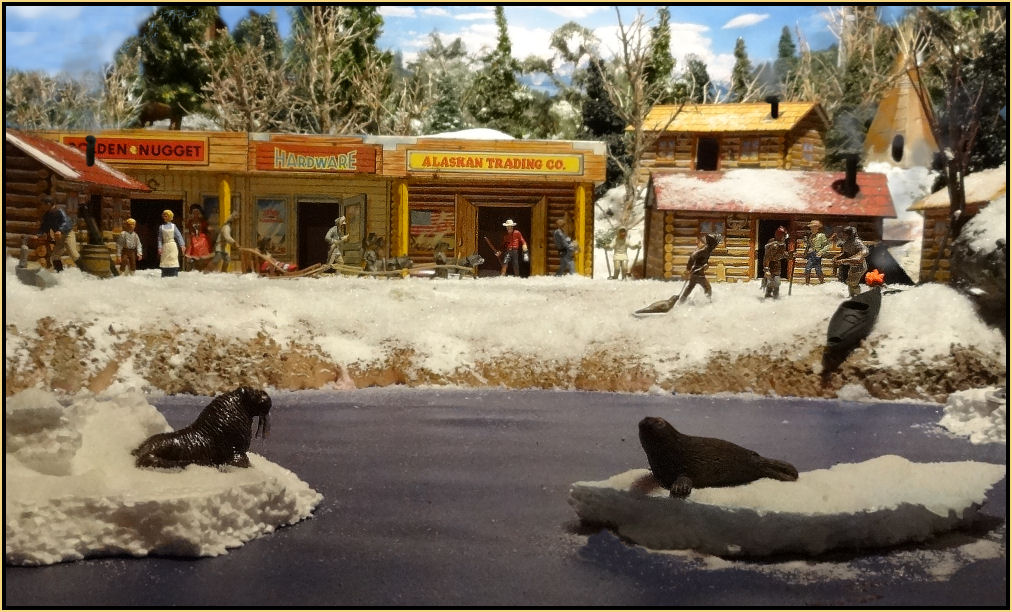 This is one of the more unusual set-ups i've ever made. i had alot of fun with it. My imagination went wild. Please check it out by clicking on the picture. I especially like the picture of the killer whale eating that little seal.
11/17/12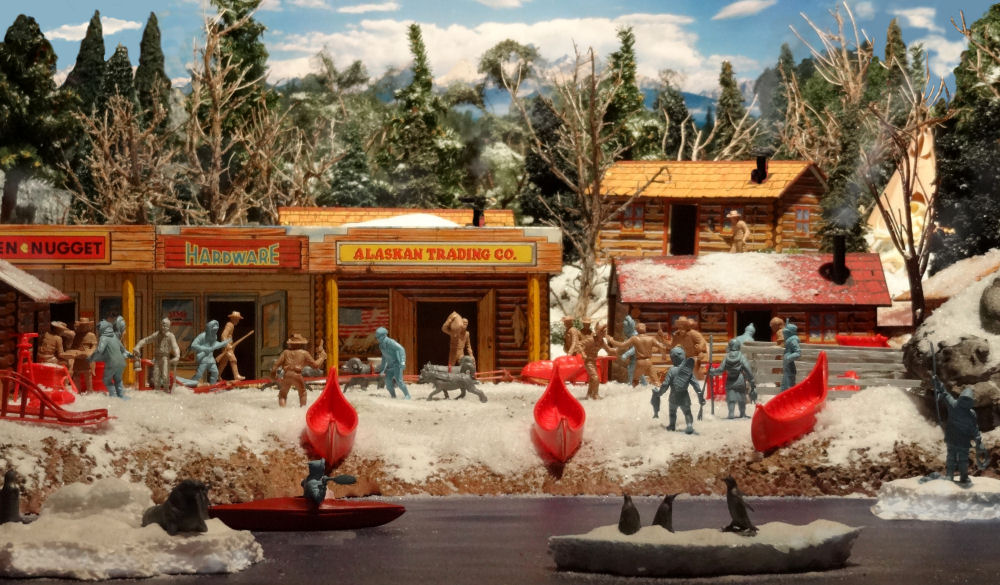 I've made a page of pictures featuring my Alaska/Canadian Frontier Playsets. Click on the picture to see all the pictures.
10/9/12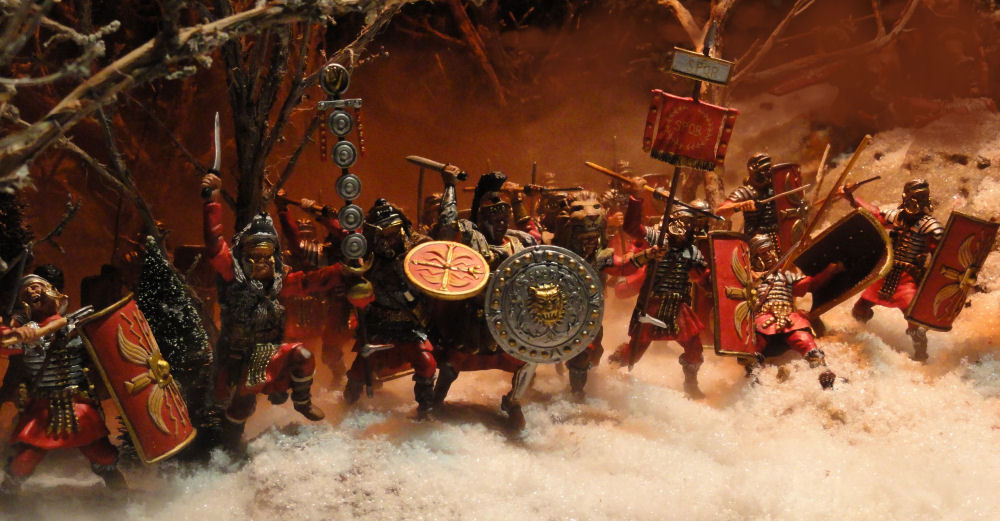 Conteco.com or Hobby Bunker.com to order!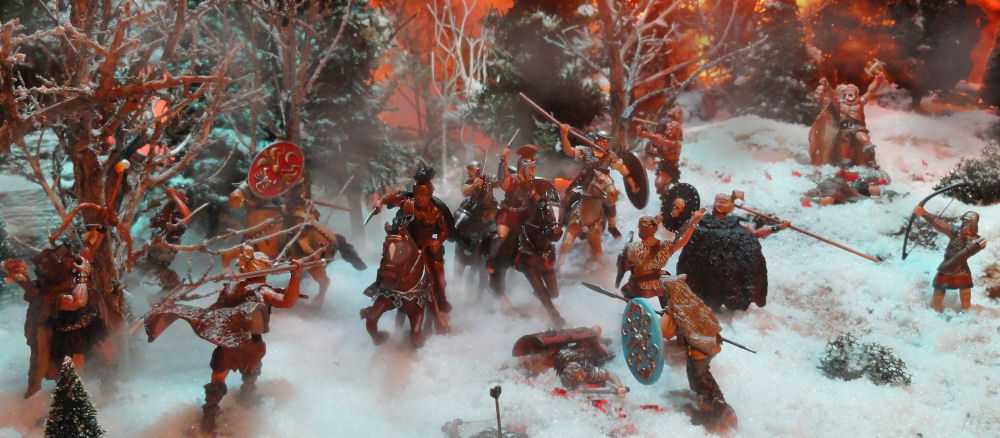 9/26/12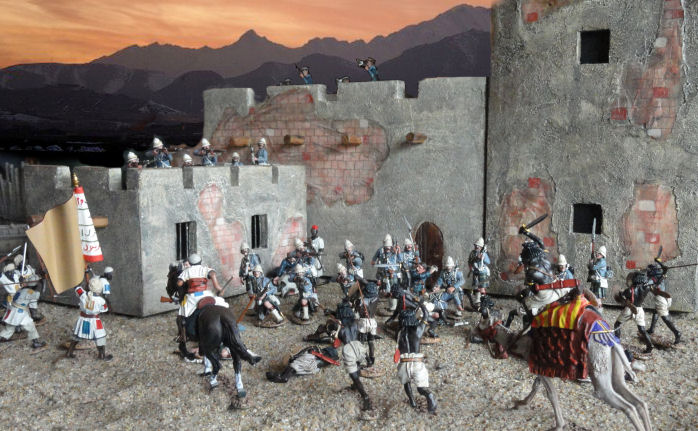 This diorama was in the Crown Military Miniatures room at OTSN.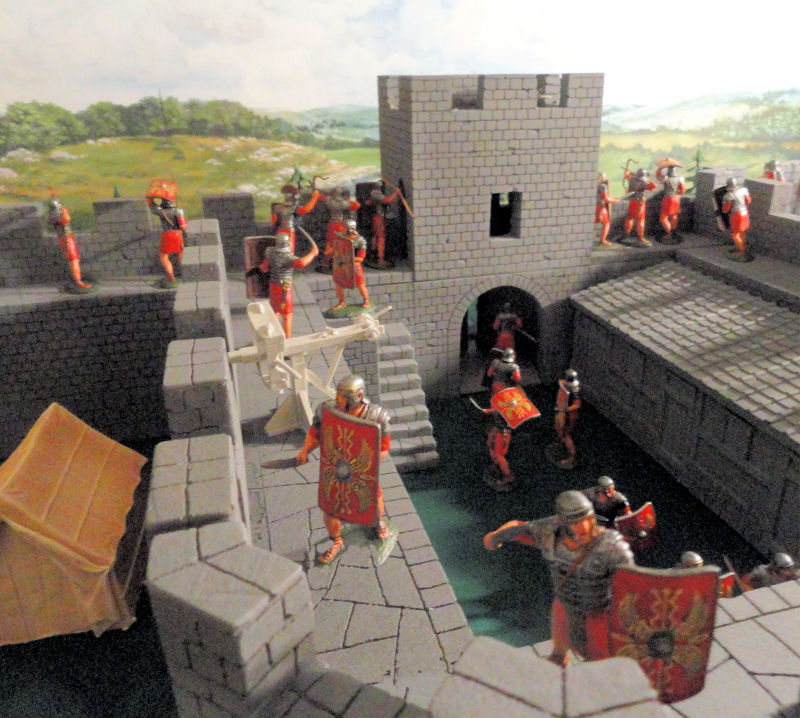 TSSD came out with Hadrian's wall this year. This is one of the "Mile Forts". The Traverse Doramics backdrops were everywhere!
9/5/12

Click on the picture to see photos of my largest Civil War Set-Up ever!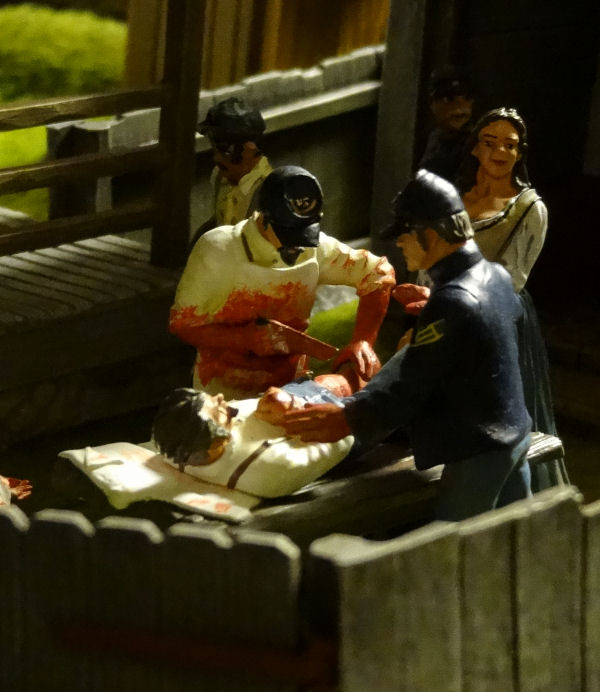 8/28/12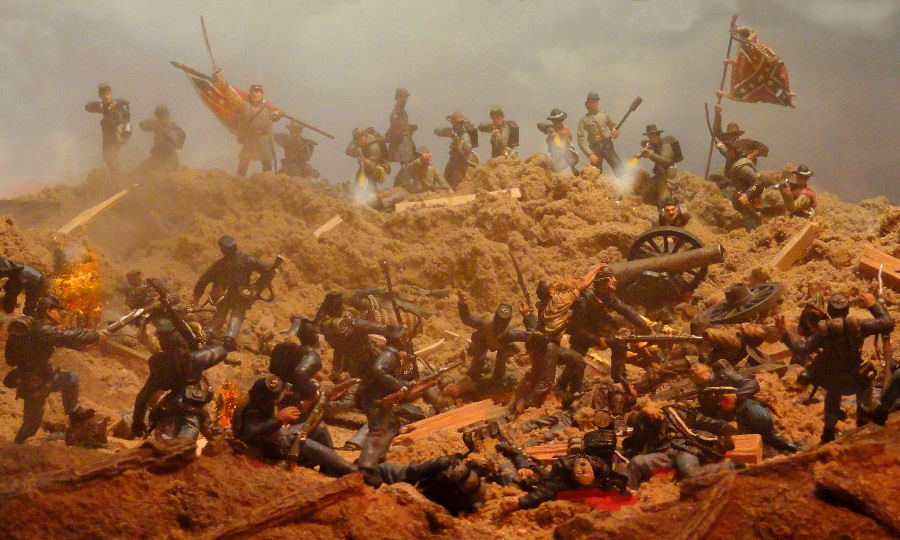 Click on the picture above to go to "The Crater" page.
8/17/12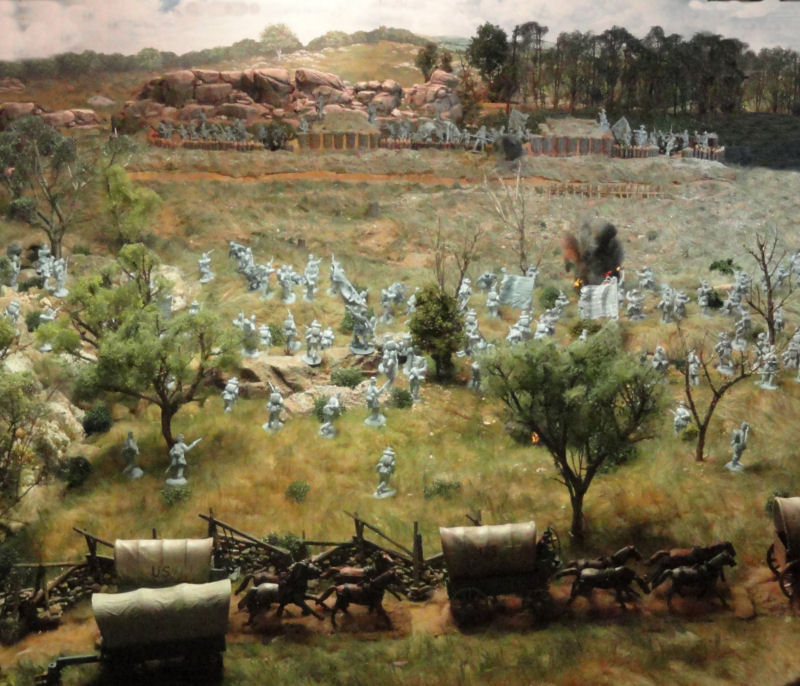 I moved back down to the basement and created a large Civil War Battlefield. Here are the Conte troops in action. In the backgound are some great scenics I picked up from Traverse Dioramics. I like 'em. Click onthe picture to see the whole series of pictures of this set-up.
8/07/12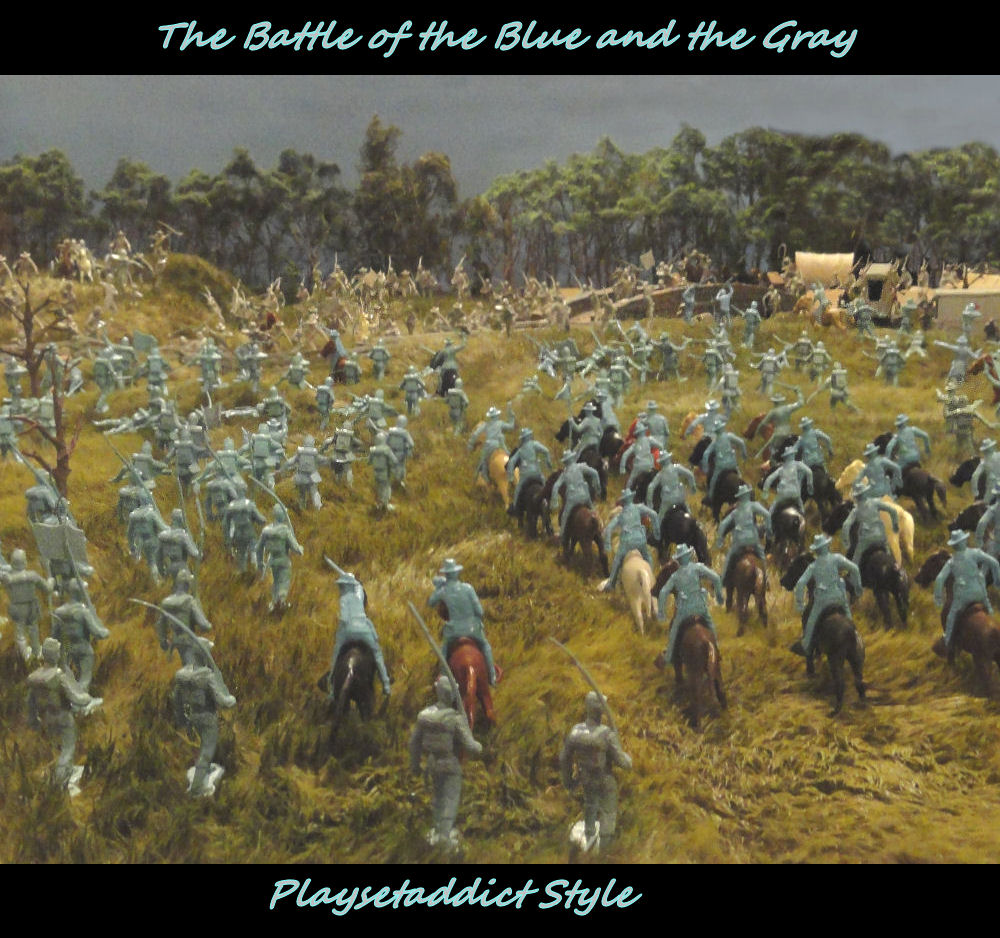 Click on either of the two pictures above to go to the Marx Blue and Gray page. There are lots of pictures of some fun I had in the summer of 2012.
7/16/12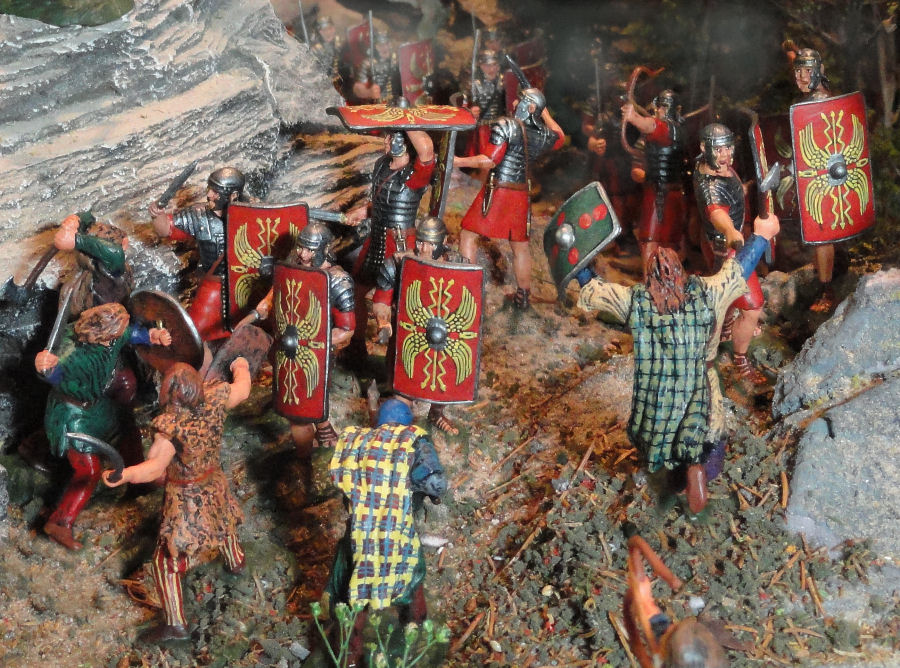 These are the Painted Romans and Barbarians being offerred by Toy Soldiers of San Diego.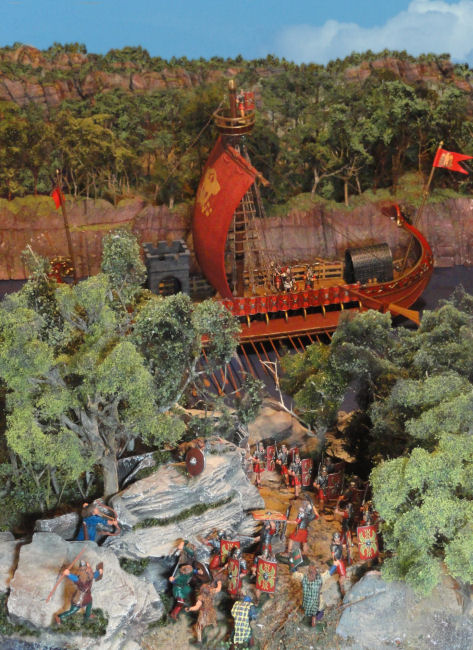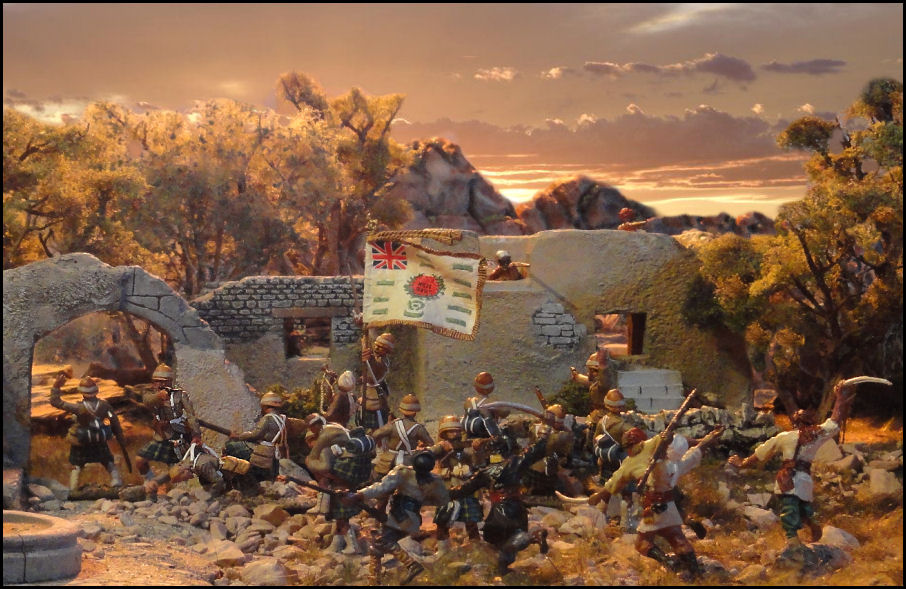 I've made anew page of Highlander Pictures. Click on the picture above to see them.
2/01/12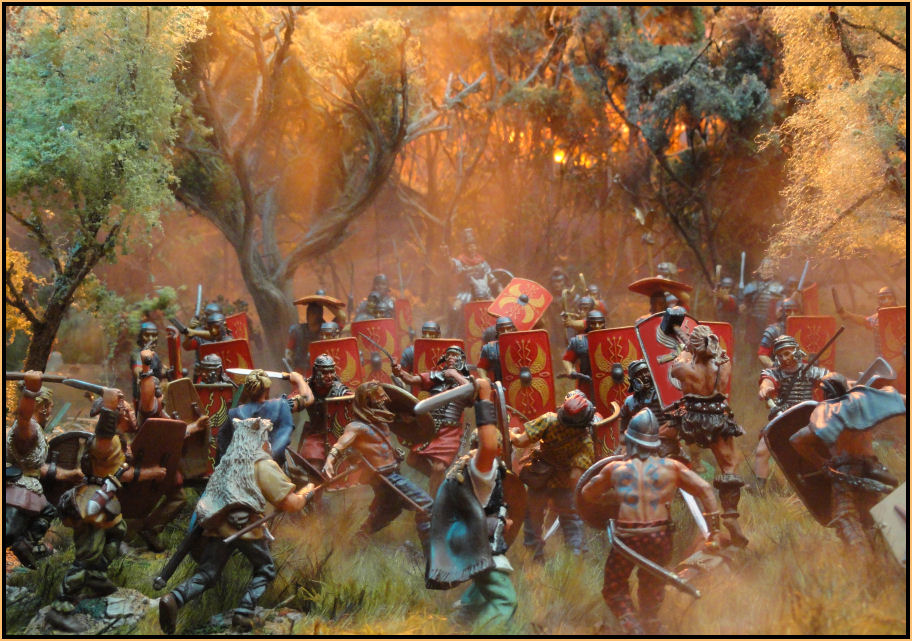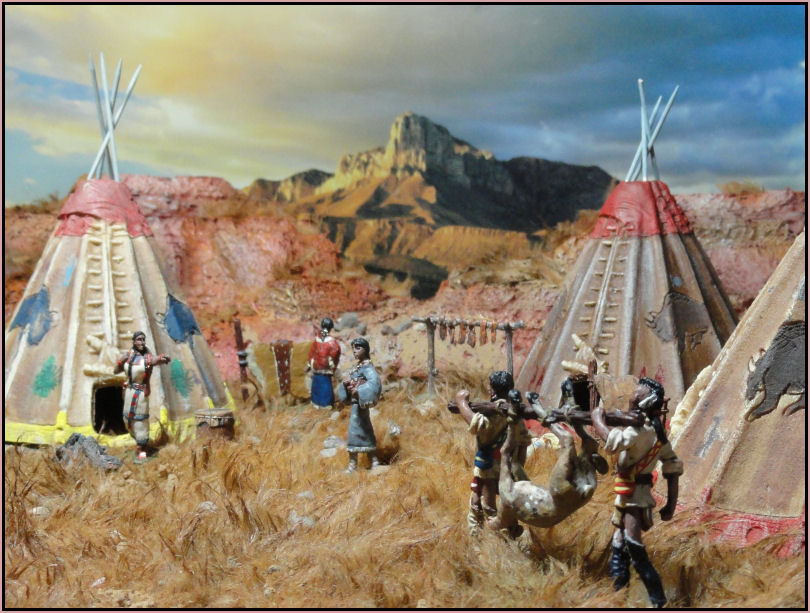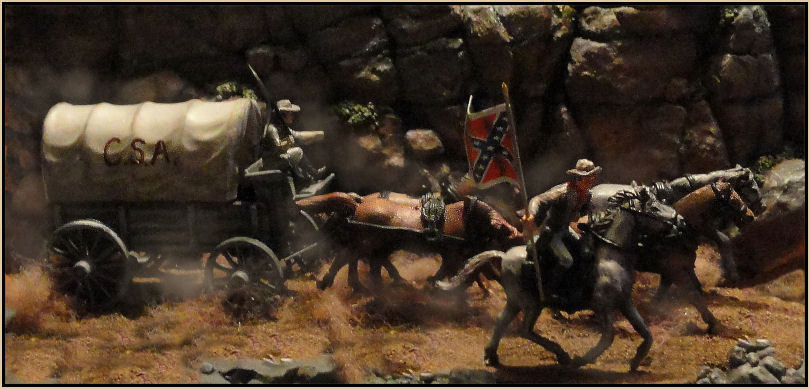 Click on the picture above to see more pictures of the realy cool wagons I got from Mike Luteran.
9/23/11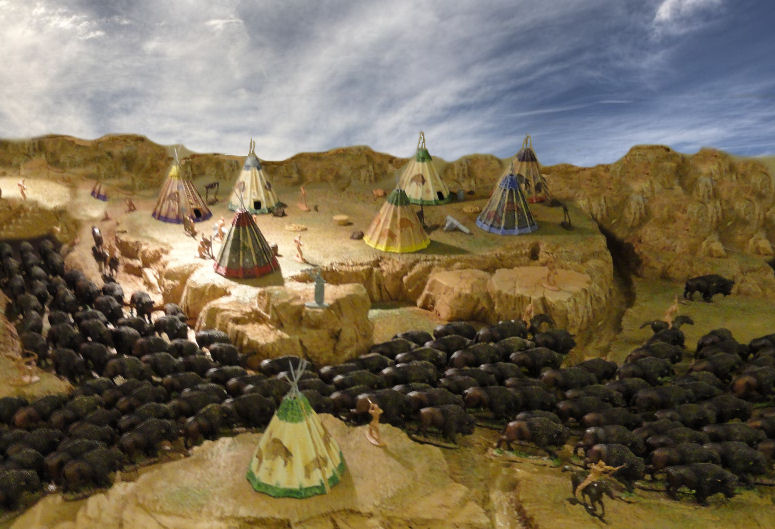 9\17\11
I've moved the pictures from this series to the Romans 2012 page (even though these pics are from 2011). Click on the picture and then scroll down.
9/7/11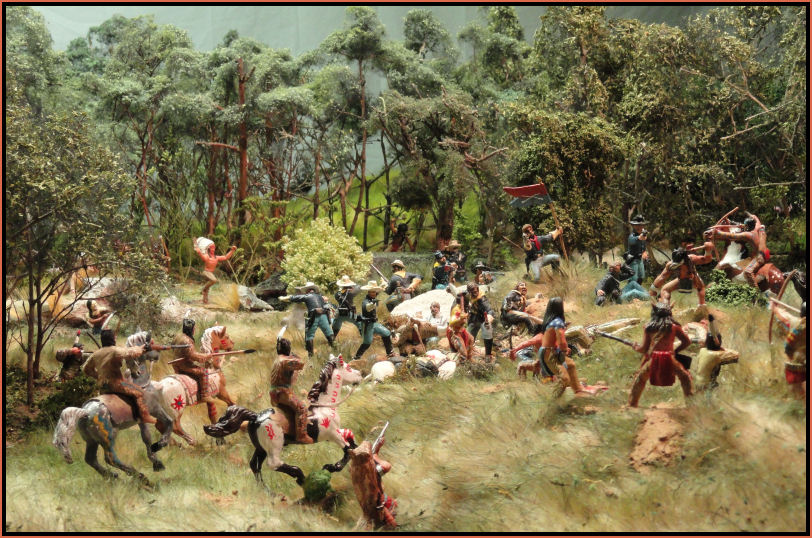 I spent most of August painting up some plastic figures. I've had the Paragon Cavalry and Apaches for a while but hadn't done anything with them. So I painted some of them up, along with some of the casualty figures from Toy Soldiers of San Diego, and added them to the ranks of my Indian Wars collection. They do paint up nice.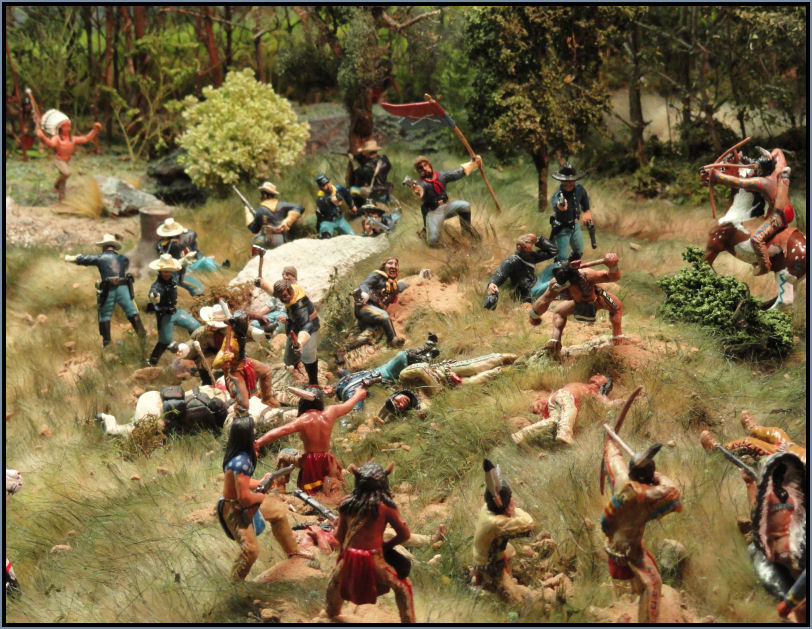 In addition to the Paragon Cavalry and the TSSD Indians, there are also a number of Plastic Underground figures present as well. I bought these painted and whoever does the paintng has serious talent. There are also a few Reamsa, Andy Gard, Airfix, Marx and Britains Deetail figures scattered about in the set up. If you are lookihng for a source of plastic figures, vist our friends at hobbybunker.com. Tell them the Playsetaddict sent you.
8/18/11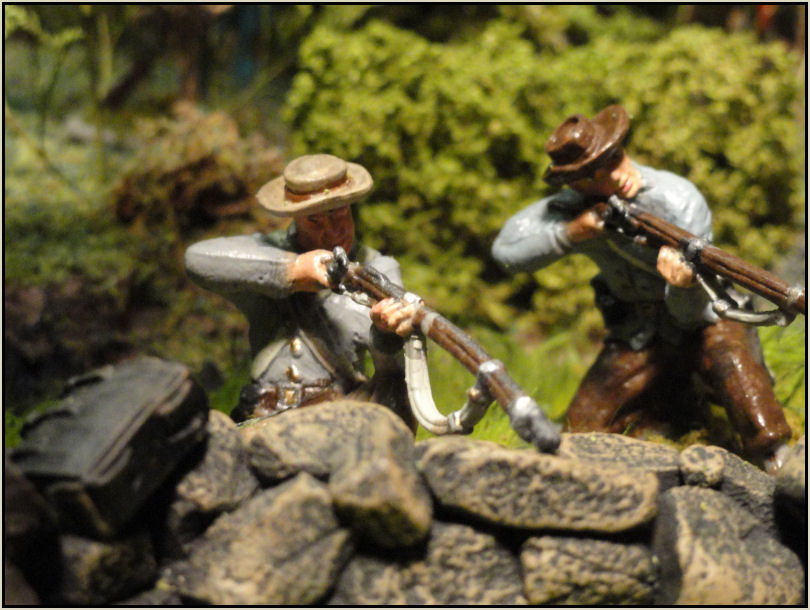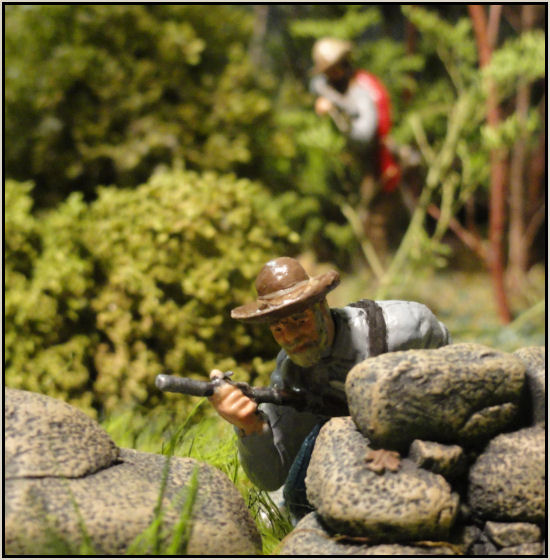 I've been spending most of my 'Hobby Time' painting up some plastic figures. Here are a couple of the Cunnyngham Confederates.
They paint up pretty nice. I did forget how long it takes to paint up a batch of figures. I must be slowing down as I get older.
7/4/11
Happy 4th of July!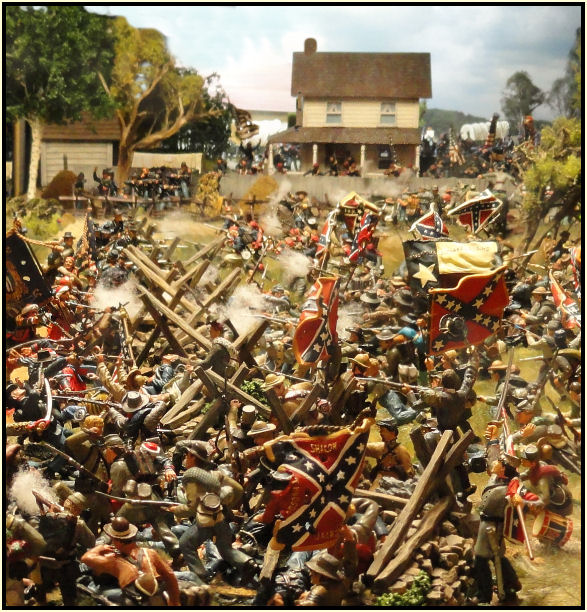 If you want to see more images from this large ACW battlescene, click on the picture.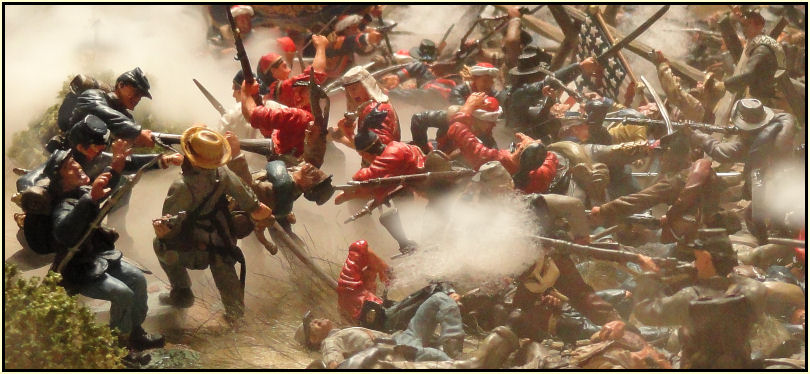 6/10/11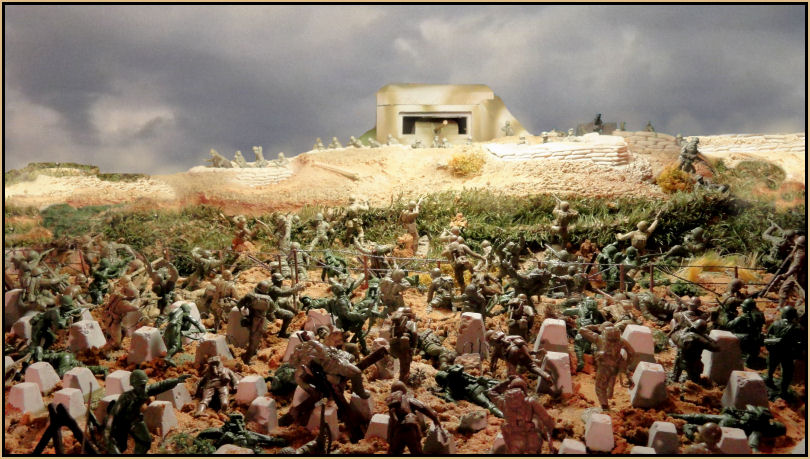 Here's another shelf display featuring Conte plastic and single color metal figures.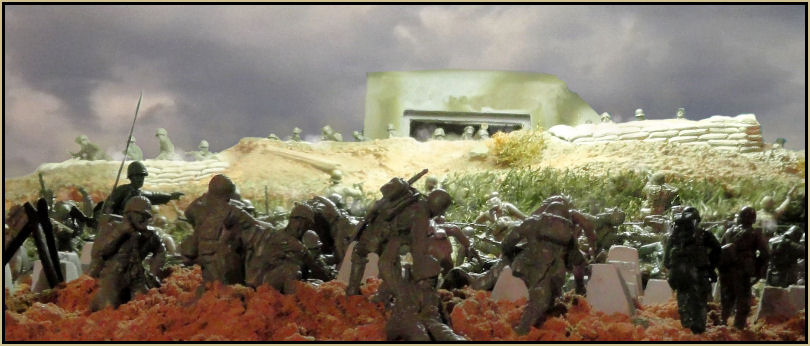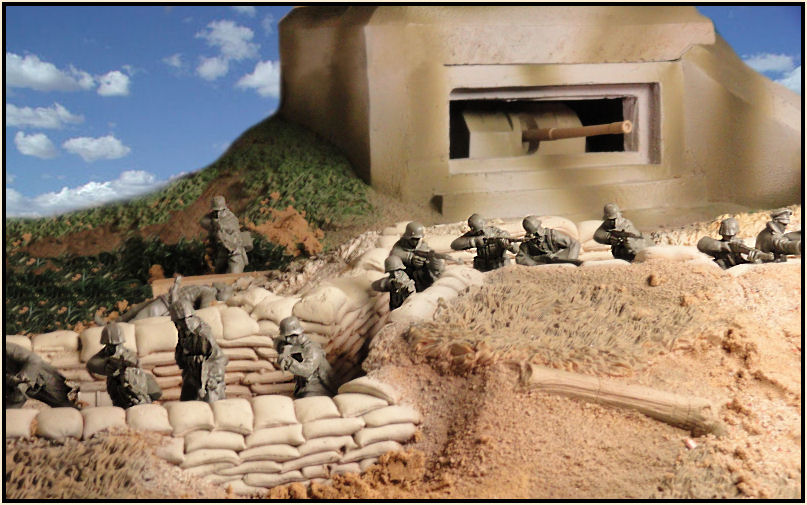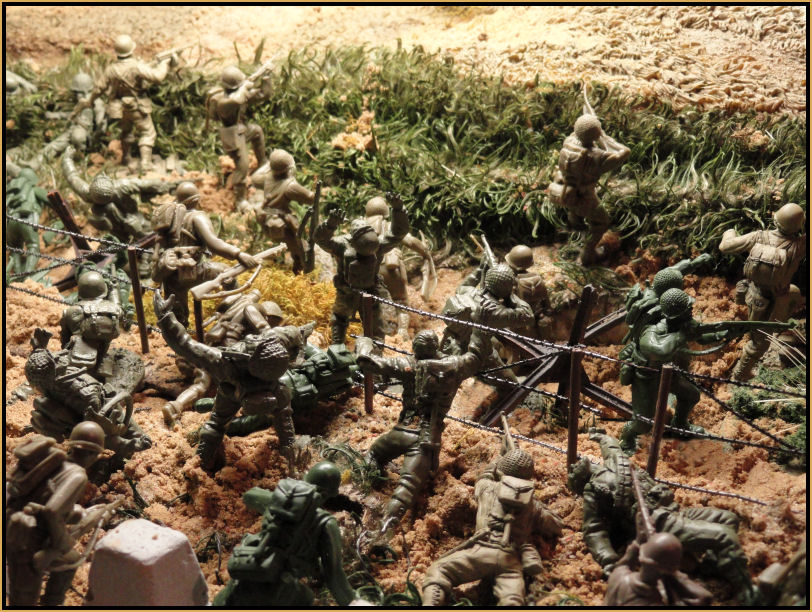 6/1/11
I added another shelf display today...Stamford Bridge.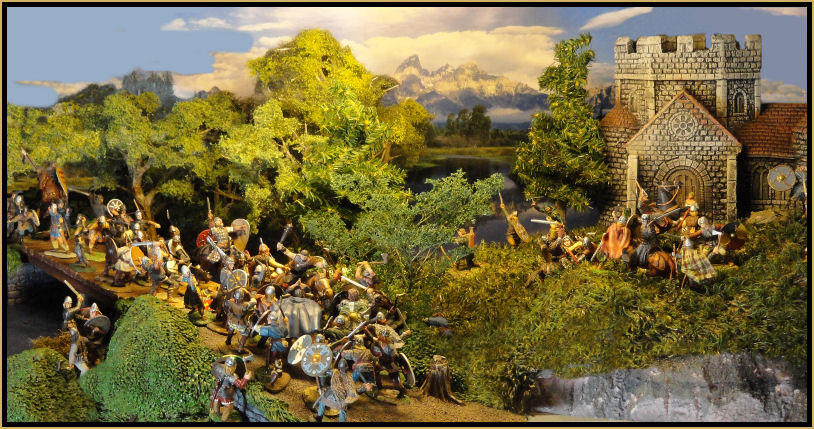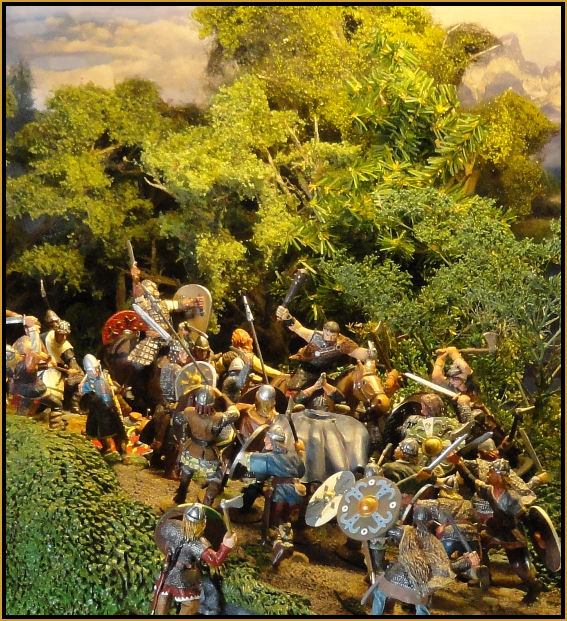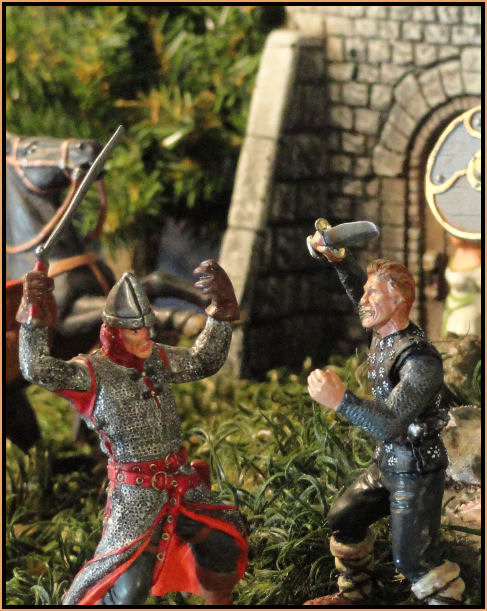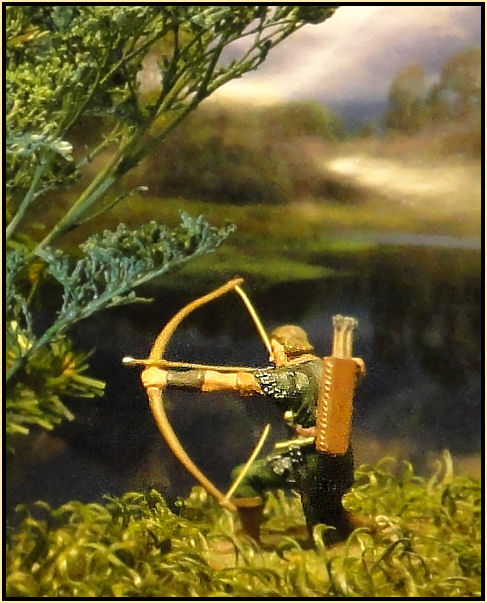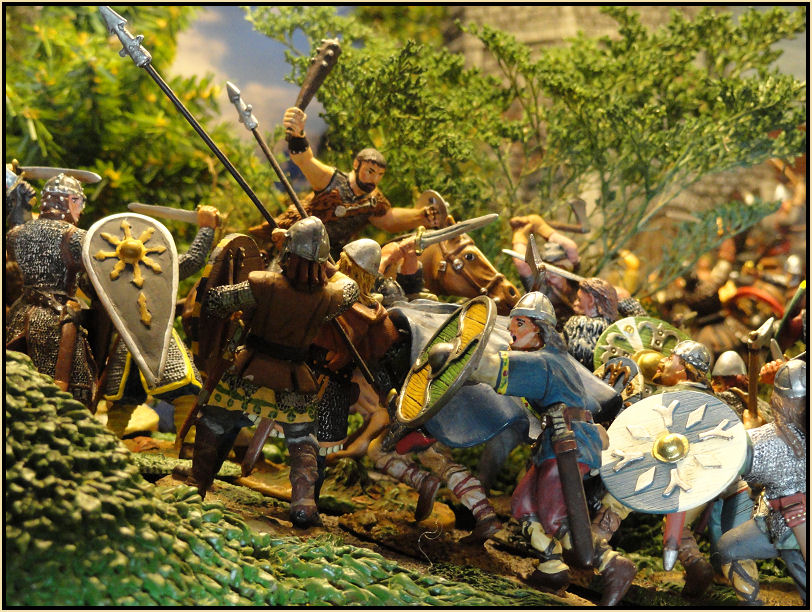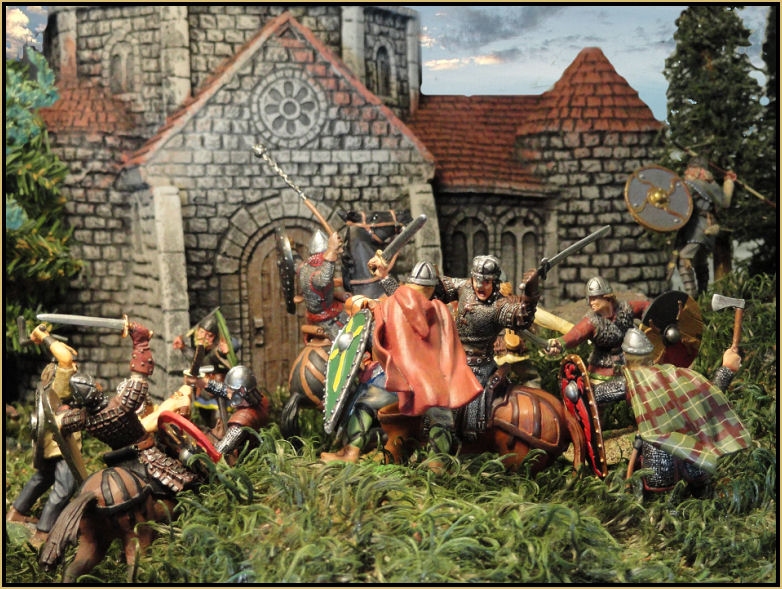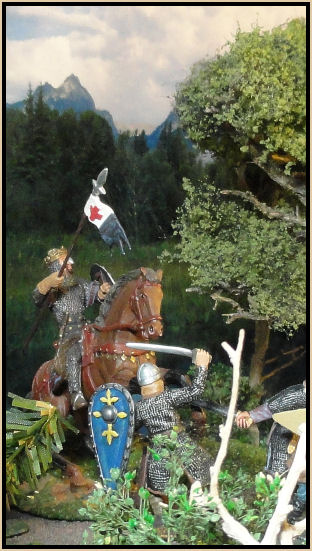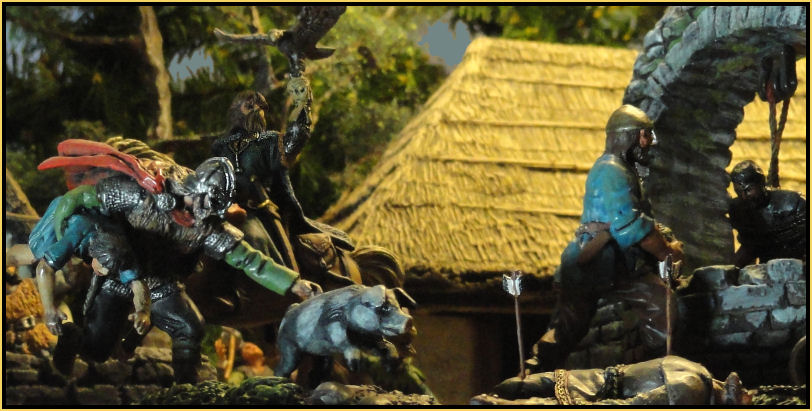 5/30/11
I've been doing some more work in the basement. Here are a couple more shelf displays.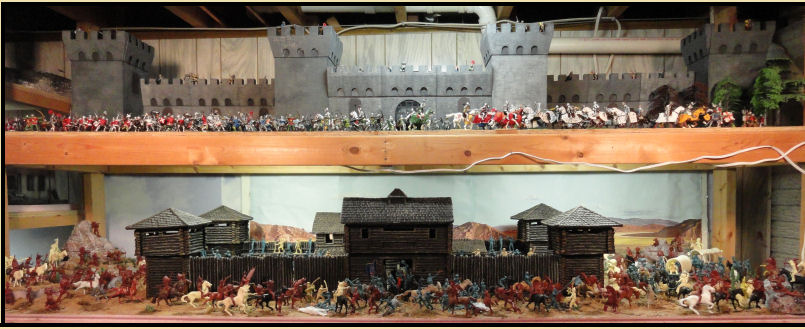 On top is an Imex castle with a whole bunch of painted kinights I bought years ago but have never set up. Below is my Ultimate Fort Apache featuring Barzo's incredible fort and a bezillion conversions.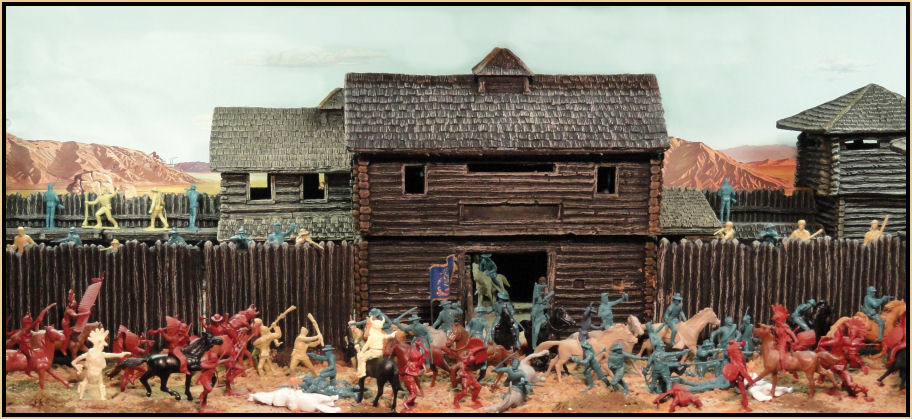 The Fort Apache Set-Up features lots of cavalry in turquoise, Frontiersmen in tan and indians in red-brown, yellow and cream.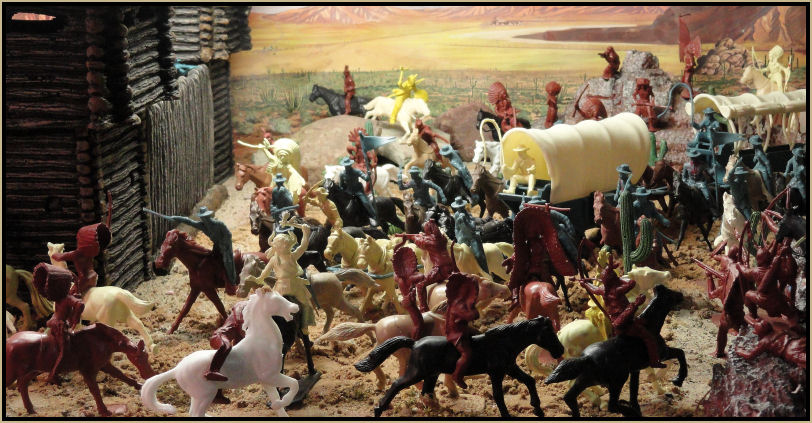 The Longcoats are trying to get the wagons into the fort. There are lots more pictures of this set-up on another page. Click any of the images above to see the whole photo treatment.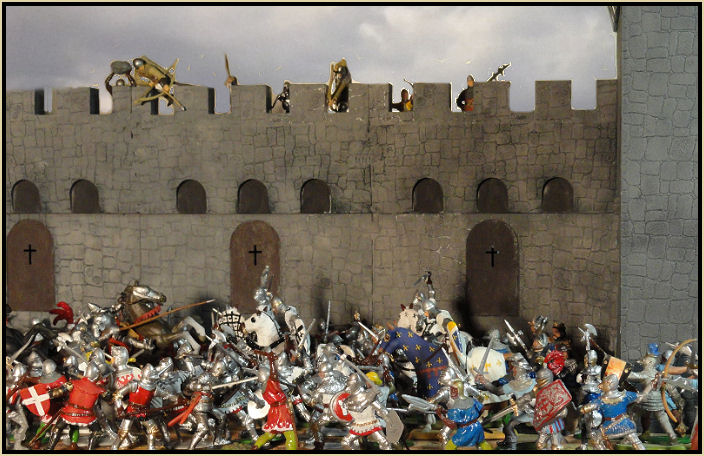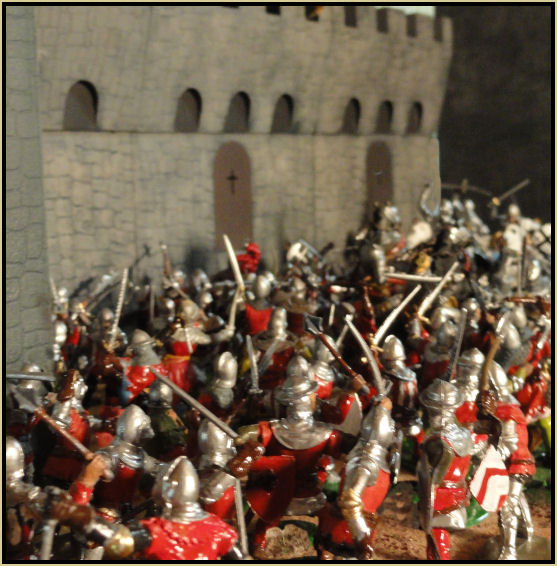 I finally got my Zulu reinforcements from Conte!
Click on the picture to go to the new Zulu War Page.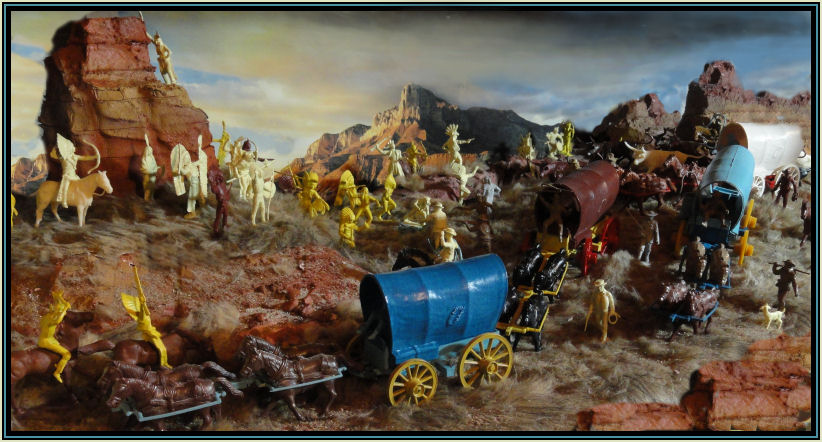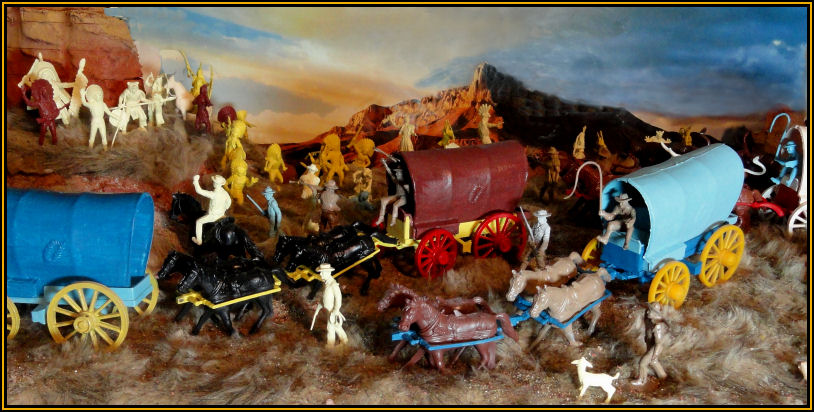 I've been cleaning my basement and today I set up shelf displays of my Ultimate Wagon Train and the Jesse James set.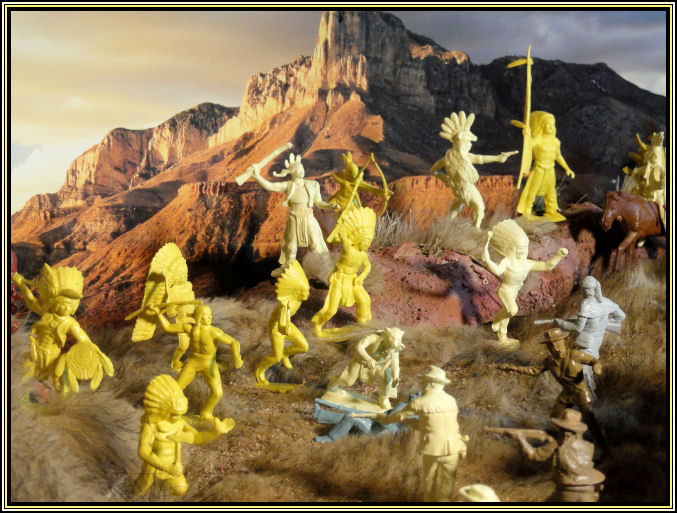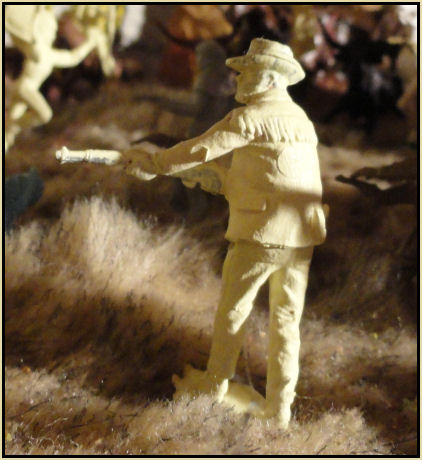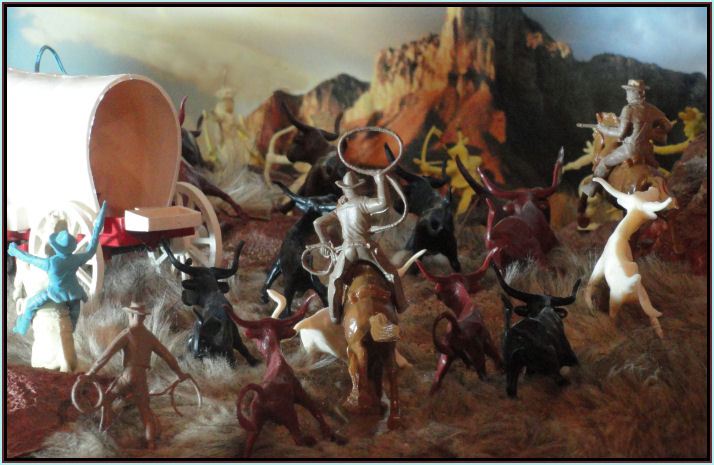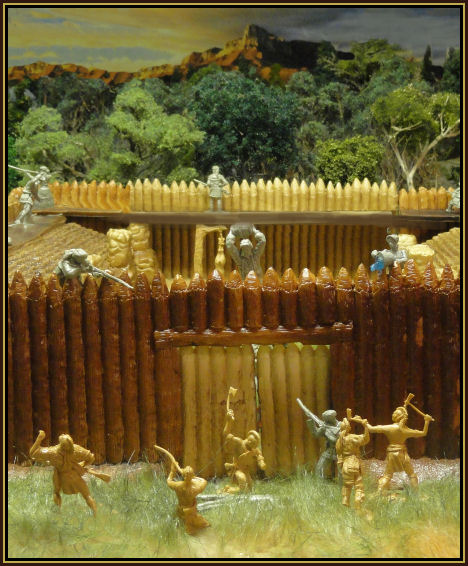 I've been wanting to get some ofg my old Barzso playsets out for a while. Here is the Davy Crockett Wilderness Set
Click on the above picture to see all the pictures of this great set!.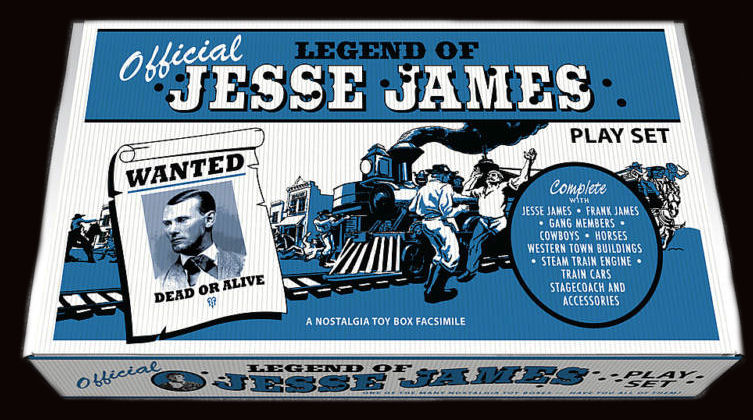 The Legend of Jesse James playset!
Once upon a time Marx planned on releasing the set, but they changed their mind, Now, 50 years later, the set is resurfacing, thanks to Nostalgia Toy Boxes and some old fashioned creativity. Ah! What might have been!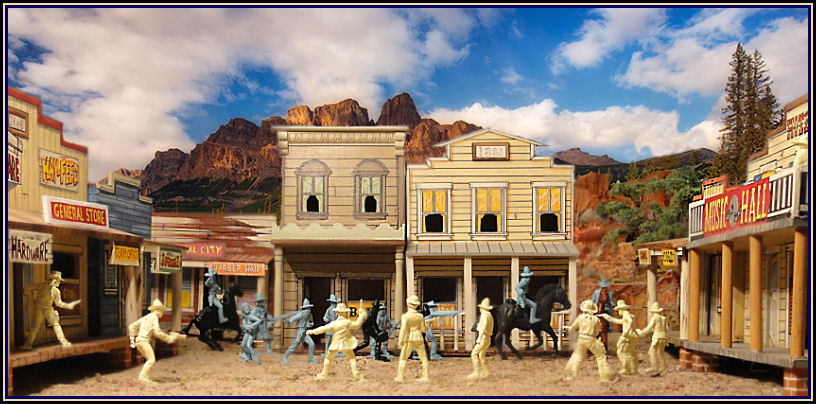 Click on any of the above pictures to go to see a full treatment of this set.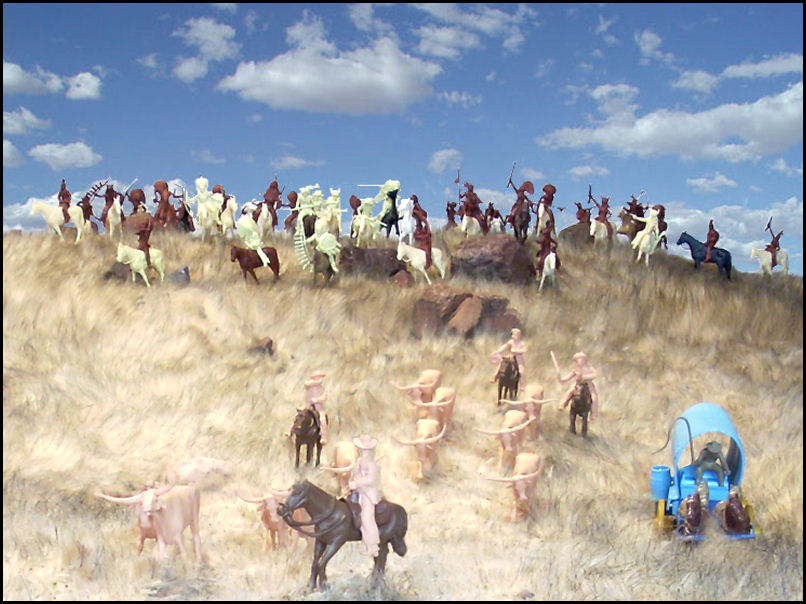 Steve Westen's Cattle Drive...facing a little challenge.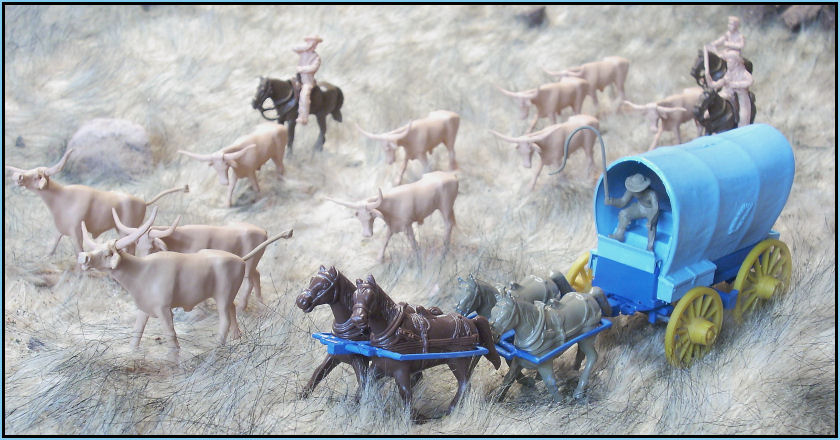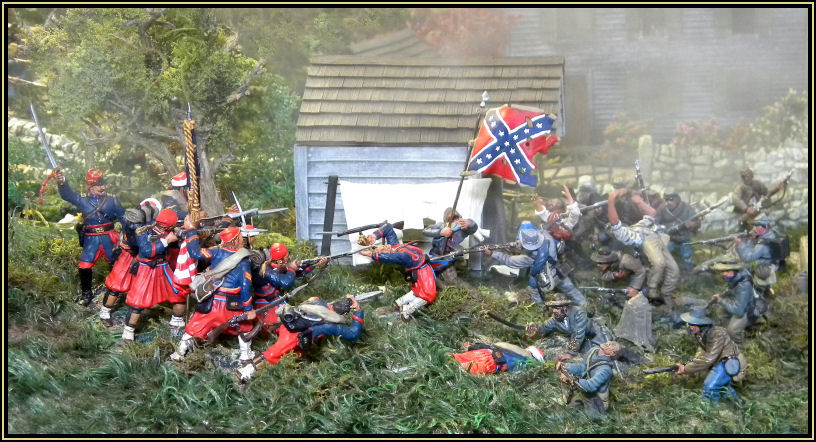 Conte's Zouaves! Click on the picture to see the whole series!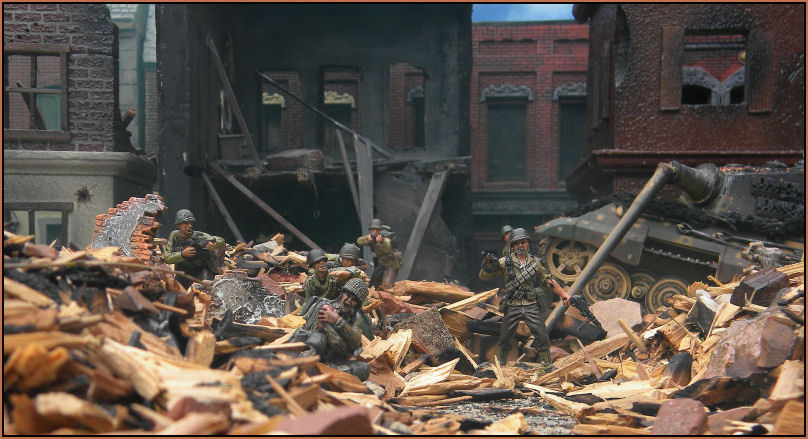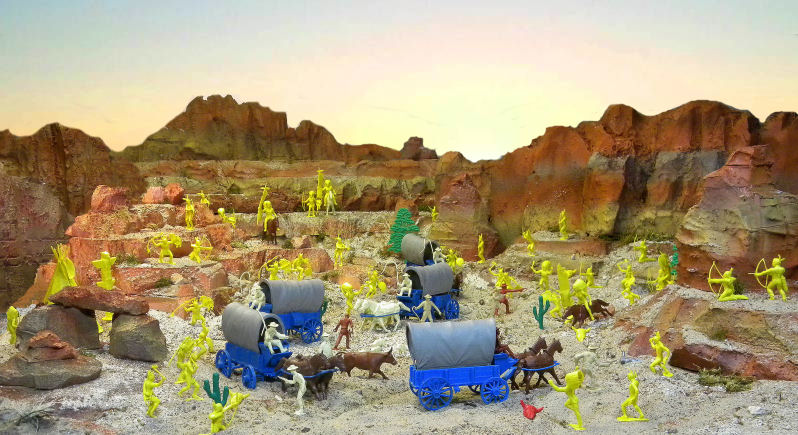 Click on the picture to see all the pictures of this great Canadian Wagon Train Playset.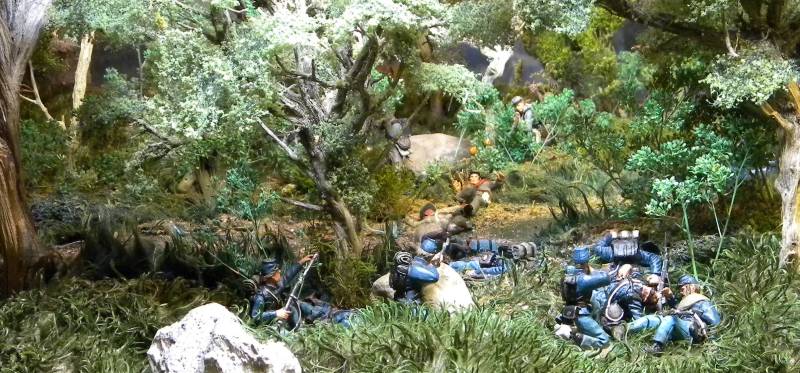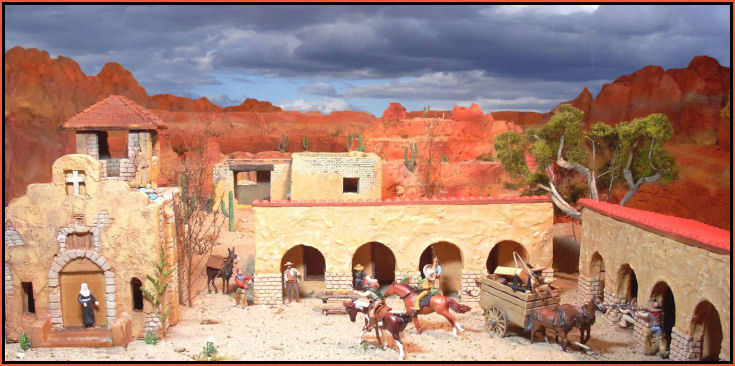 With the economy the way it is, I had to downsize...I couldn't afford the Magnificent Seven..Had to settle for Los Cinco Locos.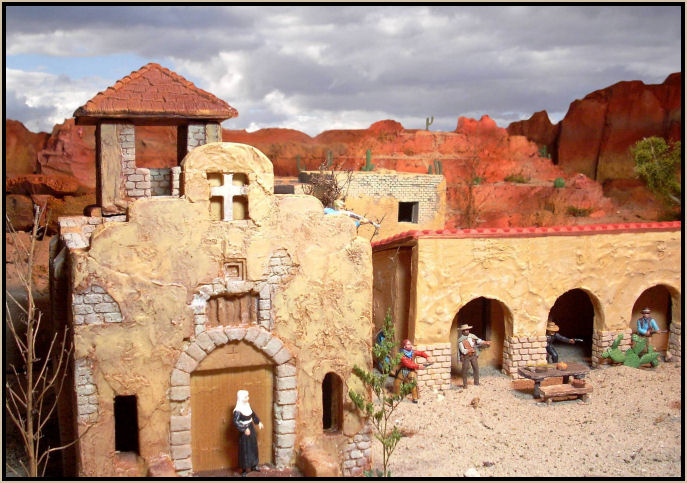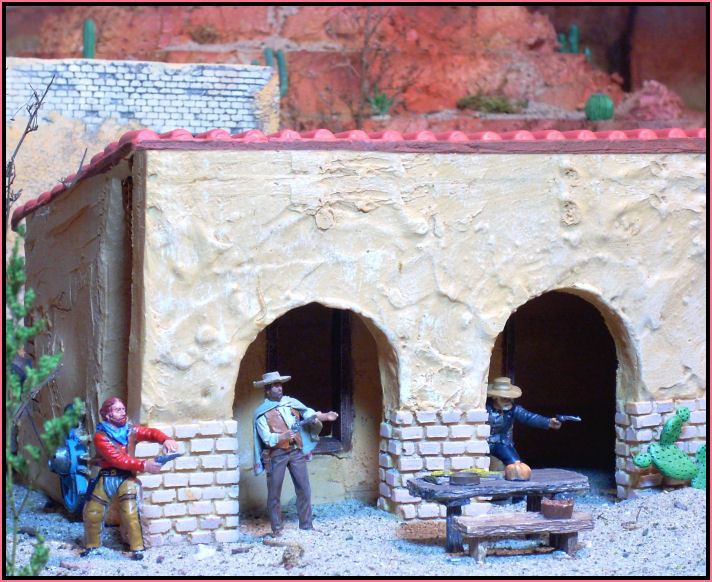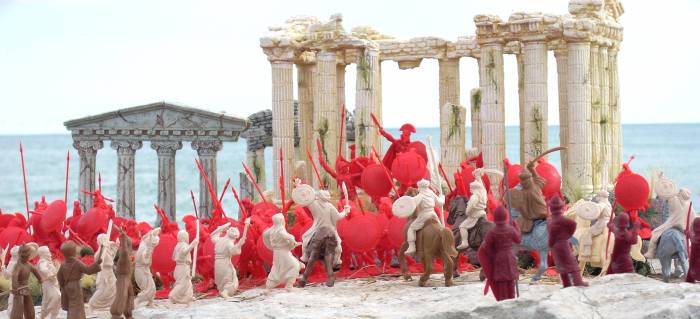 The Conte Spartans are out! These figures, with their posable arms and interchangeable parts, set a new standard for toy soldiers. I show them here up against a bunch of Reamsa figures.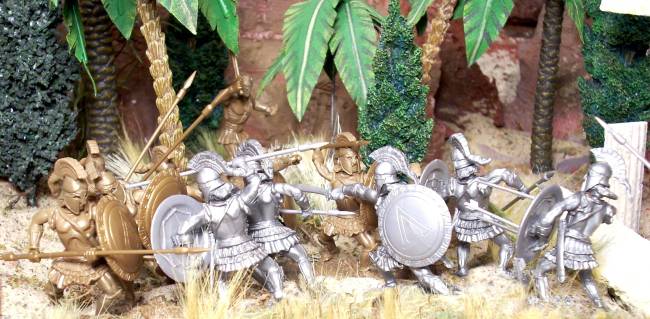 The Bronze and Silver Spartans have been released!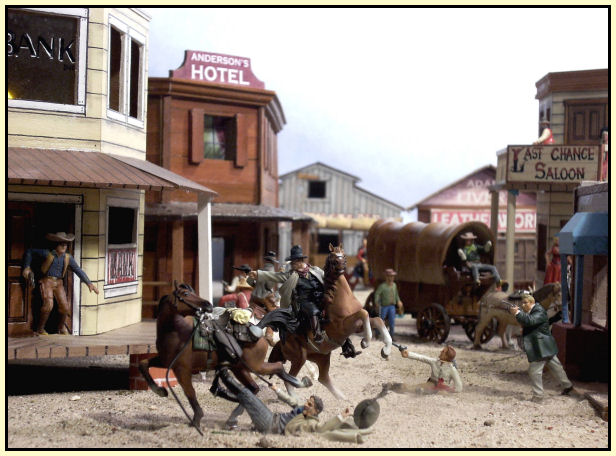 The West is getting wilder again, thanks to Black Hawk Toy Soldiers!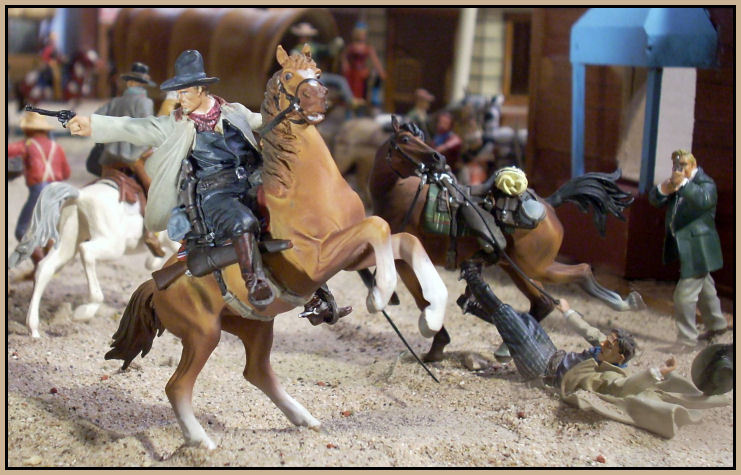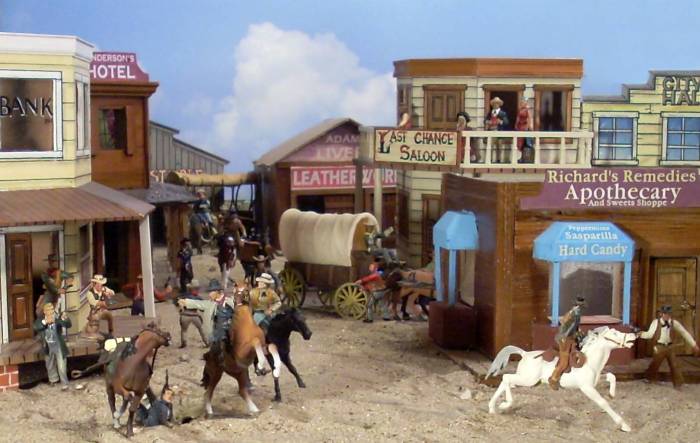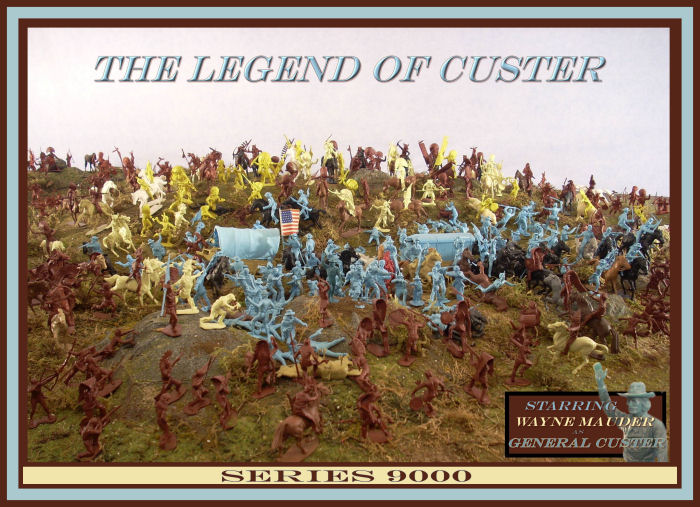 The set Marx should have made...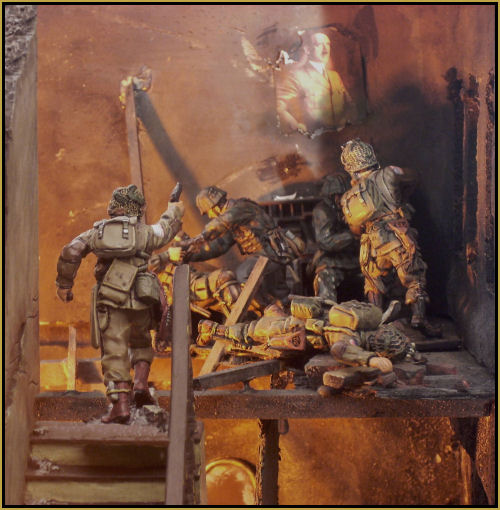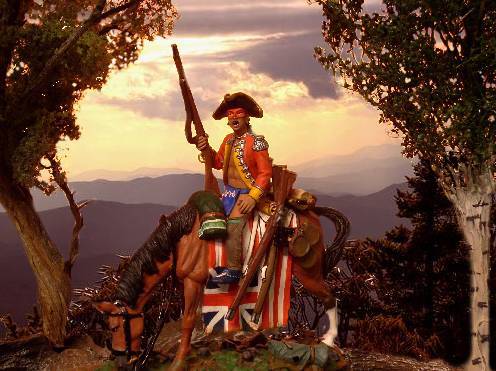 I don't buy many King and Country Figures, but this one captured my imagination.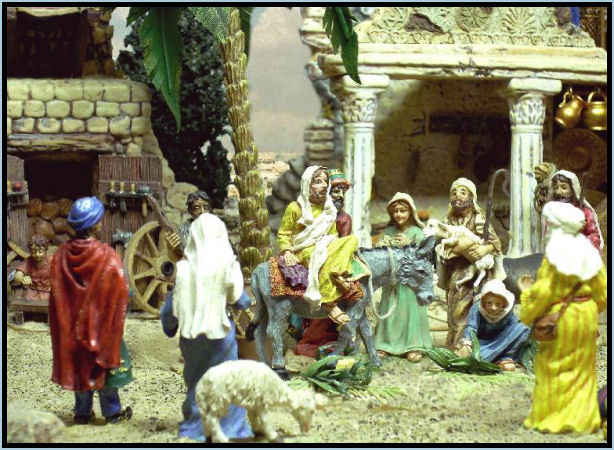 Now here's a real Hero...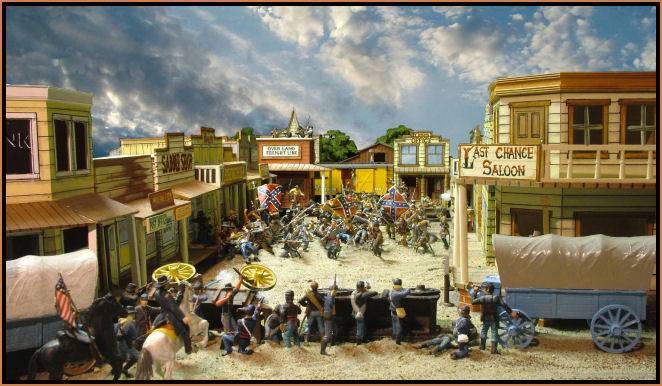 One of my favorite movies is "The Horse Soldiers". For several years I've wanted to recreate this scene. I knew I could...it was just a matter of finding the time and the space. The Conte SOS guys helped, too. The buildings are by Allan Roberts.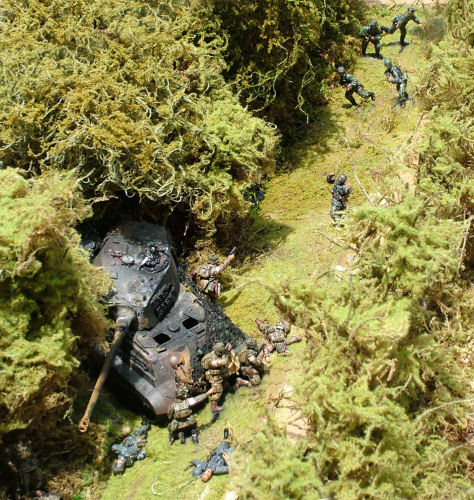 I've spent a good portion of the last week making some hedgerows. If you want to see pictures featuring scenic pieces I've made, click on the above picture.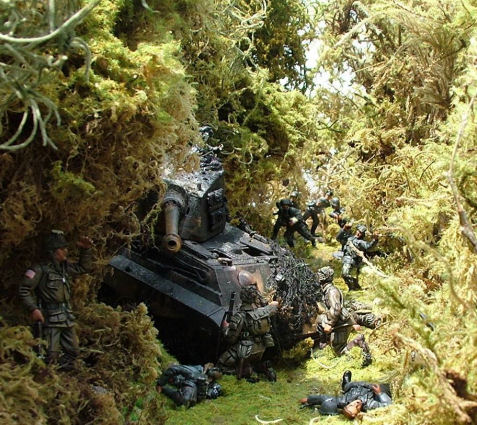 The King Tiger was a casualty of a previous skirmish.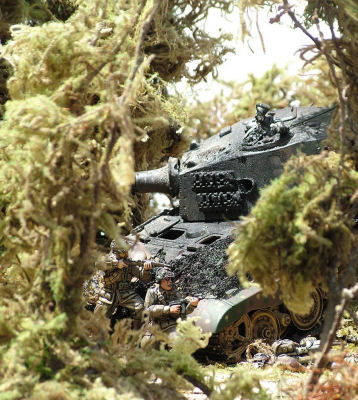 The tank commander didn't get out...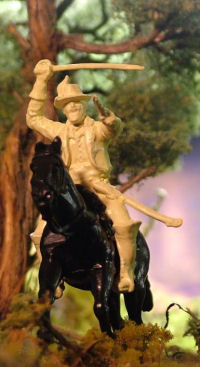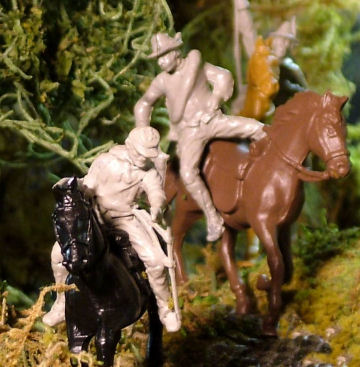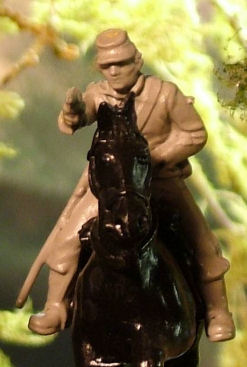 These are all figures I wish Marx had made...but I had to make them myself. They are part of my "Stuart's Raid" Dreamwish Playset.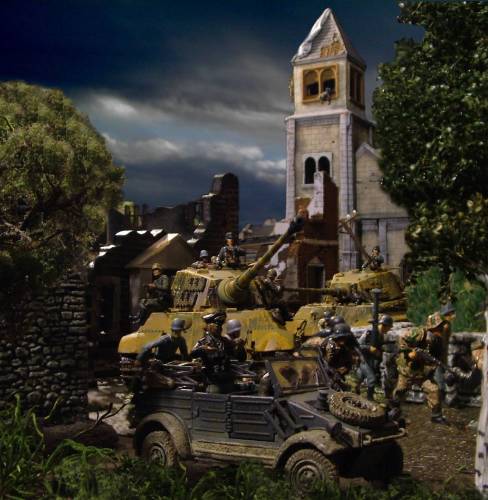 I have a great series of pictures of Germans armor moving through a Normandy Town at http://conteco.com/bloggermanarmor.htm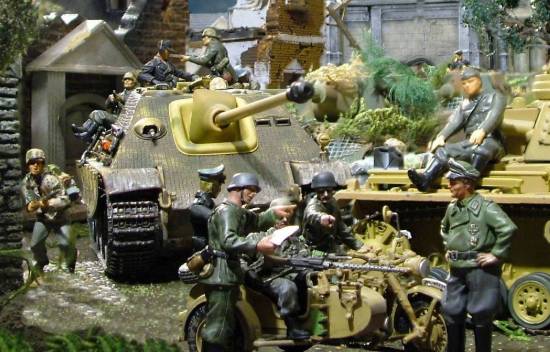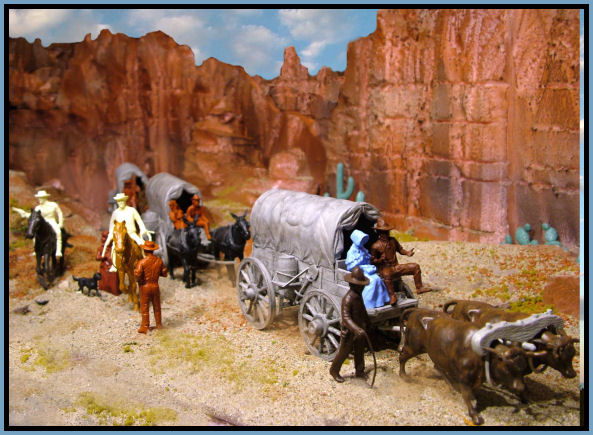 "Wagon Train" by P and P Products.
Go to http://pandpmilitaryminiatures.com
It's a good time to be collecting World War 2!
Conte airborne figures...Vehicles by FOV and 21st Century, buildings from Conte and Hobby Bunker abd B and T...figures from all sorts of manufacturers...accessories from Build-a-Rama...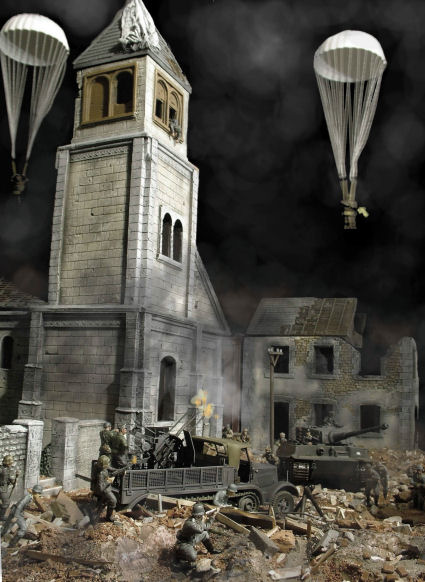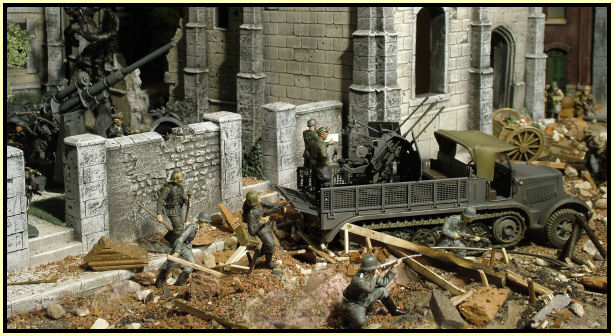 40 years after first dreaming of vehicles like these in 1/32nd scale...they're here!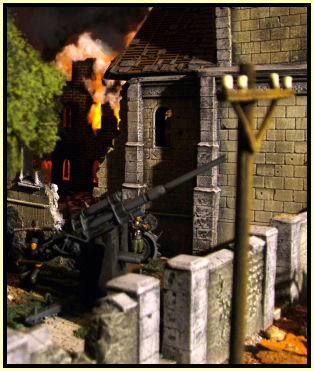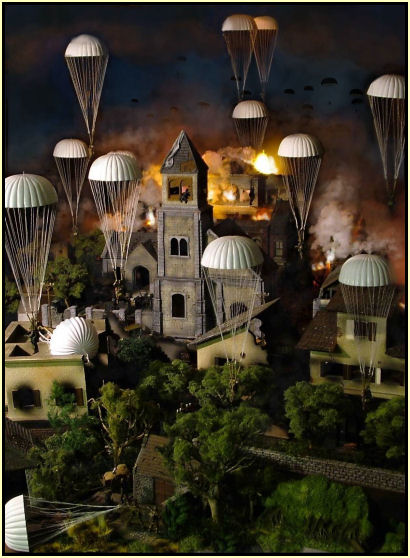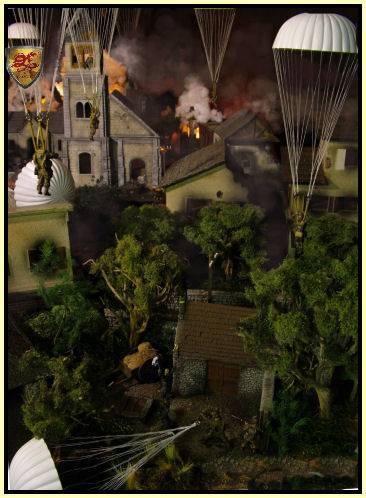 Conte Paratroopers...way way cool!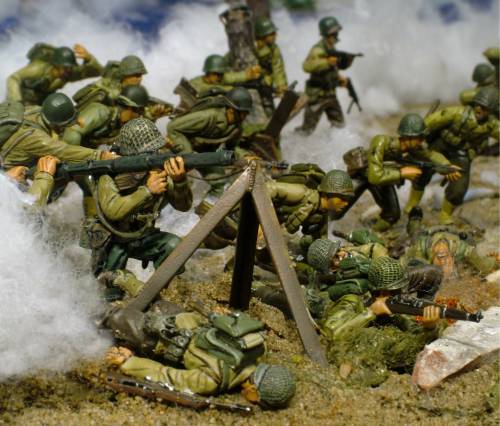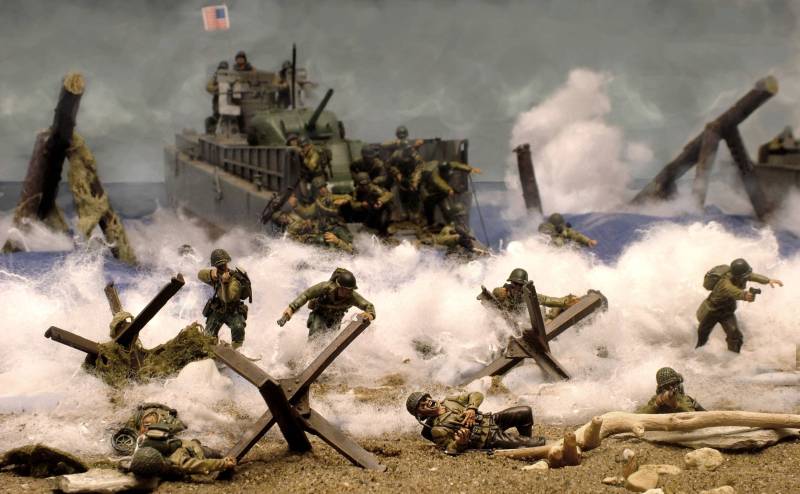 D Day Diorama. I know you knew that, but I figured I'd label the picture so maybe it would show up on a Google search of "D Day Diorama."
3/17/06

I have been very lazy with this site for quite a while now. I'm cleaning the site up by putting a number of the series of pictures on their own pages. Click on the links immediately below to see the whole treatment of the themes. Below these links to pages within the site will be some links to other great Playset/Toy Soldier Related Sites. Then the newest pictures will be posted. At the bottom of this page will be some links to really old stuff. I hope you enjoy your time browsing the site.

Joe Baker

Painted World War Two Figures

Painted Alamo Figures

Painted Civil War Figures

Non-Painted World War Two Figures

Single Color Civil War Figures

Unpainted Alamo Figures
The above two photos are from Joe Carvalho's website, with a little imagin-action added by me. If you like large scale battles of painted figures...you need to check out his site. The pictures take a long time to load for some reason, but I found it worth the wait. www.freewebs.com/joesoldiers is the url.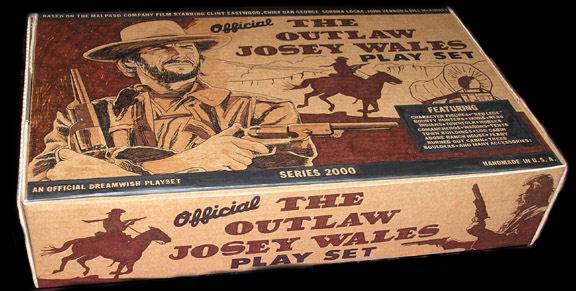 The Outlaw Josey Wales is my all time favorite movie. I have 'dreamed' of a box like this for years. Now, thanks to Ron Lizorty, I have one...and it's a beauty!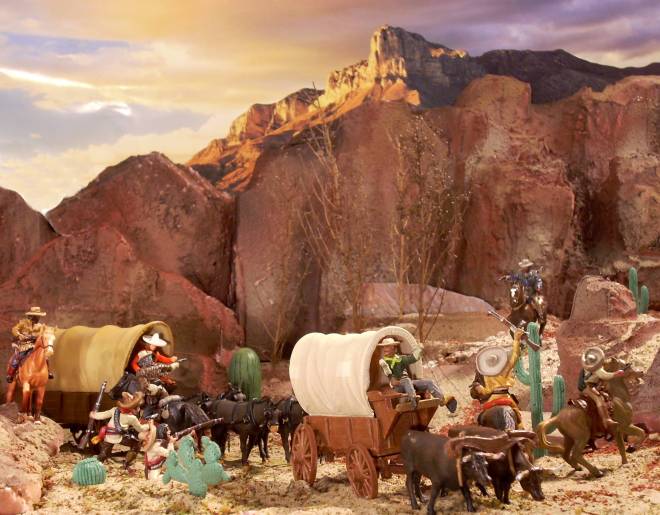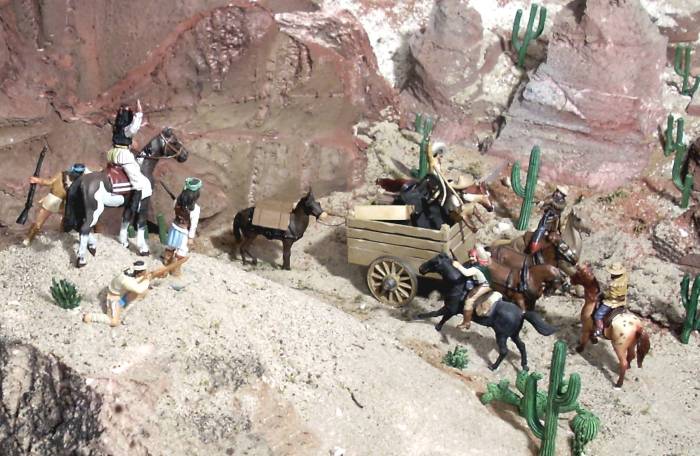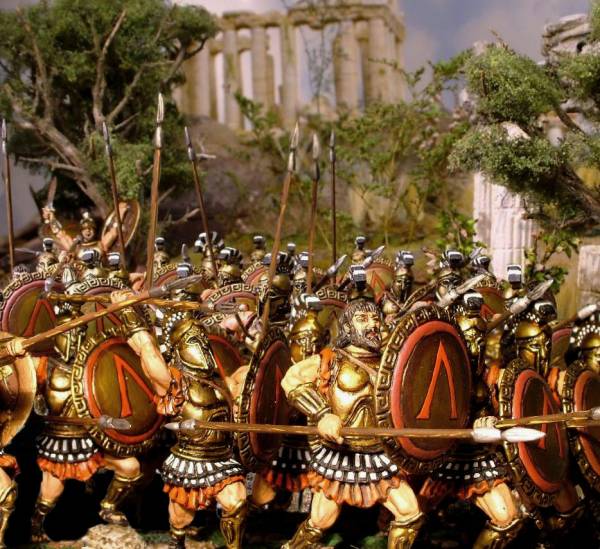 Conte's Spartans are here!!!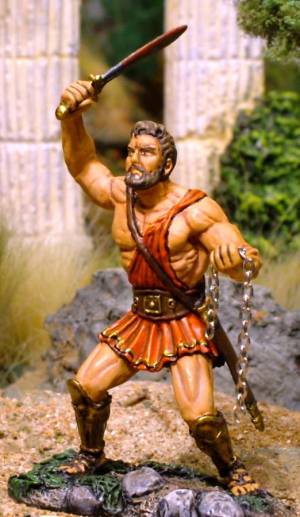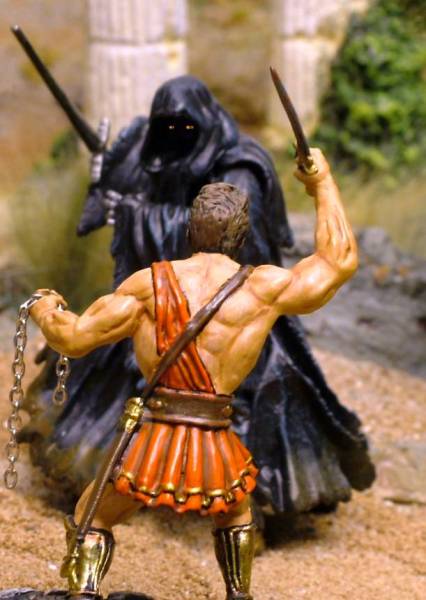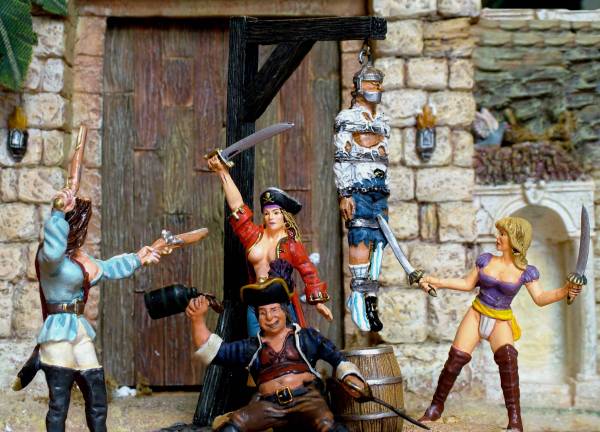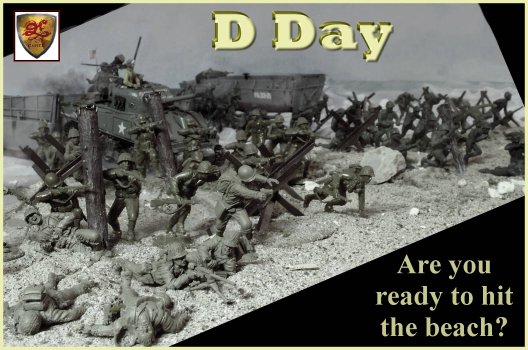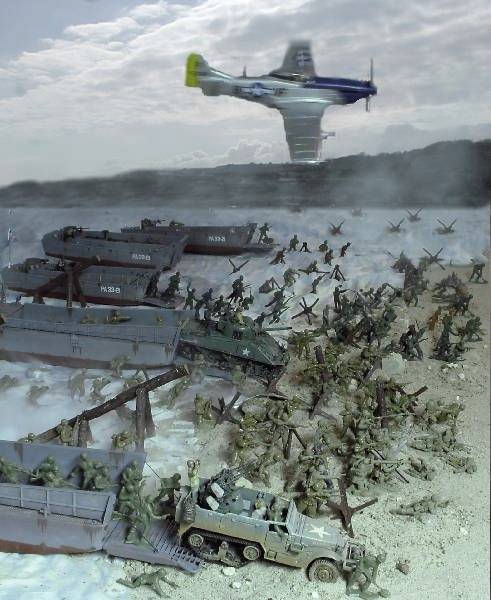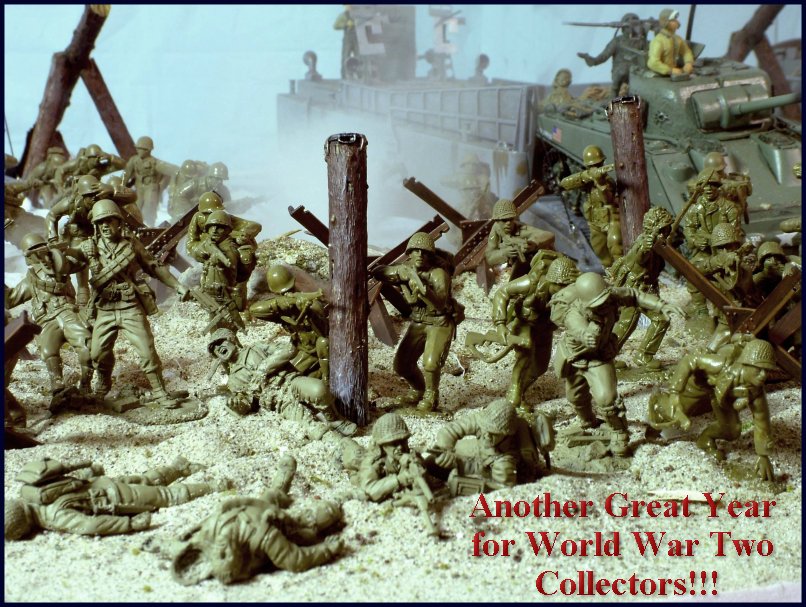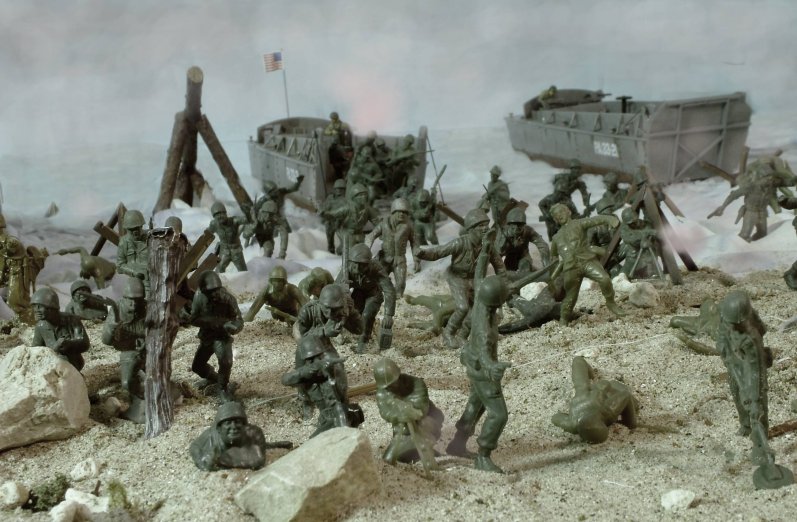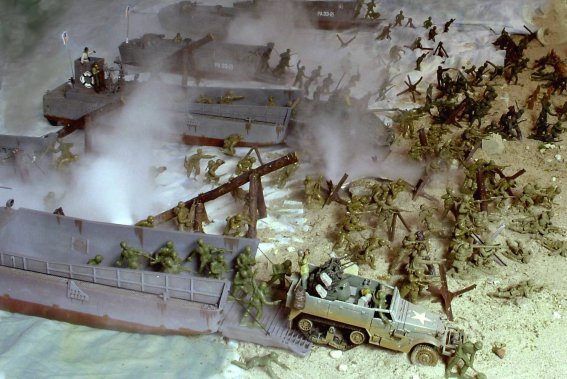 I am constantly amazed at the new product that is available to collectors now. I'm also amazed at how much space the stuff takes up. The IMEX castle pictured here is big...But I have to take it down to make room for Conte's Alamo...which is beyond big.

You can throw quite a party with all the Western Townsfolk from P and P Products, http://pandpmilitaryminiatures.com

Christmas always makes me want to make a set up. Click on the picture for shots of my "Turquoise" set up.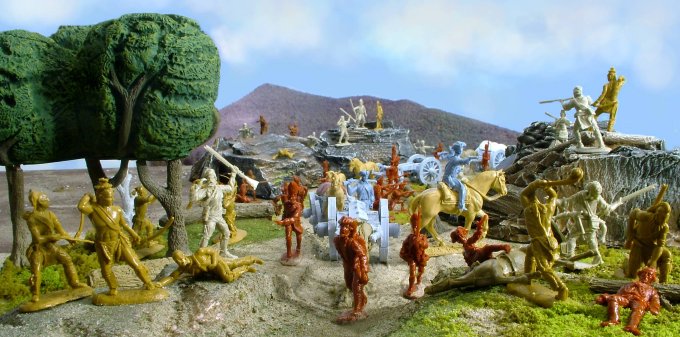 Ron Barzso "Braddock's Defeat".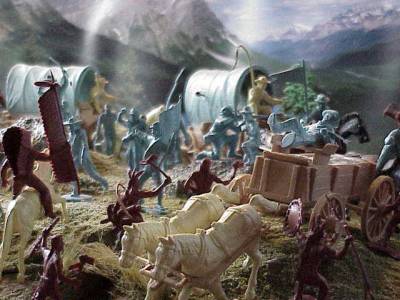 Journey back in time to my early days of playset photography...I've reposted the old "jbpics" website. Some of the links don't work, but most do. Click the picture above to enter.
Have you checked the Lord of the Rings page recently? Click the picture to venture into Middle Earth.