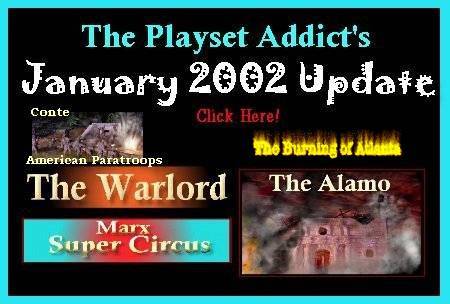 Welcome to "The Playset Addict" Website...the home of imagin-action playset photography.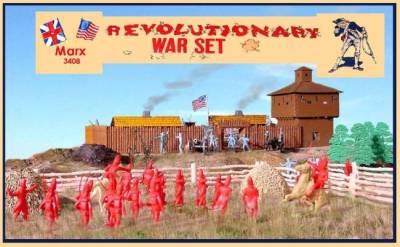 Look for this set on eBay soon! Check this link again later for more pictures of this set-up.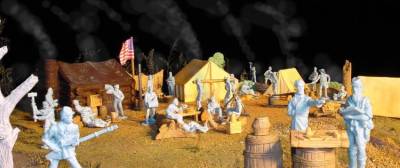 Click on the above picture to see Ron Barzso's New Civil War Camp playset. Check out all the incredible accessories!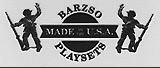 Click on the above link to go to the Barzso website where you can get this great set for only $89.95 plus $9.00 shipping and handling! It's the best deal in the Playset world.

Here's a picture of the Barzso Civil War Camp with Confederate figures with a new CTS ambulance and the Replicants horse handler added. For another picture click here.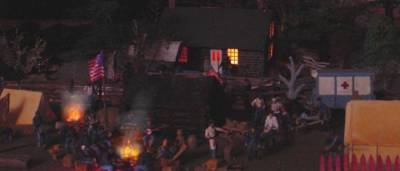 Click on the above picture for a larger set-up with painted figures.
The powerful magic of Digital Photography has enabled me to "come out of the basement", so to speak, and play publicly with my toys again. I hope this site will provide a motivating force to "out" other basement imaginists to capture in pixels the glory of the dramas that play in our minds when we play with our "army men"
I also hope to preview new and perhaps even soon to be released Playset products and to provide information and insight into what's going on behind the scenes in our hobby. Check out the photos of some upcoming releases.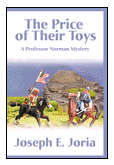 Click on the book cover to find out more about Joe Joria's newly published novel
I'd love to hear what you think of the site and what contributions you might want to make to it in the future. Who knows what this will grow into. There's no limit to the power of imagination...only limits on time, energy and the patience and graciousness of our loved ones.
Gentlemen...Start your imaginations!
Enjoy the Pics!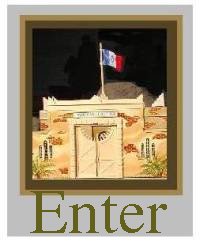 Free counters provided by Honesty.com.
<1 font>