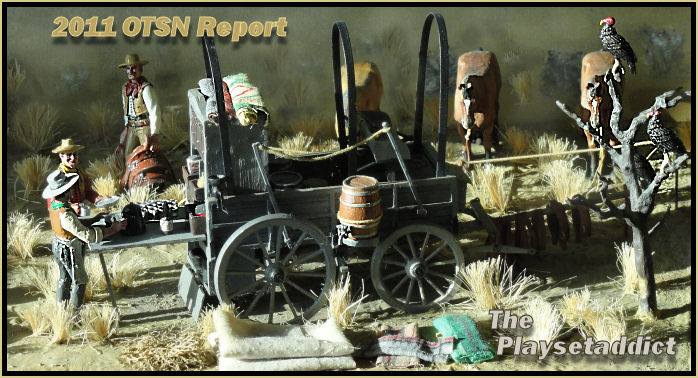 A Glimpse of OTSN
Every year, Toy Soldier Manufacturers, Dealers and Collectors descend on the Hyatt Hotel in Schaumburg, Illinois, for the Old Toy Soldier Newsletter Show. I believe it is the largest Toy Soldier Show anywhere in the world. Manufacturers often time the release of their new products to coincide with the show so it is a chance to get a first look at what the Dreamers have dreamed up.
The actual show is held on the fourth Sunday of September, but the Toy Soldier Community starts arriving the Wednesday prior to the show and for a few days, the hotel is transformed into the World's largest Toy Soldier Mall. There are dozens and dozens of rooms to browse through where you will find everything from Manufacturers showcasing their latest offerings to dealers offering vintage Marx Playsets and vintage metal, plastic and composition figures. You can marvel at the amazing, museum quality masterpieces made in Russia with painting so intricate and beautiful that you can hardly breathe. (Especially after you see the price tag!) You can delight yourself in drooling over the old toys you enjoyed as a child and now would have to mortgage your house to afford to buy. You will see other Collectors' creativity on display. You also sometimes find surprises. That's the best part...finding something you didn't expect. (It also can become the expensive part.!) And you get to hang around with others who are infected with the same malady as you...Toy Soldier Madness.
I was only able to go down for one day as I couldn't afford any more time off work this year. I shopped until I was ready to drop. (You'll be seeing pictures of the different things I purchased over the next weeks and months). I was thrilled to see the new Roman and Barbarian playset put out by Toy Soldiers of San Diego. I was even more thrilled to see NIck VerSteeg back on his feet and being his usual affable self and Deanna looking like she weathered the storms they've been through this year in the aftermath of Nick's stroke. Barzso seduced me into buying not one but two playsets. It was great to see the new offerings by King and Country, Figarti and First Legion. My one disappointment was that several rooms were not open for business yet by the time I left. I never got to see what Britains or Collectors Showcase had on display...and I really was disappointed that Ken Osen didn't have the Hudson and Allen room open.
Here are some pictures from my Day in Toy Soldier Paradise.
TSSD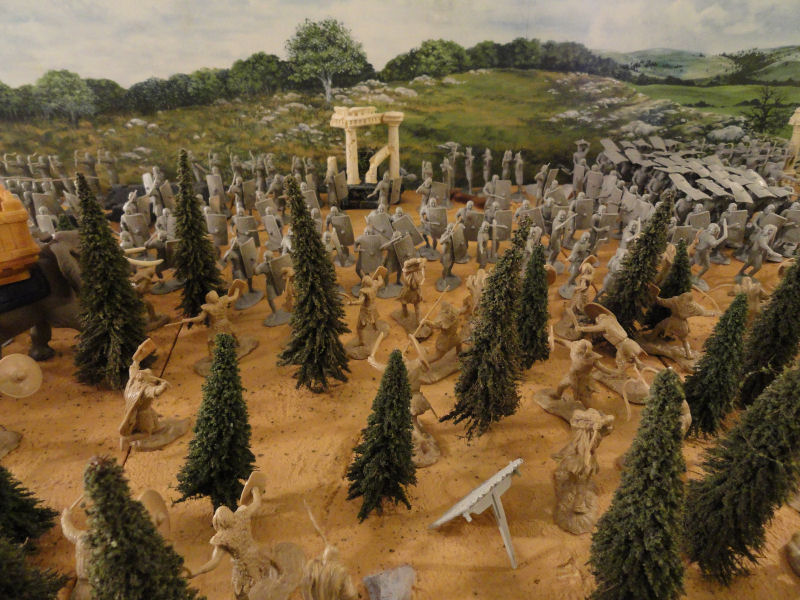 Romans and Barbarians!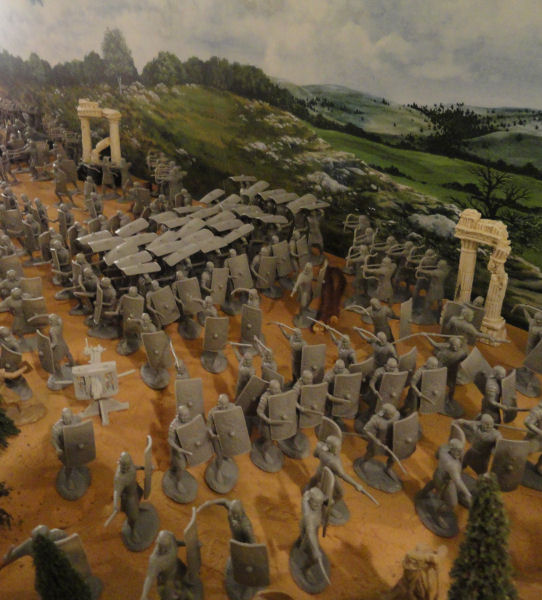 How about that Testudo!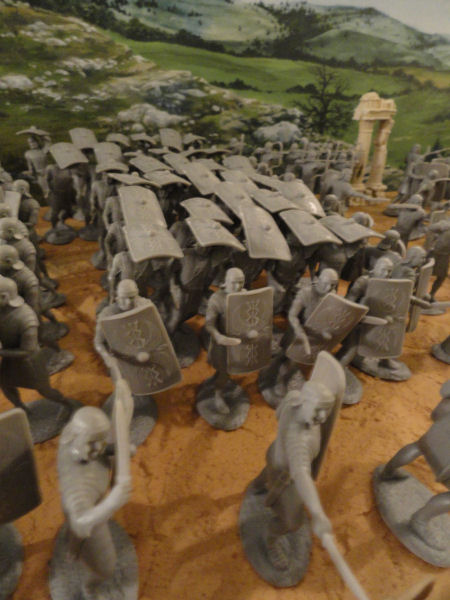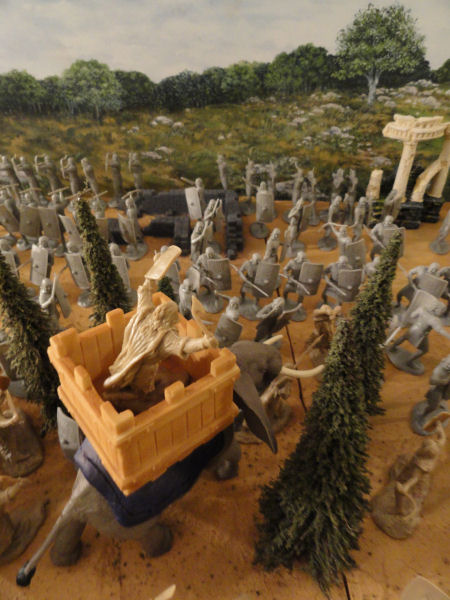 Nick had some fun by putting some barbarians on the elephants and waiting to see who would point out his mistake.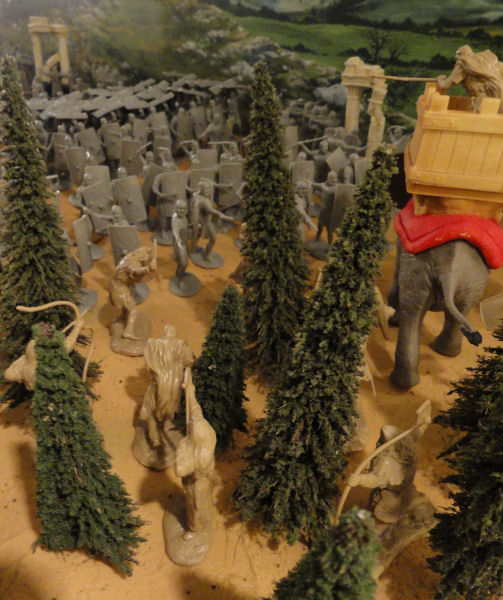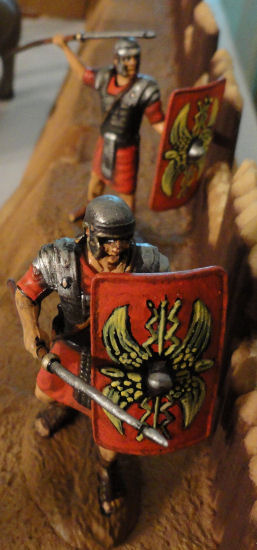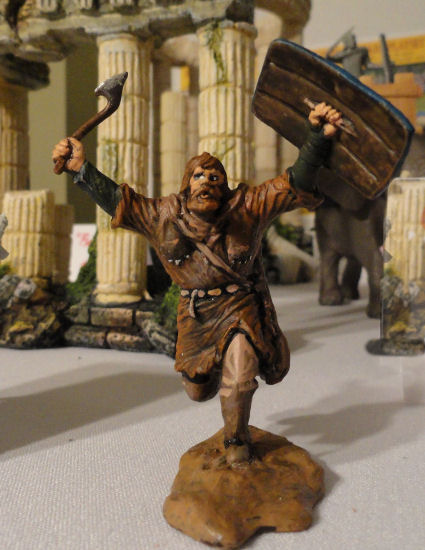 The figures paint up well.
Barzso Playsets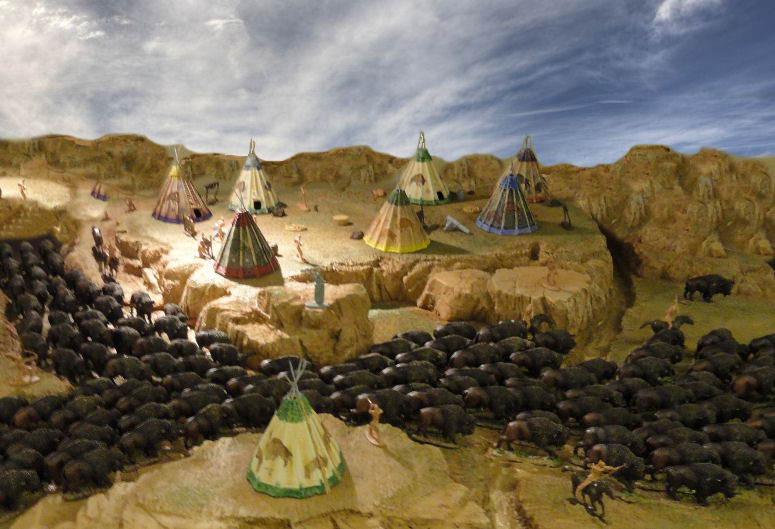 Ron Barzso introduced two sets this year. One was the Sioux Buffalo Hunt complete with painted teepees and painted buffalo. The other was a Revolutionary War camp.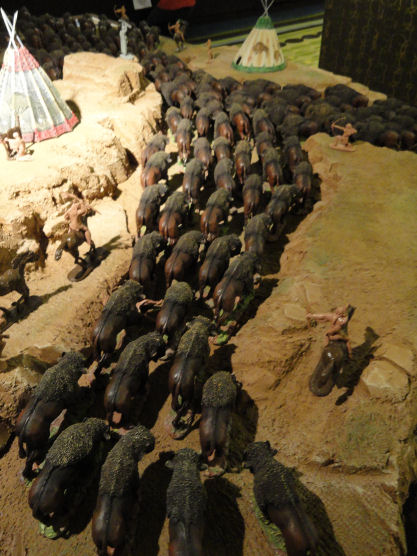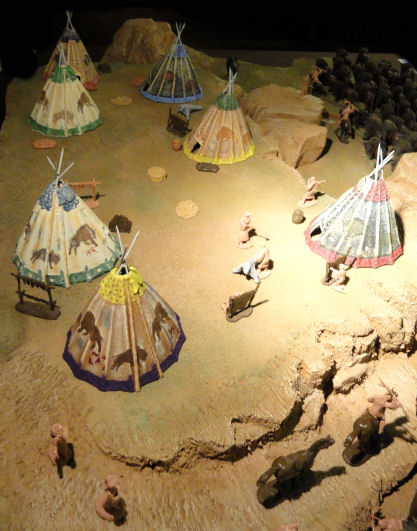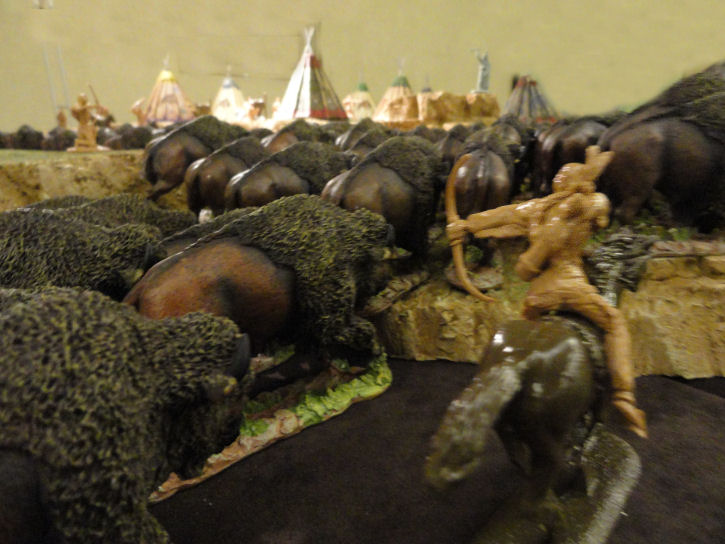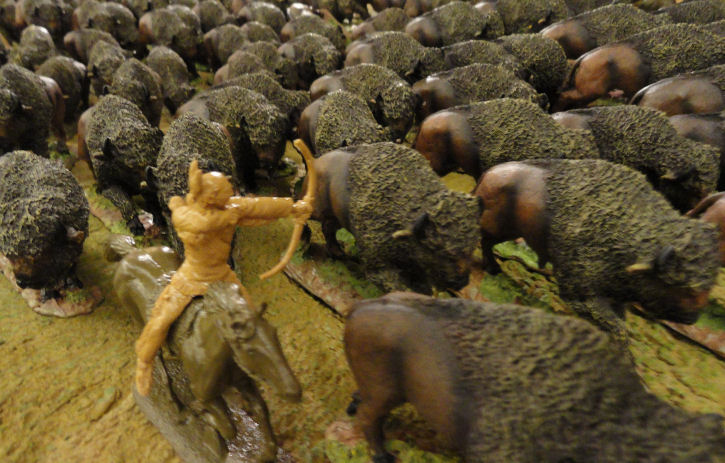 If I were taking these pictures at home, I'd redo many of these untilI got the focus right. When you take pictures 'on location', you're stuck with what you have.
None of my pictures of the Revolutionary War camp came out. I'll see if I can borrow some picsof it from someone else to put here.
Figarti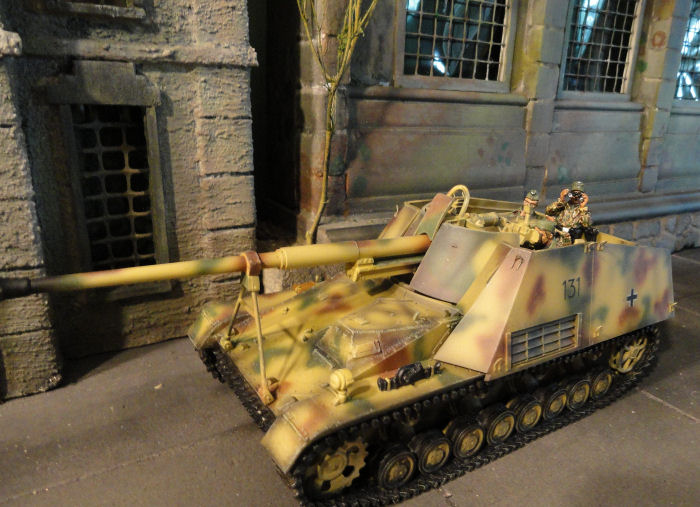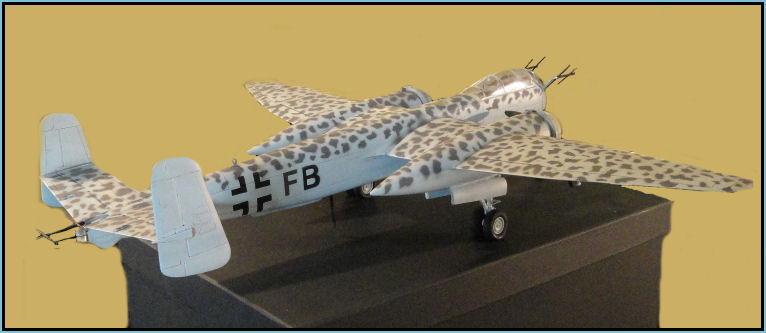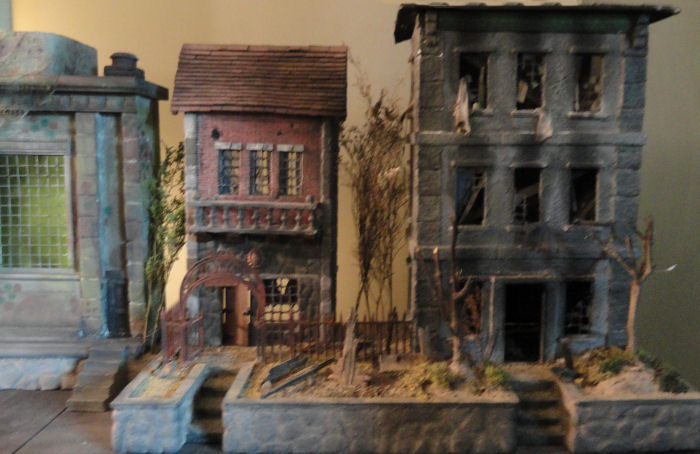 I love the buildings Nick Nasta built to show off Figarti's WW2 offerings.
King and Country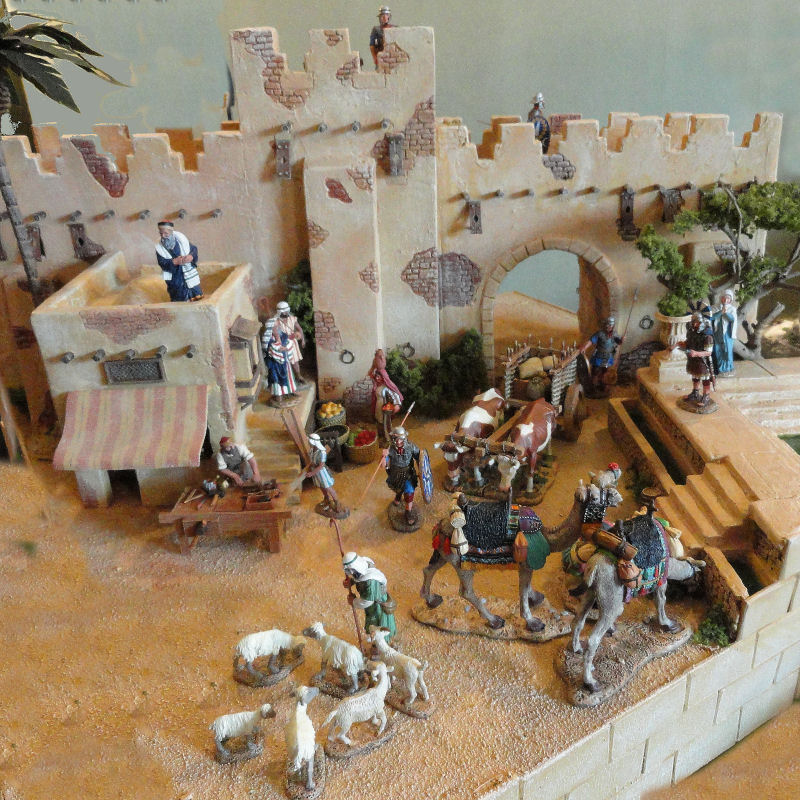 I really like what King and Country is doing with it's "Life of Jesus" series.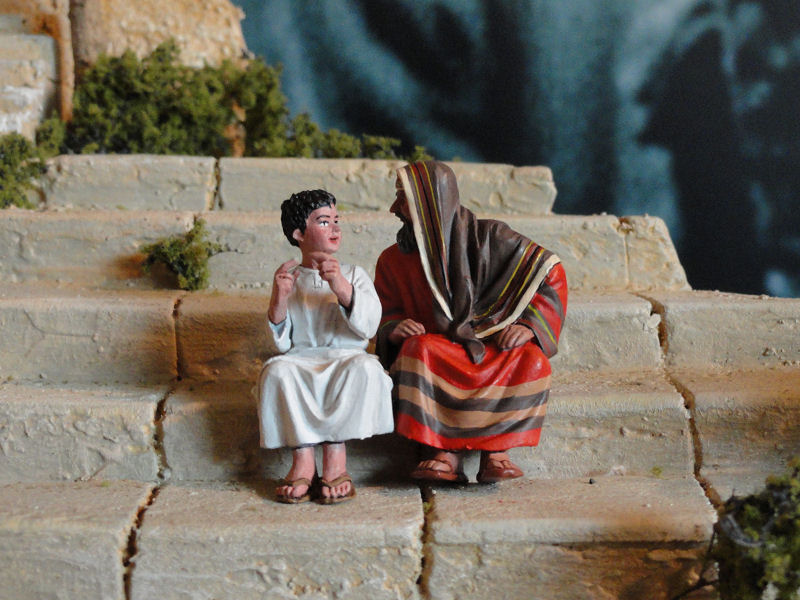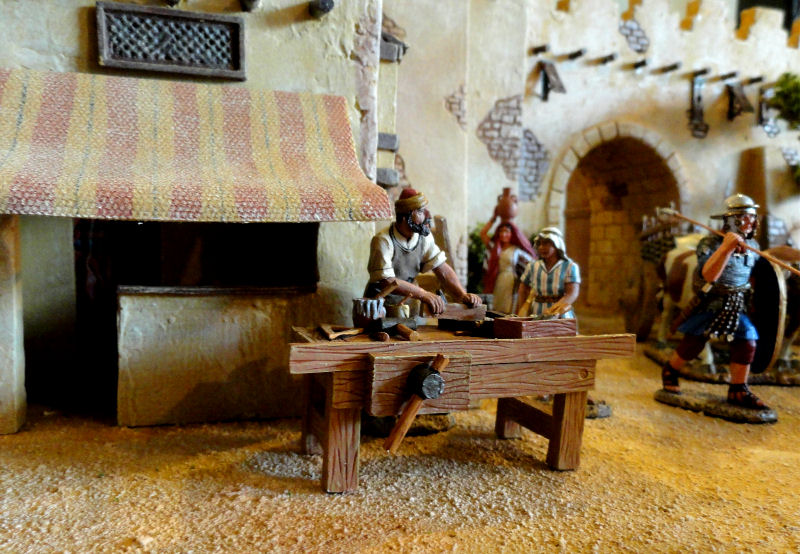 I finally got to meet Gordon Nielson who makes all of the incredible display pieces King and Country brings to the Toy Shows.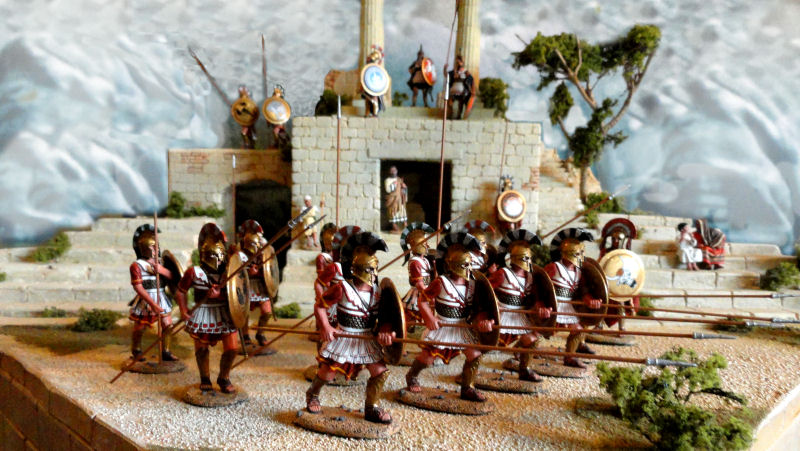 Ancient Greeks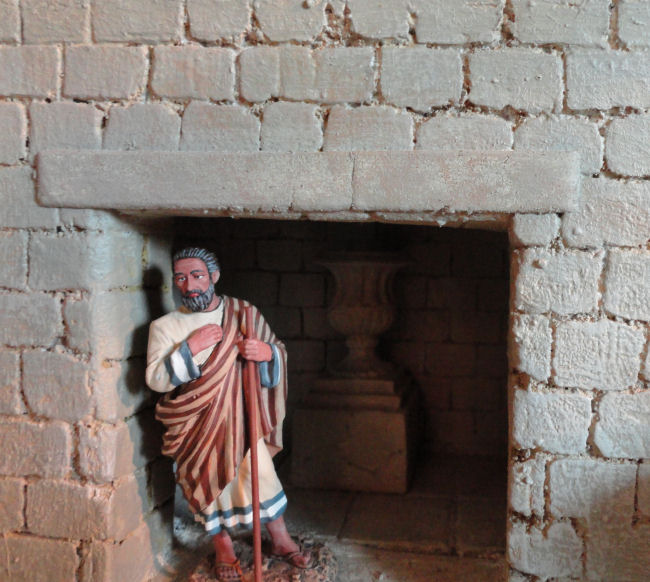 Gordon pointed out the interior detail that I would have missed with a casual viewing.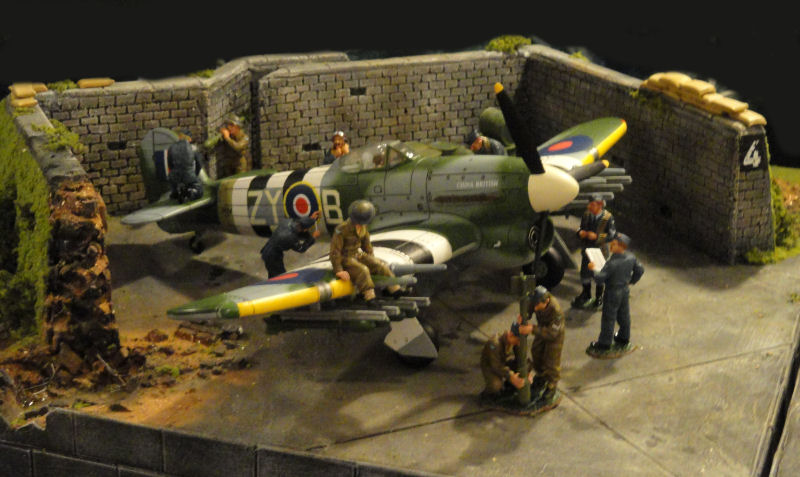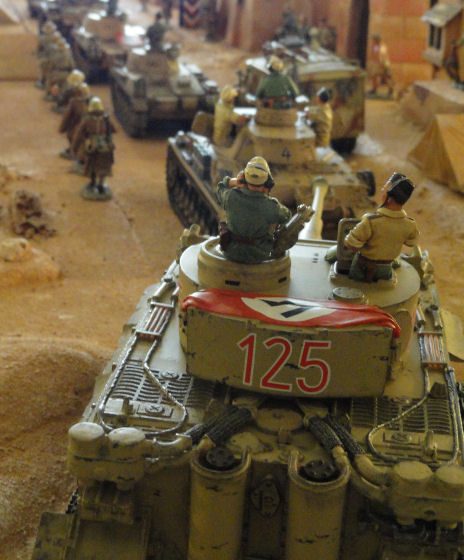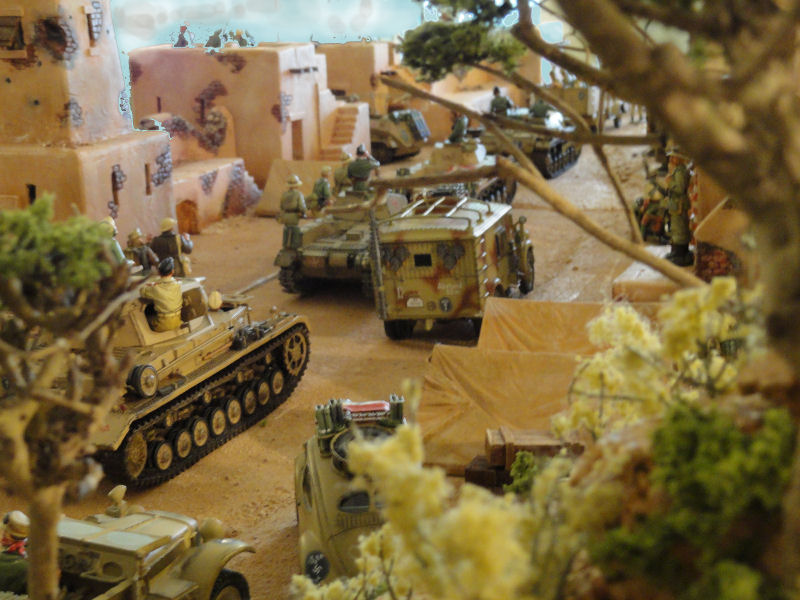 Vintage Plastic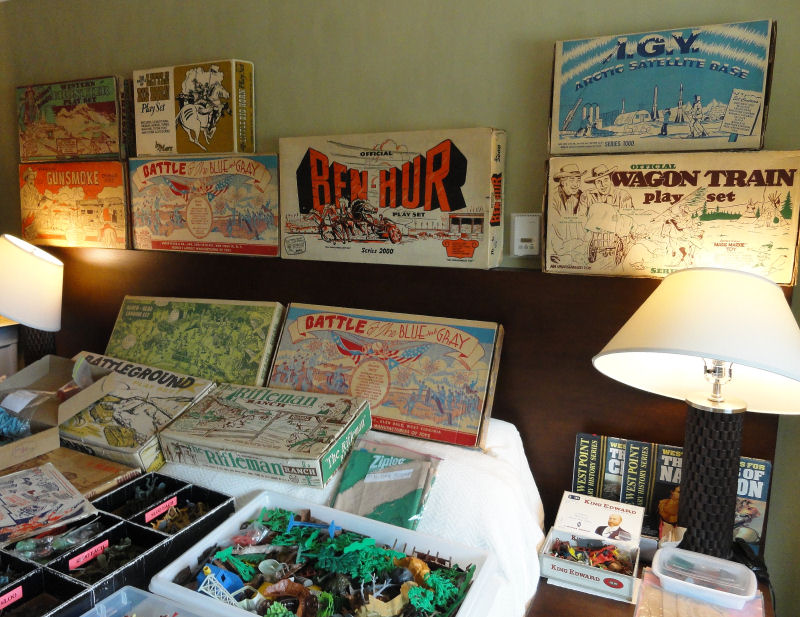 Can you believe how minty those sets are? If you have the money to purchase the rarest and most desireable playsets in the best condition...Rick Eber is your source.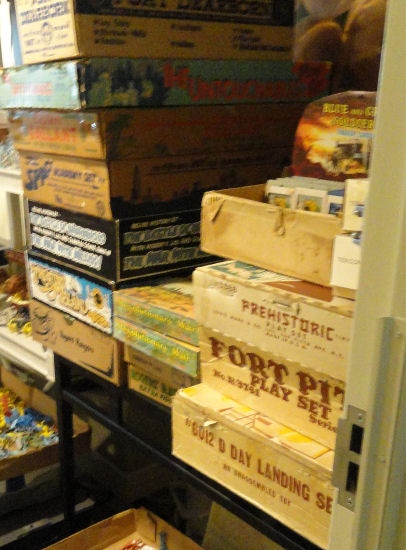 More playsets from Rick Eber and Bob Jones' room.

Rich Egan had a number of nice sets displayed including this Zorro set and the Ben Hur set below.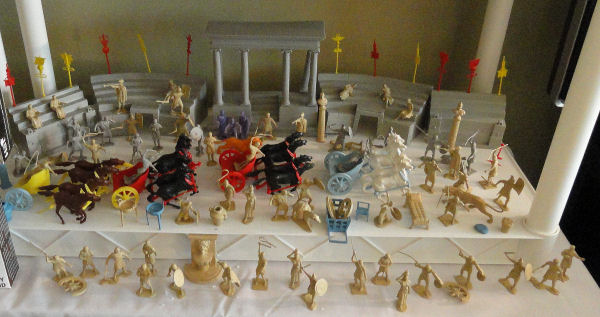 This is an interesting Ben Hur set as it doesn't have any of the cream figures and it has two sets of the tan.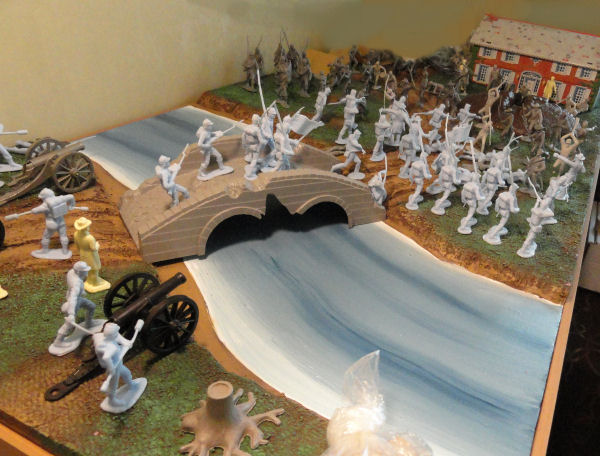 Rich also had a couple of sets displayed nicely on Battleboards. (Jim Clouse makes these great display bases.)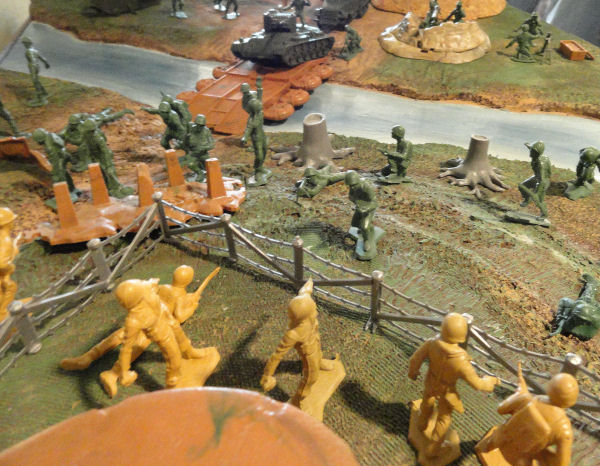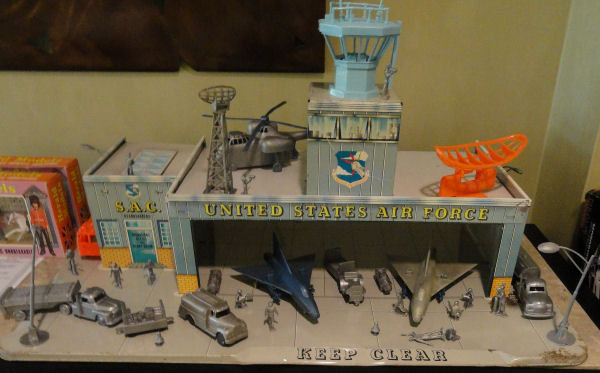 Rick Keller had this Strategic Air Command partial set on display. You don't often see this set.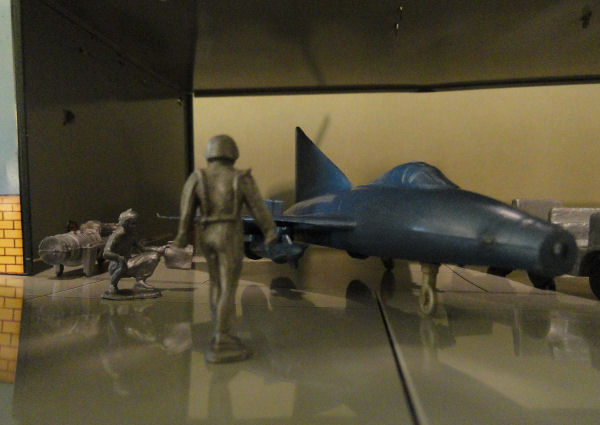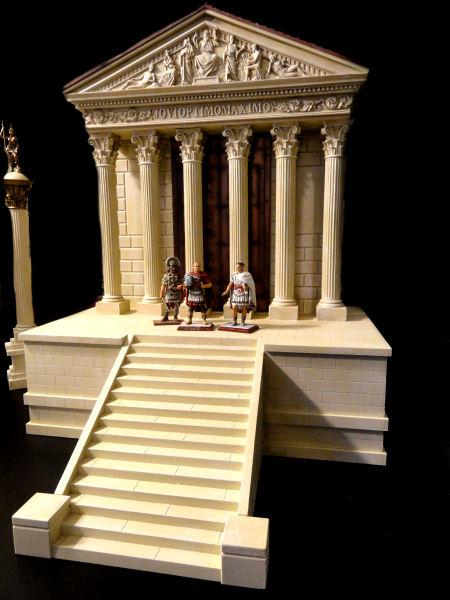 Hobby Bunker was displaying a couple of very cool Roman buildings by Marco Polo which is a joint project of Aeroart of St. Petersburg and Figarti.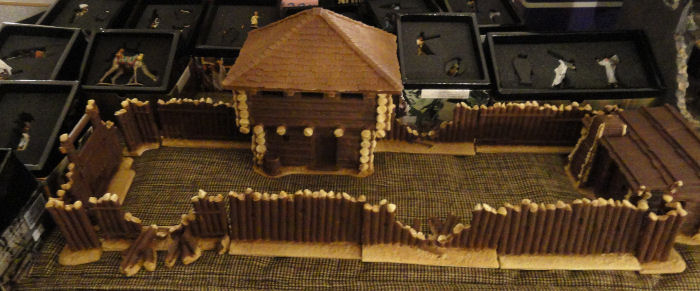 Hobby Bunker also was showing off the French and Indian War Fort they will be offering soon based on the sculpt by John Jenkins.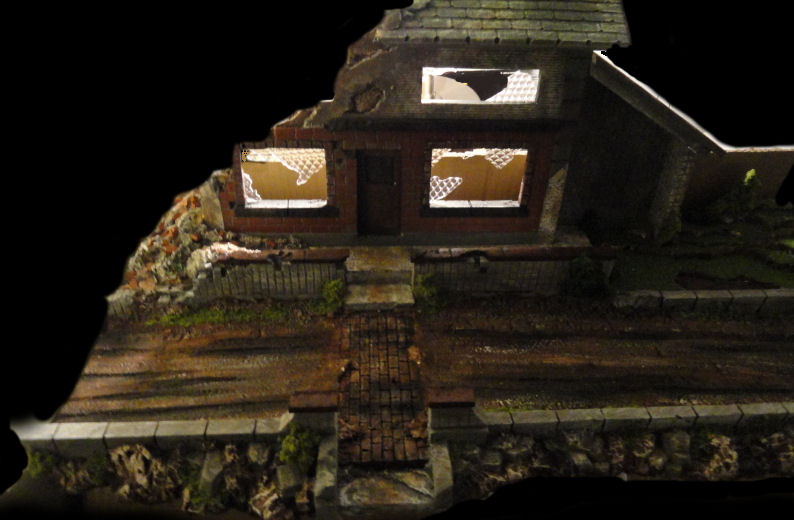 Hobby Bunker had a new series of buildings available that features some very nice brickwork and roadways with a cool broken window effect throughout the series. This picture does not do the piece justice. I think these will make for some nice shelf displays.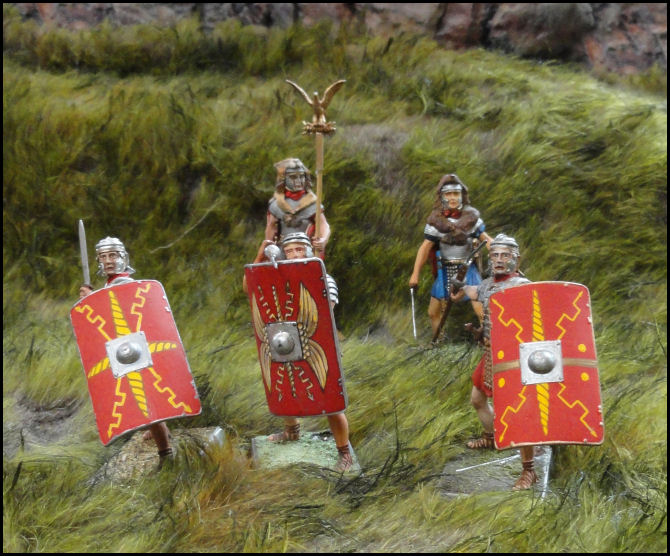 I picked up these Roman figures from Hobby Bunker. I'm not sure who makes them. They were loose and obvioulsy had come from someone's collection.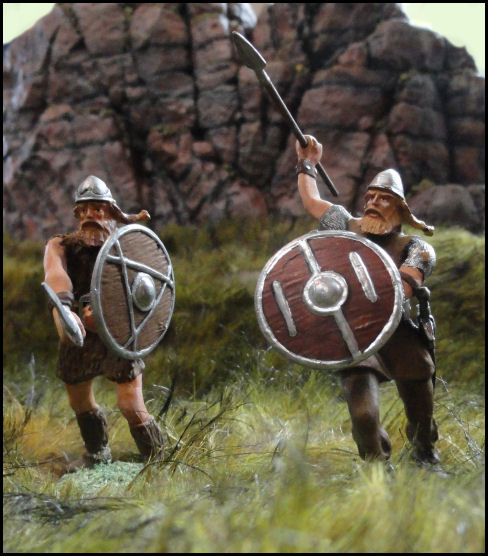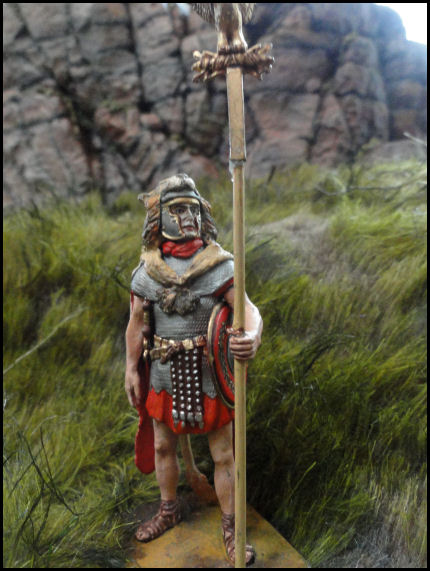 I'm guessing they are from Spain or Italy.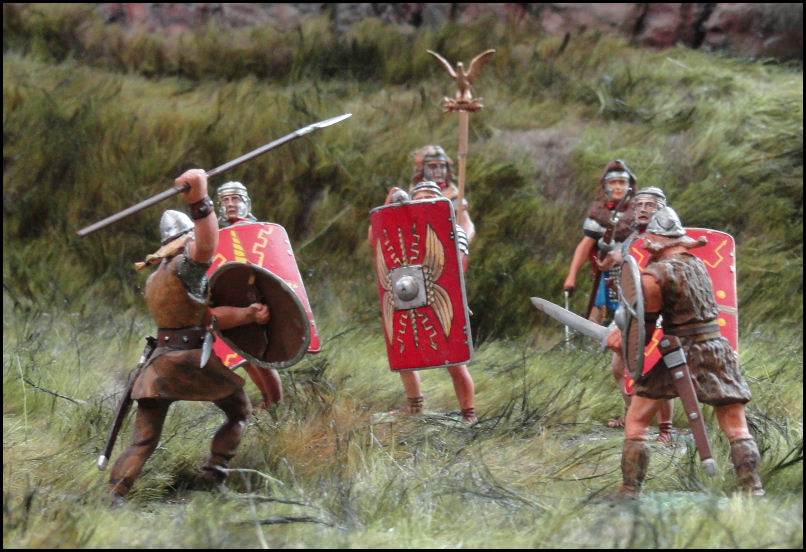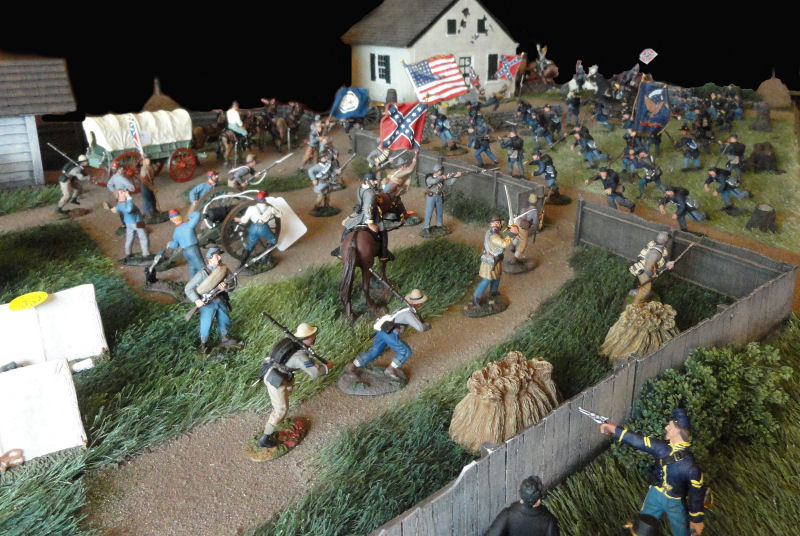 This Britains Civil War display on a base made by Ken Osen of Hudson and Allen was in one of the first rooms I stopped in. I can't remember which dealer it was.
Minimen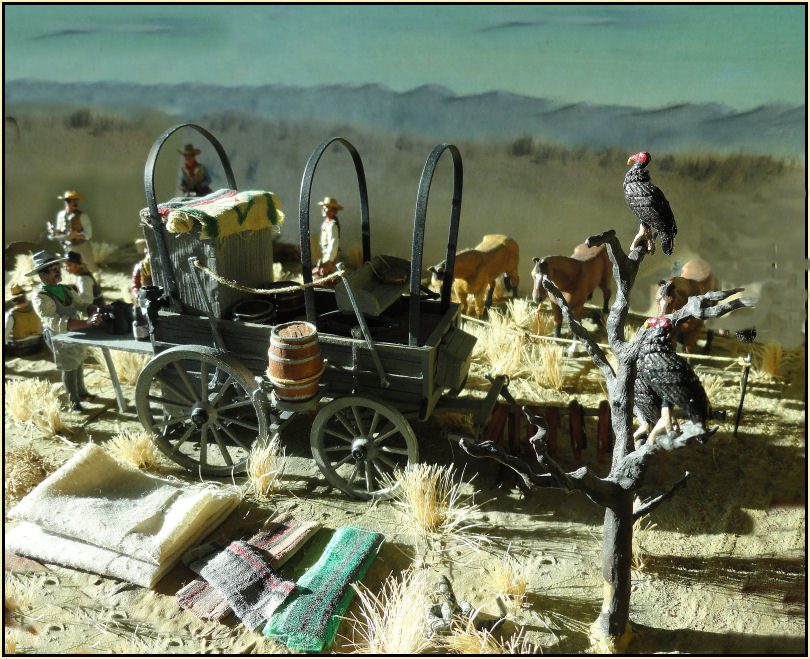 I always enjoy my visits to John Updyke's room. He does some incredible western dioramas like this one. He works in a scale just a little too small to fit in with the rest of my figures, but he sure does some great stuff.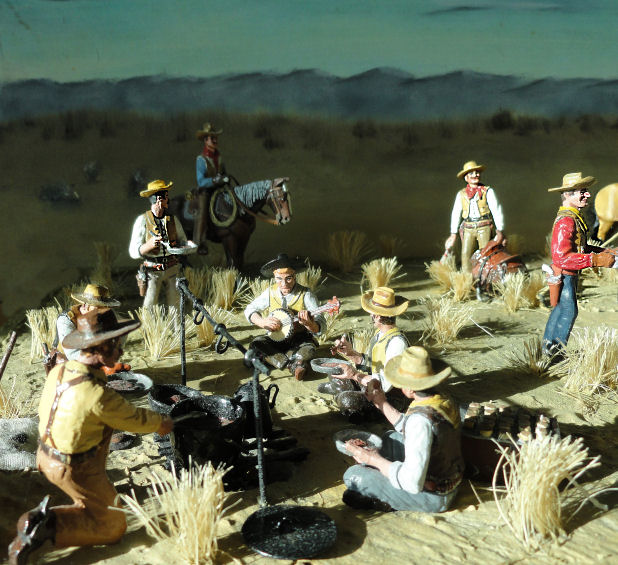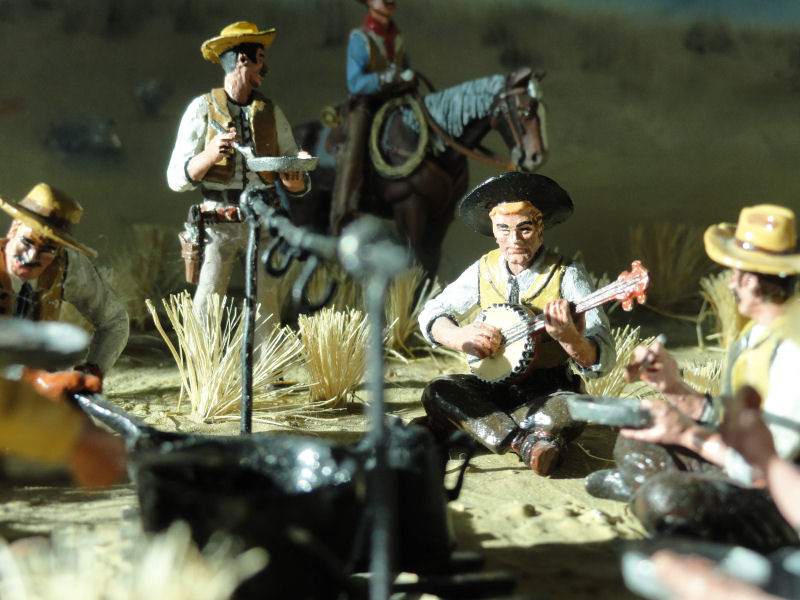 Who is that guy with the cleft chin playing the banjo?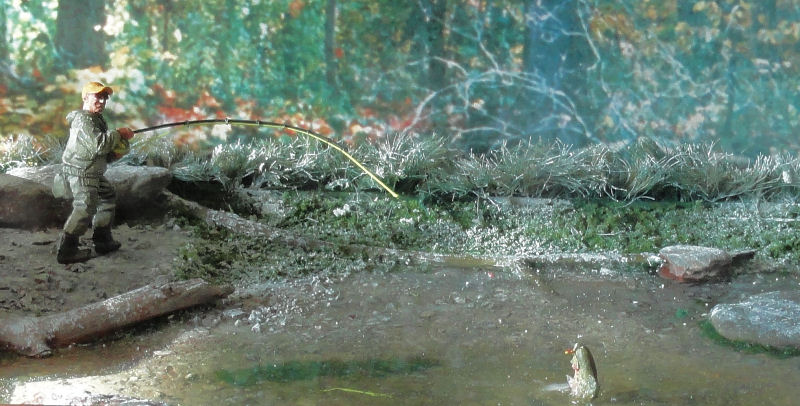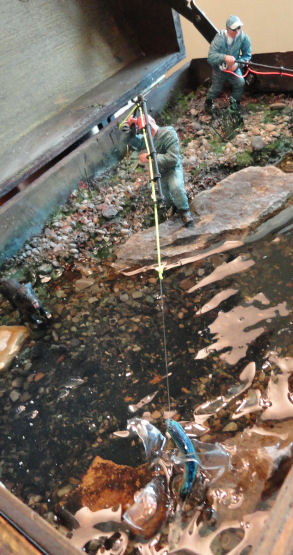 Father and Son Toys
One of my favorite rooms each year is that of Len and Colleen Hardt. The sign outside the door says "Father and Son Toys", but the son has grown up, the Father hasn't and Colleen has stayed alongside, even if she doesn't get the billing. They are great people and I love the way they approach the hobby. Each year they make a huge display on their bed using plastic figures. Last year they had a great Cattle Drive set-up. This year it was the French and Indian War. I love that they approach the show as a "SHOW" and not just a sales opportunity. Well done again, Len and Colleen!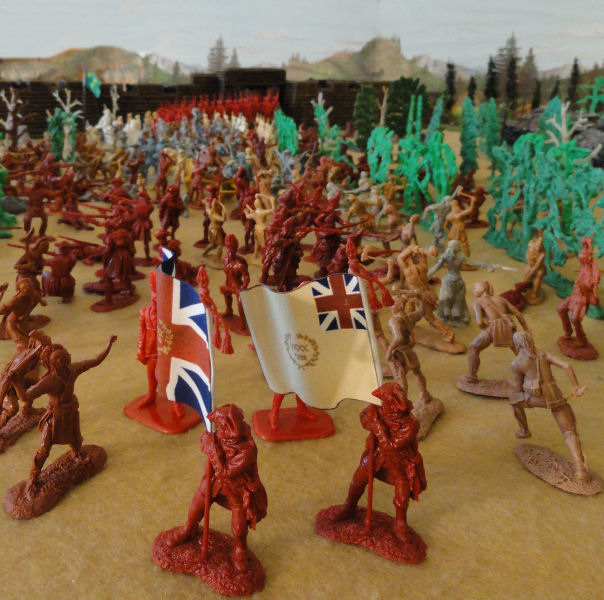 If you look carefully at their set ups you will always find some very unique uses of figures you wouldn't expect to fit into the scenario they are presenting. They do a great job of mixing the different manufacturers to create their super-set-ups.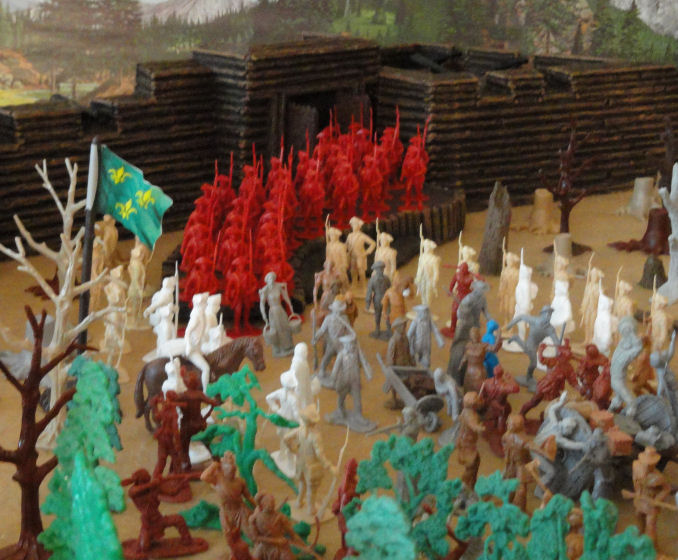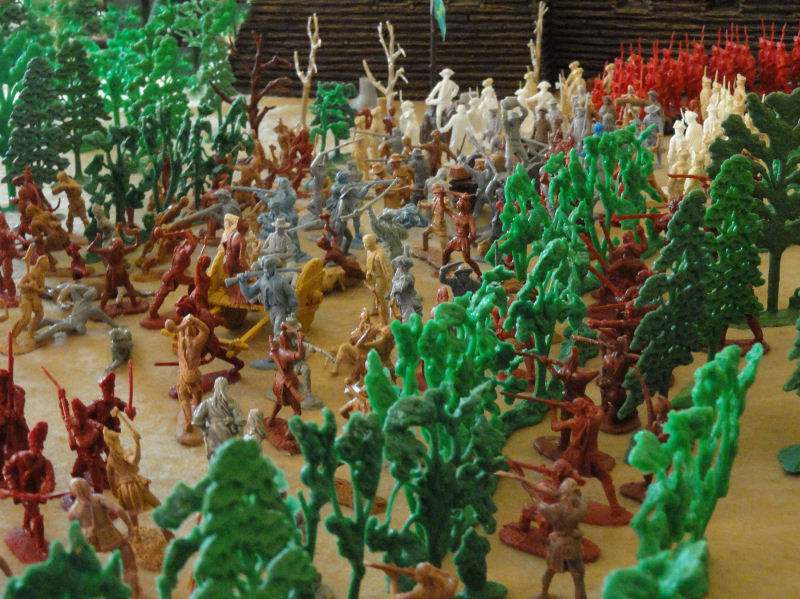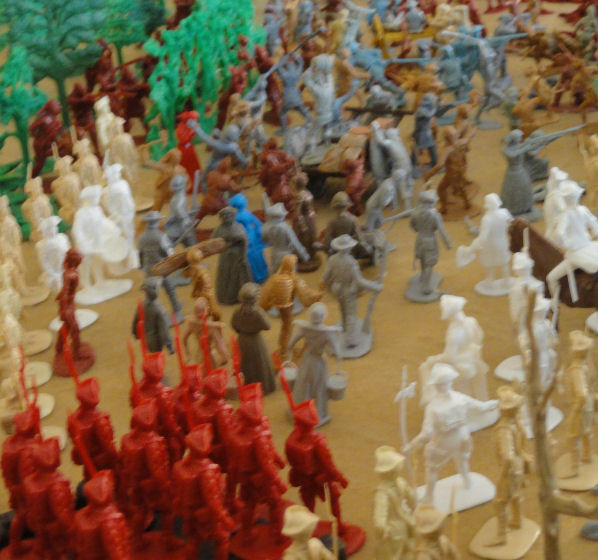 Mike Luteran
My favorite purchases from the show came from Mike Luteran's room. I was so excited as I blew my budget in his room that I totally forgot to take pictures of his incredible stuff. I have always wanted some Marx wagons that looked like they were in a hurry. I couldn't believe my eyes when I saw these babies. He had two USA and two CSA sets. I bought 'em all. He also had caissons like these. I only bought one of those. He also had the most incredible seige engines made of wood. He also had a bunch of really cool cabins made of wood. (I bought one of those!) There also were some Medieval looking wagons, but by the time I noticed those, my wallet was empty. I tell you what...this playsetaddict is hooked on his stuff!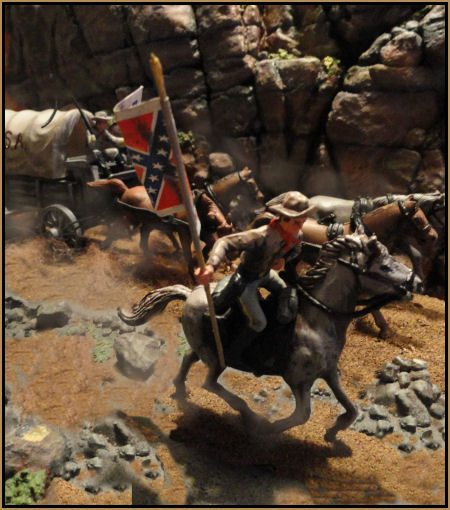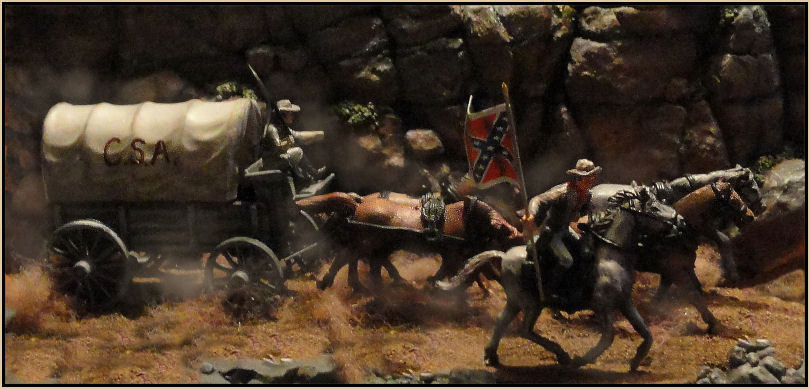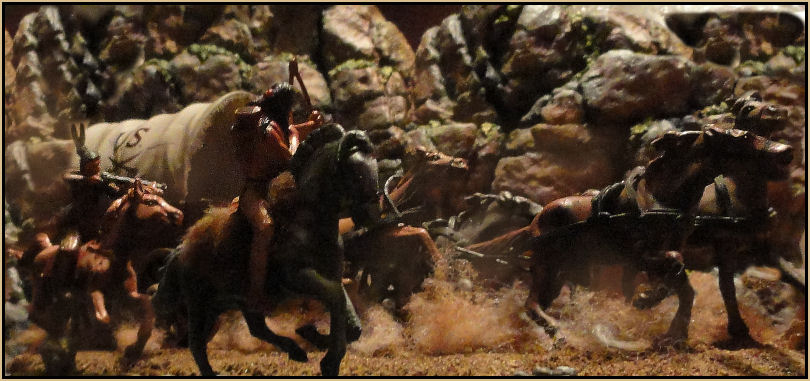 Click on the above picture to go to my websites Homepage