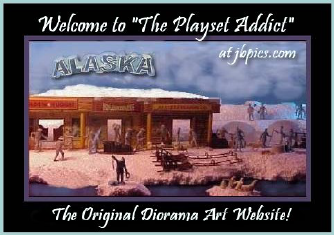 12/08/01
It's been a while since I've put much energy into the website. This was partly because I've gotten so little feedback and partly because I've been working hard on a commercial Alamo project. The other reason is that money has gotten tight and I've had to cut way back on aquisitions. It's always the most fun to photograph the new stuff.
Hopefully I'll get to do some work over the Holidays. I'm very anxious to get a burning of Atlanta sequence done featuringt the great B & T buildings. I also expect to be making my own photoboxes for a Marx Rev War 3408 and a Fort York and perhaps a World War Two set. Those should show up on ebay in the next six weeks.
I have enjoyed the responses I've gotten from some of you who have first visited the site since Rusty Kern's mention of it in the OTSN article in issue 75 of PFPC. Thanks for letting me know which themes you've enjoyed.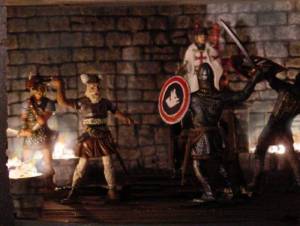 The Medieval Times Section should be opened up soon.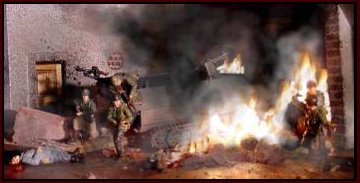 An "American Advance Page is in the works" This photo taken 7/30/01
New "German Forces Page" created 7/15/01
July 5, 2001
I added some new photos to the Antietam page, including some nightime camp scenes.
The e-mail box has been empty for quite a while. (Like one comment in the month oft July). I'd love to get some idea of what kinds of photo spreads might be of interest to you.