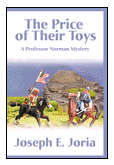 Announcing the Publication of the first of the "The Professor Norman Mysteries"
by Chicago Playset Collector
Joe Joria
Joe's hero, Professor Ian Norman, is a Toy Soldier Manufacturer on the side. (Anyone think Joe's good friend, Ron Barzso, might be a rough template of Ian Norman?...You'll have to read the book to find out!) The setting of this story is the Custer battlefield in southeast Montana. He expected a quiet trip to visit an old friend, but his side-line of being a toy soldier manufacturer led him into murder, romance and adventure.
Joe is already at work on the next Professor Norman Mystery. The setting? San Antonio, Texas!
If you'd like to buy the book, click on the picture of the cover to travel to iUniverse.com where it is available to purchase.