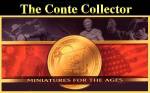 Steps for Changing Image Size Limitation Setting on Internet Explorer
1. Click on "File"
2. On the drop down menu, choose "Tools"
3. On that drop down menu, choose "Internet Options"
4. Choose the "Advanced Settings" tab
5.Scroll down to the "Multimedia" sub heading and click on the box labelled "Enable Automatic Image Resizing". That should remove the check mark from the box.
Click "OK" at the bottom of the dialog box and you're done.